Way to Go
Thu Jan 24, 10-10.30pm, BBC3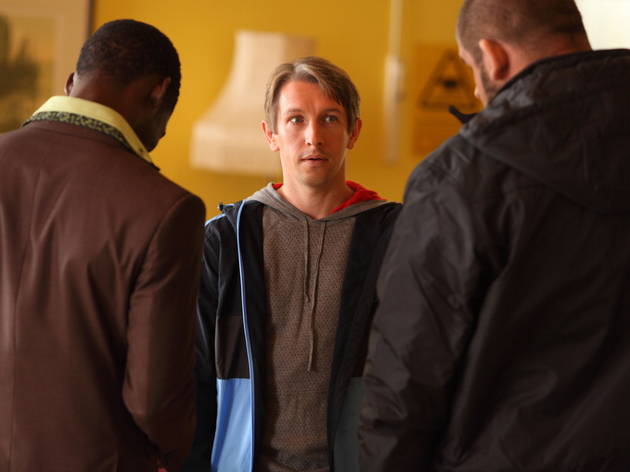 Series one, episode two
Watching this BBC3 sitcom is the televisual equivalent of listening to a toddler squealing 'poo-poo' every five seconds because they think it's the most offensive word ever invented. 'Way to Go' simply tries too hard to shock. The premise itself is controversial (and has already sparked the inevitable outrage from a Tory MP), but has plenty of potential for black humour: three blokes go into business to help the terminally ill to die. But the Beeb apparently feels the subject matter alone is not enough to grab our attention. Instead, it's stuffed the show with enough race, sex and vomit gags to make Judd Apatow blush (the writer is US TV writer Bob Kushell) and the result is heavy-handed and self-conscious. In this episode, the lads try to brush up their professionalism with a business seminar, while Scott (Blake Harrison) wimps out of helping a client with stomach cancer die. It all falls rather flat – and that's a shame. Assisted suicide is surely a subject, er, dying for a more intelligent treatment than this?
Sponsored listing
Heirloom
Heirloom makes a more convincing case for a United Kingdom than most politicians. It hoists the flag for modern British cooking by plating up heritage vegetables, succulent rare-breed meats and Cornish fish, serving them with British craft beers and Old World wines. It's a smart-looking upmarket spot that's softened by a pubby-style bar, chunky wooden tables and friendly service. On our Sunday lunch visit, classic roasts were the order of the day, and included the likes of Old Spot pork, Belted Galloway beef and braised Blackface lamb. These were all cooked just-so and served with meaty gravy, splinter-crisp spuds, mile-high Yorkshires and the sauciest own-made accompaniments such tart apple and zingy mint sauces or peppery horseradish cream. It's Brit-tastic cooking all the way. A la carte choices might include roast monkfish partnered with sea-salty samphire and Jersey cream-enriched mash, or smoked gammon hock with duck egg and sucrine lettuce. The rollcall of heritage produce includes novelties such as prickly cucumber or stubby atlas carrots. Puddings read like something from Enid Blyton – treacle loaf with raspberries and Jersey cream, or plum trifle steeped in port-like Maury – though the Famous Five would have had adventures of a different order after a dalliance with Maury. 
You might also like