Aneurin Barnard interview: 'British actors are becoming a bit soft'
The Welsh rising star talks about ambition, period performance and working with Ray Winstone in 'Moonfleet'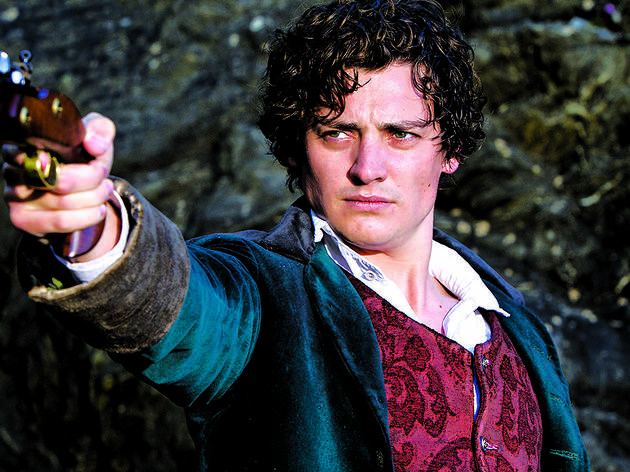 How much did you get bashed around on set?

'Lots! It's very action based, I do throw myself around and off cliffs and everything. I was battered by the end, but it was a good learning process.'


Did you watch previous versions of 'Moonfleet' or the stories told in 'The White Queen'?

'For me, it's not helpful. I want to do something original rather than interpret someone else's performance, which is always the risk – even if it's only in a subconscious way. I want to concentrate on giving my own fresh interpretation.'


What was the specific attraction of 'Moonfleet'?

'There's a lot of talk about "Moonfleet" being an action drama, but there's more to it than that. It's a good old-fashioned character piece, with a good storyline and a lot of lessons: family, trust, love, loss… It's a young man seeking to make his way in the world. If anything, it's the action that comes last.'


How important is it to work with people like Ray Winstone and Phil Daniels, who you watched growing up?

'I'm always eager to work with people I admire, people who have experience, who've made mistakes and made great things. That's the greatest teaching I could ever get in developing my own career. It helps me make the right choices and stay interested and creative. But also getting to act with people who listen to you while you're acting rather than wait to say their line, so it becomes this tennis match. That's really exciting. I think as a generation of British actors, we're becoming a bit soft and too manipulated by the business. It's great to work with someone who's not afraid to get involved, to stand firm and do good work.'


Do you have a career strategy?

'It's about doing new work with people I can learn from, and playing parts I've never done before. I know straight away if there are roles I don't want to do, and I have a lot of arguments with my agents about those.'


What sort of roles are they?

'It's more if I think the story's crap or if I don't think I'll learn anything from working with that director.'


What have been your pivotal roles so far?

'Everything's had its effect, but I'll never forget playing Richard III [in 'The White Queen']. It might have been nicer to have had more time to play that role, but the time constraints in the series meant we had to rush it a bit. Playing David Bailey in "First We Take Manhattan" was unforgettable - no one had ever played him before. And my first job, doing "Spring Awakening" in the West End straight out of drama school, and then getting the Olivier Award really kicked things off.'


Are you more comfortable on stage?

'I love both. On stage you have to feel and manipulate the audience. But as a lead on set, you have to do that as well with the crew, trying to get them excited about the work you're doing. That responsibility is a challenge I love.'
'Moonfleet', Saturday December 28 & Sunday December 29, 8pm, Sky1.
Watch the 'Moonfleet' trailer
Read more about 'Moonfleet'
Another period swashbuckler from Sky1, with smuggling and a hunt for booty once again at its heart. Ray Winstone is as gruffly memorable as ever in the role of honourable thief Elzevier, smuggling liquor off the Dorset coast and under the nose of brutal law-enforcer Mohune (Ben Chaplin, jousting wholeheartedly with Winstone).
Read more
Sponsored listing
Voodoo Ray's Boxpark
The impeccably hip pizza joint – from its stylish tees (available for £15 a pop) down to its American beer selection (Pabst Blue Ribbon and Brooklyn) – is spreading its cheesy tendrils all over the city and that's no bad thing. As well as this Shoreditch base, they have shops in Dalston, Camden and Peckham.  Their 22-inch, New York-style doughy goods are sold by the slice and are truly delicious. Particularly excellent concoctions include the 'Rubenesque' (salt beef, sauerkraut and two kinds of cheese) and 'King Tubby' (fennel, chilli sausage, kale and caramalised onions). You'll need a napkin just for reading the menu, let alone devouring the slices.
Venue says: "Our huge 22-inch pies are perfect for large groups and special events! Check out our menu below and start planning your pizza party today."