Life of Crime
Fri May 10, 9-10pm, ITV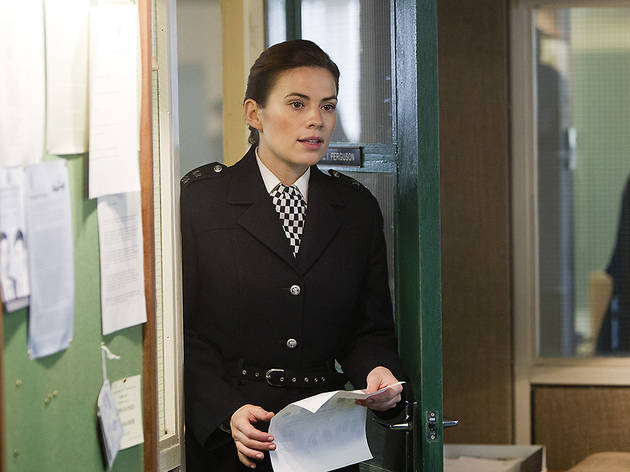 Series one, episode one
It's 1985, when coppers were racist, sexist and not above knocking a few heads together. A tough environment for a principled young Met policewoman like Denise Woods (Hayley Atwell) as she tucks into her first major case – the murder of a 15-year-old girl – and Brixton simmers to boiling point on her doorstep.

'Life of Crime' is subdued to an almost unsettling degree – the anti-'Ashes to Ashes' – with the era used to serve the story rather than vice versa (credit to director Jim 'son of Ken' Loach for avoiding most of the obvious visual and aural clichés). But the story itself is curiously underwritten: somehow both brutally straightforward in the way it depicts Denise's eventual misstep as inevitable in the face of severe provocation, but also oddly muddled as a whodunit chasing too many narrative red herrings.

'Broadchurch', it ain't, but 'Life of Crime' is another intriguing experiment in the detective genre from ITV. Atwell's confident lead performance should offer enough incentive to tune in next week: it's 1997 and, amid the tumult of Diana's death, you might just perceive the flutter of chickens coming home to roost.
Sponsored listing
Feng Shang Princess Floating Restaurant
This is no ordinary Chinese restaurant. Situated in the Cumberland Basin near Primrose Hill, Feng Shang Princess is an ornate, three-tiered floating pagoda in classic Chinese red, with lanterns swinging along each side. It's quite a sight to behold and with a menu to match. Inside the modest space are circular tables surrounded by plump leather chairs where diners can tuck into East Asian cuisine from China, of course, but also Singapore, Thailand, Malaysia, Mongolia and Japan. Stir-fried seafood, vegetables and noodles of all kinds abound, but other items such as curried beef, crispy duck, smoked chicken and sour soups also feature.
You might also like