Mad Men
Wed Apr 17, 10-11pm, Sky Atlantic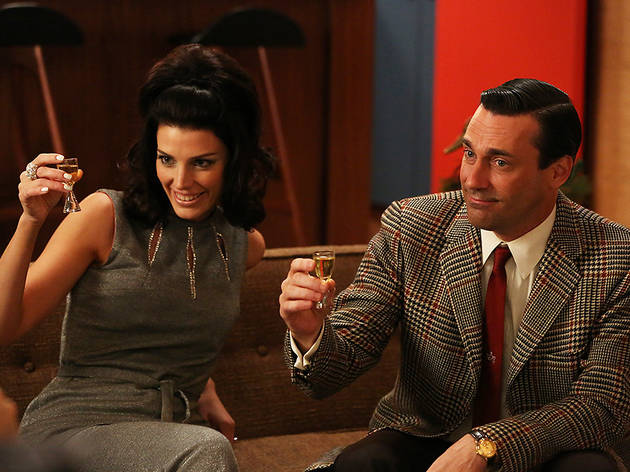 Series six, episode three
Oh, Don. We should have known better, of course, but did anyone not feel a bit sick when the old dog turned to his old tricks last week? Last week's double-length opener had a bit of everything (although Pete and Joan fans may have felt a little short-changed).

Peggy threw some classic Draper moves with clients and employees. Don wrestled with his demons while morphing gradually into Roger. Roger wisecracked in therapy but was in obvious distress, giving John Slattery the platform for a wonderful performance. And Betty looked outside the family for salvation amid some deeply disturbing pillow talk. This was an episode with real purpose and intent. With the Tet Offensive, the Kennedy and MLK assassinations, race riots and Nixon still to come as 1968 dawns, there's no shortage of turmoil outside the world of 'Mad Men'.

But it's likely to be the internal dynamics – with the series now engaging so intently with its own history – that once again prove so compelling. As ever, information is scanty about tonight's Jon Hamm-helmed instalment, but we're told that Don disagrees with a client, Pete entertains a guest and Peggy tries to gee up her staff. To say that only scratches the surface is likely to be something of an understatement.
Sponsored listing
Flotsam & Jetsam
The name of this Antipodean-style café is certainly curious. Have they filled it by scouring the beach for odds and ends hurled from broken boats and shipwrecked ships? The attractive interior here suggests not - though there are bulkhead wall lights, and one large table could, perhaps, have been made from driftwood. The food is certainly fresh. Expect dishes such as pineapple bircher muesli, smashed avocado and feta with pickled chilli, lime, mint and poached egg on rye sourdough, buttermilk pancakes and an array of cakes and pastries at the counter. There are Crosstown doughnuts, too. Coffee is supplied by Allpress Espresso, tea by T2. These are served alongside freshly squeezed juices, Karma colas and sodas from Luscombe. Please note, Flotsam & Jetsam does not take bookings.
Venue says: "Passionate about coffee? We hold fun, evening 'barista basic' courses each month. Find out more and book your spot via our website."
You might also like