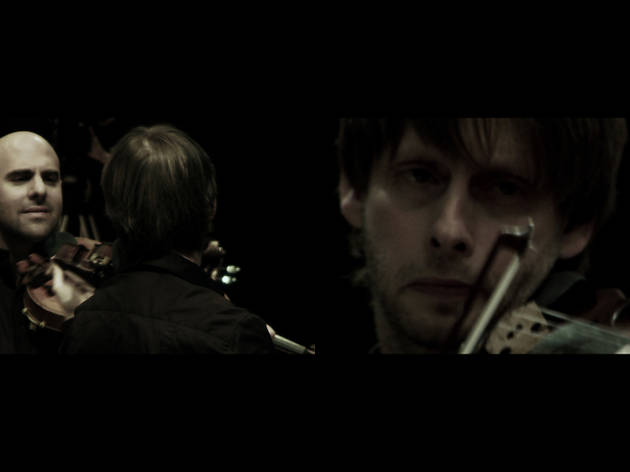 It's difficult to know how to evaluate a work that incorporates another work – especially when the secondary piece in question is as sublimely beautiful as Mozart's 'Sinfonia Concertante'. Taking its title from the catalogue shorthand for Mozart's composition, Douglas Gordon's 'k.364' mainly consists of close-up footage of the two lead violinists, each projected on to large, opposing screens in a darkened room – though with a few mirrors placed around the walls to duplicate the imagery and generally discombobulate the viewer.
The concept is similar to Gordon's study of footballer Zinedine Zidane: a form of filmic portraiture, capturing the nuances and drama of the two musicians' performances from the puckering, grimacing expressions on the face of one – the other, all crinkled eyebrows like Marlon Brando – to the buddyish looks they occasionally exchange. Plus, of course, there's the music, which is simply stunning. Is there anything else to say?
Well, yes, because there's a backstory. The performers are Israeli Jews of Polish descent, whose families fled the Nazi genocide. And the film opens with impressionistic segments of the two friends travelling by train through the ominous Polish countryside, telling stories about heritage and homeland, before arriving at the Warsaw Philharmonic.
Yet, compared to the music, their chatter seems inconsequential. There's no suggestion of ever being able to resolve their feelings or memories. Rather, the Holocaust seems something uncontainable, beyond representation – a sort of negative sublime. Like the music, it simply is.
This notion of a crisis of representation is explored by other works, too – though in a rather over-literal way. There's some framed sheet music for 'k.364', the pages illegibly charred, partially burnt away to reveal mirrors beneath. And then the final installation: skulls, beer bottles, drugs paraphernalia and personal ephemera covering the gallery walls – a sort of inchoate self-portrait, a dissolute compendium of ideas, imagery, and experiences. Yet, after the serenity and magnificence of the main piece, its sense of debauchery somehow feels oddly immature.