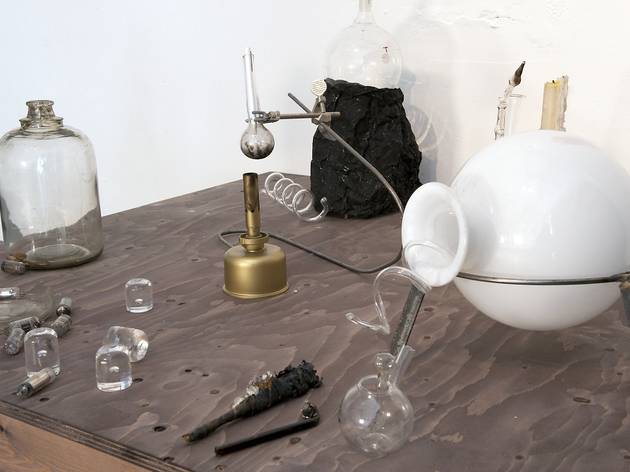 Elias Hansen's blown glassware – flasks, beakers and pipes fashioned as if they were the remnants of some elaborate teenage bong experiments – are set among rusting and worn beach detritus. It looks like an advertising spread: the stoner-chic layout of neat, must-have ornaments in some sardonic hipster crafts magazine (should such a publication exist). And while the juxtaposition of this American artist's delicate handcrafted glass with seaside keepsakes wistfully matches sunny youthful scavenging with a fiendish, sub-cultish craftsmanship, this exhibition seems to go little further than this dreamy resonance.
In itself, the glassware is good, but not remarkable. And when paired with the sea scraps to comprise sculptural assemblages, although in part structurally interesting, on the whole these are not remarkably strong abstract forms. Not extraordinarily compelling as craftworks, nor significantly divergent as sculptures – what of the ideas? Admittedly, the presentation of royal blue balloons of glass and citrus coloured vials, alongside ham-fisted electronics, gaudy plastic flashing pound-shop crystals, mollusc-ridden pebbles and corroding pliers, begins to open up a dialogue about the valued and the discarded.
But what of it? Undoubtedly, Hansen is concerned with objects – their significance and their relation to memory. These works, however, don't stretch this idea. Neither massively desirable nor affectingly repugnant, and with no narrative hooks firm enough to warrant a strong engagement of the imagination, one is left wondering what this artist does differently to say a master glassblower or an incisive stylist.