Jean Dubuffet: Late Paintings (1975-1982)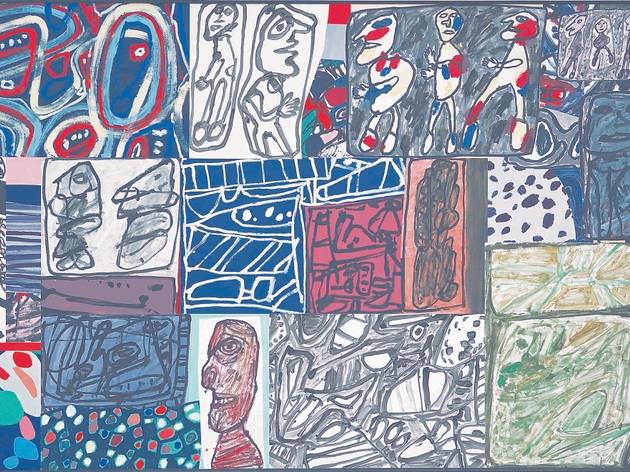 Art by the insane, by 'primitives', and by children – this was the main axis around which Jean Dubuffet theorised his concept of 'Art Brut' (a precursor to later formulations of 'outsider art'). As for his own work, most of what gets shown in this country are paintings from his mid-century period, which tends towards the more schizophrenically stylized, scratchily neurotic end of the Art Brut spectrum. Yet, as this fascinating exhibition shows, during the last decade of his life he moved in the other direction, filling his canvasses with strong colours and elemental, explicitly childlike depictions.
In his works from the 'Lieux abrégés' series, in particular, figures are only ever presented facing straight-on or sideways, their features generalised and undifferentiated, and almost always occupying their own, delineated area, rarely overlapping. Heads and hands are oversized – the way children tend to portray them. Emotions and gestures are basic: happiness, sadness, anger. Most of all, there's Dubuffet's actual technique: bold, searching outlines, more like drawing than painting, that were done with thick brushes, then followed by some endearingly slapdash colouring-in.
Broken down like this, of course, it all sounds patronisingly easy. Yet unlike numerous other artists during the course of modernism who attempted similarly naïve styles, Dubuffet's approach manages to appear utterly guileless and convincing, somehow holding out the promise of recapturing a lost state of innocence, of unselfconscious, untutored spontaneity.
Works from subsequent series, from the later '70s and '80s, seem slightly more knowing, more deliberately conscientious. Figures become iconic, artfully simplified and motif-like. And in his largest work – a vast collage of faces, figures and dizzying patterns, formed from sections of earlier paintings –the sense of ecstatic abundance is continually tempered by the awareness of aesthetic selection and balance, the overall composition feeling at once intuitive and highly refined.