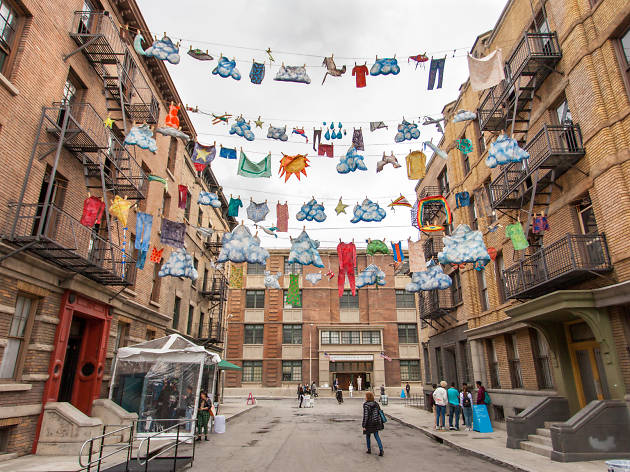 Time Out says
Art lovers, get set to flock to Paramount Pictures Studios for this dreamy display of works from 70 international galleries.
The New York export lands in L.A. for its second annual outing in February. Plan to spend some serious time immersing yourself in the imaginative projects as well as conversations and screenings.
More than 70 galleries will be exhibiting works, with pieces from Los Angeles legends and international art stars. Perhaps most notably: Pace Gallery and Kayne Griffin Corcoran have combined forces to display four works from Light and Space icon James Turrell's "Glass" series, as well as an immersive ceiling installation.
And new this year, the Focus L.A. section will provide a platform for 13 emerging galleries that've been open for 15 years of fewer.
The art fair will also feature the return of Frieze Projects, which takes over the studio's New York backlot with a series of site-specific commissions (this was the clear standout for us at the inaugural event). This year's highlights include a reparative dance performance curated by Black Lives Matter cofounder Patrisse Cullors, a palm tree cell phone tower by Sayre Gomez, a typography-focused wayfinding system inspired by barrio culture from Gabriella Sanchez, and a bronze sculpture of everyone's favorite local mountain lion, P22, created by Will Boone.
If you're planning on consume all. the. art. then you'll need some grub to keep you going. Thankfully, Frieze is featuring some pretty stellar pop-ups, including Sqirl, Roberta's, Tacos 1986, Kronnerburger and Umi.
Frieze will be viewable with timed tickets on Saturday and Sunday, February 15 and 16, with private preview events the two preceding days. Though most of the art is concentrated inside the gallery tent, we found the backlot to be the most fun aspect last year—so curious participants looking to save a few bucks may want to stick with the "program only" tickets.
Details