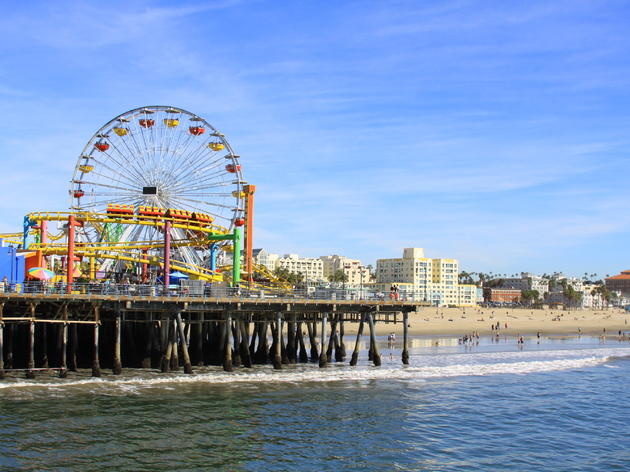 Time Out says
Considered the focal point of Santa Monica Beach, Santa Monica Pier includes Pacific Park, a traditional set-up stocked with a Ferris wheel, aquarium, fairground games and cotton candy stands. On warm weekends, the stretch is busy with families, beach bums and gym bunnies, who work out in public at the original Muscle Beach just south of the pier. Lately, the Pier has played host to a number of outdoor film and music events, bringing a hipper clientele to the boardwalk.
Details
Average User Rating
3.8 / 5
Rating Breakdown
5 star:

5

4 star:

7

3 star:

2

2 star:

0

1 star:

2
The very epitome of what LA has to offer... Santa Monica pier has all the touristy vibes and beautiful weather.
The pier can get touristy but if you go on an off day, riding on all the rides is a good fine and good times! Parking can be a nightmare on the pier so I recommend parking closer to 3rd street promenade and just walking over.
Get ready for some fun times and fun in the sun!
One of my most Favorite beaches/places in Santa Monica!
Santa Monica Pier has earned its right as an iconic LA attraction. Sure it can be crowded and some of the games and things are a bit cheesy, but it wouldn't be the same without those characteristics. It's a great place to people watch and have a touristy day in LA. It's just one of those places you have to go to at least once.
Definitely a tourist infused area but hey, that only adds to the charm of this place. It provides endless hours of people-watching, there are a plethora of food trucks in the area to choose from, and if you walk to the end of the pier, you can almost always find eager musicians ready to serenade you with their cheery songs. The only thing I don't like are the gentlemen that stand at the entrance to the pier with giant yellow snakes. Fun for some, but terrifying to the rest of us!

On the one hand, the Santa Monica Pier is the end of historic Route 66 and a scenic spot to take in the Southern California coastline. But getting there, and navigating the hordes of tourists, is an awful experience no matter what time of year. It's still worth a visit, just to say you went, but maybe skip the amusement park portion; consider walking along Palisades Park instead or, if you're looking for a pier, try the more low-key Manhattan Beach.
How many places in the world can you ride a Ferris Wheel overlooking the Pacific Ocean while watching the sunset? The pier combines carnival boardwalk fun on the pier while setting a backdrop for a perfect date.

The pier is a great touristy spot to eat and drink and then walk to the beach. Parking can be a nightmare if you plan to stay the whole day. You can reserve a parking spot in advance here to guarantee a place to park all day. http://www.parkme.com/santa-monica-parking
Obviously not disneyland, but a good place to go if you have a couple of hours in LA. The roller coaster isn't bad if not as ambitious as it could be and they do make an effort to give it a good marine park feel if that makes sence. It feels like something from the not to distant past but at its best a good verison of it.
What a great article must of taken all of five minutes to write. Why bother, just make a page of ads.