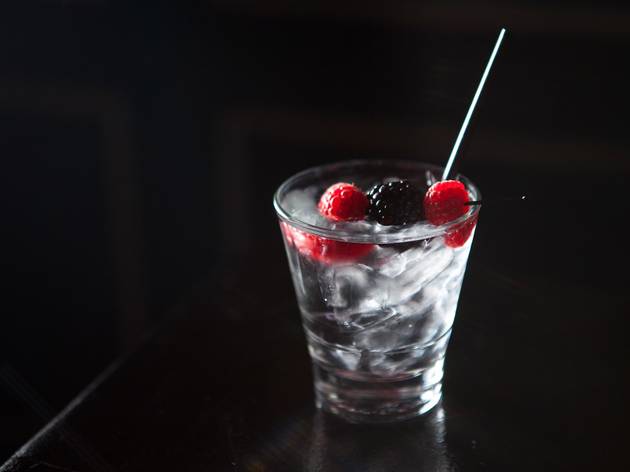 1/9
Photograph: Jakob N. Layman
Fin Fruit Fusion at Alley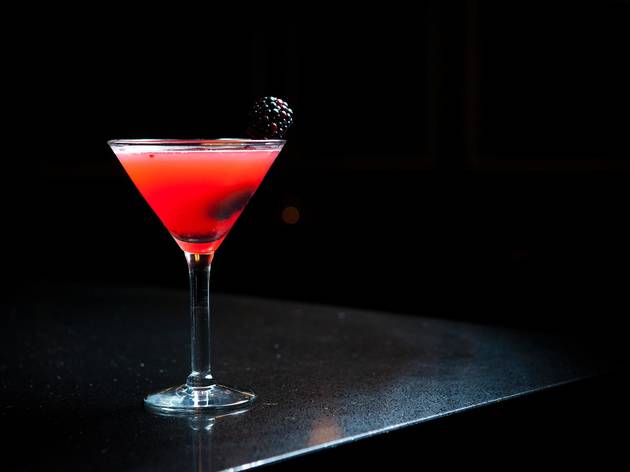 2/9
Photograph: Jakob N. Layman
Betty Boop at Alley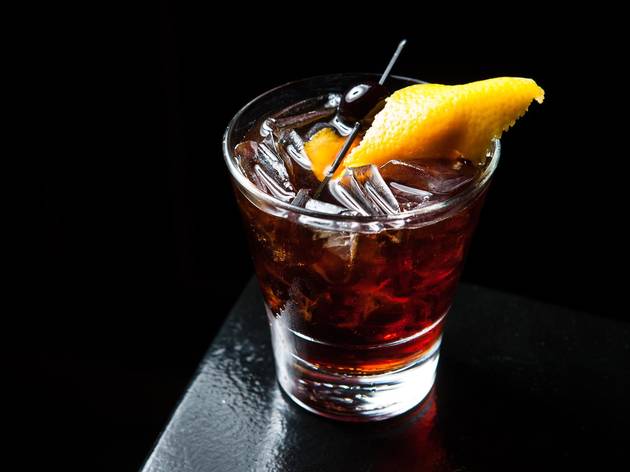 3/9
Photograph: Jakob N. Layman
Nucky Thompson at Alley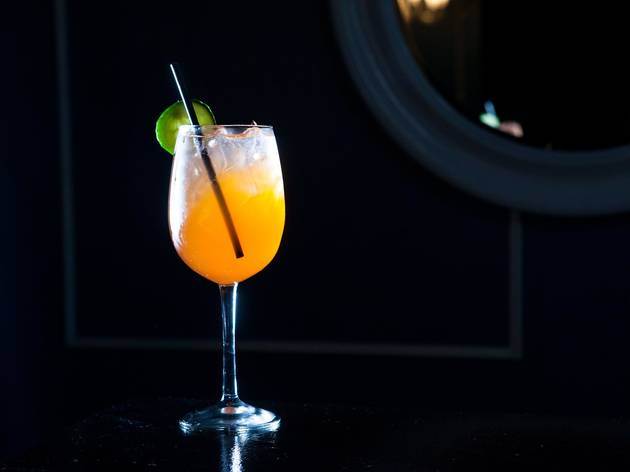 4/9
Photograph: Jakob N. Layman
Audrey Hepburn at Alley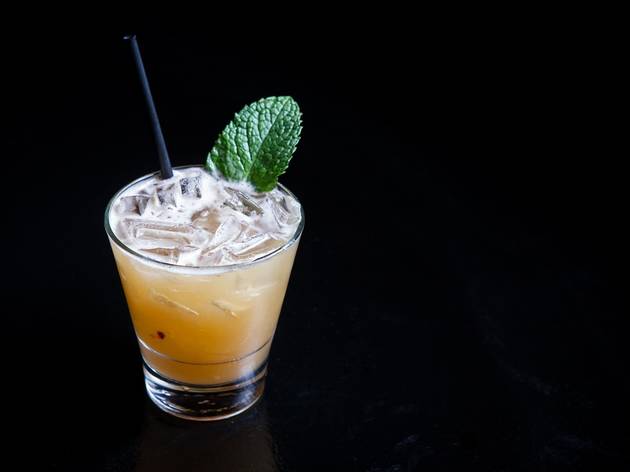 5/9
Photograph: Jakob N. Layman
Smirking Rhino at Alley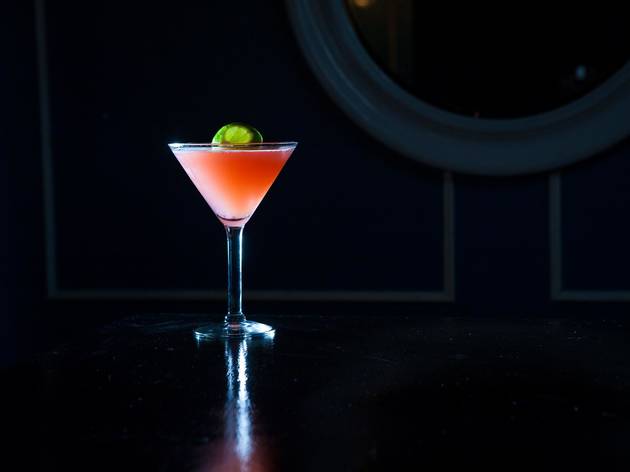 6/9
Photograph: Jakob N. Layman
The Hemingway at Alley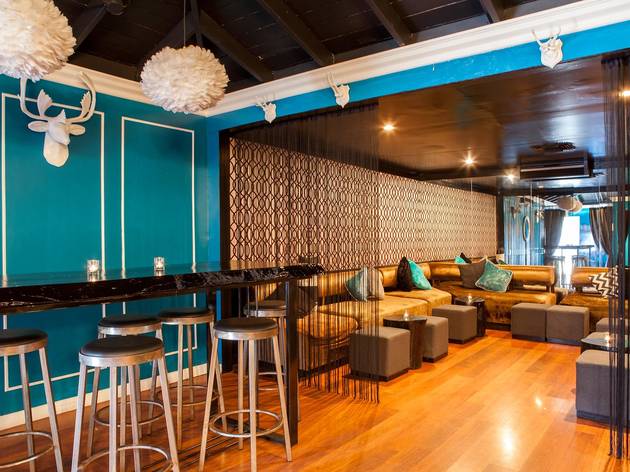 7/9
Photograph: Jakob N. Layman
Alley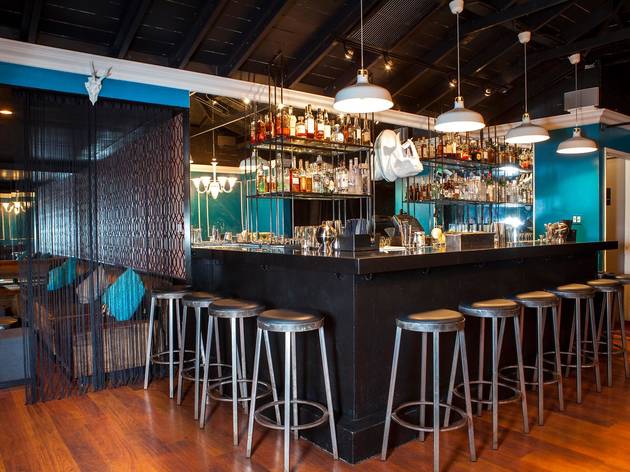 8/9
Photograph: Jakob N. Layman
Alley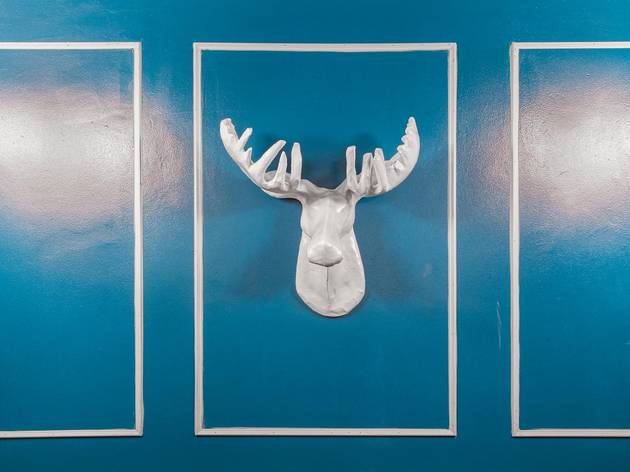 9/9
Photograph: Jakob N. Layman
Alley
Time Out says
LA's obsession with speakeasies doesn't look to be fading anytime soon, and hot on the heels of this enduring trend is Alley, a new "secret" bar on the outer perimeters of Culver City. Housed behind Fin, an Asian-fusion seafood joint that opened last November, Alley is not technically in an alley, but rather at the rear of the building. Pay no mind to the "Employees Only" sign marking the entrance—once you're through the door, an ornate painting of a peacock lets you know you've either arrived at the right place or stumbled into the most lavish break room imaginable.
Alley's interior achieves a nice balance of past and present. The vibrant blue walls, accented with white molding and trim, evokes Old Hollywood glamor; other elements are decidedly modern, like the industrial metal bar stools and the mirrored minimalist bar. Ceramic antlers and white busts of deer, elk and other horned beasts along with modern chandeliers add a touch of understated elegance to the space. For its relatively small size, Alley has ample seating, with two large booths for groups, a long high top with stools, and a recessed lounge with cozy banquettes for more intimate imbibing.
Vitals
Good for: After-work decompression with friends, an intimate date or pre- or post-meal cocktails to kick off the rest of your weekend evening. Having only been open for a few months, Alley still has the benefit of being relatively unknown, so get in there before the crowds spoil the vibe.
The scene: Likely a result of its down-low status, Alley on a Friday night is a mellow mix of in-the-know Westsiders. At the bar, a tanned young rich guy in salmon slacks tells tales of his exploits in southeast Asia, while in the corner, the enthusiastic participants of an over 40s ladies night erupt in cackles before settling into their cocktails. Table service is personably administered by the bartender himself, who offers a confident and informative breakdown of the menu and is happy to provide suggestions—none of which disappoint.
The playlist: Alley nails it on the music front, with a mix of quality hip hop and tolerable reggae creating an atmosphere that manages to both chill you out and pump you up after a long, exhausting day. Expect to hear the likes of A Tribe Called Quest, Mos Def, Jurassic 5 and The Pharcyde with occasional bouts of Damian Marley and friends.
Bartender says: A veteran of such Westside strongholds as The Misfit, Russell The Bartender knows how to mix a drink, so Alley's owner gave him a list of cocktail names and let him work his magic on the menu. The result is a comprehensive mix of spirit-forward, adventurous and fruit-centric beverages as eclectic as their inspirations, which range from James Cagney to Betty Boop.
Drink this: The Hemingway nods to the author's famous affinity for daquiris with rum, Luxardo cherry liqueur, lime and grapefruit juice and a brandied cherry, while the blood red Betty Boop combines vodka, elderflower liqueur, lemon juice and blackberries in a tart homage to the classic cartoon vixen. A slight break from theme is the Smirking Rhino, named after the one mounted behind the bar. This one's for the whiskey drinkers, with freshly muddled ginger adding an eye-opening bite to the rye and agave. And you can't leave without trying the bartender's favorite, the Nucky Thompson. A reinterpreted take on a negroni with gin, sweet vermouth, amaro and orange peel, it goes down smoother than Steve Buschemi's delivery. All cocktails are $12.
Details
Address:
12223 W Washington Blvd
Los Angeles
90066

Contact:
Opening hours:
Mon-Sat 6pm-2am
Do you own this business?