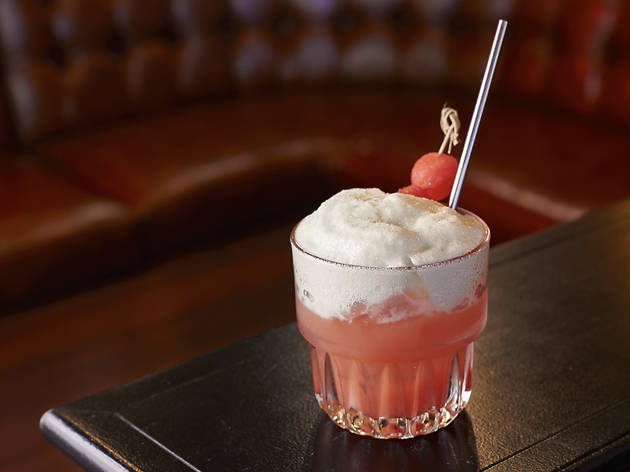 1/10
Photograph: Ryan Tanaka
Mr. DeMille at Bar Fifty Three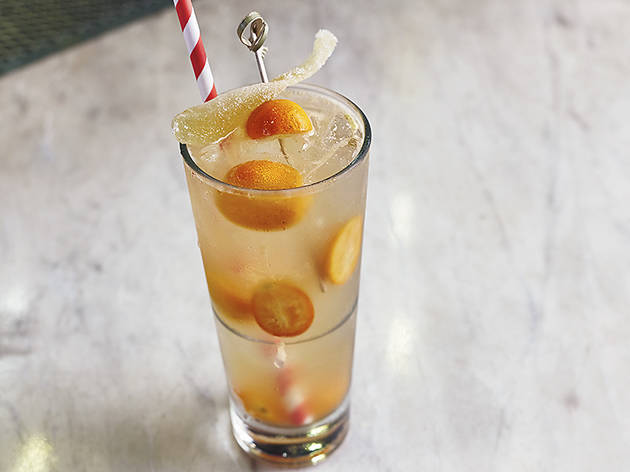 2/10
Photograph: Ryan Tanaka
Norma Desmond at Bar Fifty Three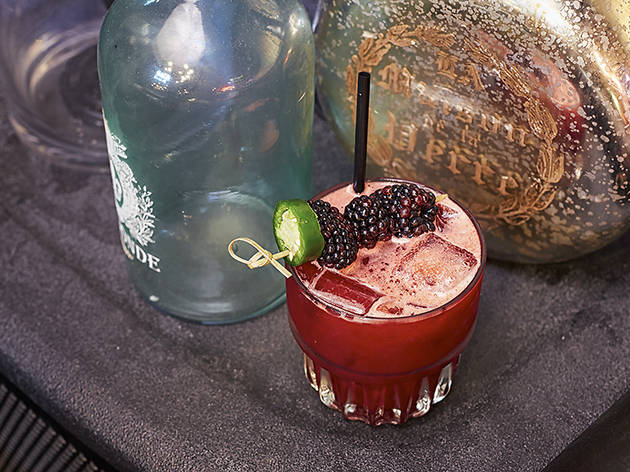 3/10
Photograph: Ryan Tanaka
Squad Up at Bar Fifty Three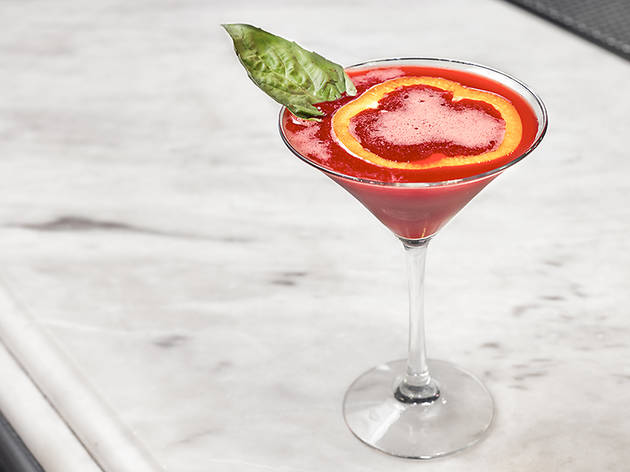 4/10
Photograph: Ryan Tanaka
Ciro's at Bar Fifty Three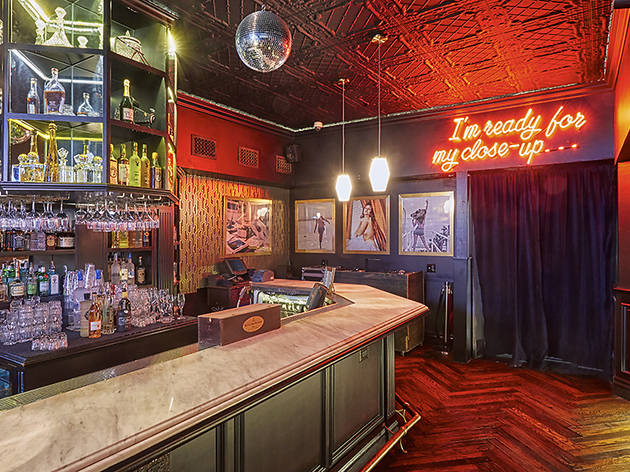 5/10
Photograph: Ryan Tanaka
Bar Fifty Three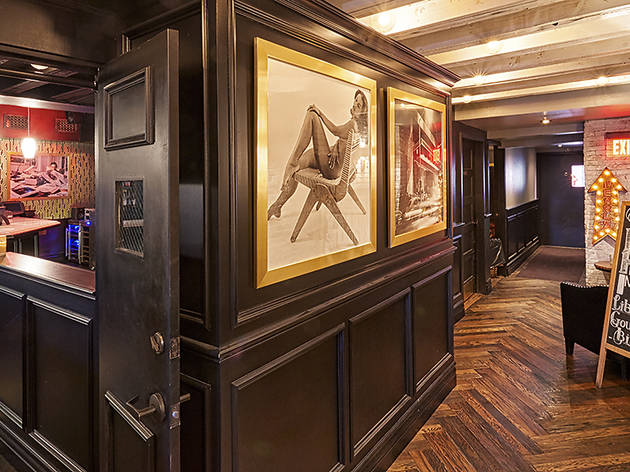 6/10
Photograph: Ryan Tanaka
Bar Fifty Three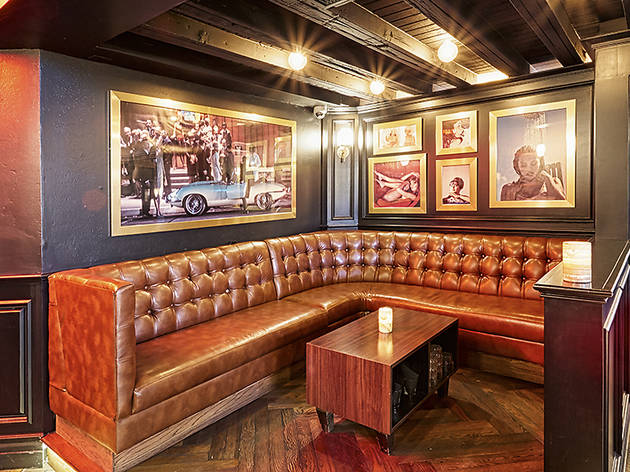 7/10
Photograph: Ryan Tanaka
Bar Fifty Three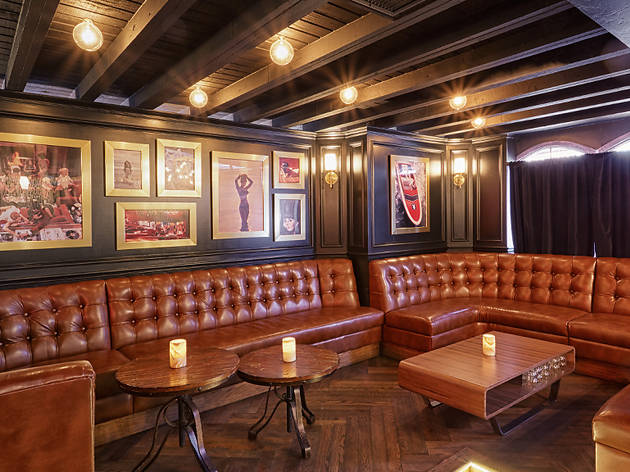 8/10
Photograph: Ryan Tanaka
Bar Fifty Three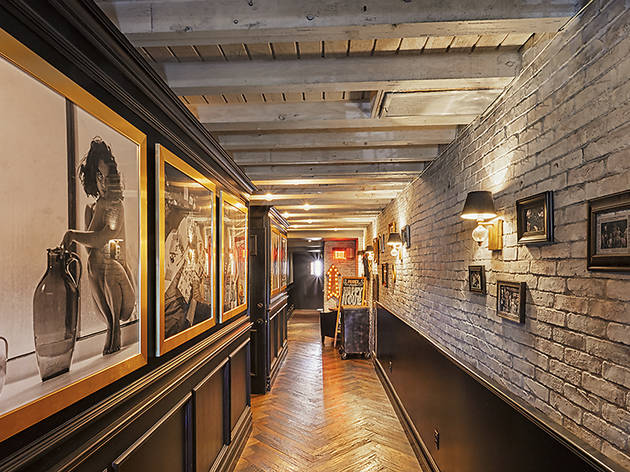 9/10
Photograph: Ryan Tanaka
Bar Fifty Three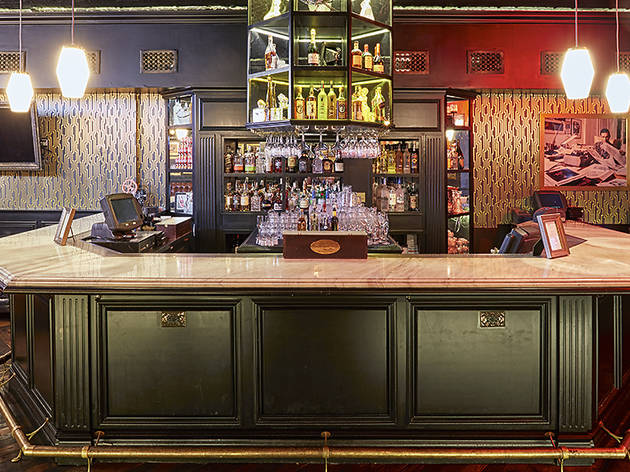 10/10
Photograph: Ryan Tanaka
Bar Fifty Three
Time Out says
This Playboy-inspired bar hits all the Sunset Boulevard must-haves: cool clientele, pricy cocktails and a doorman to impress.
There are no cotton-tailed bunnies, no members-only keys, and absolutely no smoking. An ode to the year Hugh Hefner launched his legendary brand, Bar Fifty Three converts the compact lower level of Pearl's Liquor Bar into a swinging mid-century bachelor pad complete with a disco ball, snazzy wrap-around bar, and jet black walls plastered with photos of vintage Playmates and a strapping young Hef from the magazine's archives. Either smooth-talking the doorman or getting friendly with a promoter is necessary to slipping through the velvet curtain. Inside, a neon sign near the DJ booth reads "I'm ready for my close-up," quoting the famous line from film noir classic Sunset Boulevard. There's your standard bottle service, starting at $450 and required in order to sit at one of the few seating areas. The only other option is ordering one of five handcrafted cocktails at a bar not-so conveniently flanked by a slim dance floor. At least the drinks—all very fruity and frothy—are somewhat palatable. While it may not be as grand and daring as the lounges in Playboy's heyday, Fifty Three provides an adequate spot for late-night revelry on the Strip.
Vitals

Good for: The laid-back night owl. Sure, there's a DJ and a dance floor, but there's a reason this place doesn't have "club" in the name. With a plethora of leather sofas and peewee dance area, Fifty Three is more of a leisurely man cave than a buzzing disco. The dark and intimate living room space has a sultry, speakeasy vibe and the kind of close quarters ideal for singles on the prowl. Lucky for men, every night is a promoter night, which fortifies the high female-to-male ratio. Make it the last stop of the night and you won't be leaving alone.

The scene: This place is as Hollywood as it gets, thanks to the persnickety door policy and celebrity patronage—and by celebrity we mean reality television stars (ahem, Vanderpump Rules). Start with the Squad Up ($15), an aperol smash with a blackberry-pepper kick and enough tequila to give you plenty of liquid courage. Given its position on the Sunset Strip, Fifty Three appeals to a coterie of well-dressed name-droppers who have popped by to see and be seen. Definitely makes for some top-notch people-watching.

Drink this: In case you missed it, Old Hollywood is a prevailing theme at Fifty Three, and drinks (all $15) are a throwback to the '50s. Here, Ciro's is a whiskey-based refresher made with lemon juice, strawberry, basil and bell pepper, presented in a martini glass. Sunset Boulevard's faded silent film star Norma Desmond is embodied as a spirited swill of spiced rum, bitter-sweet Grand Poppy liqueur and muddled kumquats, topped with ginger beer and served in a highball. Mr DeMille, named after the famed filmmaker, will make you rethink vodka: Ketel One, pomegranate tequila, watermelon juice, and jalapeno-agave syrup are stirred, poured on the rocks and capped with cucumber foam. Every intoxicant goes down a little too easy, and at $15 a pop, let's hope your bank account can take it.

Our tip: You'll have to get the timing right to really enjoy Fifty Three. Technically, the bar opens at 9pm, but the truth is no one gets in until at least 10:30pm. Arrive before then and you'll be encouraged to bide your time on Pearl's Liquor rooftop. In any case, you have two choices: Come "early," spend money upstairs, make friends with the bouncers, and secure your spot at the bar before the crowd—or arrive late and join the line.
Details
Address:
8909 W Sunset Blvd
Los Angeles
90069

Contact:
Opening hours:
Wed, Fri, Sat 5pm-close
Do you own this business?
Users say