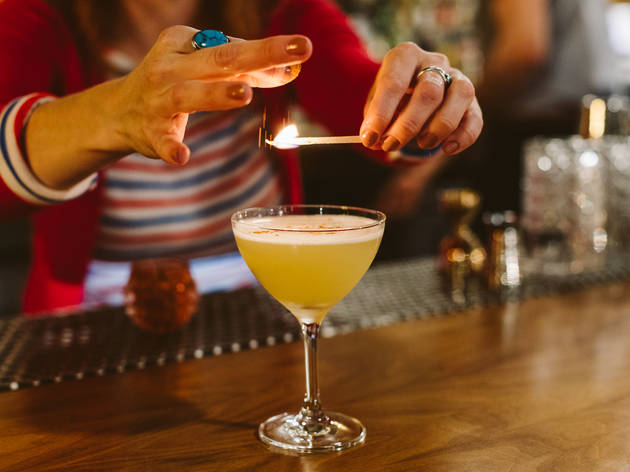 1/16
Photograph: Rozette Rago
Desi Arnaz at Birds & Bees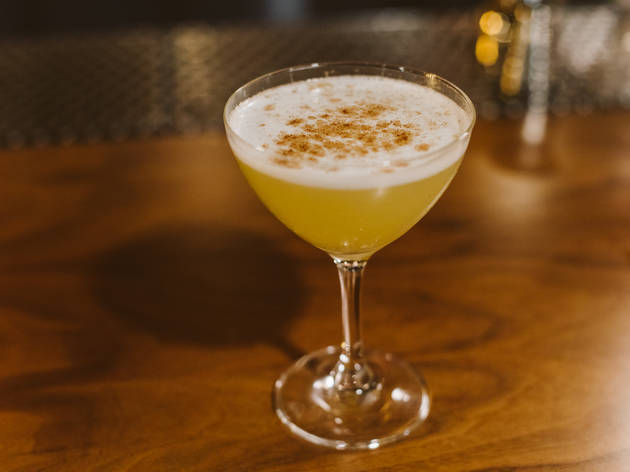 2/16
Photograph: Rozette Rago
Desi Arnaz at Birds & Bees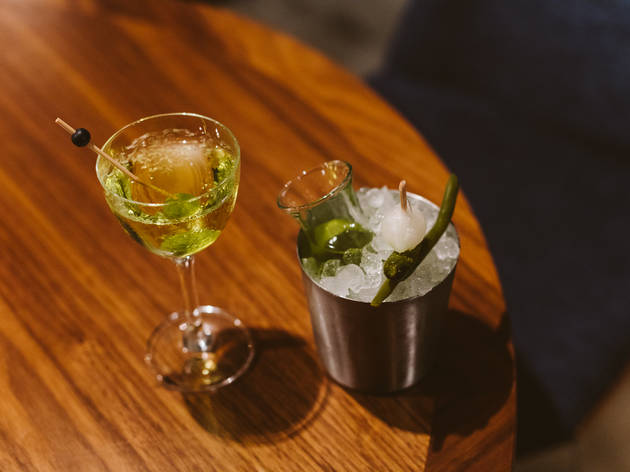 3/16
Photograph: Rozette Rago
Ella Fitzgerald at Birds & Bees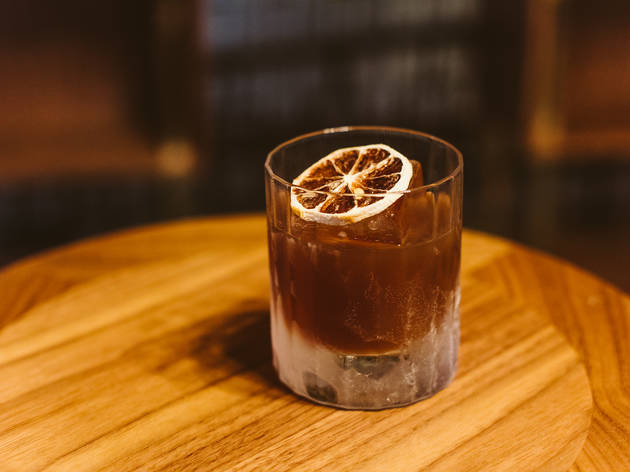 4/16
Photograph: Rozette Rago
Pat Boone at Birds & Bees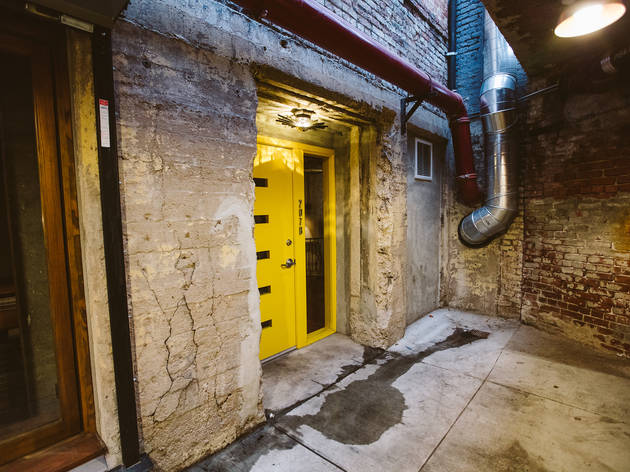 5/16
Photograph: Rozette Rago
Birds & Bees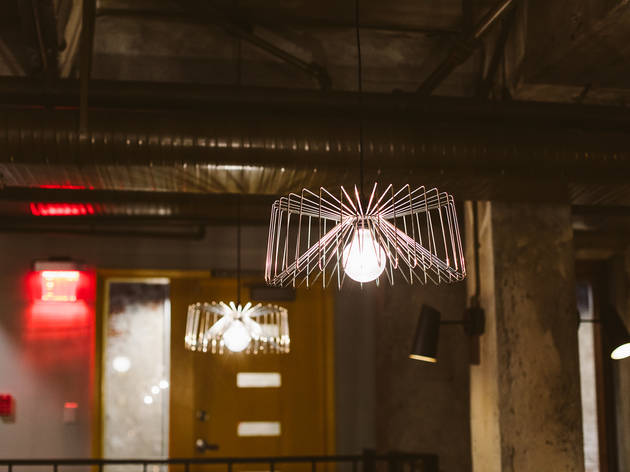 6/16
Photograph: Rozette Rago
Birds & Bees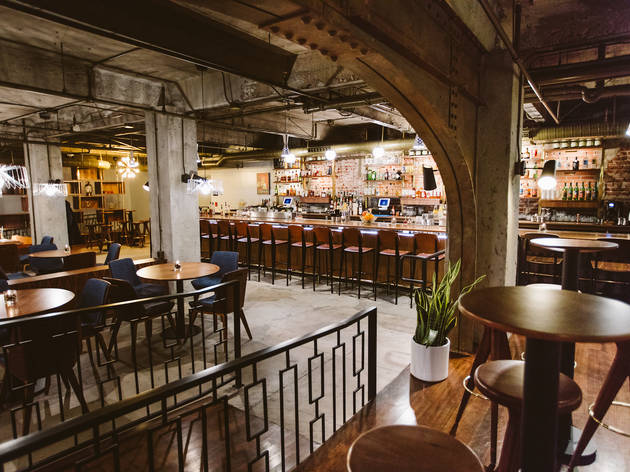 7/16
Photograph: Rozette Rago
Birds & Bees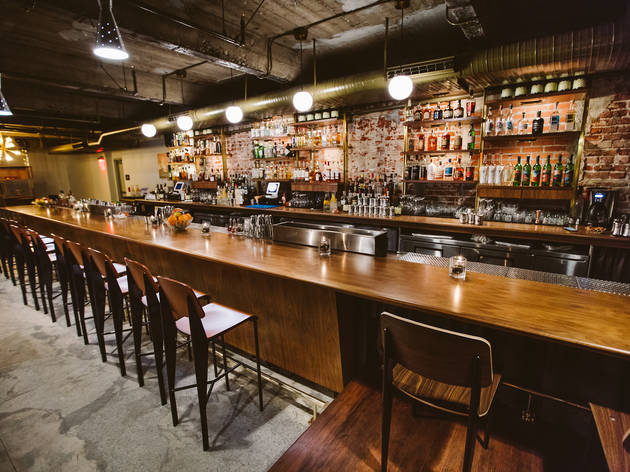 8/16
Photograph: Rozette Rago
Birds & Bees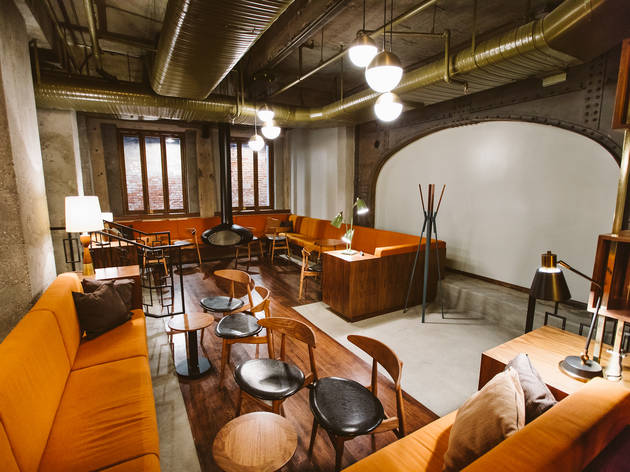 9/16
Photograph: Rozette Rago
Birds & Bees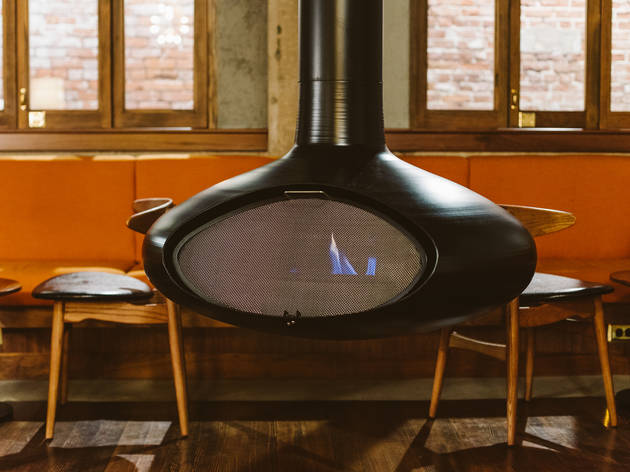 10/16
Photograph: Rozette Rago
Birds & Bees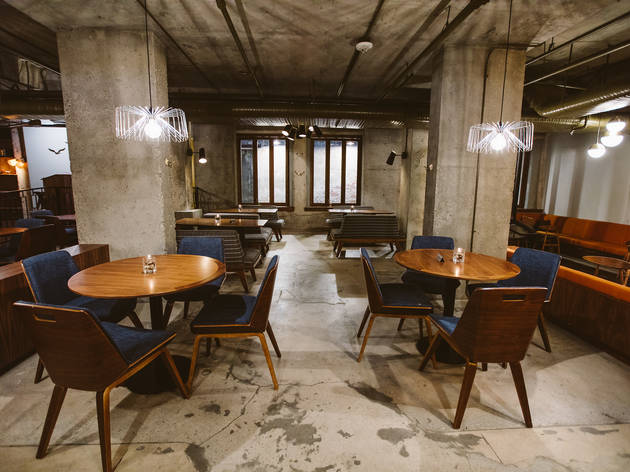 11/16
Photograph: Rozette Rago
Birds & Bees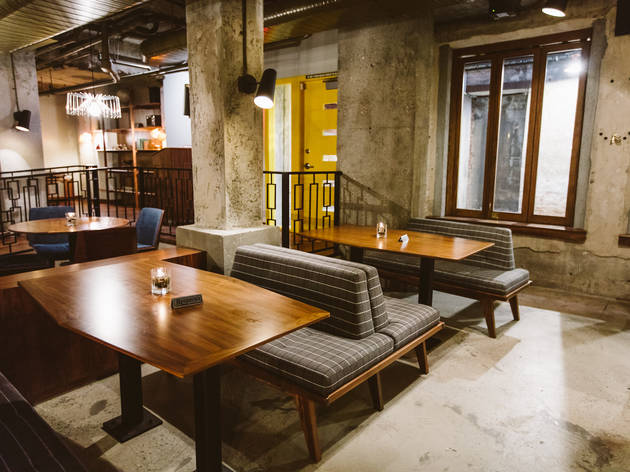 12/16
Photograph: Rozette Rago
Birds & Bees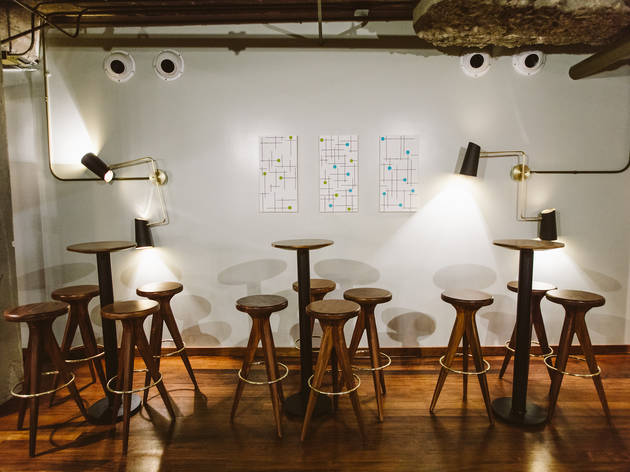 13/16
Photograph: Rozette Rago
Birds & Bees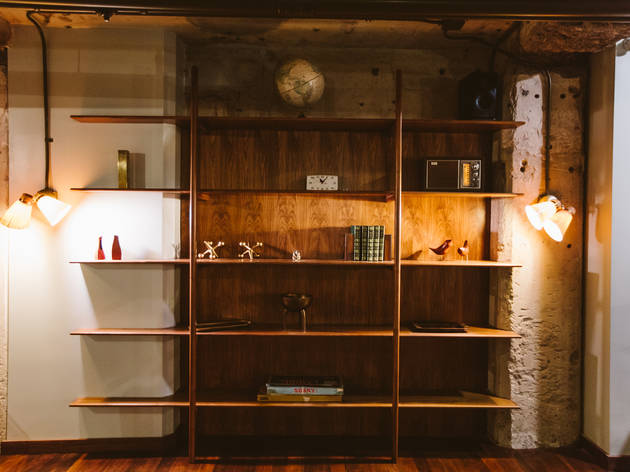 14/16
Photograph: Rozette Rago
Birds & Bees
15/16
Photograph: Rozette Rago
Birds & Bees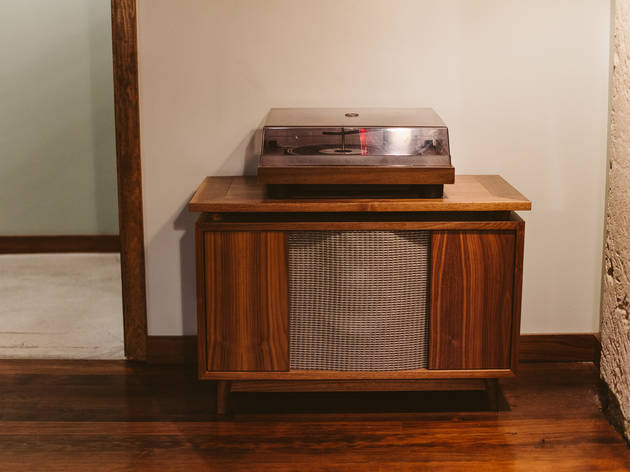 16/16
Photograph: Rozette Rago
Birds & Bees
Time Out says
From the decor to the cocktails, Downtown's newest speakeasy channels 1950's swank.
L.A.'s love affair with speakeasies just got a blast of creativity. Birds & Bees, Downtown's newest and hardest-to-find watering hole, eschews the traditional Prohibition-era decor for a fresh, 1950's spin on this most celebrated bar style.
B&B makes you work to find it. When standing in front of 207 South Broadway Street, ignore the office building and turn left to find the parking lot next door. In the lot's back corner, a cheery bouncer will emerge from the shadows and lead you down a narrow stairway. Once the door on your left will opens to a cavernous, industrial-chic expanse, you're now crashing a 50's cocktail party in the ritziest, tri-leveled New York apartment on Fifth Avenue.
The room has three sections on different tiers separated by pillars, à la adjoining rooms in a 70-year-old mansion. The lighting is low in many places, creating an extra layer of intimacy. The weekday illusion of this being your own secret hideaway dissolves on weekends, when Angelenos flood the room with the zeitgeist of a mega-city in the midst of a nightlife revolution.
Vitals
The scene: Take the infamous party scene in Breakfast at Tiffany's,
kill 90-percent of the lights, empty 50-percent of the people and seat the rest in the lap of 50's swank. In the early evening you'll share the bar (and make new friends) with locals from nearby lofts and cocktail heads hunting down L.A.'s newest haunts. The man-bunned and mustachioed mixologists are polite and chatty despite wearing truly awful floral aprons you haven't seen since grandma's kitchen. Take a lap to find other early American tchotchkes (an old encyclopedia set, paper weights) hiding in each cranny of the room. The music is big band and jazzy, completing the era-appropriate motif.
Good for: Bring that date you want to impress with your knowledge of the city's most secretive bars. The sweeping homage to post-WWII Americana makes B&B a spectacle that will impress any bar-goer. The 5pm opening time offers the opportunity for an early happy hour with the coworker who also needs a refuge in which to feel safe, secluded and rich.
Drink this: Five seasonal cocktails and five variations of classics round out a full program that is inventive and ambitious. Start with a savory Ella Fitzgerald ($14), a spin on the dirty martini with a base of pickle juice instead of olive. The saltiness is less intense, maturing the drink and expanding its appeal. What's more, it comes in a tiny, elegant glass Queen Elizabeth would have clutched with an extended royal pinky. The performance favorite is the Desi Arnaz spiced daiquiri ($14). The rum and pineapple-lime combo mixes like a key lime pie in liquid form and gets better with every sip. Witness the bartender sprinkling a five-spice cordial over an open flame to add a smoky garnish. For a heavy-hitting drink, the Pat Boone ($14) is a three-ingredient punch in the face. Pedro Ximenez Sherry and American absinthe overpower its rye whiskey base. One might guess it was wine and Jäger over an ice block topped with only a dehydrated lemon slice for protection. First-time sherry drinkers should share this with a trusting and ambitious friend.
Our tip: If unamused by the craft in the cocktails, there is Bass Pale Ale, Hamm's Beer, Rolling Rock and Guinness as well as a bevy of mostly European wines (red, white and rose) and a sparkling option. There is no kitchen, but a bowl of Chex Mix or Chicago-style popcorn (white cheddar and caramel) is available for $5 apiece. What else would you expect at a 50's cocktail party?
Details
Address:
207 S Broadway
Los Angeles
90012

Contact:
Opening hours:
Mon-Thu 5pm-Midnight; Fri-Sat 5pm-2am
Do you own this business?
Average User Rating
4.7 / 5
Rating Breakdown
5 star:

6

4 star:

3

3 star:

0

2 star:

0

1 star:

0
Love this spot! Look for the Birds and Bees logo on the sidewalk to find the hidden entrance. The speakeasy vibe matches the DTLA atmosphere so nicely! One of my favorite things about this place is when you walk to the front door and see the bar through big open windows. They managed to make a place feel so open even while being hidden underground!
The drinks here are awesome! You really get what you pay for in terms of taste, creativity and service! Let the bartenders know what you like and they will whip up something to perfection. There is plenty of seating and the host will do their best to accommodate parties of all sizes! This is the perfect spot to meet with a friend a catch up in a relaxed atmosphere.
We came in on a Saturday night for my birthday. I'd been meaning to check this place out for a while, after hearing really great things from those who had attended the media preview event.
I definitely wouldn't have found Birds & Bees just by walking past it on the street. The entry staircase leading to the basement speakeasy is inside a parking lot, which is excellent for ambiance but I wouldn't have felt comfortable walking over if I were alone at night. Thankfully I was with a bunch of my friends, and the bouncer let us through in groups of 3.
The hostess (I don't remember her name, but she was really sweet!!) was incredibly accommodating to our group of 9, explaining that they usually recommend reservations for groups of our size but that they'd give us table space as it became available over the course of the night so we didn't have to crowd around the bar while holding our drinks. True to her word, she had us take over the small tables to the left of the bar area when the smaller parties had left. Later on, when a corner table opened up, we were escorted to that section.
We tried the following cocktails:
* Doris Day (bourbon, honey, lime, matcha): Super strong drink which is perfect for me! It was really pretty and I'd like to come back and try this one again during the daytime.
* Royal Hawaiian (gin, cognac, spanish vanilla liqueur, orgeat, pineapple, lime): This one has the cutest presentation!! It comes out in this ceramic pineapple.
* Smuggler's Eye Opener (genever, pistachio cordial, plum brandy, cream sherry, egg white, lemon)
* El Diablo (mezcal, ginger, lime, B&B house cassis)
It was a little loud inside because it was a Saturday night, so I wish we'd been able to spend time here during a more chill night. Really nice atmosphere, kind service, and drinks on point! I can only suggest that they bring in some live music someday; it would be a neat addition.
Such a cool speakeasy, truly hidden as you have to go downstairs and down a secret alleyway to get to the lounge! The drinks have unique twists on classics, and the ambiance is very industrial/underground, with the dim lighting and the throwback decor. Loved our server, Jessica, who was a true sweetheart and rockstar at the same time, with our drink orders for my large group for my party. They were super helpful with setting everything up, and the drinks were great. They have a small seated "living room" area for groups, and also lots of bar area seating as well. They don't serve any food besides some light bar snacks (i.e. nuts or something of the sort), but I wish they had food! That way we could snack and keep the party going right there. There's a line to get in, so you know it's the place to be. Great spot to hang out and have drinks overall!

Though it may be a little hard to find at night, I highly recommend Violet Hour, their version of happy hour 5pm-7pm Monday-Saturday, where they have $8 classic cocktails. The Doris Day with matcha foam is something special. The vibe is ultra moody (read: dark), and you'll feel like you've stepped back in time.
Now this is truly a hidden gem, really a speakeasy in DTLA! Once you get passed through the dark staircase and brick wall hallway, you're welcomed to one of the classiest lounges I've ever seen! Such a hip and trendy place and definitely a place I'll recommend it all my friends.
The drinks here are ON POINT! They have a great selection of house cocktails but what I love is their "speciality bar made cocktails". All you have to do is tell them what you flavor palette is and BAM, they'll make something delicious!