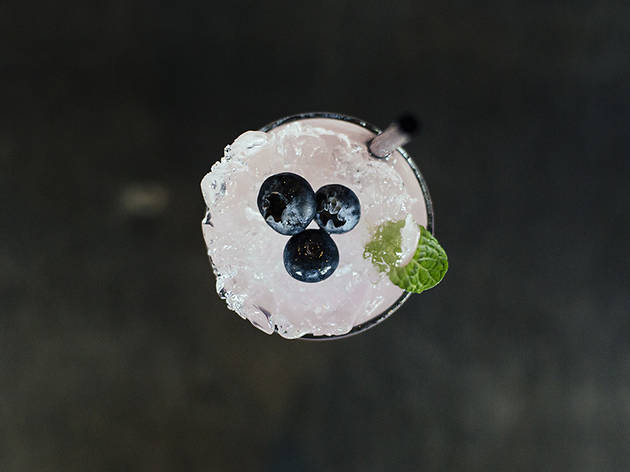 1/9
Photograph: Alyse Gilbert
Huckleberry Finn at Catcher in the Rye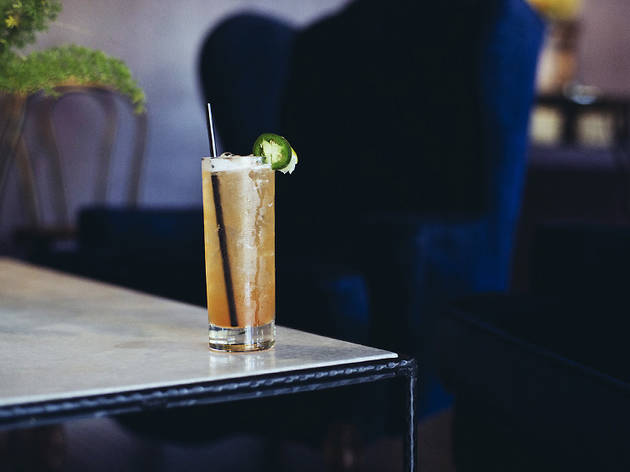 2/9
Photograph: Alyse Gilbert
Tequila Mockingbird at Catcher in the Rye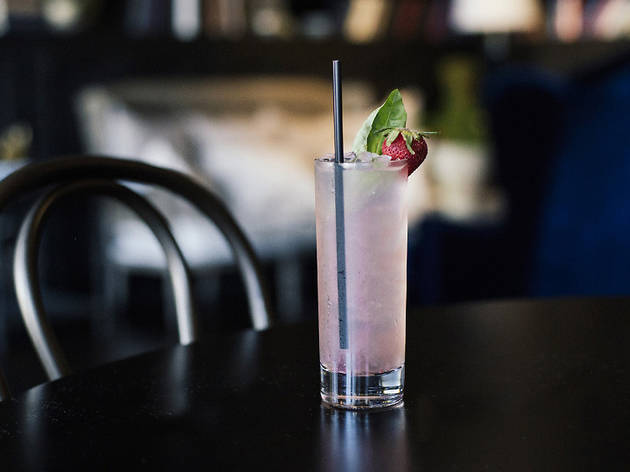 3/9
Photograph: Alyse Gilbert
Secret Garden at Catcher in the Rye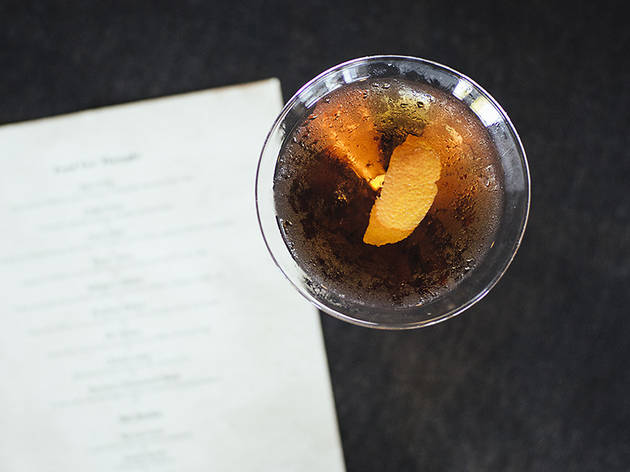 4/9
Photograph: Alyse Gilbert
Clockwork Orange at Catcher in the Rye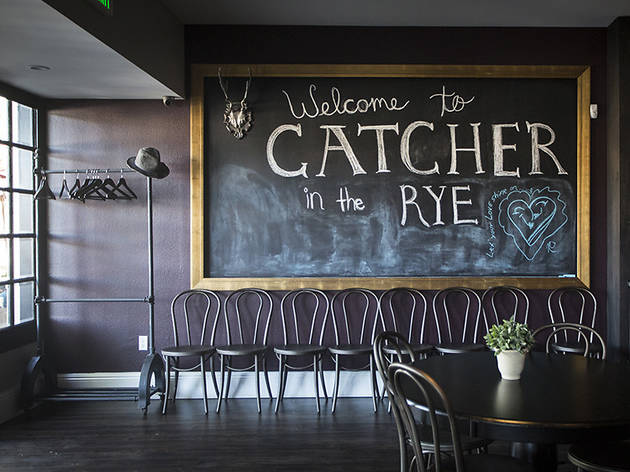 5/9
Photograph: Alyse Gilbert
Catcher in the Rye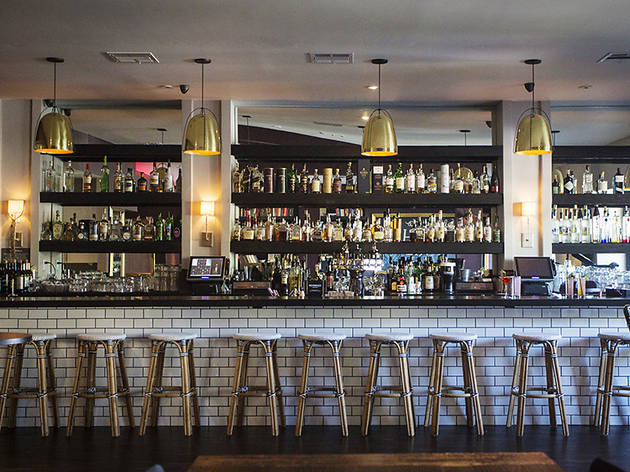 6/9
Photograph: Alyse Gilbert
Catcher in the Rye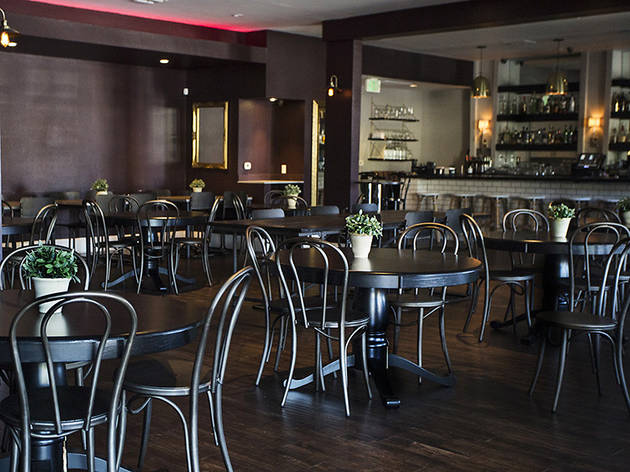 7/9
Photograph: Alyse Gilbert
Catcher in the Rye
8/9
Photograph: Alyse Gilbert
Catcher in the Rye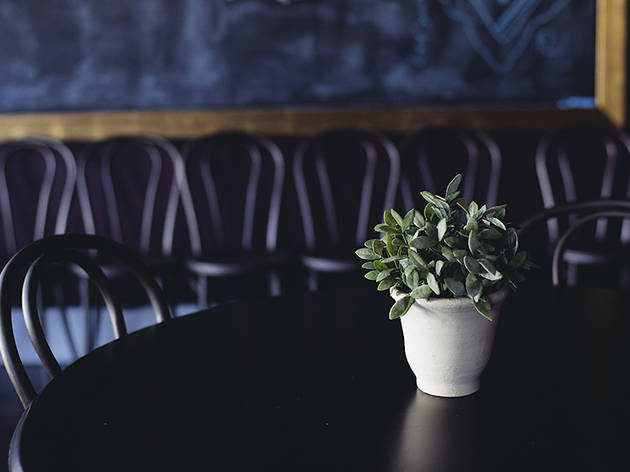 9/9
Photograph: Alyse Gilbert
Catcher in the Rye
It's about time Toluca Lake got a break. Not quite in Studio City and a little too cool to call itself Burbank, this tiny pocket of suburbia has long been a nightlife dead zone. Catcher in the Rye is a welcome addition to the neighborhood, rolling the craft cocktail bandwagon into terrain otherwise dominated by dives and sports bars. As is usually the case, there is a gimmick, this one being a literary theme. We dig it, and we do think the place has potential, though it's not yet fully tapped. Save for a few couches and a book shelf, the interior is ironically lacking in character, feeling more like a coffee shop with a reading corner than a book-centric cocktail bar. We're not expecting a full library, but a little organized clutter goes a long way with atmosphere, and those white walls look mighty empty at the moment. On the contrary, the cocktail menu, while creatively conceived, might benefit from a good editor. With 16 cleverly-named concoctions to choose from, the quality can be inconsistent and some ingredients repetitious. That said, we'd give Catcher in the Rye a second chance—despite its shortcomings, it's an earnest attempt at a first draft.
Vitals
Good for: The large space provides ample room for group gatherings, making it a suitable spot for poetry readings, book clubs and writing group meetings—or literary trivia nights. Despite its obvious nerd appeal, however, there's a lack of pretension and a friendly vibe that lends itself just as easily to casual weeknight drinks.
The scene: Indulging our introversive tendencies, we stopped in early on a quiet Tuesday night. While the sprawled tables were mostly empty, every seat was filled at the bar. Casual 20- and 30-somethings drank, noshed and chatted with the lone bartender, who greeted us with a friendly handshake and introduced himself as we approached—wait, are we still in LA?
The playlist: Catcher in the Rye fell shortest in the music category, unfortunately, with a playlist of late '90s alt rock we haven't heard in such sequence since NOW That's What I Call Music. Not that we're above reliving our awkward tweens with singles from Third Eye Blind and Marcy Playground, but this seemed hardly the time or place for it.
Bartender says: Unsurprisingly, each drink on the lengthy cocktail menu is a literary reference, with ingredients and flavors designed to emulate the mood of the book that inspired it. The Color Purple ($12) incorporates Crème de Yvette violet liqueur, which lends it a magenta hue. Other drinks are more figurative in their interpretation, like The Gatsby ($13) which forsakes Gatsby's own favorite tipple of gin in favor of an opulent pairing of Courvoisier and Grand Marnier, which "feels classy."
Drink this: After growing accustomed to short and stout lowballs, the sheer size of many of Catcher's cocktails came as a bit of a surprise. We concluded a smaller receptacle and a less-is-more approach to ice could have benefitted a number of them in terms of flavor refinement. Yes—we never thought we'd say it, but we're advocating for smaller drinks. Fortunately, the highball mode works just fine for some of the lighter, fruitier drinks, like the Secret Garden ($10), a breezy blend of Tito's vodka, triple sec, strawberry and basil, and the Huckleberry Finn ($12), which combines Plymouth gin, St. Germaine, lime, mint, blueberries and soda. The Tequila Mockingbird ($11) wins best name of the bunch, with Arette Blanco, triple sec, lime, jalapeño and Aperol delivering sweet, sour, spicy and just the right amount of bitter. For those after something stiffer, the Clockwork Orange ($11) is a citrusy take on a rye Manhattan with sweet vermouth, burnt orange, orange bitters and Aperol.
Venue name:
Catcher in the Rye
Contact:
Address:
10550 Riverside Dr
Los Angeles
91602

Opening hours:
Daily 5pm-2am
Do you own this business?
Rating Breakdown
5 star:

1

4 star:

0

3 star:

1

2 star:

0

1 star:

0
I love this bar! We had our company Holiday party here last year, and have been in many times since. You walk in and feel welcome, it is classy without any hint of being pretentious. The cocktails are creative in their names and ingredients, and the food is delicious! I am so happy to see this bar on the list of most loved in Los Angeles - it deserves it!
Hmm. I'm not totally sure what to make of this place. On one hand, the cocktails here are quite good, and the bartenders are skilled at figuring out what you want when you don't know, uh, what you want. With a simple request, they'll whip up something that seems just right. On the other hand, the place itself is pretty weird. There's a quasi-empty area between the bar and a nook with couches, a space that just holds a few high-tops as if the bar was going for a gastropub feel, but thought, "eh, screw it" halfway through. One night there was 90s jams playing; on another visit, absolutely no music on. It's suffering an identity crisis, one that I hope it gets through.