1/7
Photograph: Alicia Cho
Crockard at Grandpa Johnson's
2/7
Photograph: Alicia Cho
Eddie at Grandpa Johnson's
3/7
Photograph: Alicia Cho
Tbizz at Grandpa Johnson's
4/7
Photograph: Alicia Cho
Winne at Grandpa Johnson's
5/7
Photograph: Alicia Cho
Lorraine at Grandpa Johnson's
6/7
Photograph: Alicia Cho
Grandpa Johnson's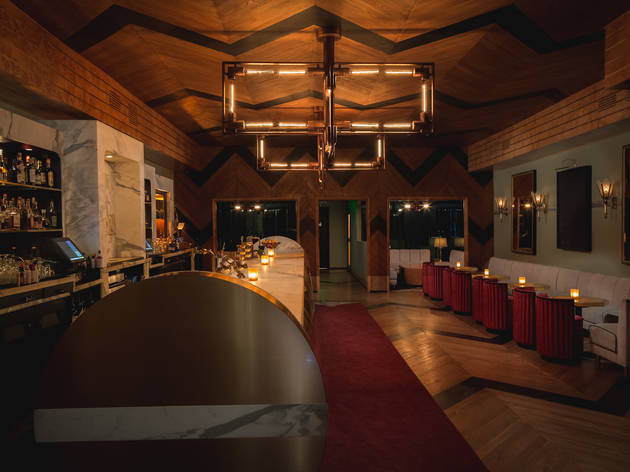 7/7
Photograph: Alicia Cho
Grandpa Johnson's
Time Out says
When we first caught wind of Grandpa Johnson's, a new Art Deco-inspired cocktail lounge in Hollywood, it was like a vintage bar nerd's dream come true. Our imaginations bubbled over with visions of Gatsby opulence, of antique light fixtures, of the wood-paneled walls we've come to hold so dear. Then, after looking up a few online reviews, the dream was momentarily shattered. Customers lamented rude staff, snobby bartenders and a general attitude of elitism throughout the service. With our excitement turned to dread, we reluctantly set out to put Grandpa Johnson's to the ultimate test: arriving at 11pm on a Friday for what was sure to be a Hollywood nightmare.
The reality couldn't have been farther from our expectations. We approached the unmarked entrance braced for pretension, but instead were welcomed by friendly faces. Inside, we found a stunning interior that lived up to its hype, and—perhaps most shockingly—a table. All of our preconceived worries slipped away as we sunk into our plush chairs and took in the surroundings: the zig-zagged chevron floors and ceilings, streamlined brass inlays, Orient-inspired panel paintings and mirrored walls reflecting dim light throughout the space. The impressive marble-topped brass bar is curved to accommodate leaning patrons, which helps when seeking drink suggestions from the equally accommodating bartenders. Our verdict: Not only was Grandpa Johnson's not terrible—it was downright lovely.
Vitals
Good for: A starting or ending point for a classy date night or special occasion drinks. There's apparently a dress code, but don't let that discourage you. Just use your common sense and leave the flip-flops and cut-offs at home.
The scene: Named after the owner's grandfather, Grandpa Johnson's manages to balance Old Hollywood elegance with modern vibrance. While it's certainly sophisticated, it never feels stuffy, and the clientele reflects a smart-casual style rather than the typical Friday night try-hards. Groups of toned down revelers convene on white tufted banquettes, stop in to freshen up with drinks between bar hopping and linger near the bar to shoot the shit with the bartender. Were it not for its inherent fanciness, Grandpa Johnson's atmosphere feels almost like a friendly neighborhood watering hole, until you remember how much you paid for parking.
The playlist: From a booth across from the bar, a DJ spins a well-balanced and eclectic mix ranging from dub, ska, soul and hip hop to indie disco and new wave. The volume level is optimal—loud enough to keep you going without make conversation impossible.
Bartender says: Like the bar itself, the names on Grandpa Johnson's drink menu are inspired by the owner's family members. Aside from that, the only running concept is that "they taste good." Don't expect the bartender to pick a favorite, though—"They're all my babies."
Drink this: One of the most popular drinks on the menu is the T-Bizz, a tart and refreshing highball with Angel's Envy Bourbon, ginger syrup, apple cider, amaro, lemon juice and angostura. Then there's the surprisingly crisp Winnie, a shaken drink with Beefeater gin, darjeeling syrup and a striking hint of giffard apricot that lingers after each sip. For those who like to nurse their drinks, the Eddie is a spicy concoction that hits you with a smoky combo of Auchentoshan 3 Wood scotch and Ancho Reyes chili liqueur before rounding out with banana syrup and coffee tincture—it's definitely not one you can put down fast. Finally, a perfect digestif to end the evening on is the Crockard, which combines Atlantico Reserva, cardamaro, cognac, curacao and black walnut bitters for a silky butterscotch nightcap with a smooth, nutty finish. All cocktails are $14.
Details
Address:
1638 N Cahuenga Blvd
Los Angeles
90028

Contact:
Opening hours:
Mon-Sat 9pm-2am
Do you own this business?
Users say