1/4
Photograph: Wonho Frank Lee
Guest Room
2/4
Photograph: Wonho Frank Lee
Guest Room
3/4
Photograph: Wonho Frank Lee
Guest Room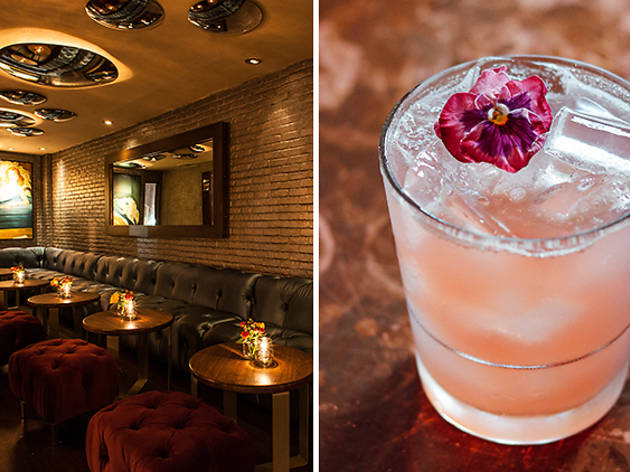 4/4
Photographs: Wonho Frank Lee and Ghost Media
Guest Room
Guest Room tries hard, but there's little to love about this Santa Monica speakeasy.
Unfortunately, the people behind Santa Monica's Guest Room got wind of the speakeasy trend about five years too late, and while they could be forgiven for a lack of originality, they've failed on the execution in the most basic ways. Housed above the exorbitant Estate restaurant, the bar is accessed by a secret door—an Aztec-style mural outside the restaurant's main entrance—but the illusion of secrecy is shattered by the fact that Guest Room, in all its mirrored, draped and ostentatious glory, is fully visible from the street. Inside, patrons receive table service from apathetic staff in a sprawled lounge-style seating area that at best seems like a holding space for Estate diners, and at worst seems like a group of pumped-up gym types have put on collared shirts and converged in one place to take selfies together. Guest Room seems to subscribe to the same radio station as 24 Hour Fitness as well, as subpar cocktails and overpriced flatbreads are consumed to a cacophony of bad techno/hip hop remixes of techno/hip hop songs that were terrible to begin with. The one thing that they do get right is "speakeasy" cocktails in their most historically authentic sense—many of them taste like they've been specifically crafted to mask the taste of bathtub (or bottom shelf) hooch which, at $13 each, is frankly unacceptable.
Vitals
Good for: "This would be a cool place for a party or an event," said a middle-aged man in an expensive-looking suit.
The scene: The unfortunate by-product of a misdirected interpretation of a tired trend, populated by well-heeled imbibers who are more than happy to buy into it. Maybe we're in the minority here, though. As we prepared to make our escape, an enthusiastic group of party people (including a guy wearing a hat with a Superman logo on it) were stoked to get our coveted table.
Drink this: Nothing we tried was remarkable, but the Ethel Waters—essentially a margarita made with pomegranate/hibiscus/rose water syrup—was decent (although, side note for the serving staff: homemade syrup in a "high-end" cocktail bar isn't a selling point—it's expected). The Devil's Candy is also drinkable, with rye, sherry and sour cherry bitters and a Luxardo cherry, as is the Eliot Ness-essity which, despite being ever-so-slightly too sweet, is still a fairly balanced blend of bourbon, Fernet vittone, sweet vermouth and yuzu bitters.
Avoid this: The Mob Rule, a saccharine combination of vodka, crème de peche, lemon and pear cider, has an artificial, chemical taste that resembles nothing in the natural world and lingers like a bad memory.
Our tip: If you're in Santa Monica and want good drinks and a decent atmosphere, give this place a miss and head to The Misfit or The Chestnut Club.
Venue name:
Guest Room
Contact:
Address:
1519 Wilshire Blvd
Santa Monica
90403

Opening hours:
Thu 7-11:30pm; Fri-Sat 7pm-1am
Do you own this business?