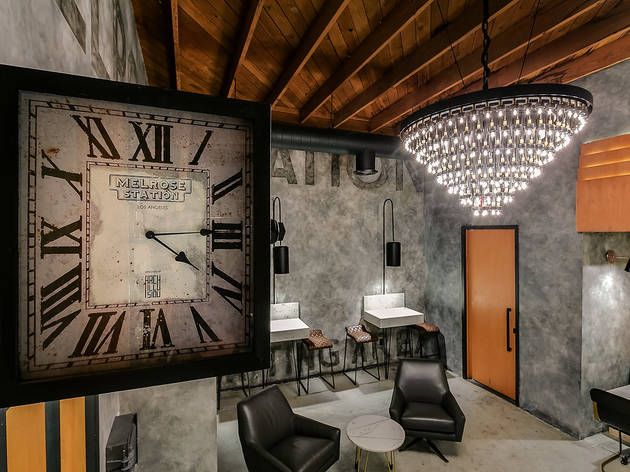 1/7
Photograph: Courtesy Archillusion Design
Melrose Station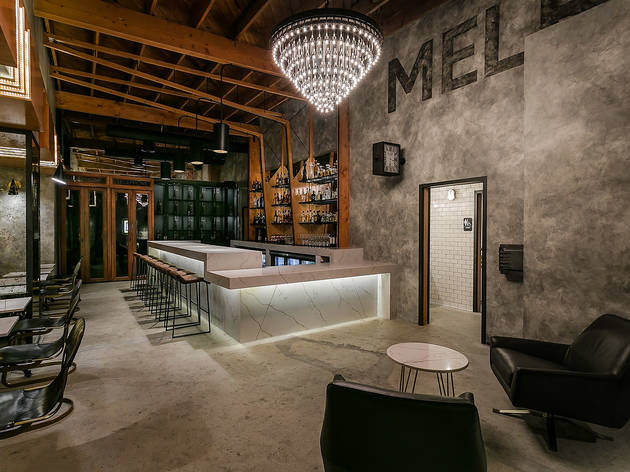 2/7
Photograph: Courtesy Archillusion Design
Melrose Station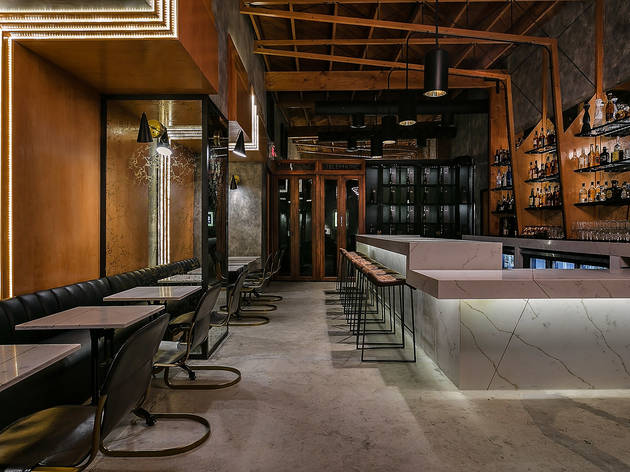 3/7
Photograph: Courtesy Archillusion Design
Melrose Station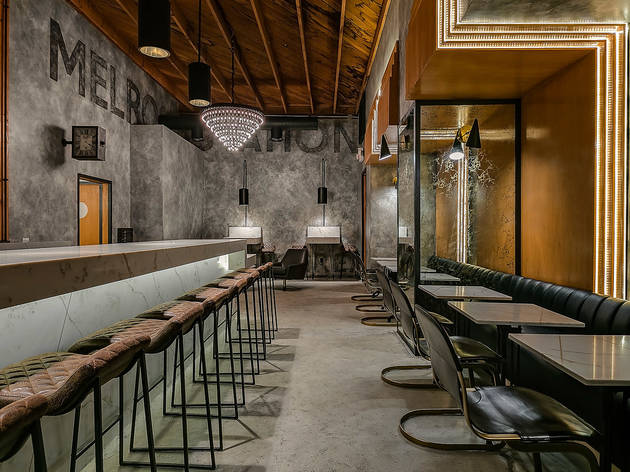 4/7
Photograph: Courtesy Archillusion Design
Melrose Station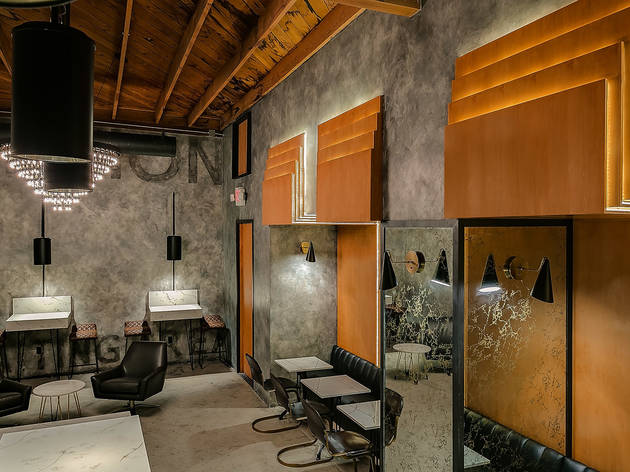 5/7
Photograph: Courtesy Archillusion Design
Melrose Station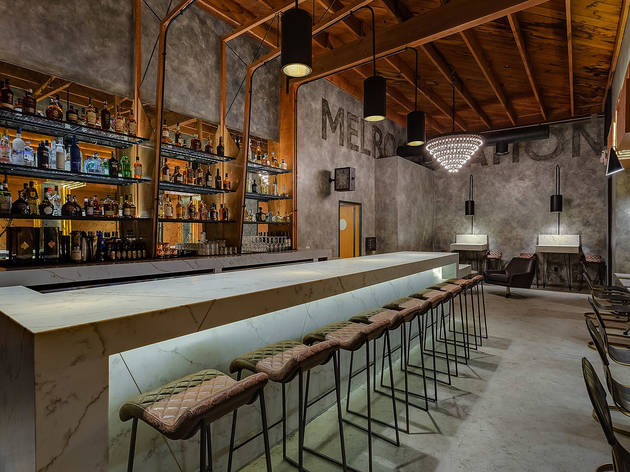 6/7
Photograph: Courtesy Archillusion Design
Melrose Station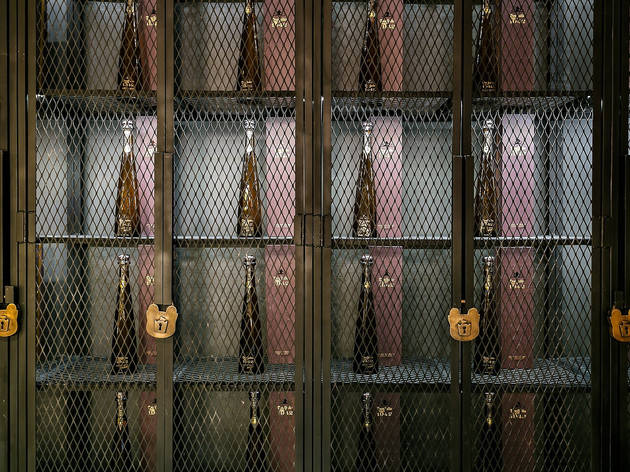 7/7
Photograph: Courtesy Archillusion Design
Melrose Station
Melrose Station, a new speakeasy attached to a hookah lounge, has plenty of charm—but the pricey drinks lack imagination.
Speakeasies in Los Angeles are a dime a dozen. If you've seen one, you've seen them all, with the exception of a few standouts. Melrose Station, the latest speakeasy to arrive on Melrose Ave., hopes to make the cut, and has the ingredients to deliver: craft cocktails made by dedicated bartenders, a sleek and sexy interior, and a hidden entrance inside the least likely of places: the Glass Hookah Lounge.
Upon arrival, make your way to the host and announce you're here for Melrose Station (while you can make a reservation or request an invitation online, neither is required to be admitted). Once inside the hookah bar, you'll be led through a dark lounge, where the only things visible are clouds of Piña Colada-scented smoke and the whites of eyeballs. A host appears and summons you to a bookshelf that is (surprise!) a secret passage that leads into the speakeasy.
Inside, Melrose Station is a vision of glass, marble, wood and light. It's bright, so don't expect too much privacy with your date. You might as well park it at the bar where you can talk to the friendly bartenders and watch them experiment with smoked citrus peels and infused spirits. This isn't a bar attached to a hookah lounge where guests can stumble in after a night of blowing smoke; Melrose Station is its own operation and wants to be taken seriously.
Unfortunately, it's hard to take a $16 cocktail named "Just Berry Me Already," made with rum and triple sec, and topped with powder-sugared berries, seriously. In fact, most of the drinks on the menu we've seen before, and for a lot less. Which begs the question: "Is this a cocktail at a chic speakeasy or The Cheesecake Factory?" Beverage wise, you might never know.
Vitals
The scene: Pull out your best bebe and Armani Exchange, because this crowd dresses to impress wherever they're heading next. Our guess would be SkyBar at The Mondrian Hotel. Tank tops, shorts and flip-flops will get you turned away at the door. Aesthetically speaking, the interior (designed by Archillusion Design and Development) is elegant, yet contemporary. A stunning conic chandelier shining above a few marble high-tops will be the first thing you notice when walking in. Pull up at the marble bar where plush stools await, and pick your poison from the glass bar shelves. If you're hungry, Melrose Station has a decent-sized menu of small bites and desserts.
Good for: Going out on a second date if you're unsure of the person. The menu prices will likely limit you to one drink each, keeping you slightly sober and free of beer goggles. The bright lights will help determine physical attraction, if you've only ever seen this person in the dark. This is not the place for single ladies or men. Melrose Station is crowded with couples, and couples having drinks with other couples, so if you're looking to meet someone, good luck.
Drink this: A Foggy Night ($16) is the sole inventive cocktail on the menu, made with whiskey, smoke-flavored vodka, St. Germain Liqueur, orange bitters, citrus oils and smoke from an orange peel that the bartender lights with a food smoker. Served under a layer of ice in an orb-shaped glass, the drink begs for a photo opp. If A Foggy Night is a little too out there for you, try The Pez ($16), prepared with mezcal, house citrus mix and served with a fresh pineapple spear. If you prefer vodka-based drinks, The Melrose Station ($16) made with green chili and cucumber-infused vodka, citrus mix and agave nectar is smooth and spicy. Like your cocktails to smell like a Diptyque candle? The Afternoon Tea ($16) combines lavender-infused gin, crème de violette, egg white, citrus mix and agave nectar, and is topped with edible flowers and lavender buds.
Our tip: Don't leave without trying the photo booth at the entrance (it's disguised as a telephone booth), which lets you snap Boomerang-esque videos that you can send to yourself and friends via email.
Venue name:
Melrose Station
Contact:
Address:
7384 Melrose Ave
Los Angeles
90036

Opening hours:
Daily 7pm-close
Do you own this business?
Average User Rating
3.7 / 5
Rating Breakdown
5 star:

1

4 star:

0

3 star:

2

2 star:

0

1 star:

0
This may be one of Many like Lori stated, but for an out-of-towner who comes from a city where there is nothing like this, every single one of the many speakeasy beckons to be tried regardless of price. The allure of the atmosphere the different, themes, clientele, music, it all matters. I come from a northeastern city where we have hip hop nightclubs, crappy amateur DJs, the same 10 live bands that have been circulating for 30 years, and an abundance of dive, local, and garden variety bars and every single place including the "nightclubs" have multiple TVs with sports on. The city revolves around cheap alcohol and sports.
So for someone like me, this is great because it's something different. The service was great, food was great, atmosphere was great, pricey is subjective compared to the city I come from where top shelf isnt a thing and a bottle of vodka is $8.00 getting a drink here is like buying a car. But since I don't drink alcohol, my drinks were cheaper, but the staff made them like every other drink. Variety, quality, and service is what makes a difference to me and this another good option whether it's 1 of 2 or 1 of 100. Try it even if just once.