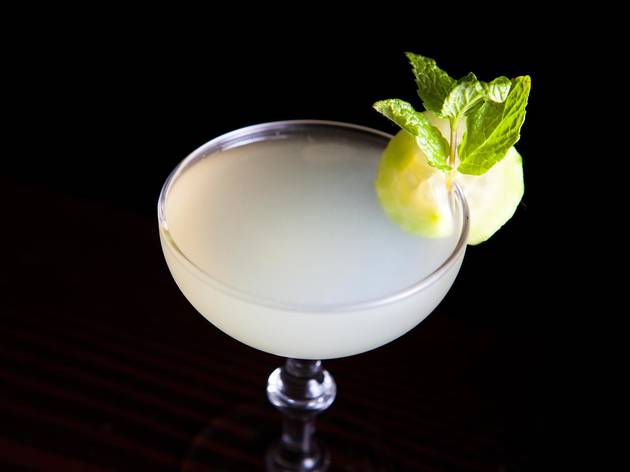 1/8
Photograph: Jakob N. Layman
The East LA Side at The Study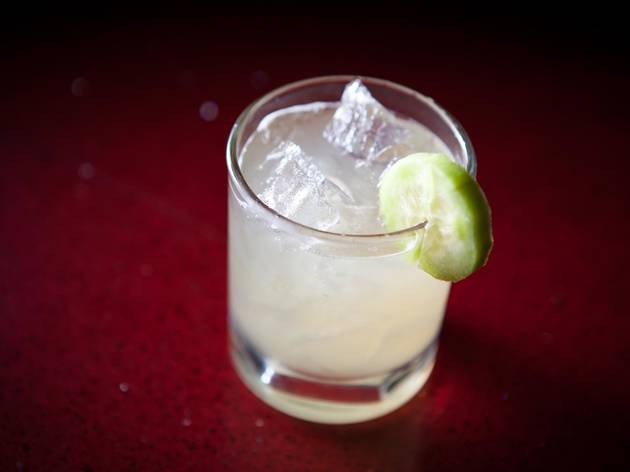 2/8
Photograph: Jakob N. Layman
The Mezcal at The Study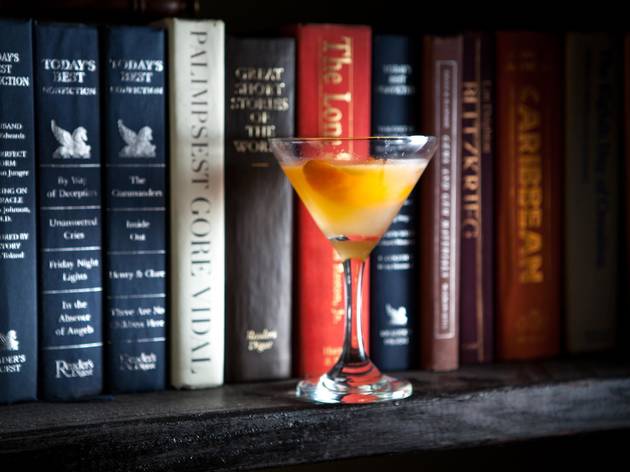 3/8
Photograph: Jakob N. Layman
Sidecar at The Study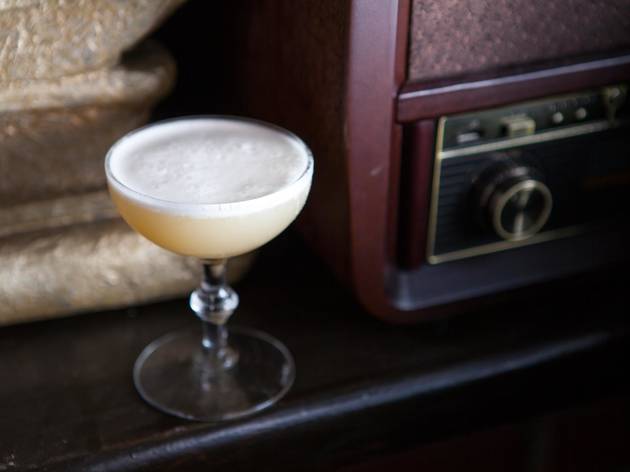 4/8
Photograph: Jakob N. Layman
Los Feliz Sour at The Study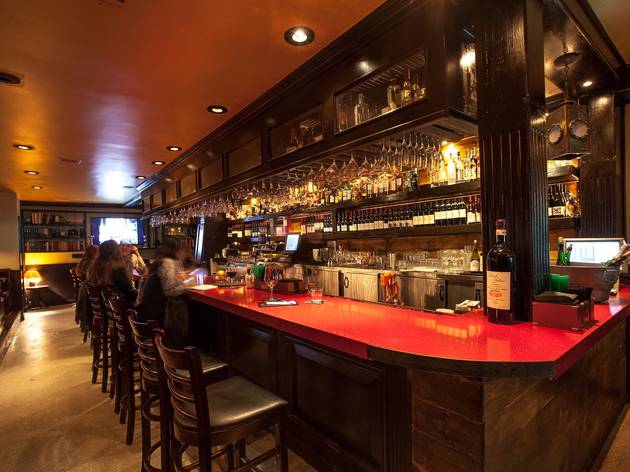 5/8
Photograph: Jakob N. Layman
The Study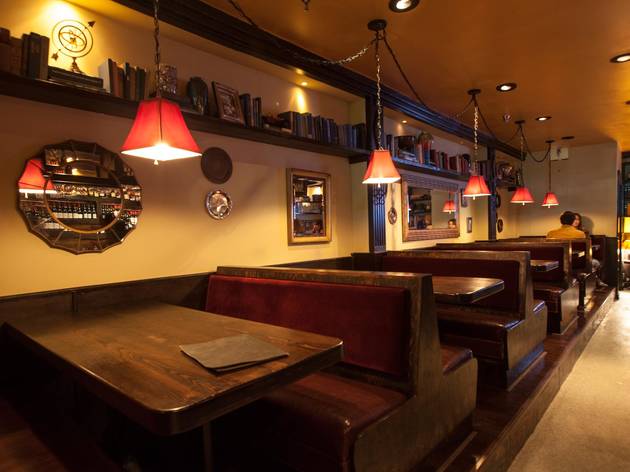 6/8
Photograph: Jakob N. Layman
The Study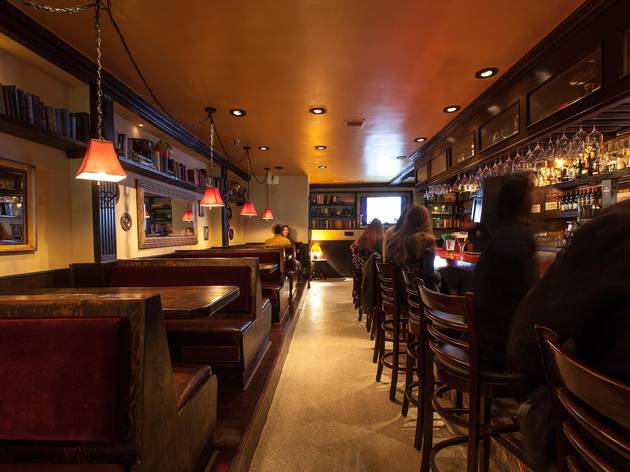 7/8
Photograph: Jakob N. Layman
The Study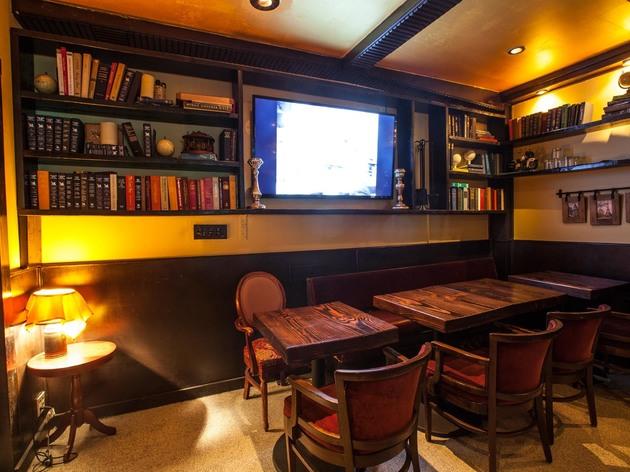 8/8
Photograph: Jakob N. Layman
The Study
The Study, which recently sprang up on Vermont Ave in Los Feliz, is a bar that is quintessentially cozy. Just down the street from the famed Dresden Room, the newest addition to the neighborhood somehow feels wise in its years, with well-worn vintage features that give the place a decidedly lived-in vibe. As its name suggests, The Study's decor evokes an intimate scholar's retreat, with old books, globes and other antiquities cluttering the shelves lining its interior. Dark wood detailing accents the walls and the large columned bar, behind which an impressive collection of top shelf spirits and wines is enticingly displayed. For a brief moment, you forget where you are and what year it is, losing yourself in romantic nostalgia for a time which preceded you. Then, the urge to Instagram takes hold, shattering the illusion and bringing you back to the 21st century, where romance is dead and cocktails are $12 a pop.
Vitals
Good for: Indulging your sentimental side. For those who've outgrown the Big Night Out, The Study is an ideal spot to relax with a beverage and a bite. The menu is an appropriate selection of cozy comfort foods like mac and cheese, shepherd's pie and hearty sandwiches, plus its classy but casual ambiance creates the perfect setting for the mid-week date night you both thought you were too tired for.
The scene: Low-key but lively young locals hang in clusters and couples dispersed among Depression-era dining booths. Good acoustics ensure that the atmosphere is upbeat but not deafening. An epileptic Christmas tree twinkles maniacally in the corner, though we suspect this is a seasonal feature.
The playlist: Much to our delight, the atmosphere was buoyed by a mood-setting soundtrack of jazz and big band recordings from the '20s and '30s. Finally, a vintage-themed bar with music to match the decor—because nothing goes better with a classic cocktail than old-timey brass and bass.
Drink this: With a few exceptions, The Study's cocktail menu is a greatest hits list of rehashed classics. The East LA Side ($12) is your basic Eastside with a local spin: California-made St. George Botanivore gin, lime juice, simple syrup and mint, while the Los Feliz Sour ($12) is a whiskey sour by another name, but a damn good one—made the proper way with Buffalo Trace bourbon, fresh lemon juice, simple syrup and egg white. Our bartender recommended the Sidecar ($12), which we agreed was one of the best we've had. Park Cognac VS, Cointreau and fresh lemon juice make for an aromatic, vibrant and light revival of an old standard. The wild card of the evening was The Mezcal ($13), which delivers a less aggressive dose of the smoky spirit than many of the liquid campfires we've encountered. Administered with hints of cucumber, lime, honey syrup and Giffard vanilla liqueur, it's surprisingly subtle and refreshing.
Venue name:
The Study
Contact:
Address:
1741 N Vermont Ave
Los Angeles
90028

Opening hours:
Daily 3pm-2am
Do you own this business?