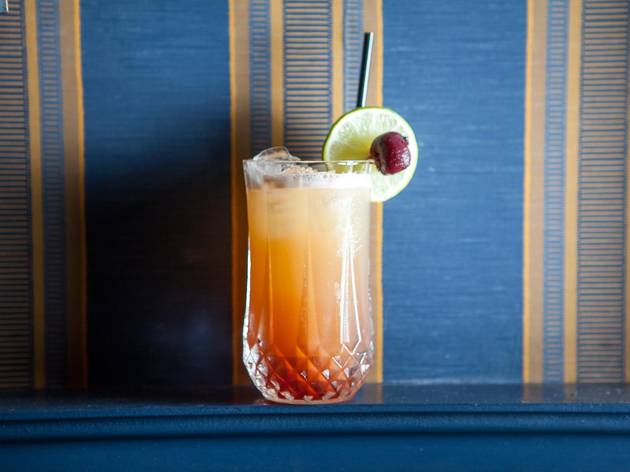 1/10
Photograph: Jakob N. Layman
Singapore Sling at The Wellesbourne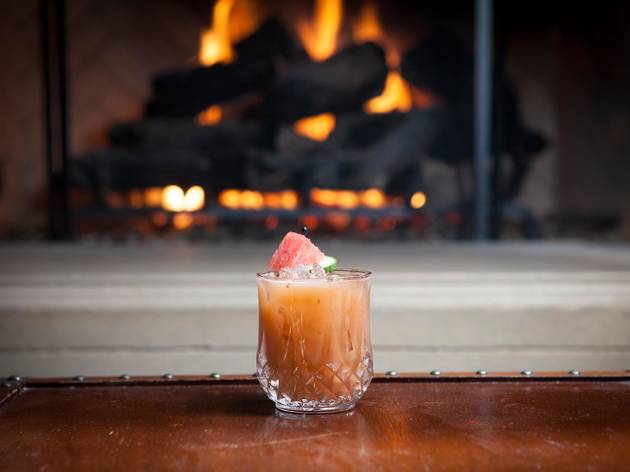 2/10
Photograph: Jakob N. Layman
Lovers and Madmen at The Wellesbourne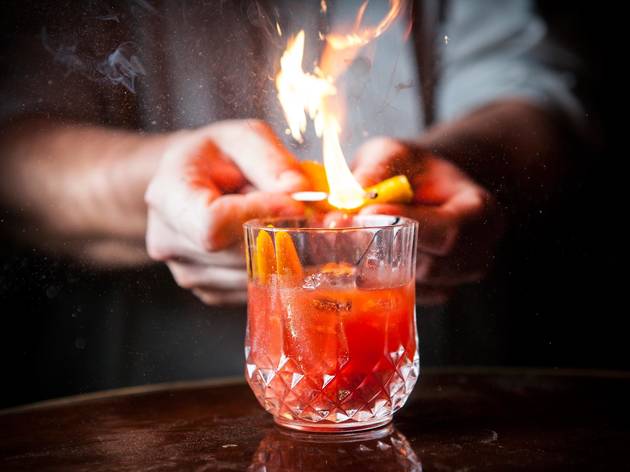 3/10
Photograph: Jakob N. Layman
Old Fashioned at The Wellesbourne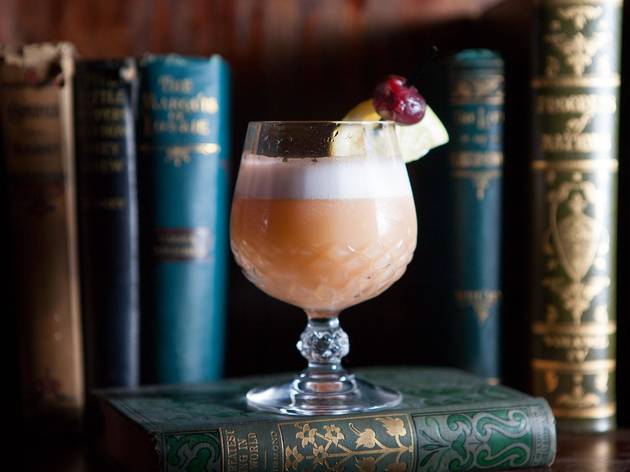 4/10
Photograph: Jakob N. Layman
Whiskey Sour at The Wellesbourne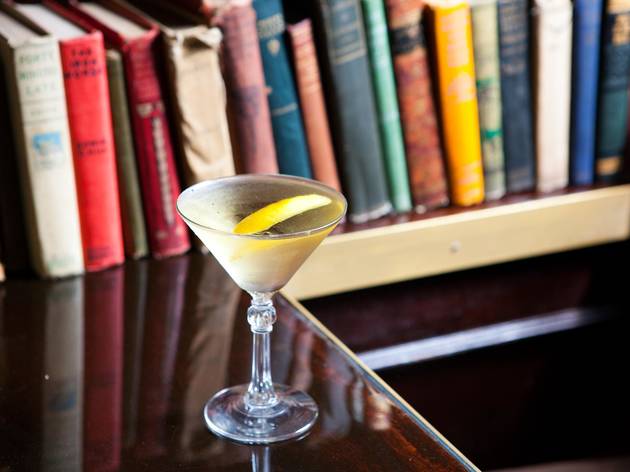 5/10
Photograph: Jakob N. Layman
Poet's Dream at The Wellesbourne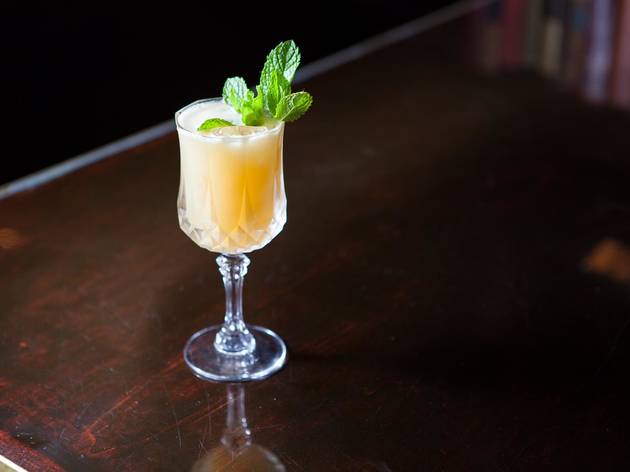 6/10
Photograph: Jakob N. Layman
Daisy de Santiago at The Wellesbourne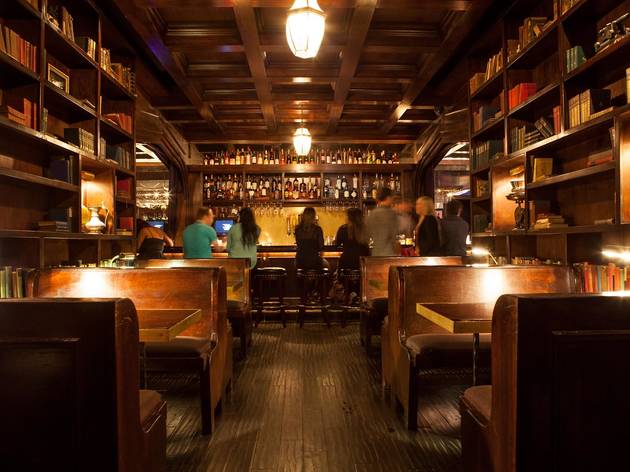 7/10
Photograph: Jakob N. Layman
The Wellesbourne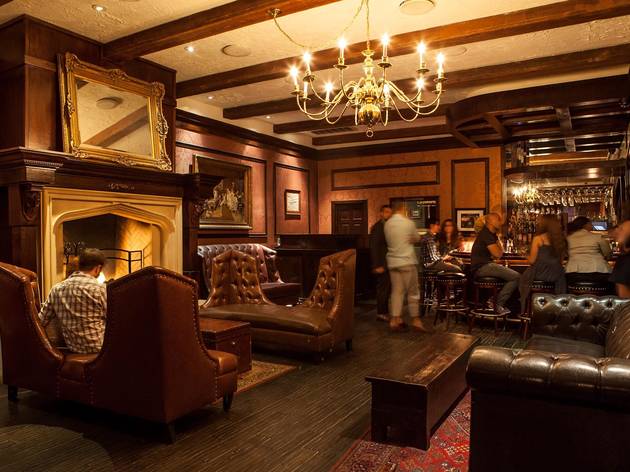 8/10
Photograph: Jakob N. Layman
The Wellesbourne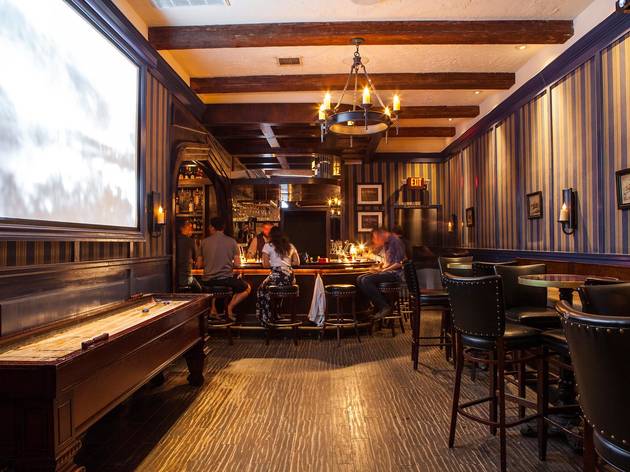 9/10
Photograph: Jakob N. Layman
The Wellesbourne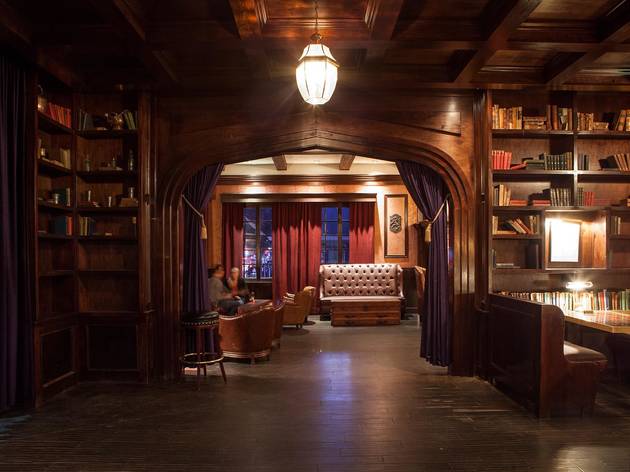 10/10
Photograph: Jakob N. Layman
The Wellesbourne
Imagine that you've been transported to a mythical reality in a place that exists somewhere between the common room at Hogwart's and Mr. Toad's Wild Ride. Good. Now imagine that this place serves alcohol. Amazing, right? Well, almost.
Situated on Pico near the Sawtelle district, The Wellesbourne is a bar that attempts to bring a touch of whimsy to West LA via old school English charm. On design alone, it executes this perfectly; the Tudor-style interior is laden with storybook details, from the exposed beams in the ceiling to a large stone fireplace with an elaborately carved mantle. Antique paintings and prints pepper the Bordeaux wallpaper, while tufted leather couches and high-backed chairs maintain the feel of a study in a stately country manor. Unfortunately, aesthetic does not always equal atmosphere, and here is where the fairy tale starts to unravel.
Though clearly not hurting for business, The Wellesbourne seems a victim of its own popularity. It's certainly a crowd-pleaser, but the crowd in question apparently wants all the character of a boutique bar with all the inconveniences of a terrible nightclub. The resulting experience (to exceed acceptable usage of fairy tale puns) is just grim.
Vitals
Good for: Getting an early couple of rounds in after work or before dinner, or—if you're into that sort of thing—huddling in a cloud of Aqua di Gio while jamming to deafening club tunes from the early 2000s and flirting with a guy in a plaid fedora.
The scene: Handsome bartenders in tailored waistcoats serve cocktails to packs of bland dudes dressed in their best Friday night shirts. They hover like vultures for a spot at one of the pew booths in the book-stacked library section, two of which are occupied by couples making out; the other two by men texting their dates. And, of course, there's that guy with the plaid fedora.
The playlist: When the evening is still young, the soundtrack is an inoffensive but loud blend of classic funk, soul and R&B. Then, like a Cinderella story gone awry, the volume goes up 10 decibels the minute the clock strikes 10, and Missy Elliott and friends take over the show. This means that dude by the bar will have to repeat himself at least three times before you can dismiss his bad pick-up line.
Bartender says: All of the cocktails on the menu are straight-forward, no twist versions of the classics, with the exception of the rotating "Bartender's Choice," which gives the barkeeps a chance to get creative with a different special ingredient every week.
Drink this: To The Wellesbourne's credit, its bartenders do mix a decent drink. The Singapore Sling ($13) is one of its most popular—a sweet but sophisticated tropical drink that gets the job done with Plymouth Gin, Cherry Heering, Cointreau and Benedictine with grenadine, pineapple and lime juice. For those who like it strong and smooth, you can't go wrong with an Old Fashioned ($12) or a Poet's Dream ($14), a gin martini with an herbaceous touch of Benedictine and orange bitters. The star of our evening, though, was the Lovers and Madmen ($13), a Bartender's Choice concoction featuring muddled watermelon, cucumber and mint with pisco, Grand Marnier, Cherry Heering, ginger syrup and lemon. Perfectly balanced and refreshing, it's a shame that this tipple is only a temporary fixture.
Venue name:
The Wellesbourne
Contact:
Address:
10929 W Pico Blvd
Los Angeles
90064

Opening hours:
Mon-Sat 5pm-2am
Do you own this business?
Average User Rating
4.9 / 5
Rating Breakdown
5 star:

15

4 star:

1

3 star:

0

2 star:

0

1 star:

0
What a great experience! The Wellesbourne is a beautiful and intimate space, full of old-world charm but buzzing with young energy. The cocktails are masterpieces - the range is astounding and they are mixed to perfection. And the food was lovely. I can't say enough about how great this place was, either for a night out with friends or an intimate catch-up. Will definitely be back next time I'm in LA!
Have been working in the states for a while now, and as a native Brit, I feel right at home at the Wellesbourne. The manor house setting, friendly and thoughtful staff and most importantly, the drinks, are always on point. I was really excited to note during my last visit, that they have a splendid small plates menu, which has made hanging out there for that extra drink even more worthwhile. Really wish there were more spots like this quite frankly.
The Wellesbourne is a great sophisticated bar, a gem in a city where cocktails have become monotonous and the vibe appalling. It has transcended time and takes you back to the days when you want to savor a drink instead of shots at a nightclub. I love the decor and most of all the drinks. If you're down to be swept away from entrance to exit I suggest you go there. Staff was amazing, drinks delicious and the music fun and uptempo. 5 stars all the way!
The Interior of the Wellesbourne makes you feel like you traveled back in time to the English country side. Attention to detail in every aspect, from the decor to the garnishes on every drink. The staff is very well trained and informed on all the spirits and have a wide range of cocktail knowledge. If you want to be "wowed" by a beautiful, yummy cocktail or learn something new about a liquor go to this place!
Great bar with high-quality drinks and music. Fun for all occasions!
Wellesborne is definitely a great spot to hit up on the Westside, I loved the atmosphere and the drinks (Old Fashioned is great!). This place has no problems drawing a great crowd and I would be here more often if I didn't move further away.
Top down, one of my favorite spots in LA. I used to go all the time when I lived nearby and I'll still get back there every now and then. Been there for dates and to hang out with friends. I've seen good bands there in the past as well as good DJs. It depends on the night you go. They make a great Old Fashioned. The staff is very cool and you can't beat the ambience and setting.
I haven't been here in a while but used frequent quite often when I lived in the area. This place is great! I am not sure what else you would want from a bar. The drinks are good (never had the food), the servers are very friendly, but the ambience/ decor / vibe are why I always came back. I'd be here all the time if I didn't move to the burbs.
This New Yorker Socialite is a tough critique of establishments that provide booze, music, food, etc.The Wellesbourne REMINDED ME OF THE GREAT TIMES IN NYC but also any cosmopolitan spot I have been to- Buenos Aires, Dakar, Miami, and Paris, Rome, or Atlanta. It was a random Wednesday evening, my friends and I stopped by for a drink, maximum 2 as we were leaving early Thursday. Well, the service was the best we have had while in Los Angeles and the staff, starting with the bartender, was attentive.
It does not take much to put a smile on New Yorkers because it is rough out here!
Great place for cocktails - especially if you need to meet friends on the westside and want a place that's easily accessible from the east. Love the design and classic feel there.
The Wellesbourne was my first stop after a long flight to LA. I went on the recommendation of a friend in the city who suggested we meet there for drinks and food. From the second I arrived I was very pleased with the personalized service I received from the door guy, to the hostess, to my server. The drinks were perfect and the food was delicious. It was a great start to my trip and I am looking forward to going back the next time I'm in LA. I was really impressed with the vibe of the Wellesbourne as well. The decor, music, and theme were all done really well.
You can't go wrong with dinner and drinks at The Wellesbourne! I went with my husband and friends and we had the most amazing time there! I had heard about this place from other friends as they said the vibe of people and service was all top-notch...they were not lying! love love love The Wellesbourne!!!
The Wellesbourne is siiiiick!!! So much fun. Phenomenally prepared drinks and service. Setting is awesome. Food is Freggin great. Love it everytime!
I always have the most incredible time at The Wellesbourne! Whether it's for a birthday party, an after work kickback, or just showing it off to my friends from out of town - this is the bar that consistently exceeds my expectations. The food is phenomenal, the staff is so lovely & welcoming, and the music always has me grooving through the night. 10 out of 10, would recommend!
Absolutely love this place! The drinks, food, atmosphere & music create the perfect combination for a fun night out. The service is attentive and friendly. I recommend The Wellesbourne to anyone visiting LA.