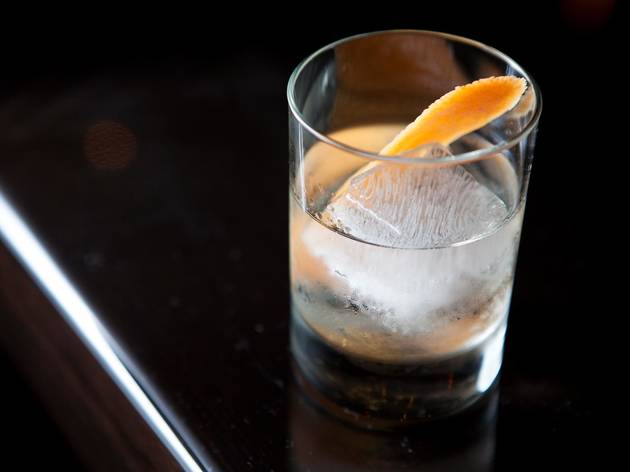 1/8
Photograph: Jakob N. Layman
Elder Fashioned at Tunnel Bar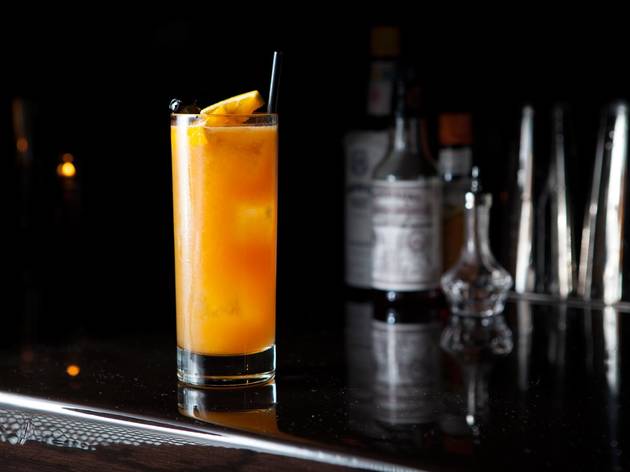 2/8
Photograph: Jakob N. Layman
Hurricane at Tunnel Bar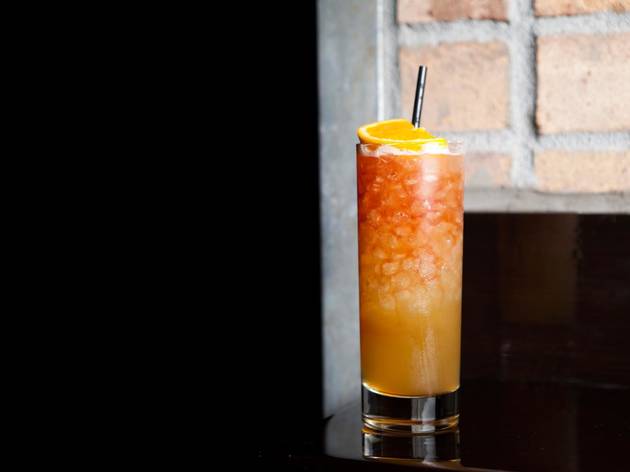 3/8
Photograph: Jakob N. Layman
Alabama Slammer at Tunnel Bar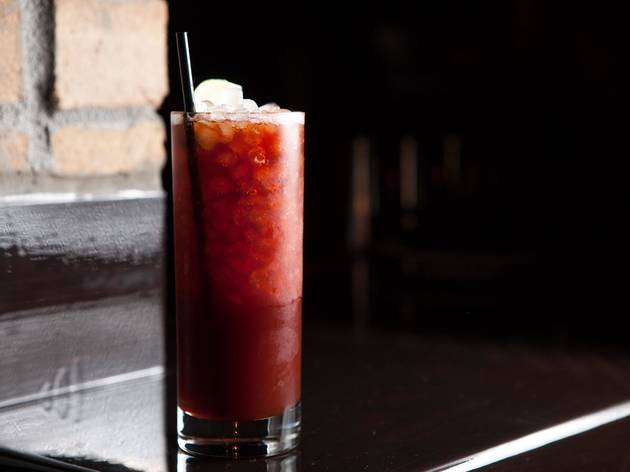 4/8
Photograph: Jakob N. Layman
Cub Reforme at Tunnel Bar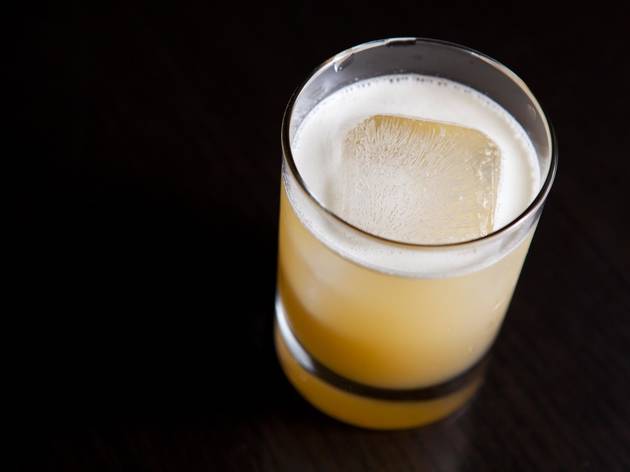 5/8
Photograph: Jakob N. Layman
Penicillin at Tunnel Bar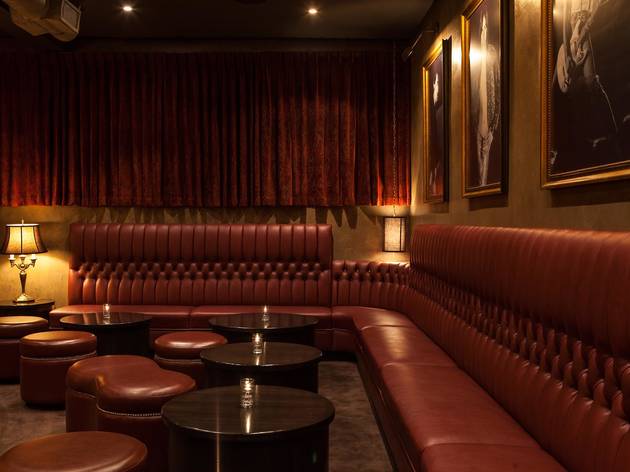 6/8
Photograph: Jakob N. Layman
Tunnel Bar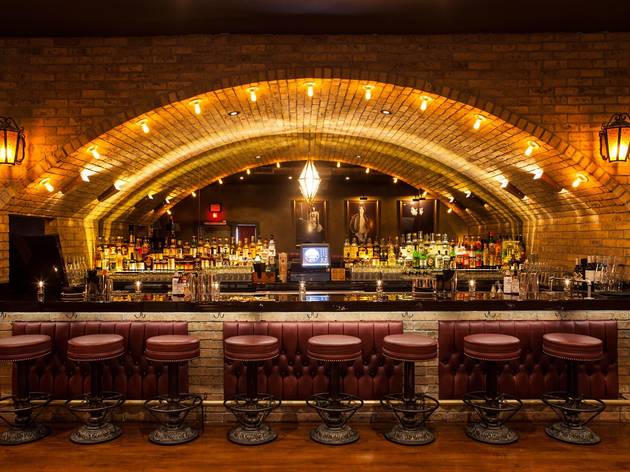 7/8
Photograph: Jakob N. Layman
Tunnel Bar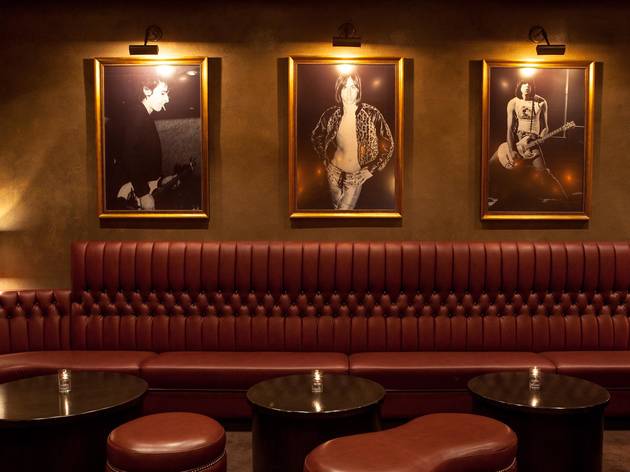 8/8
Photograph: Jakob N. Layman
Tunnel Bar
Reflections on the bar scene in the Valley (the San Fernando Valley, that is) tend to conjure up images of generic sports bars and charming yet questionable strip mall dives. This isn't completely unfair: While other LA neighborhoods have experienced a food and drink revival, it seems as though the SFV has been slow to follow suit. Yet Tunnel Bar, Richard DiSoto's new craft cocktail lounge in Sherman Oaks, is seeking to change that. Located above fellow newcomer (and jointly owned) Tipple & Brine on Ventura Boulevard, Tunnel Bar is accessed through an unmarked "secret" entrance in the back alley. To find it, simply follow your nose to the dumpsters behind the building and look for the bouncer. Upon entering you'll see the venue's centerpiece and namesake—a brick replica of the Brooklyn Battery Tunnel, which arches over the bar in homage to the owner's NYC roots. There are other nods to the Big Apple—namely a subway service elevator and portraits of 1970s New York rock legends on the walls—but despite a blaring soundtrack and Iggy Pop staring down at you while you drink, there's certainly no mistaking your surroundings for CBGB. While the space is intimate, the low-level lounge seating is limited and slightly inconvenient, making conversation difficult and ensuring that someone in your party gets an ass in the face as the venue fills up with standing patrons. This, however, is rectified upon first sip of your cocktail. Considering it was concocted by Daniel Zacharczuk and Adam Weisblatt, the same brilliant minds behind The Varnish and Honeycut, it makes perfect sense.
Vitals
Good for: Giving the Valley a second chance. Launch into the weekend by shout-talking and sharing cocktails with friends, or impress your OKCupid date with your knowledge of Sherman Oaks' new "underground" bar scene. Just don't expect to hear the conversation.
The scene: Edison bulbs and votive candles create a dim ambience in the 50-capacity venue, where well-coiffed cool kids rub shoulders with confused Valley bros doing their best to interpret the ambiguous dress code (flip flops and sportswear seem to be the only attire explicitly banned). Once the eight stools at the bar have filled up, groups crowd around the cushy lounge seats for table service, while those in need of air (or a smoke) seek refuge on the outdoor patio. Aided by the hidden entrance and limited business hours (Thursday through Saturday nights only), there's an undeniable speakeasy vibe to the place. At the moment, it might seem a little too easy to get in, but with word spreading rapidly, don't expect it to last long.
The playlist: Tunnel Bar's tunes are firmly in line with the early New York punk scene that inspired it, so you'll hear the likes of the New York Dolls, Patti Smith, The Ramones, The Dictators and The Stooges.
Bartender says: Inspired by out-of-fashion concoctions of decades past, the cocktail menu here is a well-curated mix of reinvented classics and the kind of drinks you only find at a TGI Fridays. Fortunately, the bartenders have forgone blue drinks with maraschino cherries in favor of quality spirits and fresh ingredients.
Drink this: Tunnel Bar's Hurricane ($11) is the best example of a retro reinvention gone right—a rum trifecta made with fresh passion fruit puree, orange, lime and grenadine. Make no mistake: this is not the same sugary abomination that made you puke your guts out at Mardi Gras. Still, the bartenders proceed with caution, allowing only two of these babies per patron. Then there's the Alabama Slammer ($11), a drink purportedly first seen on the pages of a 1971 Playboy. Featuring amaretto, sloe gin, rum, orange juice and lime, it's a bit like a cross between a Mai Tai and an Amaretto Sour—sweet, tart and deliciously summery. If fruity drinks aren't your bag, you may opt for the more sophisticated Elder Fashioned ($11), an export of NYC's Death & Co. with gin, elderflower liqueur, bitters and a grapefruit twist. Definitely a gin-drinker's drink, it delivers heavy notes of juniper and citrus with a hint of elderflower almost too subtle to be mentioned in its name.
Venue name:
Tunnel Bar (CLOSED)
Contact:
Address:
14633 Ventura Blvd
Los Angeles


Opening hours:
Thu-Sat 8pm-2am
Do you own this business?