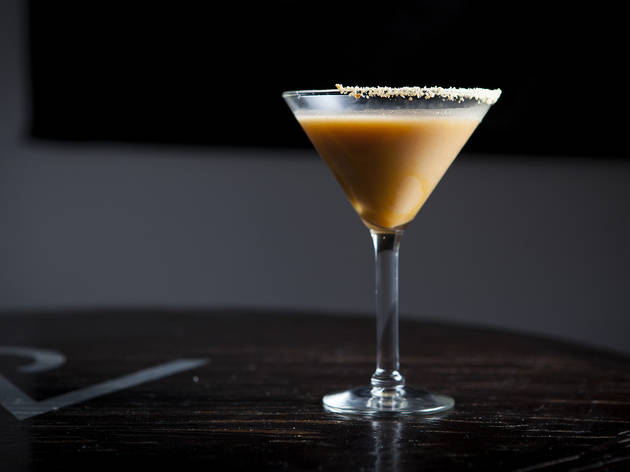 1/9
Photograph: Jakob N. Layman
Peanut-Butter Rum at Vaucluse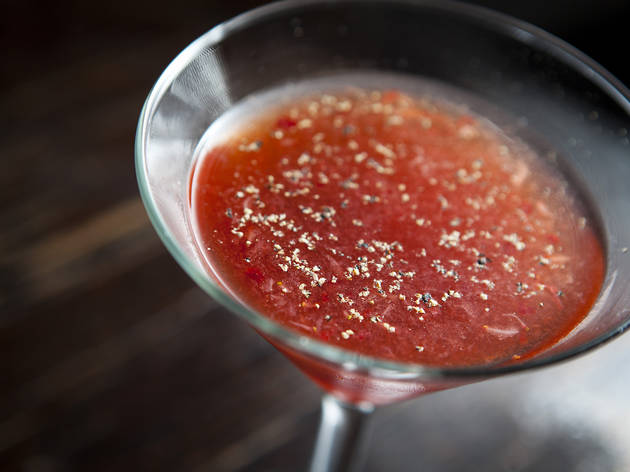 2/9
Photograph: Jakob N. Layman
Grand Maple at Vaucluse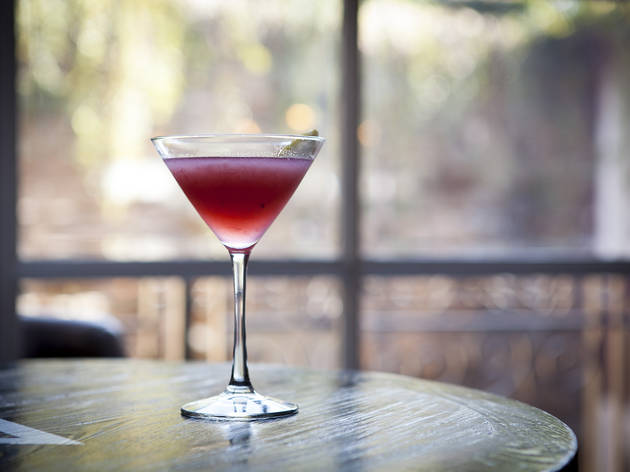 3/9
Photograph: Jakob N. Layman
Pear & Rhubarb at Vaucluse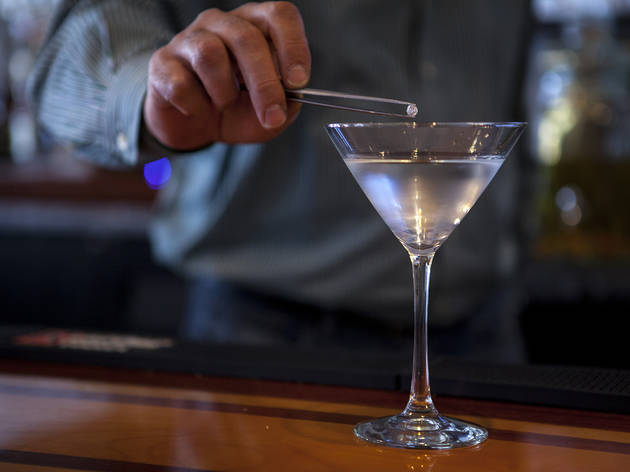 4/9
Photograph: Jakob N. Layman
$10,000 martini at Vaucluse
5/9
Photograph: Jakob N. Layman
$10,000 martini at Vaucluse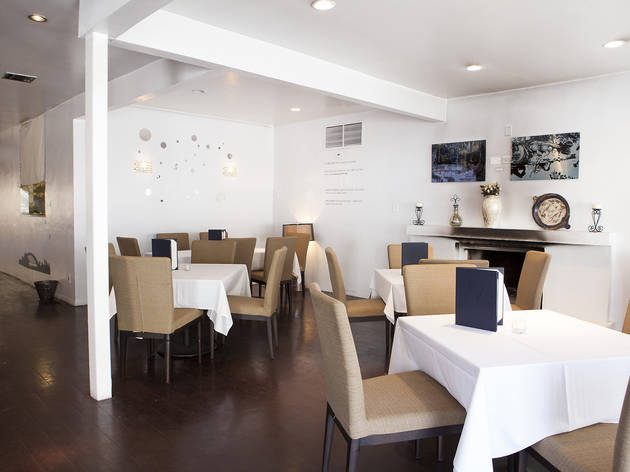 6/9
Photograph: Jakob N. Layman
Vaucluse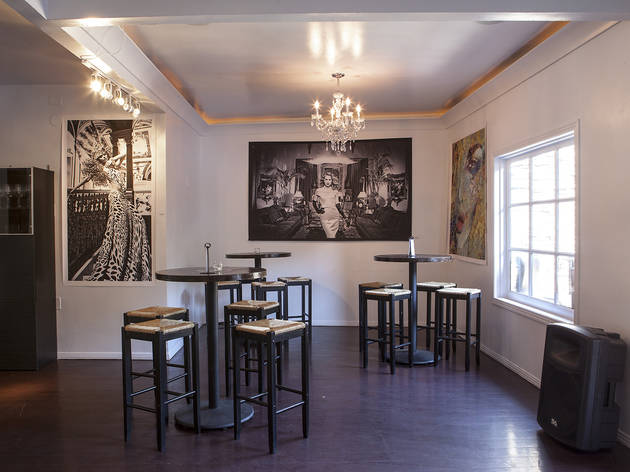 7/9
Photograph: Jakob N. Layman
Vaucluse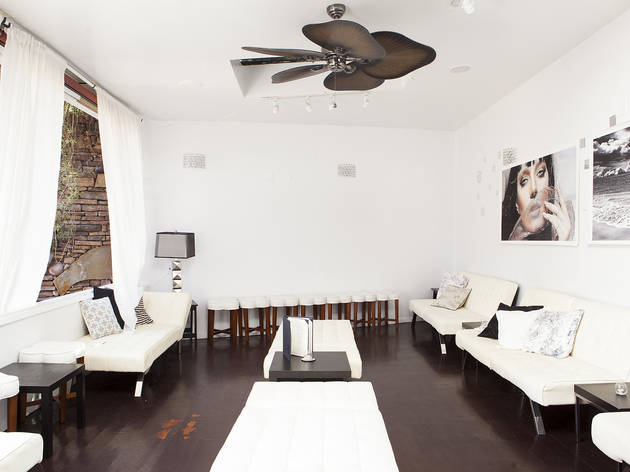 8/9
Photograph: Jakob N. Layman
Vaucluse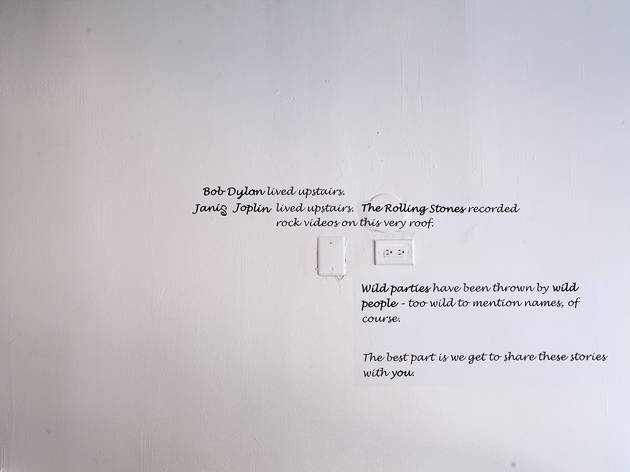 9/9
Photograph: Jakob N. Layman
Vaucluse
The Aussies are upping the ante on craft cocktails in LA with Vaucluse, the latest boîte to take residence in Charlie Chaplin's old Sunset Boulevard abode. Master mixologist and Sydney expat Brad Cox has assembled a drinking program that might just blow your mind—they are, after all, hocking a $10,000 diamond martini. But what is really impressive here are Cox's signature libations—a whopping 20 (and that's just a starter menu) made with homemade tinctures and tonics like house peanut butter-infused dark rum, balsamic maple and rhubarb syrup. There's even talk of a caviar-foamed cocktail. These are shamelessly fancy drinks, but the vibe is so relaxed, you would hardly notice that they're $15 a pop. Must be an Aussie thing.

Vitals

Good for: Kicking back after a long work week with friends, a date, even your dog (there's a daily "yappy" hour from 3-6pm). Seating and open space is plentiful inside, which is a rarity on the Sunset Strip. What's more, the bar stretches the length of Chaplin's entire living room, so there's never a wait for cocktails. For some peace and quiet, head outside to the private patio—a hidden hot spot for chef Philip Gaiser's weekend brunch.

The scene: Vaucluse manages to keep it casual despite the haughty reputation of former nightclub tenant The Libertine. You'll find groups and couples cozying up on leather couches around the fireplace—a centerpiece of the stark white, three-room space. The date action is reserved for out back, where lights twinkle above intimate nooks.

The playlist: An eclectic mix of house, pop and oldies fill the air at this sophisticated neighborhood spot—secondary, of course, to the resounding chit-chat. When you have sociable owners (married couple Cox and his wife Claire) and friendly bartenders, it's sort of a guarantee.

The bartender says: Lots of eye candy here, and we're not just talking about the barkeeps from Down Under. The cocktails are brilliant hues of coral and sea green, garnished with flaming passion fruit and shimmering cracked black pepper. And they taste as good as they look.

Drink this: The winner on Cox's cocktail menu is unquestionably the Grand Maple ($15), an impeccable blend of fresh strawberries, balsamic and maple with vodka and Grand Marnier. Since the master mixologist is infusing it himself, the Peanut-Butter Rum ($15) made with butterscotch liqueur, cinnamon, caramel and almond is a must. And for a brazenly sweet and refreshing option, opt for the Pear & Rhubarb ($15) with Absolut Pear, house-made rhubarb syrup, St. Germaine, fresh pear and cinnamon.
Venue name:
Vaucluse (CLOSED)
Contact:
Address:
8210 W Sunset Blvd
Los Angeles


Opening hours:
Mon-Sun Noon-2am
Do you own this business?