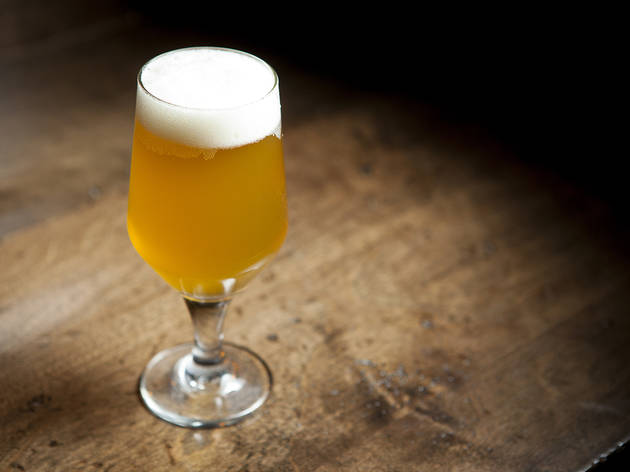 1/12
Photograph: Jakob N. Layman
Houblon Chouffe at Wendell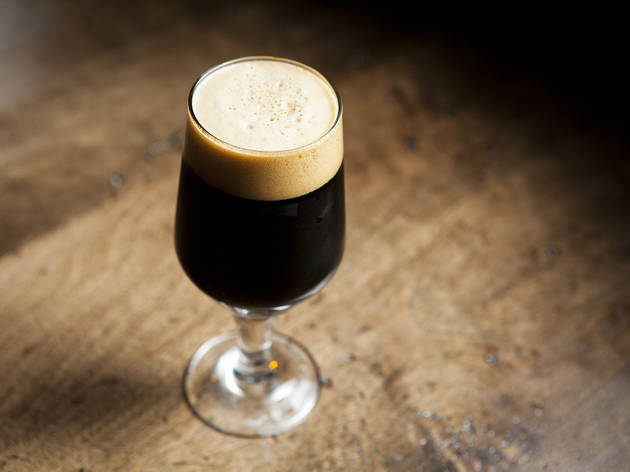 2/12
Photograph: Jakob N. Layman
Speedway Stout at Wendell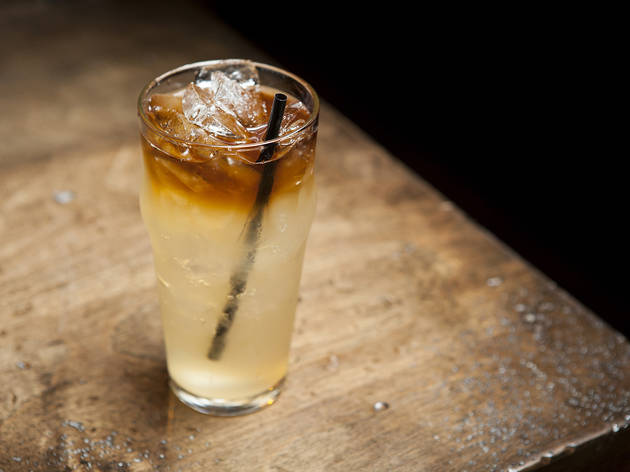 3/12
Photograph: Jakob N. Layman
Dark and Stormy at Wendell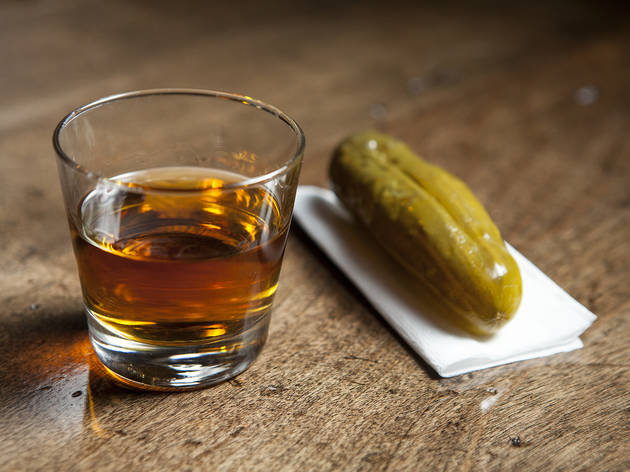 4/12
Photograph: Jakob N. Layman
Dickel and a pickle at Wendell
5/12
Photograph: Jakob N. Layman
Last Word at Wendell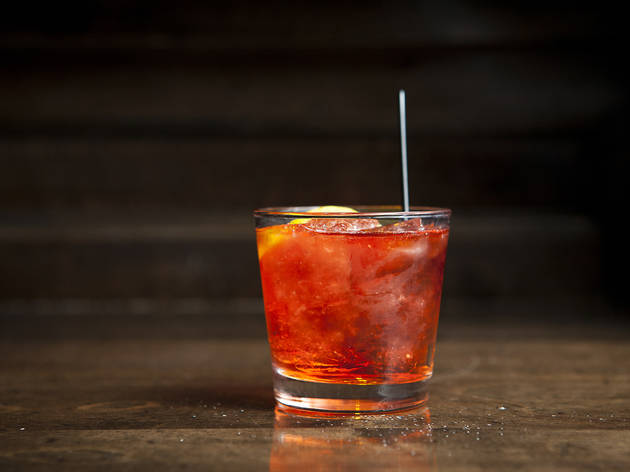 6/12
Photograph: Jakob N. Layman
Negroni at Wendell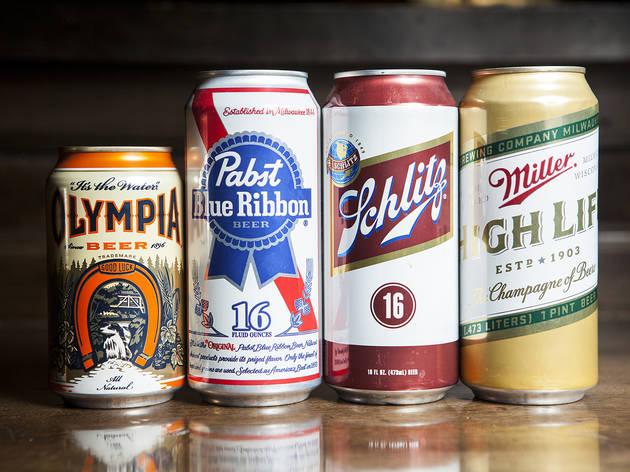 7/12
Photograph: Jakob N. Layman
Wendell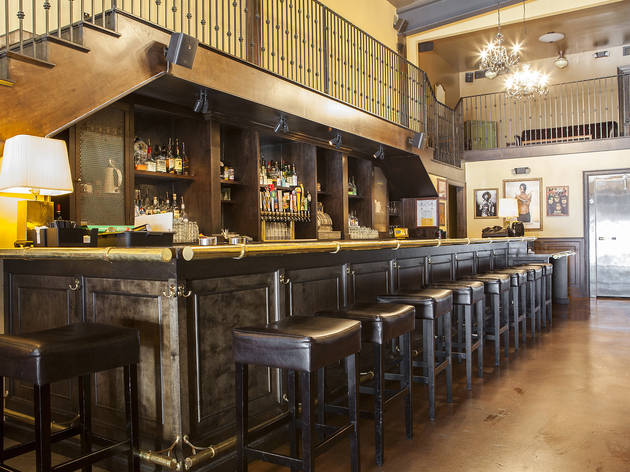 8/12
Photograph: Jakob N. Layman
Wendell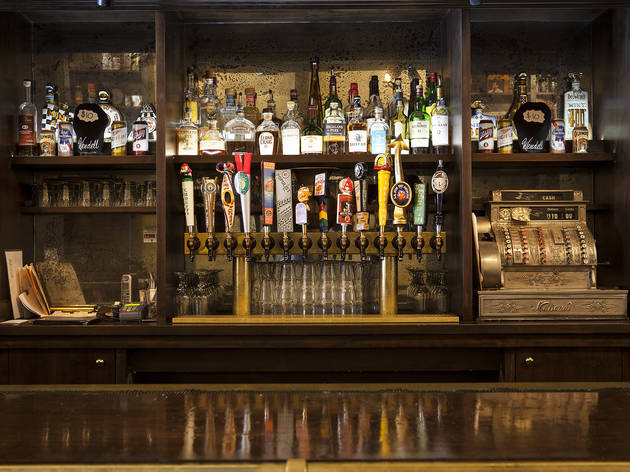 9/12
Photograph: Jakob N. Layman
Wendell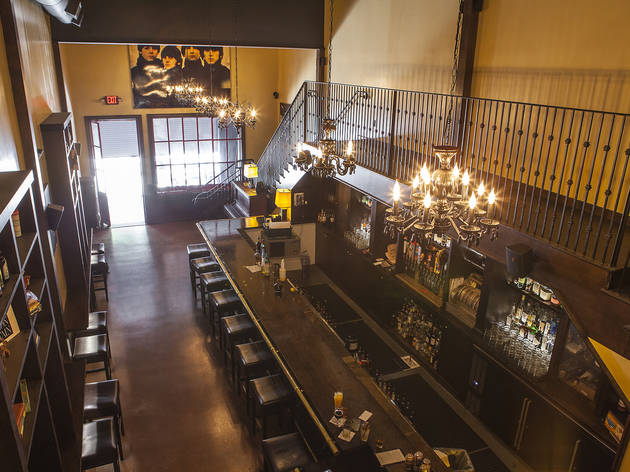 10/12
Photograph: Jakob N. Layman
Wendell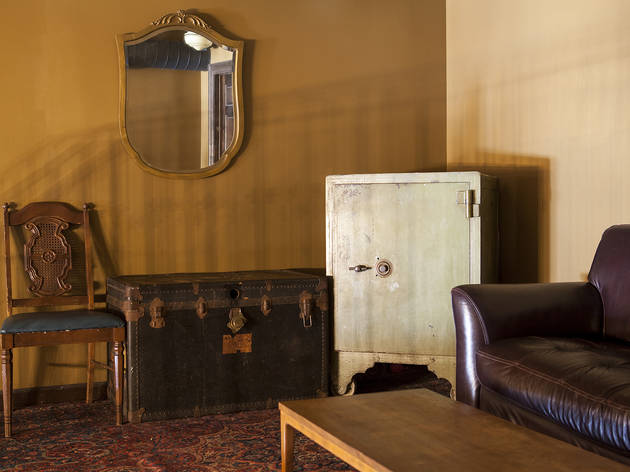 11/12
Photograph: Jakob N. Layman
Wendell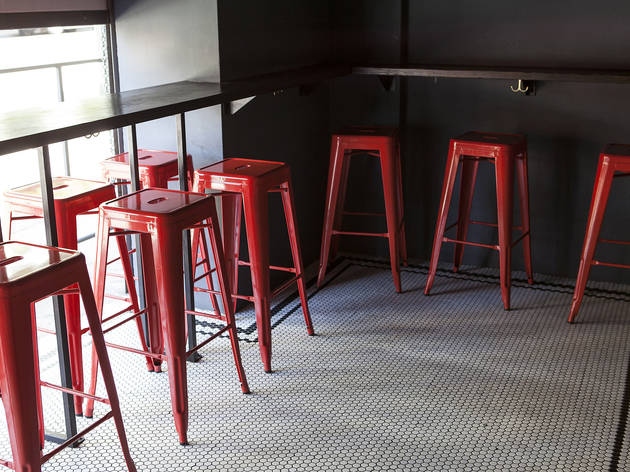 12/12
Photograph: Jakob N. Layman
Wendell
Somewhere between an elegant lounge and a dicey dive lies Wendell. A stone's throw from skid row, this neighborly Main Street bar looks nothing like Bukowski's old refuge Craby Joe's, although T. Elliott (The Standard) and partners Stan O'Connell and James Campbell retained the long-closed taproom's stone floor. Now, the refitted two-story space features stylish dark wood, a rod iron stair railing, glimmering chandeliers, and an impressive tap list—14 artisanal brews, from the stiff Speedway Stout ($7) to the hoppy Houblon Chouffe ($8). Wendell is too clean to be considered a true dive (the bathrooms are spotless), but it isn't a craft cocktailery contender, either—you may get scoffed at for ordering an Old Fashioned. It's the kind of no frills, locals-only watering hole that Downtown needs.

Vitals

Good for: Catching up with neighbors over several pints of craft beer. The barkeeps are generous with their pours—no skimping here—and hungry patrons are welcome to bring in Garage Pizza from around the corner. A night at Wendell is like a kickback at a friend of a friend's pad, where vintage posters of Mick Jagger, Jimi Hendrix, and the Beatles are plastered around the laid-back, spread out space. Subdued lighting and comfortable seating set the mood for candid conversation, making it very difficult to leave.

The scene: It's a mild crowd, where most patrons are tenants of the nearby lofts. Young, well-dressed urbanites settle into one of three spots for the night: the front smoking patio, the upstairs 10-seater lounge or around the bar. It never gets too crowded, so there's always a place to chill out and drink some beer. Just what you'd want in a neighborhood bar.

The playlist: It's all about the rock & roll at Wendell. Over the course of the evening, you'll likely hear a motley collection of modern blues and rock—the likes of Dan Auerbach and The Black Keys, The White Stripes, The Raconteurs, and Cage the Elephant.

The bartender says: The area isn't the safest, so consider investing $8 in a parking spot at the lot next door. And don't forget—this is, first and foremost, a beer bar. Sure, these bartenders have skills, but they aren't going to waste their time muddling sugar cubes and maraschino cherries all night long. It's all about being quick and simple, so stick with the beer—it's good stuff.

Drink this: For an unpretentious bar, Wendell has an impressive deluxe beer selection. Start the night with a Czech style Momma's Little Yella Pils ($6), then venture into the more bitter IPAs with a Belgian Houblon Chouffe ($8). If you're feeling especially adventurous, try the undeniably boozy AleSmith Speedway Stout ($7), aged in bourbon barrels. The liquor shelf boasts some quality options as well: scotch whiskeys worthy of drinking neat are the Glenlivet 12, Highland Park, and Lagavulen.
Venue name:
Wendell
Contact:
Address:
656 S Main St
Los Angeles
90014

Opening hours:
Sun-Wed 8pm-2am; Thu-Sat 4pm-2am
Do you own this business?