Cell phone service seems like the best in-the-moment measurement of crowd sizes at Coachella. To put it in transitive mathematical terms—words that have probably never been spoken about the music festival—if an act's popularity is equal to the size of the crowd it draws, and a surge of festival-goers at a single stage goes hand-in-hand with the inability to push out Snaps, then a band's popularity is inversely equal to the quality of cell phone service.
So when cell phone service kicked back in during LCD Soundsystem's reunion set on Friday—as festival-goers fled to Purity Ring and the Lucent Dossier Experience—it hit us: Coachella's top-billed headliners are not the fest's biggest draw.
We don't mean this as a knock on the quality of the performances, but the Coachella crowd seemed mostly unmoved by LCD Soundsystem's distant dance music, and the same goes for much of Guns N' Roses' two-and-a-half-hour marathon. We'll admit it: that's a long time to stand after spending an entire day on the sun-soaked Empire Polo Club field. But compare those sedate, thinning crowds to the manic masses for Zedd, Disclosure and Jack Ü that stomped over every blade of grass from start to finish, or the the fresh faces that ogled every second of the 1975 and James Bay.
In some sort of music fest utopia, a headlining set is a means for everyone to reconvene at the end of the night and revel in one last act. At its best, it's a way to create a communal experience, but Coachella's top-billed performers this year—the reunions and legacy acts—seemed like a means to sell premium-priced tickets.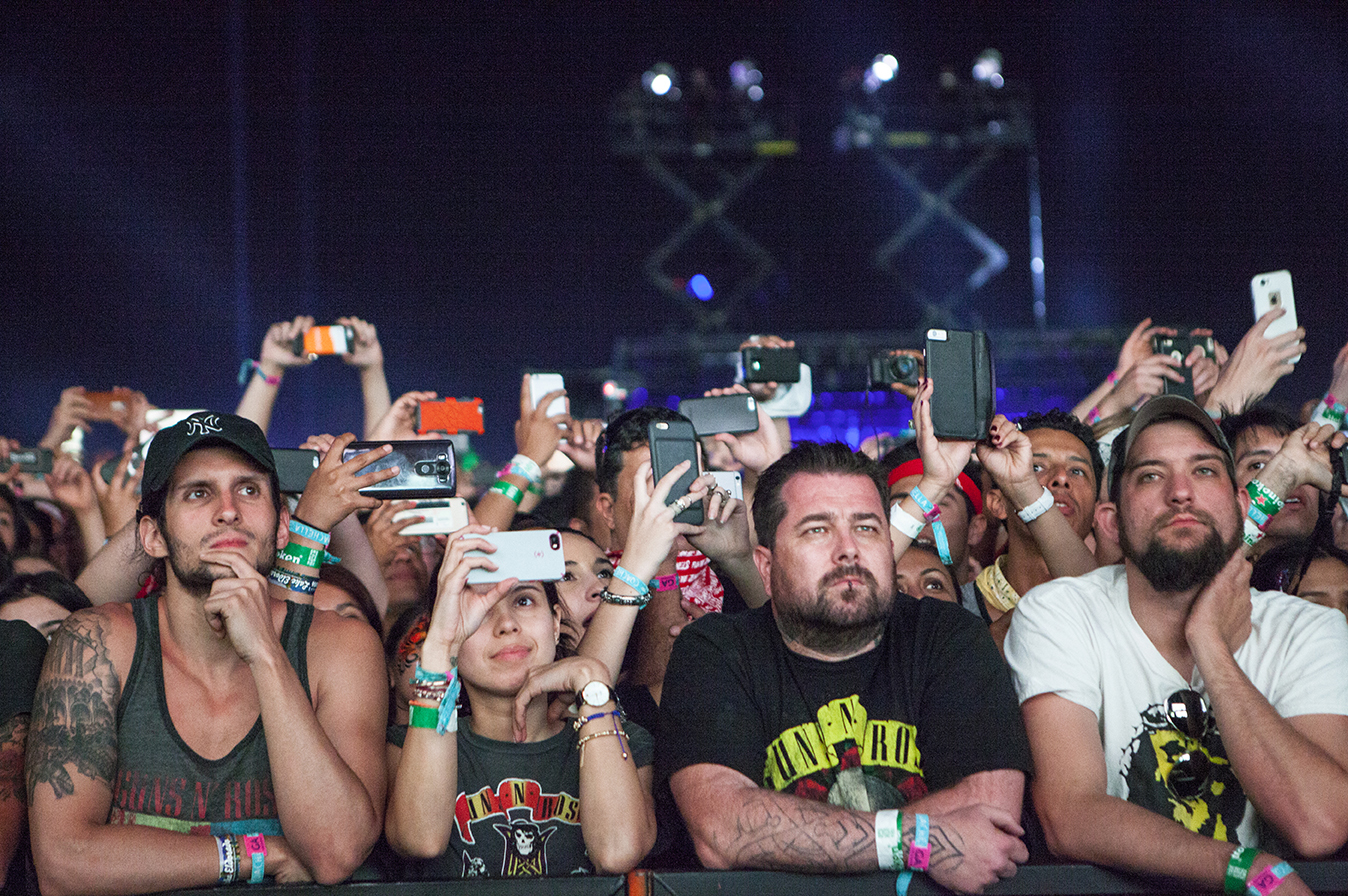 Photograph: Jakob N. Layman
A 2015 Nielsen study puts nearly half of musical festival attendees between the ages of 18 and 34, while an Eventbrite survey suggests the majority are under 24. So how do you bring in those older, wealthier attendees? Nostalgia and VIP experiences. Anecdotally, Coachella's average age seemed to spike on Saturday as an older crowd hit the festival grounds to reminisce with sets from Guns N' Roses and Ice Cube (whose overly dramatic "pyroclastic flow" sometimes felt like instead of witnessing the strength of street knowledge, we were witnessing the birth of dad rap). There were plenty of lower-billed bands throughout the weekend, too—Rancid, Sufjan Stevens, Beach House—for those who don't stray from old favorites and indie darlings. And outside of the music sphere, add-ons like Outstanding in the Field and the rare beer barn seemed aimed squarely at adults.
The laser and Molly-fueled elephant in the room is the rise of EDM. We're not blaming anything on those damned kids and their dance music and drugs, though. Coachella has always been DJ-friendly; heavy hitters like David Guetta and Tiësto have been popping up since the musical fest's inception. But Calvin Harris' set on Sunday marked the first time a DJ has ever topped the Coachella bill. After a mostly indie rock mid-aughts, dance music's presence has become an undeniable force, one that's no longer contained to the multisensory Sahara tent.
Coachella's lineup may not look like HARD Summer anytime soon, nor do we expect old timers to run out of musical offerings—though the rumored Rolling Stones, Paul McCartney and Bob Dylan festival is an intriguing development—but it's clear that the festival's young devotees are coming out to the desert to dance. Until the rest of the lineup catches up to the festival's core audience, we guess we'll just enjoy the extra cell phone service.