You may protest the ever-earlier arrival of the holiday season, but there's one year-end tradition that couldn't have come soon enough: "It's a Small World" Holiday. The annual Christmas makeover of the classic Disneyland ride is now open and runs through January 22, 2017.
If you've somehow escaped a ride on "It's a Small World" over the last half-century, it's a slow-moving boat ride around the world, broadly broken up by continent, with animatronic dolls singing and sharing their local customs. Since 1997, the attraction has dressed up for the holidays; the exterior twinkles with thousands of technicolor lights that trim its whimsical facade. Inside, snowflakes, candy canes and Christmas trees complement Disney animator Mary Blair's playful dioramas.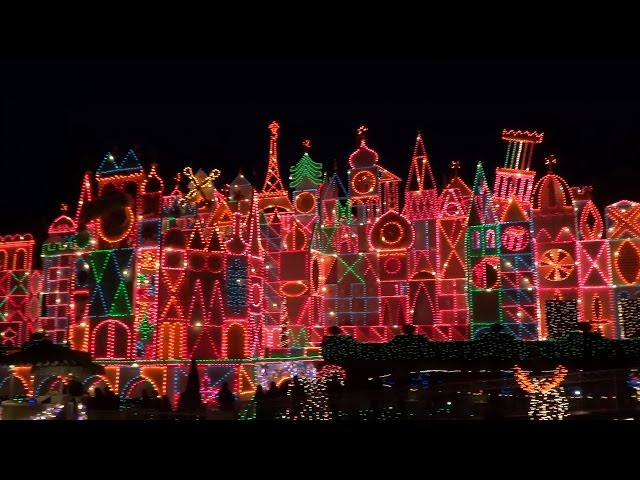 Even the song switches from its usual refrain to a multilingual medley of both "It's a Small World" and "Jingle Bells"—or as an underwater Ariel warbels, "Jingle Shells." Yes, you'll still have to hear that earworm of a mid-century Sherman Brothers jingle, which you either consider a cloying annoyance or the happiest, most inspirational song. We're going to argue for the latter.
Richard and Robert Sherman, who would go on to pen the music for Mary Poppins, wrote the song in the middle of the uncertainty of the Cuban Missile Crisis, and the attraction has been trumpeting its tune of global harmony ever since its debut at the 1964 World's Fair. It acknowledges our tears and fears but promises laughter and hope. When we look at those adorably dressed dolls going about their holiday traditions, we really do believe that there's so much that we share—on a deeper level than a love of churros and Dole Whips.
All the world's singing dolls come together in the ride's final room as they always do, but for the holidays the tune switches to "Deck the Halls"—the "It's Not Unusual" to a looping "What's New Pussycat," if we may borrow from comedian John Mulaney. Every bit of surface area is bathed in colorful light or draped with glowing garlands. All cultures, creeds and colors come together to dance and sing underneath a curtain that promotes "Peace on Earth." It's saccharine, sure, but "It's a Small World" Holiday offers a rare moment to escape from everything—at least for those 15 minutes—and consider that maybe the world does have the potential for tolerance and togetherness.
Want more? Sign up here to stay in the know.