Conjure up the worst portrait of Angelenos imaginable and you'll land on something like uncultured, Hollywood obsessives trapped inside of automobile bubbles. We know that Angelenos are warmer than that (mostly), but this city can feel isolating sometimes. However, LACMA Local is a friendly reminder that it doesn't need to be.
LACMA's new community-building program, which kicked off on Saturday, offers its members loosely structured, biweekly hangouts at the museum. LACMA Local runs $40 for a year of programming that invites like-minded art lovers to get to know each other over an hour or so inside of the Miracle Mile museum's galleries and special exhibitions.
Saturday night's inaugural event, "Seasons," took LACMA Local members on an after-hours, self-guided tour of four seasonally-inspired pieces of art. There were no specific prompts or questions, just a small pamphlet with a little bit of background and location info on each work of art. As our group of 10 was standing around introducing ourselves—name tags were a big help—we were a little worried that the lack of a specific objective would make for an awkward museum-going experience. But almost immediately after stepping into the first gallery, the evening opened up into spontaneous art discussion.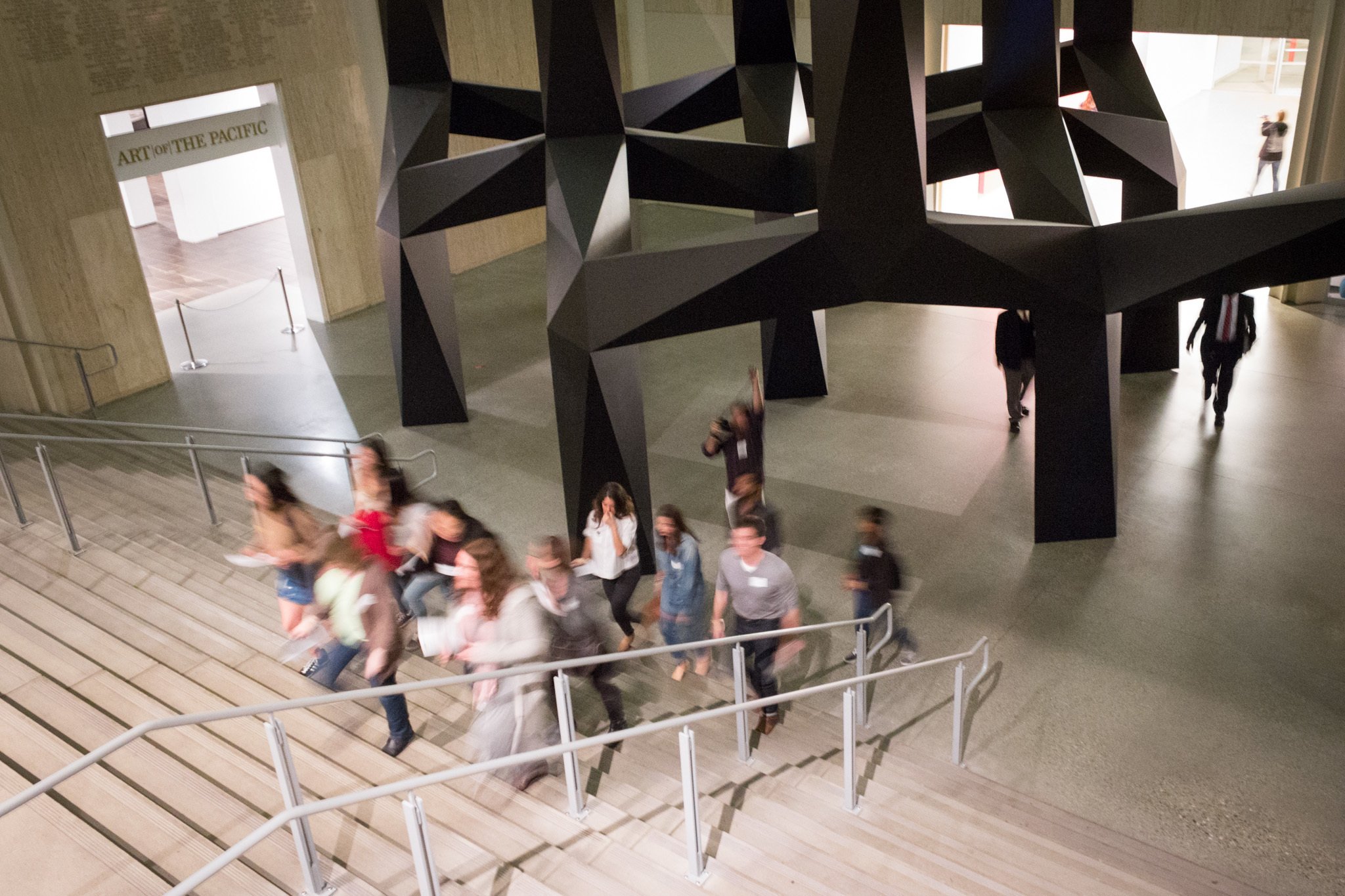 Photograph: Michael Juliano
Neither obnoxiously hip nor stodgy, the LACMA Local membership ranged from newly-arrived twentysomethings to seasoned Angelenos. Whether outgoing industry types or self-admitted shut-ins, everyone shared one thing in common: an obvious appreciation of having the museum as a local resource. More importantly, nobody was afraid to share their thoughts, and if anybody was a little too eager to take command and push forward, the rest of us could freely hang back at a leisurely pace. Hopefully that casual, not-awkward dynamic persists through future events, such as watching the sunrise from "Levitated Mass" and building a model city after visiting the Frank Gehry exhibition. And hopefully that last event steers clear of group project territory and its pitfalls, lest that previously pleasant member becomes your worst nightmare.
The program isn't perfect, but its organizers recognize that it's a work in progress; all attendees from Saturday's program will be asked to give their feedback about what did and didn't work. While we're not advocating for summer camp-style icebreakers, something as simple as having a drink in hand—alcoholic or otherwise—could go a long way to lightening up the mood when everyone first meets.
By the time we wrapped up the evening with a group trip to the sold-out "Rain Room"—rainy season if you will—we weren't quite best buds, but there was enough familiarity that it felt like a group of friends just chatting and taking photos in the (faux) rain.
Talking about art, especially modern and contemporary, is intimidating. Nobody wants to be wrong or sound stupid, so—outside of overly talky, navel-gazing college classrooms—people tend to shut down in the face of art criticism. That certainly wasn't the case at LACMA Local. LACMA meant something different for everyone in attendance, and having a captive audience to share that made the whole thing worthwhile.
Comments