Easter may be over, but that doesn't mean the celebration of bunnies needs to come to a screeching halt. In fact, the promise of an over-the-top, artistic expression of rabbits not bearing Easter baskets might be just the thing to ease us back into the week.
Enter "Intrude," a roving exhibition presented by Arts Brookfield that will be popping up in Downtown LA from June 5-11. The installation by Australian artist Amanda Parer features larger-than-life rabbits made from white nylon, which are then inflated and internally lit to create glowing, towering creatures. The bunnies are over two stories tall, and will make an appearance in three locations: Figat7th (735 S Figueroa St), the Bank of America Plaza (333 S Hope St) and Wells Fargo Center (330 S Hope St).
Parer describes her installation as a social commentary on Australia's rabbit overpopulation issue. The animal was introduced to Australia by settlers in 1778, causing a sizeable imbalance to the local ecosystem—a fact that exists side by side with our more affectionate view of the cute and cuddly animals. Still confused as to what exactly the exhibit will look like? Check out this video: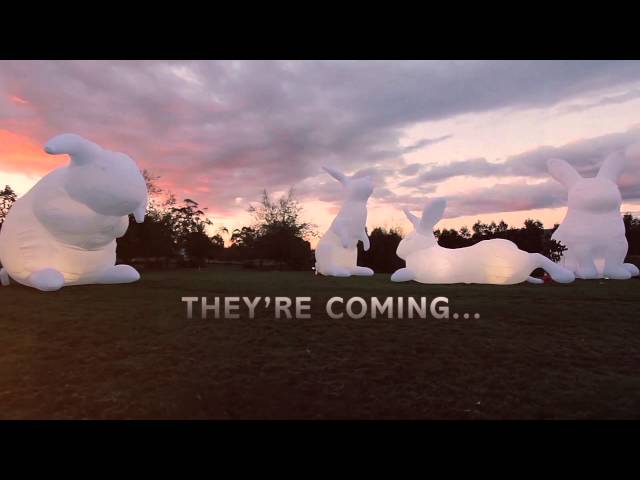 "Intrude" will kick off its tour in New York on April 17 before heading to Houston, LA and Denver. Catch the installation in LA on June 5-11 from noon-9pm each day.