On your next visit to Whole Foods, as you linger over the sushi counter, the word "Ahimi" catches your eye. You don't recognize the name, but it looks to be some sort of tuna—maybe yellowfin?—so you pick up a package. (Look at you, being adventurous!) There's the usual depth of flavor, the deep-red hue, even a slickness over the tongue. But that fish at the end of your chopsticks isn't fish at all. It's tomato.
Starting November 1, select Whole Foods Markets in New York City and Los Angeles will unveil Ahimi, a vegan alternative to raw tuna. It's a plant-based ode to the salty/sweet/bitter/sour/umami flavors we all enjoy, and we often enjoy them all at once when we order sushi—but doing so requires eating fish. Now vegans, the sustainable-seafood conscious, food-adventurous omnivores and pregnant women can still enjoy a sushi-like bite all thanks Ocean Hugger Foods, the New York-based company that's been developing the product for roughly four years.
"I get the sacredness of raw tuna—trying to measure up to that is a very high bar, but at the same time, we need a solution," says Ocean Hugger Foods founder James Corwell. "The world of food is truly changing, and I think these options are going to become more and more important."
He's not wrong. Pollution and overfishing have made tuna one the world's most at-risk aquatic species for extinction and environmental impact; albacore, bigeye, bluefin and yellowfin tuna are four of the 22 marine species on Greenpeace's list of seafood to be avoided, when possible, due to sustainability concerns.
Corwell, a certified master chef and a former instructor at the Culinary Institute of America, can't dish on the full process he goes through to make this meatless wonder, but he can share that it's still a whole product—roma tomatoes, to be exact. It utilizes only five ingredients: water, sugar, soy sauce, sesame oil and tomatoes, cooked very slow for a long time. "Most meat alternatives are highly processed," Corwell says. "This one's not."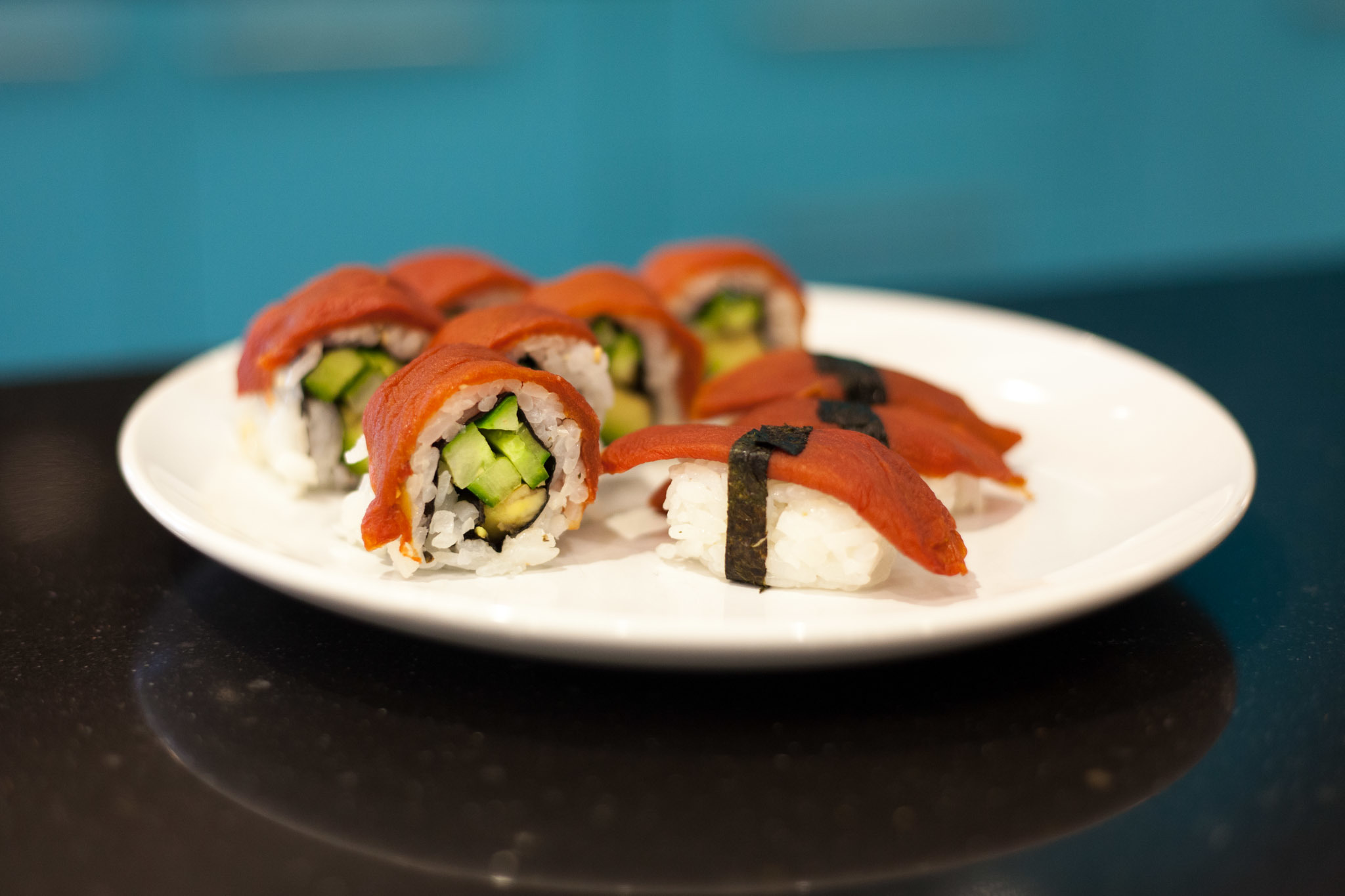 Here in L.A., you can snag this substitute at Whole Foods locations in DTLA, Venice, Playa Vista, Fairfax, Brentwood, Westwood, Santa Monica and West Hollywood. The Ahimi-topped Ocean Hugger Roll, stuffed with cucumber and avocado, will run for $8.99 for seven pieces, and the Ahimi nigiri-and-roll combo—also seven pieces—sets you back $11.99. You can also request customized Ahimi rolls from the sushi bar, if you prefer brown rice or other variations for a roll or nigiri. Though poke bowls aren't available yet, they're tinkering with a special Ahimi marinade just for the purpose.
While the texture doesn't entirely mimic that of its fishy counterpart, the flavor becomes more and more tuna-like with each piece, and of course there's a huge resemblance visually: there's striation that really does trick the eye.
Corwell began developing the product out of his own kitchen, and he hasn't stopped since. Ocean Hugger Foods is currently working on an eggplant product, which would replicate unagi, and a carrot product, for salmon.
For now, find Ahimi rolls in select L.A. Whole Foods Markets starting November 1, which just so happens to be World Vegan Day.