Best comedy specials of 2013
Our critics weigh in on the year's best releases from Mike Birbiglia, Louis C.K. Bill Cosby and more, be they on CD, on DVD or self-produced online.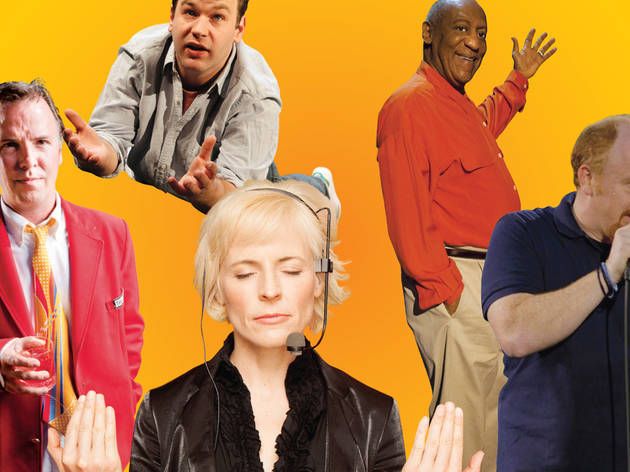 Maria Bamford,
Ask Me About My New God!
(Comedy Central Records, CD-and-DVD set $14)
Though some of its material overlaps with last year's
The Special Special Special!
, the Bammer's fourth album is her most cohesive and revealing to date. In her previous outings, an inherent contriteness muffled her anxieties and feelings of alienation, but God lays bare her personal struggles—familial interactions, online dating—with striking defiance.
—JS
Mike Birbiglia,
My Girlfriend's Boyfriend
(New Wave Dynamics; CD $10, DVD $13)
Birbiglia's follow-up to one-man show
Sleepwalk with Me
isn't as linear as its popular predecessor, but it does exhibit pronounced personal growth. No bad dreams or dramatic tales about leaping from windows this time around: just a guy coming to terms with some harsh truths about his emotional roadblocks…and allowing himself to be loved in the process.
—JS
Kurt Braunohler,
How Do I Land?
(Kill Rock Stars, $10)
"I want to insert stupidity or absurdity into strangers' lives, because I believe it could make the world a better place," says Kurt Braunohler early on his debut record, spelling out the insane philosophy by which
How Do I Land?
abides. Braunohler sees empty greeting cards as a chance to write head-scratching messages to unsuspecting customers, and baffles innocent bystanders by following up farts with the phrase, "Nothing but net!" But most telling about his world of giddy irrationality is that when Braunohler sees a cloudless horizon, he can't wait to hire a pilot to skywrite the album's title. And he can't wait to tell us about it.
—SH
Louis C.K.,
Oh My God
(self-produced, $5 at louisck.net)
Louis not only sees the worst in himself (as proved by his TV show
Louie
and each of his previous albums), he now sees the worst in all of us.
Oh My God
finds the positives in divorce and murder, while locating surprising downsides in innocuous things like putting on socks. He also observes that no one is capable of touching only one boob, and both driving and children's ballet recitals can turn people into monsters. C.K. casts a wider net than he did in efforts like
Live at the Beacon Theater
and
Hilarious,
but is still finding sunken treasure in the horrifying bog of humanity.
—SH
Bill Cosby, Far from Finished (Comedy Central Records; CD $10, DVD $17, Blu-ray $23)
Though the Coz never says the phrase my wife Camille, the trained ear will listen to tracks such as "The Wife" and fill in the gaps. All of Far from Finished, in fact, is a series of comforting stories and analysis masterfully told by an intimately familiar voice. Imagine Cosby coveting (and pronouncing every syllable in the words) chocolate-chip cookies: It's a simple idea that will sweep away all who know him.—ML

Anthony Jeselnik, Caligula (Comedy Central Records, $10)
Nothing is sacred on Jeselnik's second album. It takes major cojones to name a track "Suicide Chunk" or to do a whole bunch of macabre, sadistically crafted one-liners about rape—the controversy du jour. But it also takes major finesse—and the seductively devilish Jeselnik pulls off every single joke, leaping into the fires of hell to show us it ain't all that bad.—SH

Andrew Orvedahl, Hit the Dick Lights (Greater Than Records, $10)
The comic, one third of Denver's worthy Grawlix troupe, gets silly when it's appropriate (e.g., reading Fifty Shades of Grey over the shoulder of a fellow airplane passenger) and when it's slightly less so (discussing the terms of his recent divorce). He's been on the circuit for a while, but this bright and witty hour, full of appealing bits delivered in an array of goofy voices, should get him closer to a national audience.—ML

Mike Lawrence, Sadamantium (Comedy Central Records, $10)
In addition to taping a Comedy Central Half Hour and appearing for a second time on Conan, in 2013 Lawrence released his debut LP, a pitch-black celebration of daddy issues, dead-end jobs and outsider pursuits. As self-effacing as stand-up gets, Sadamantium is also one of the most inspirational productions of the year.—JS

Ari Shaffir, Passive Aggressive (Chill, $5)
"I really do want to stop letting people I hate choose how I live," Shaffir admits near the beginning of his first special. The aside's a bit of a red herring, because when it comes to relationships, kids and even drugs, the man's got his priorities sorted: As long as it doesn't hurt others, create your own happiness. His gruff, perturbed honesty may toe the line of discomfort, but it's all in the service of fostering authentic connections.—JS

Tom Shillue, "12 in 12" project (iTunes, $12)
A pioneer of New York's ever-expanding storytelling movement, Shillue heightened his own narrative with this unprecedented endeavor: producing a dozen half-hour EPs in as many months. The unvarnished, in-the-moment collection touches on everything from bullying and Boston to barbershop quartets, emphasizing process over perfection and capturing the unpredictability of nightly combat waged in the comedy trenches.—JS

Doug Stanhope, Beer Hall Putsch (New Wave Dynamics, $10)
If you're not revolted by, or at least at odds with, comic blitzkrieg Stanhope over the course of any given hour-long special, he's not in top form. Thankfully, his blistering new Beer Hall Putsch fearlessly throttles sacred cows—breast-cancer awareness, aging national treasure Jake LaMotta—as well as bigger targets like Occupy Wall Street. But it's his jaw-droppingly dark account of assisting his mother's suicide that's one for the history books.—ML