Heads up! We're working hard to be accurate – but these are unusual times, so please always check before heading out.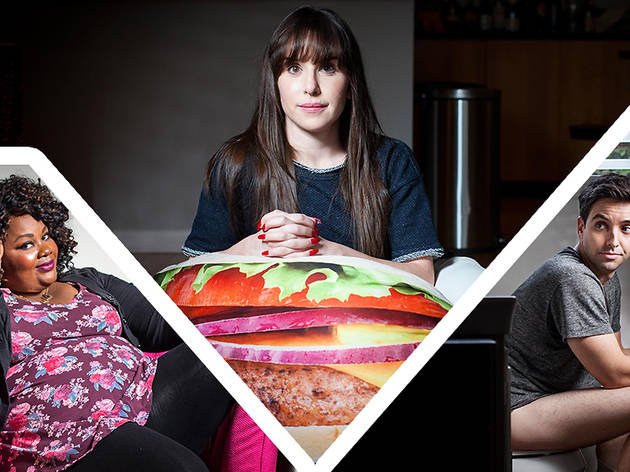 Comedians to watch in 2015
Each of these nine up-and-coming local performers pretty much makes us pee ourselves
It's clear that 2014 was a banner year for comedy. The comics we told you to watch last year saw even more successes, and a whole new batch started blowing up, too. Here's our annual list of who to know about, laugh at (with, whatever) and follow obsessively. And hey, laughter is ab work, so consider this list one of your New Year's resolutions.
RECOMMENDED: 12 local bands that will hit it big in 2015
Also, check out the rest of our predictions for 2015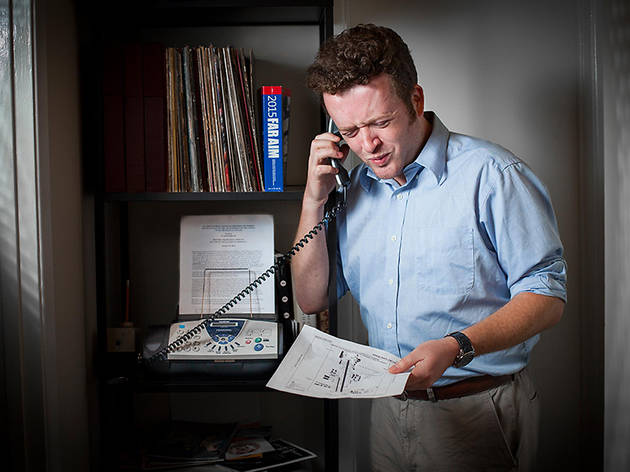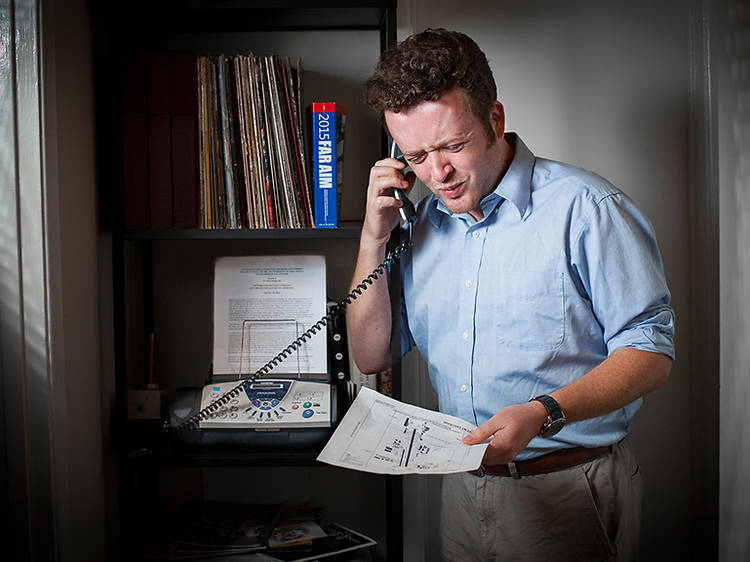 Photograph: Jakob N. Layman
"Someone told me once that I'm attracted to the most boring situations that most people wouldn't think are funny at all," Neil Casey says. The comedian does have a superhuman skill for mining laughs from the mundane. He recalls that his first sketch on Saturday Night Live during his stint as a staff writer was about a hurried man trying to check out of a hotel while the clerk reads through his entire bill, including a list of taxes that grows longer and more absurd. In a more recent sketch, a man launches into a heated screed regarding landline phones being superior to internet phones. "Everything I say in that sketch is something I actually believe about landline telephones," he admits.

Casey has also been a staff writer on Kroll Show and Inside Amy Schumer. "I love trying to make my voice fit with someone else's I really like," he explains, "trying to write to someone else's strengths." But he's now taking a turn in front of the camera. The comedian just finished shooting Paul Feig's new Yahoo sitcom, Other Space, playing one of the leads in an ensemble cast—and word on the street is he steals the show.

Fans of sketch and improv have long known what Casey can do. Even when he's speaking nonsense in a scene onstage, there's a logic and cadence to it. He's calm and patient as a performer, milking small moments, turning what might have been a throwaway into something big—and yes, occasionally taking passionate stands about what other performers might have mistakenly deemed boring.

See Casey improvise in "Your F'ed Up Family" every Friday night at 9pm at UCB Sunset.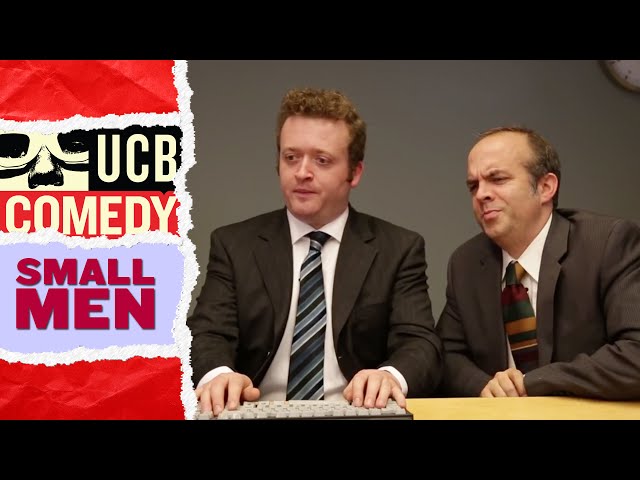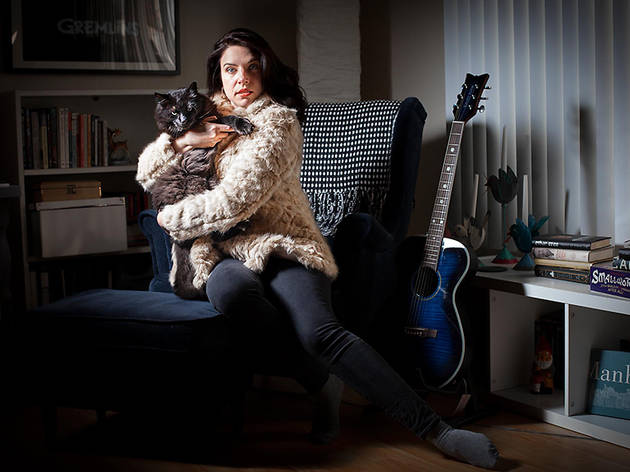 Photograph: Jakob N. Layman
Sure, Eliza Skinner is popular on Twitter, but still—it's rare for a comic to be retweeted by Obama. A video she wrote for Funny or Die about immigration reform, titled "Mary Poppins Quits," got the President's seal of approval and garnered a million hits the same day.

Before she worked at Funny or Die, Skinner was a staff writer and occasional on-camera correspondent on Totally Biased with W. Kamau Bell. Her pieces regularly went viral there as well. But Skinner—who has appeared on both Chelsea Lately and The Pete Holmes Show, and was a New Face at Montréal's Just for Laughs Comedy Festival in 2014—shines even brighter as a standup. She is animated, calculated, and disarmingly thoughtful. She delivers wicked ideas in silly and sometimes cuddly packages. "What I'm seeking onstage is 'Do you get me now?'" she says. "I'm trying to make myself understood. And sometimes it's easier to understand big meaningful concepts if I'm talking about squirrels and skeletons instead of people."

Before transitioning into standup, Skinner was a successful, nationally touring musical improviser. She still performs musical improv sometimes, and occasionally hosts an improvised beat-boxing competition called Turnt Up (RZA came to hang out at the last one). When she does, go. She's one of the best we've ever seen at the genre. But it's not the sort of performance that leads to employment. Once she started doing standup, however, the jobs and industry attention started coming fast (she currently has two projects in development with production companies). And, fortunately, she really likes it. "I love the conversation," she says about performing. "The challenge of figuring out how to open people up, and how best to communicate with that specific audience. And, I like not having to worry if I'm too fat or not blonde enough—it's so simple, if you can make people laugh just with your words and thoughts, you're funny."

See Skinner cohost Big Money every Thursday at 8pm at the Virgil.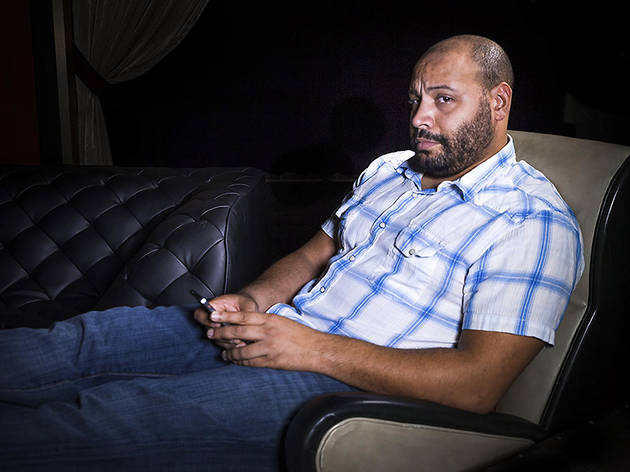 Photograph: Jon Risinger
When he was in high school, Colton Dunn quit the varsity basketball team to join ComedySportz, a short-form improv troupe. Then, after two weeks in college, he dropped out to move to New York City in order to pursue comedy full time. "I've been doing this long enough that my only job skill is managing video stores," he says. "I have to keep doing this because there are no more video stores."

Most of Dunn's performance history has been in improvisation at several theaters in both New York and LA. Onstage he's goofy, silly and larger than life. "I will definitely laugh in the middle of a scene," he admits. Recently, though, Dunn's been in Austin, Texas shooting a principal role in the film Lazer Team, which is being made by Rooster Teeth, a YouTube channel that crowd-funded a record $2.48 million for the project. The casting agents had seen Dunn perform at a festival in Austin, although they could just as easily have tuned into Parks and Recreation. Dunn's character arc has spanned four seasons as Brett, an Animal-Control Officer who's afraid of animals. His work on the show is how Dunn scored a starring role in The Pro, a sitcom pilot Rob Lowe made for NBC this past season.

The show wasn't picked up, but Dunn has been busy with Comedy Central's hit sketch show Key and Peele—he's been a staff writer on all four seasons. "Everybody's friends," he says about the group. Dunn has known Jordan Peele and Keegan-Michael Key since Mad TV, where they were cast members and he was a writer. "All the stuff they wouldn't let us do at Mad, we did [on Key and Peele]. And it was great to see it do well."

Dunn appears regularly in the ASSSSCAT shows happening every Sunday at 7pm at UCB Sunset.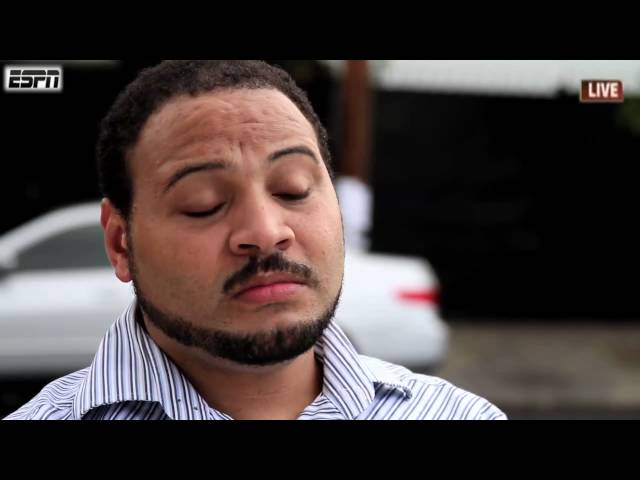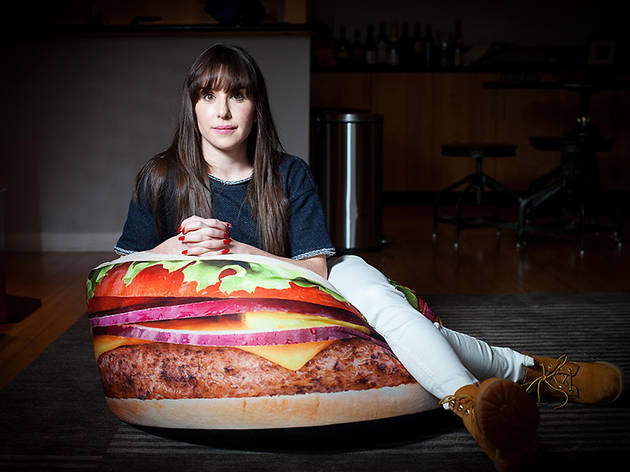 Photograph: Jakob N. Layman
A few years ago, Allyn Rachel appeared simultaneously on multiple channels on your television, several days of the week. She became one of those actors who's in every commercial: Toyota, Walmart, McDonald's, AT&T, IHOP, MetLife, Dish Network, Kotex and Nokia, to name only a handful. "I went through a year and a half of it being insane," she says. "I went from booking none to booking, like, 18 in a year. And I got to do a lot of funny ones." That's always the wish of young comedic actors—to not only book an ad, but one which allows them be funny, and gets them noticed for it.

The industry is definitely noticing. Rachel is currently developing a sitcom for FOX titled Crescent Heights with her boyfriend and writing partner Patrick Carlyle. She also appeared in the supporting cast of the canceled-too-soon ABC sitcom Selfie, playing twee hipster character Bryn. But instead of caricaturing the sort of young women who spend Saturday afternoons crafting, Rachel's take on Bryn is deadpan, and more enjoyable for it. "I like to play stuff pretty real," she explains, "dry and real. But I'm also learning that I have a Sculpy face." A what face? "You know, Sculpy: the clay, the kids' toy. I make a lot of faces, I guess."

Rachel graduated from Tisch in New York City, then immediately moved to LA and started the program at Groundlings. She says she's always been drawn to characters; but the character with which she's currently having the most success is pretty close to herself. Crescent Heights, which Rachel describes as "comedy with cliffhangers," is Rachel and Carlyle's second project with FOX. The network previously bought a script from the duo based on their web series, "Couple Time," about the small, mundane moments of relationships. And even though Crescent Heights is full of Melrose Place–style soapy shenanigans, it centers around a young normal couple just trying to figure it all out.

See Rachel perform with the Get Go January 13 at 11pm at UCB Franklin.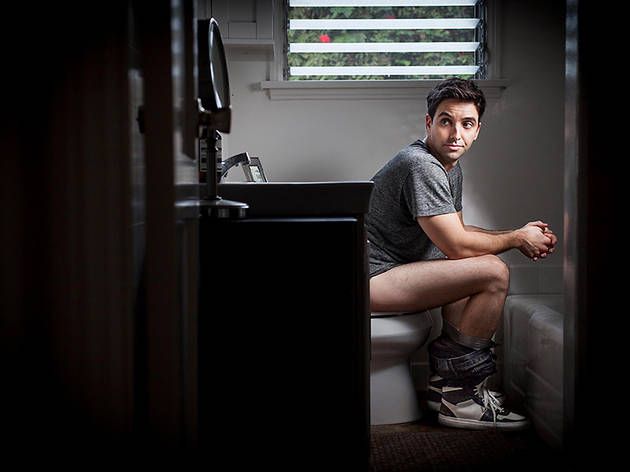 Photograph: Jakob N. Layman
"One of the saddest sentences in the English language is 'I'm doing my second solo show'," Paul W. Downs jokes. For the record, he's done two. But he's had no time for a third since the sitcom Broad City was picked up by Comedy Central. Downs was a staff writer on both seasons, and also has a recurring role as Trey, Abbi's self-absorbed boss at the cycling studio. Trey's a bit out there, but for this comedian, his character is pretty tame.

Downs first gained attention for his wild and varied character work. In one short—cowritten and directed by his comedy partner and girlfriend, Lucia Aniello (who also made our list this year)—Downs plays all nine members of a family at Thanksgiving dinner. He's also played Zac Efron and an especially eager Robin (as in, Batman's sidekick), among many other characters, in the shorts he and Aniello make with their production company, Paulilu. Its name is a nod to Desilu, Lucille Ball and Desi Arnaz's company. "Working with Lucia makes me better," he explains, "because there's nothing I love more than making her laugh—except having sex with her."

Recently, Downs, whose performance history also includes improv comedy, has been trying his hand at standup. "You're always you," he explains. "It's not that different [from sketch or improv] except that I don't have to carry around a suitcase full of props. It's nice not to wear a wig." As for what all of his work has in common, Downs likes to go big while still being grounded in reality. "I aim for ideas that are believable, but never pedestrian or conversational." And he likes the combination of shocking and sweet. "I love it when the audience is wondering if they can laugh at something but also thinks it's nice."

Downs cohosts the monthly variety show Look at Me, which happens next on January 7 at UCB Sunset.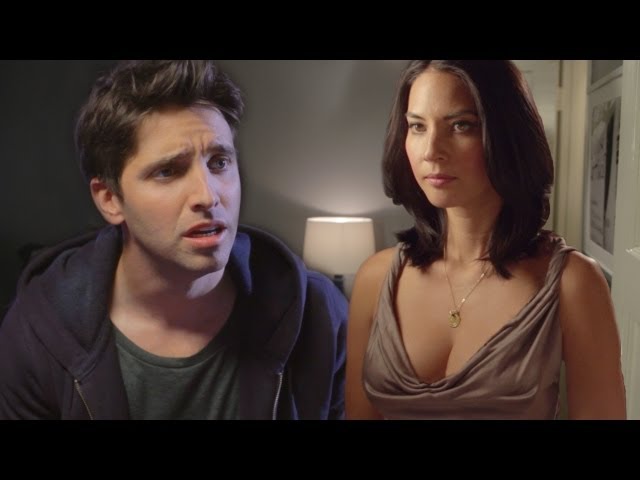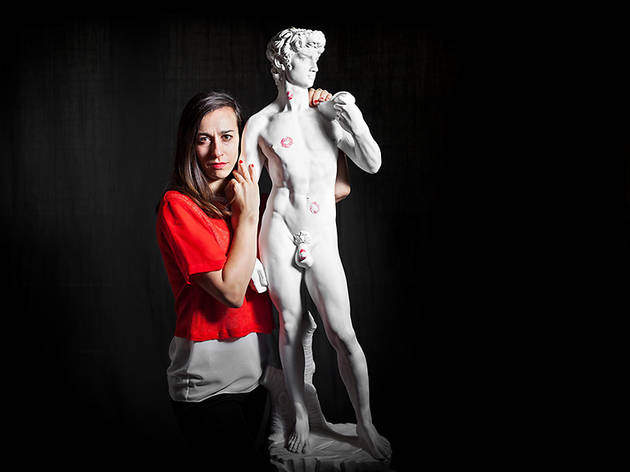 Photograph: Jakob N. Layman
"People say, 'Don't meet your idols'—unless it's Wanda Sykes, and then make up excuses for why you're in her dressing room all the time," jokes Lucia Aniello about her experience making What Happened Was, a pilot Sykes produced that's under consideration by USA Network. In the sketch–talk-show hybrid, Aniello is both a featured performer and also the round-table host.

Performing is somewhat of a return to roots for the comedian, who's otherwise been distracted by a growing career behind the camera. Most recently, she directed two episodes of Paul Feig's Yahoo sitcom, Other Space. She's also directed seven episodes of Comedy Central's Broad City, and was nominated for the Young Director Award at the 2012 Cannes Lions Festival for a commercial she conceived and directed for DollarShaveClub.com (officially titled, "Our Blades Are F***ing Great").

Aniello started her comedy career in New York City, improvising at the Magnet Theater, where she returned for Broad City. In 2007, Aniello and her boyfriend, Paul Downs, launched their production company, Paulilu. Together they've made promo shorts for the Emmys, helmed a channel on the Above Average web network and created several shorts for other web outlets. When asked what the benefits are of working with someone you date, she replies, laughing, "You know those crazy ideas you have when you're falling asleep but half awake? We get to say those out loud to each other so we don't lose them."

See Aniello perform in Live From Heaven: Elliott Smith's Fun-Time Lollipop Smile Machine Factory

 on Friday, January 2 at midnight at UCB Franklin.


Dildo Sport from Paulilu Productions on Vimeo.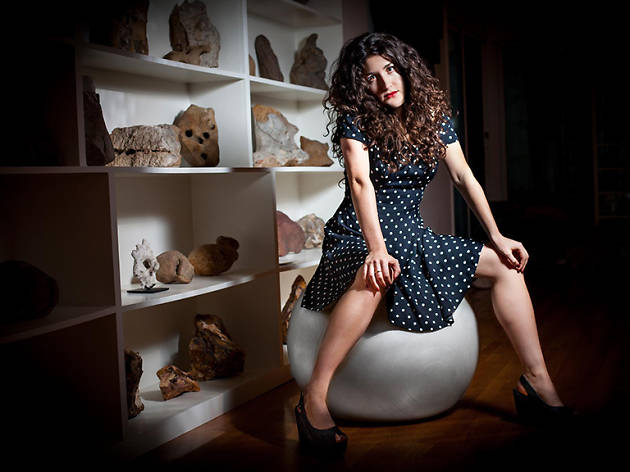 Photograph: Jakob N. Layman
Kate Berlant, who grew up in Los Angeles, started doing standup at 17 at Archer School for Girls—or at least, she told one-liners while wearing a kimono and sitting in a wheelchair. She no longer brings props on stage, but her definition of comedy is still expansive. Berlant doesn't tell jokes so much as she riffs on the metaphysical, turning a set into a strange stream of consciousness that leads nowhere, and is simultaneously disarming and satisfying. "There's something powerful about confusion," she explains. "I like to think of what I can do to create more of an experience for people, to create something that's funny but also allows for a certain amount of ambiguity that is hopefully exciting for people and for myself."

Berlant comes by her avant-garde nature honestly. Her father is a visual artist, and she was raised in a converted supermarket that he turned into his studio. Her mother was a performance artist in the '70s with the Dadaist Guy de Cointet. After two years attending Bard College (but taking the train every week to see and perform in shows in New York City) Kate eventually transferred to NYU. She stuck around afterward building a following, and, at the age of 26, was profiled in the New York Times. And this summer, Berlant was showcased as a New Face at the Just for Laughs comedy festival in Montreal.

Although she wants to force herself to write a script as an exercise—"my standup tends to be incomplete," she explains, "in a way that I like but which is the opposite of what a script requires"—she is currently dedicated to live performance and the gleeful improvisations it allows. "Whether you like it or not," she says, "something is gonna happen. You can't procrastinate when you're performing; you have to be present and make something happen."

See Berlant perform at the Toys for Tots fundraiser with Tim Heidecker, at the Improv on December 21; and in An Evening with Kate Berlant at Nerdmelt January 27.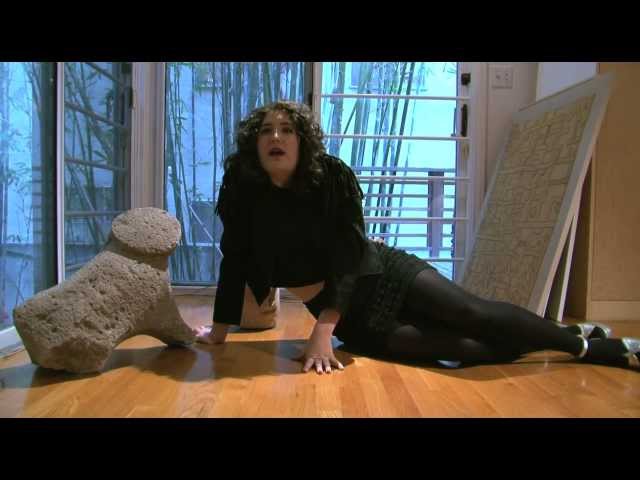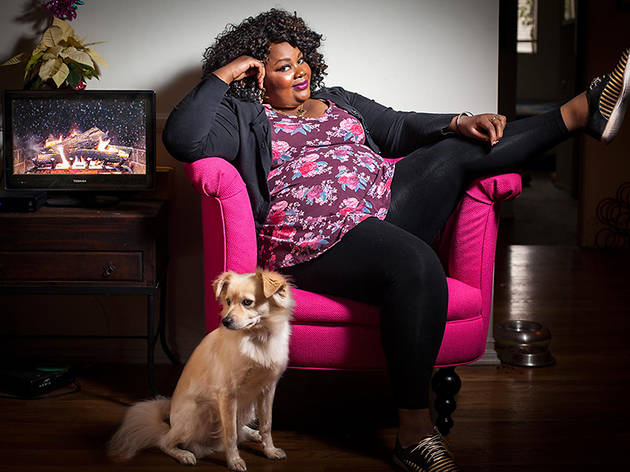 Photograph: Jakob N. Layman
When none of them was cast on Harold teams at UCB in New York City, Nicole Byer, Sasheer Zamata and Keisha Zollar started their own troupe and named it Doppelgänger. They played lots of festivals and before long, every improv scene in the country was talking about them. Since then, Byer has moved to LA and appeared several times on Chelsea Lately and @midnight, and was a cast member on MTV's Girl Code. "I thought I was just doing a pilot," she recalls about the latter. "But then they kept flying me out. I didn't want to ask too many questions; I thought, I'll just ride this out 'til it ends. When they brought me back for the second season, I finally thought, okay, I guess I'm really on the show."

She and Zamata are still collaborating. The second season of their very funny web series, "The Pursuit of Sexiness," will premiere next year on the Above Average channel. They play friends Nicky and Sheer, versions of themselves except shallow, completely obsessed with sex and constantly making poor decisions.

Onstage, however, Byer—who performs sketch and improv regularly—rarely plays herself. The comedian prefers characters, and the bigger the better. "I love playing loud southern ladies," she explains. "And men. That's fun. I think they're almost easier to play from a woman's point of view." She definitely has the stage presence to pull it off. "I've always wanted to be described as Whoopi Goldberg meets Mo'nique. Those are the two women who influenced me the most. If anyone ever printed that about me, I would love them forever."

See Byer improvise in Search History every Sunday at 11pm at UCB Franklin, and perform sketch comedy with New Money on December 17 at 8pm at UCB Sunset.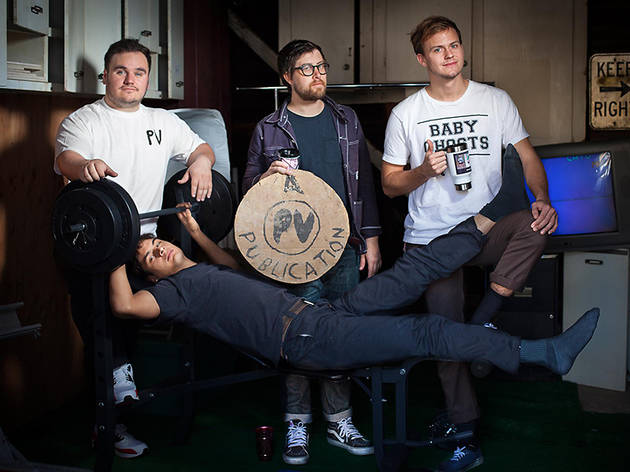 Photograph: Jakob N. Layman
The guys from PowerViolence fell into live comedy somewhat accidentally. Whitmer Thomas moved to Los Angeles after high school to pursue acting. Soon, his childhood friends from Alabama—Clay Tatum and Jeramy Ritchie—joined him. They all wound up living in a house with Budd Diaz and Rodney Berry. And then the group started making comedy videos (Thomas counts Stella as an influence) as PowerViolence, named after the music genre. In order to have somewhere to screen the films, they launched a live weekly show. Four years later, PowerViolence is still running every Sunday night, and regularly sells out.

The quartet (Berry has since dropped out) writes a new bit to open each show, often creating elaborate props and stunts. Think: having an audience member whack a monkey-shaped piñata that's been filled with what's intended to look like actual monkey guts and organs. Tatum and Thomas wanted to be professional skateboarders when they were younger, and have at least achieved that aesthetic within the show: the skate version of comedy, punky, masculine, aggressively dumb. Case in point: For a performance at MOCA, the group made something called a Nut Box. Basically, in the name of art, they cut a hole in the base of a large storage bin, turned it on its side, had Diaz squeeze his testicles through it, and then asked an artist to paint them. Audience members formed a line, viewing the creation one at a time through a curtain.

Outside of PowerViolence and their other "art," the group keeps busy. Tatum and Thomas recently worked with director Ben Jones to create the animated show Stone Quackers for FX. "It wound up being a lot sweeter than we expected," Thomas says. The stories and world are largely based on his and Tatum's childhoods in Gulf Shores, AL; they've been friends since they were 10. Ritchie is a musician, sound engineer and Lyft driver, and Diaz is a computer technician at a store that specializes in fixing Macs. Presumably, he does not put his balls on them.

See PowerViolence every Sunday night at 9pm at 6470 Santa Monica Blvd.