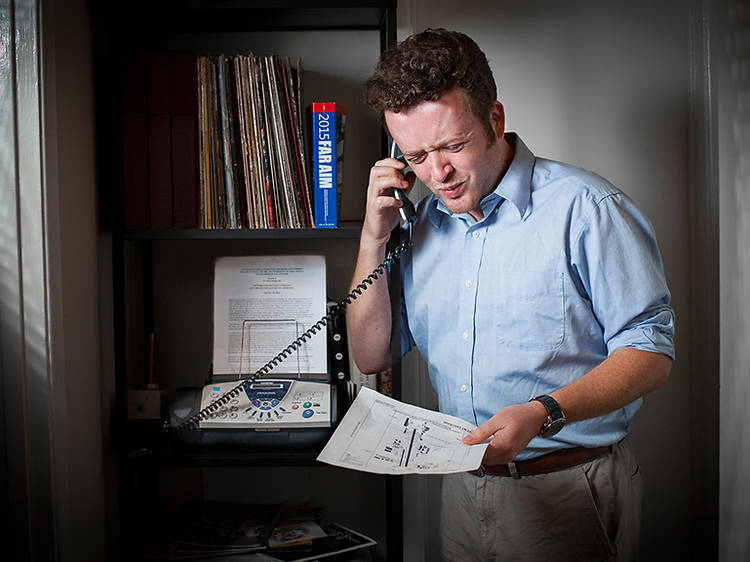 Photograph: Jakob N. Layman
"Someone told me once that I'm attracted to the most boring situations that most people wouldn't think are funny at all," Neil Casey says. The comedian does have a superhuman skill for mining laughs from the mundane. He recalls that his first sketch on
Saturday Night Live
during his stint as a staff writer was about a hurried man trying to check out of a hotel while the clerk reads through his entire bill, including a list of taxes that grows longer and more absurd. In a more recent sketch, a man launches into a heated screed regarding landline phones being superior to internet phones. "Everything I say in that sketch is something I actually believe about landline telephones," he admits.
Casey has also been a staff writer on
Kroll Show
and
Inside Amy Schumer
. "I love trying to make my voice fit with someone else's I really like," he explains, "trying to write to someone else's strengths." But he's now taking a turn in front of the camera. The comedian just finished shooting Paul Feig's new Yahoo sitcom,
Other Space
, playing one of the leads in an ensemble cast—and word on the street is he steals the show.
Fans of sketch and improv have long known what Casey can do. Even when he's speaking nonsense in a scene onstage, there's a logic and cadence to it. He's calm and patient as a performer, milking small moments, turning what might have been a throwaway into something big—and yes, occasionally taking passionate stands about what other performers might have mistakenly deemed boring.
See Casey improvise in "Your F'ed Up Family" every Friday night at 9pm at UCB Sunset.