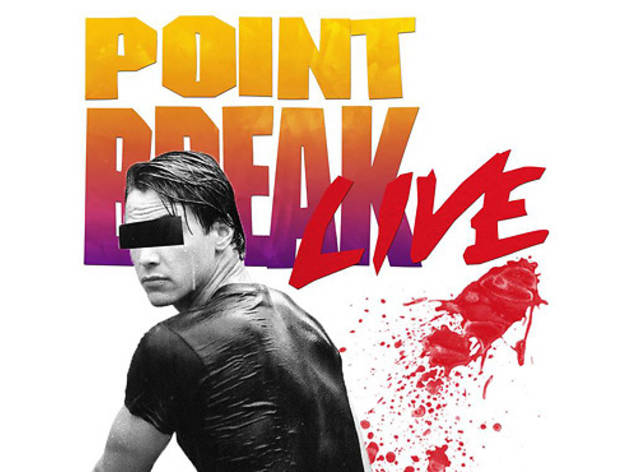 After its debut a decade ago, Point Break Live! has settled back in LA for another absolutely bananas run. The theatrical spoof of the 1991 Swayze-Reeves cult classic shuffles up the casting a bit by assigning Keanu's role of Johnny Utah to an audience member—chosen by the crowd's reaction, as measured by the Keanu Woah-O-Meter. Expect an exuberant hour and a half of skydiving, bank robberies and meatball sandwiches all carried out by a bunch of (literally) in-your-face beach bums. Ponchos are provided at the door—protection from all the water, fake blood and "Sears catalog juice," obviously—and we definitely suggest keeping that hood on. Make sure to come out early to claim a seat, lest you end up in the front row splash zone.
Rating Breakdown
5 star:

1

4 star:

1

3 star:

1

2 star:

0

1 star:

0
Point Break Live is a thrill-a-minute adventure and totally immersive theater experience. You won't want to miss all the amazing comedy and outstanding acrobatics this show has to offer. Be sure to go early and get your fill of tacos and beer!
This is a really silly show and a nice throwback for people who like "Point Break". I like the fact that the producers and actors don't take themselves too seriously, but you should definitely except a pretty bare bones production set and makeshift bar set up. One thing to note is that you definitely should wear the ponchos you get, to avoid getting spit on human backwash...yeah that happens.
If you're a fan of "Point Break," then you have to see this show. It is absolutely hilarious and so much fun, you definitely will regret not seeing it, especially since they have just announced it will be ending this year. I saw the production when they came to Hermosa Beach, and the line to get in was literally wrapped around the building. Get tickets while you can bc this is a show all "Point Break" lovers need to see before it says "vaya con dios."