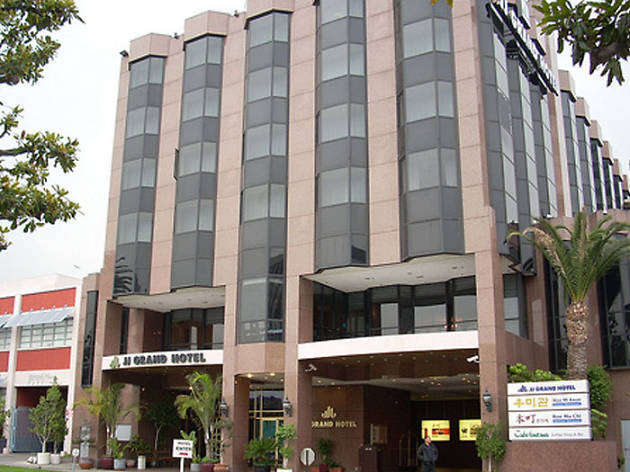 Affordable and relaxed with spacious (if slightly drab) rooms, this 6-story hotel block serves as a handy home base for deeper exploration in bustling K-town, and comes with a reputable Korean-Japanese restaurant.
There's a solid case for booking a stay here if all your activity is centered around Koreatown, whose prolific dessert cafes, shopping plazas, and late-night BBQ joints encircle this mid-range, 6-story hotel. Admittedly, you won't be wowed by any of the services—and certainly not the design, which feels stuck a few decades behind. Nevertheless, the JJ Grand serves a function. The rooms are unremarkable, and could use some brightening up (the wallpaper, for example, needs replacing), but are well-sized and outfitted with the basics, like flat-screen TVs and minifridges, and the beds have crisp white linens. (There are no coffeemakers, but there's a Starbucks 2 blocks away.) An upgraded tier of suites offer almost double the space, with wide open living rooms and sofas, though you get the same amenities in the end. What keeps customers coming back, aside from the unbeatable location, tends to be the free parking (a boon in congested parts of town like this), as well as the on-site restaurant Woo Mi Kwan, which is something of a hidden gem: even non-hotel guests show up here for steaming bowls of Korean bibimbap and Japanese teriyaki lunch boxes.
Location: Set on a side street from busy Wilshire Boulevard, the JJ Grand has access to all of Koreatown's colorful diversions and numerous retail and office blocks. There are two major metro stations, Wilshire/Normandie and Wilshire/Western, several blocks away, and several major bus routes connect Koreatown's main drag to Downtown L.A., Mid City and other parts of L.A.
Nearby:
BCD Tofu House: A 4-minute walk from the hotel, this LA-based Korean chain is a solid, affordable, all-night option for soondubu, a tofu stew packed with proteins (pork, beef, seafood) or vegetables (kimchi, soybeans) and served with sides of radishes, pickles and hunks of dried fish.
Dan Sung Sa: If you're feeling adventurous, try this low-key Korean diner for small traditional plates (the noodle-filled "dumbells" are a must), a 12-minute walk from the hotel.
Shatto 39 Lanes: In the mood to bowl? This neighborhood favorite, located a mile away, has been around since 1954 and offers a roundabout bar, coffee shop, arcade, billiards room and of course, 39 bowling lanes.
Koreatown Plaza: There are a million ways to fill up an afternoon at this family-friendly, '80s-style shopping mall, an 16-minute walk south of the hotel. Dumpling houses, Korean supermarkets, a Korean spa: it's all here.
Good for: With its focus on tidy, traditional rooms, this is a solid pick for business travelers who can expect efficient service, a handy coffeeshop in the lobby (which doubles as a cocktail bar in the evening), and minimum fuss or distractions.
Amenities: free Wi-Fi, restaurant, bar
Time Out tip: If you're interested in educating yourself about your surroundings during your stay in Koreatown, the JJ Grand sits around the corner from the Korean American National Museum, a 7-story building complete with exhibition halls, a community auditorium and events that facilitate cultural exchange.
Venue name:
JJ Grand Hotel
Contact:
Address:
620 Harvard Blvd
Los Angeles
90005

Price:
$139.00 to $205.00 per night
Do you own this business?
You may be interested in: