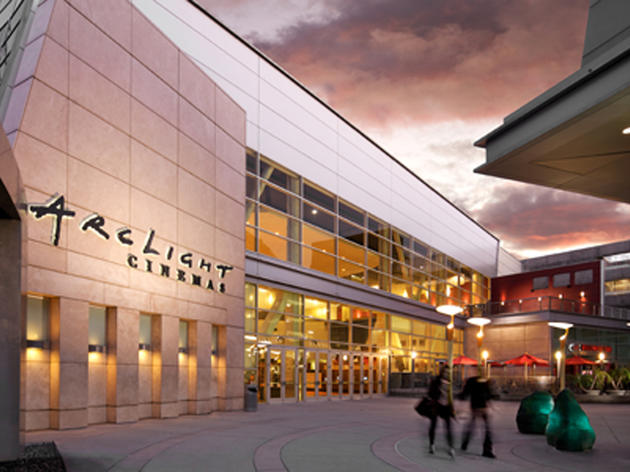 A Hollywood favorite since 2002, the ArcLight offers comfortable assigned seating (cushy, reclining, leg room for days), state-of-the-art sight and sound, fantastic snack bars and, for some Dionysian indulgence, an in-house café-bar. The programming is an astute mix of first-run flicks, indies, foreign fare and premieres and alcohol is even allowed to be taken into some screenings. As an added bonus, there are always fun cinephile treats on display (original costumes, architectural models, etc.). It's the most appealing modern multiplex in L.A., but is also a vintage classic due to the Cinerama Dome, a fabulous and unique domed movie theater that opened in 1963.
Venue name:
ArcLight Hollywood
Contact:
Address:
6360 W Sunset Blvd
Los Angeles
90028

Do you own this business?
Despite cries to abandon ship, Pirates of the Caribbean sets sail yet again: We're on film five now and this really is swashbuckling by numbers, with prison altercations, ghost crews, hangman's high jinks and battle scenes that could have been lif...

Read more

The real-life story of British explorer Percy Fawcett—made crazy with his vision of an ancient Amazonian civilization but lost to the jungle in 1925—has everything you could possibly want in an adventure tale: mutinous colleagues, cannibals with b...

Read more

A horror film with the power to put a rascally grin on the face of that great genre subverter John Carpenter (They Live), Get Out has more fun playing with half-buried racial tensions than with scaring us to death. To some, that will come as the s...

Read more

If just thinking about Michael Fassbender makes you want to strip off all your clothes, Alien: Covenant has a cure for that. David the robot, Fassbender's creepy-as-a-serial-killer android butler, was the breakout star of Ridley Scott's 2012 Alien...

Read more

Guy Ritchie's way-over-the-top, frenzied spin on the legend of King Arthur, with a leaden Charlie Hunnam as the streetwise monarch-to-be and a much more fun Jude Law as his preening evil uncle King Vortigern, offers wall-to-wall testosterone, digi...

Read more
Rating Breakdown
5 star:

0

4 star:

5

3 star:

0

2 star:

0

1 star:

0
This is basically the only way I can see a movie in theaters anymore. Booking your seat in advance is such a gamechanger—it takes all of the stress out of hunting for seats together. It also means being able to see huge movies on opening night without needing to get to the theater early. Throw in consistently top-notch projection quality and the lack of pre-movie ads, and it's definitely worth the extra couple of bucks.
I love coming here to see a movie. Parking is a breeze in the attached structure and if you get there a little too early, you can take a seat inside the bar/restaurant and have a drink or two. Seating isn't usually a problem because you can get your tickets in advance. Overall, it makes moviegoing a delight!
What a great place to see a movie! Being able to book your seat in advance makes the entire experience so much more enjoyable. I recently saw The Force Awakens at the ArcLight and high quality display and sound made it worth the slightly higher than average ticket price.
The Arclight is one of my favorite places in LA to see a movie. It's always exciting to see the classic domed cinema rise up from Sunset Boulevard. The restaurant inside the theater has a surprising good menu as well with plenty to choose from!