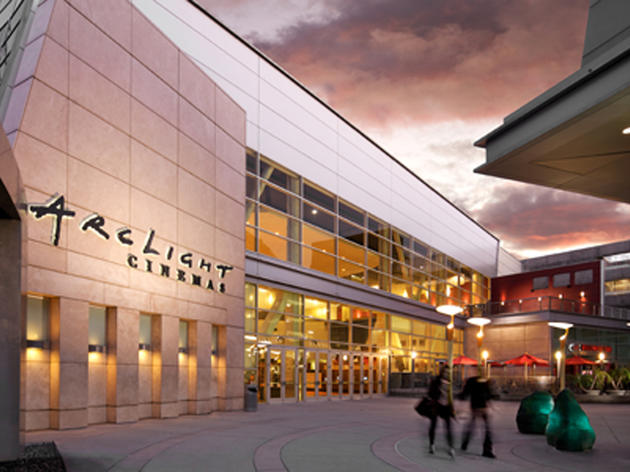 A Hollywood favorite since 2002, the ArcLight offers comfortable assigned seating (cushy, reclining, leg room for days), state-of-the-art sight and sound, fantastic snack bars and, for some Dionysian indulgence, an in-house café-bar. The programming is an astute mix of first-run flicks, indies, foreign fare and premieres and alcohol is even allowed to be taken into some screenings. As an added bonus, there are always fun cinephile treats on display (original costumes, architectural models, etc.). It's the most appealing modern multiplex in L.A., but is also a vintage classic due to the Cinerama Dome, a fabulous and unique domed movie theater that opened in 1963.
Venue name:
ArcLight Hollywood
Contact:
Address:
6360 W Sunset Blvd
Los Angeles
90028

Do you own this business?
With one obvious exception, toy stories don't have the luckiest big-screen pedigree: The results are often either sugary cartoons for undemanding kids or noisy blockbusters for brain-dead teens. If the producers of The LEGO Movie had taken either ...

Read more

The clue is in the title: The second Fifty Shades film, Fifty Shades Darker, is aiming for the shadows. It wants to be a thriller, where the erotic risk of Christian Grey's sex dungeon is upstaged by actual danger (of the non S&M variety) for love...

Read more

The young writer-director Damien Chazelle has followed his Oscar-winning drama Whiplash with another entirely novel film steeped in the world of music. His soaring, romantic, extremely stylish and endlessly inventive La La Land is that rare beast:...

Read more

Just when you thought it was safe to schedule a relaxing water-therapy cleanse, A Cure for Wellness comes along and ruins spas forever. Dank with greenish tiled interiors and an unshakable sense of dread, this lovably icky horror film mounts a sum...

Read more

The kingdom in question is not the one within the British Isles, but Botswana—or Bechuanaland, as it was known in the years when crown prince Seretse Khama (David Oyelowo) came to London to study, falling unexpectedly in love with shopkeeper's dau...

Read more

M. Night Shyamalan still takes himself enormously seriously, as if none of the flops after 1999's The Sixth Sense ever happened. The guy has impressive powers of compartmentalization—he obviously still thinks of himself as an inspired wunderkind—w...

Read more

The first movie had Keanu Reeves's stoic man of action taking on the Russian mobsters who killed his dog—a vengeance with a vicious edge. No, they haven't come for his cat this time, but the taciturn ex-assassin is still prone to murderous rages. ...

Read more

There are plenty of smart ideas and bravura visuals in this maudlin, ponderous and slightly ridiculous tale of aliens coming to Earth, adapted from a Ted Chiang short story. But to enjoy the film's musings on language, time and how much we can eve...

Read more

One major misjudgment can sink an entire film. Lion is based on the true story of Saroo Brierley (played as a child by Sunny Pawer, then as an adult by Dev Patel), an Indian boy who stepped onto the wrong train at age five, was carried half way ac...

Read more
Rating Breakdown
5 star:

0

4 star:

5

3 star:

0

2 star:

0

1 star:

0
This is basically the only way I can see a movie in theaters anymore. Booking your seat in advance is such a gamechanger—it takes all of the stress out of hunting for seats together. It also means being able to see huge movies on opening night without needing to get to the theater early. Throw in consistently top-notch projection quality and the lack of pre-movie ads, and it's definitely worth the extra couple of bucks.
I love coming here to see a movie. Parking is a breeze in the attached structure and if you get there a little too early, you can take a seat inside the bar/restaurant and have a drink or two. Seating isn't usually a problem because you can get your tickets in advance. Overall, it makes moviegoing a delight!
What a great place to see a movie! Being able to book your seat in advance makes the entire experience so much more enjoyable. I recently saw The Force Awakens at the ArcLight and high quality display and sound made it worth the slightly higher than average ticket price.
The Arclight is one of my favorite places in LA to see a movie. It's always exciting to see the classic domed cinema rise up from Sunset Boulevard. The restaurant inside the theater has a surprising good menu as well with plenty to choose from!