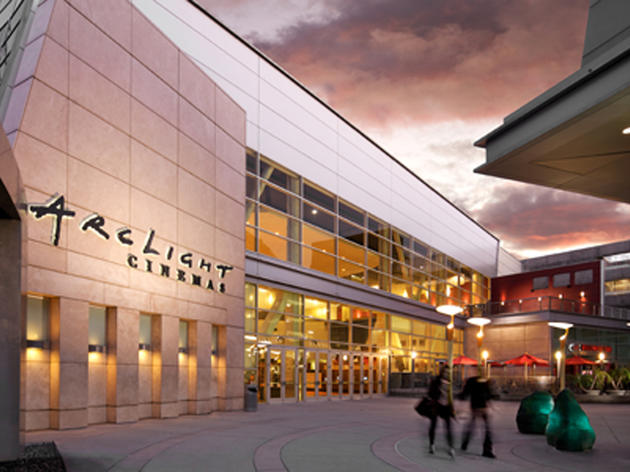 A Hollywood favorite since 2002, the ArcLight offers comfortable assigned seating (cushy, reclining, leg room for days), state-of-the-art sight and sound, fantastic snack bars and, for some Dionysian indulgence, an in-house café-bar. The programming is an astute mix of first-run flicks, indies, foreign fare and premieres and alcohol is even allowed to be taken into some screenings. As an added bonus, there are always fun cinephile treats on display (original costumes, architectural models, etc.). It's the most appealing modern multiplex in L.A., but is also a vintage classic due to the Cinerama Dome, a fabulous and unique domed movie theater that opened in 1963.
Venue name:
ArcLight Hollywood
Contact:
Address:
6360 W Sunset Blvd
Los Angeles
90028

Do you own this business?
After such imposing films as Hunger, Shame and 12 Years a Slave—the titles are punishing enough—you'd be forgiven for thinking British director Steve McQueen has a mean streak, if not toward his audiences, then his actors. Now comes Widows, which ...

Read more

The first Fantastic Beasts had a lot of heavy lifting to do. It needed to establish a world connected to the Harry Potter universe, but also one that was self-contained. It had to introduce several busloads of new characters and kick off a story c...

Read more

The unsettling latest from actor-turned-director Joel Edgerton (this is his second feature, following 2015's impressive The Gift) works best as the prison movie it is. A chain-link fence closes in a yard; sometimes a bus drops off new "long-stayer...

Read more

The specific New York City of 1991—somehow harsher and more wintry, and still, a place of cozy antiquarian bookstores and down-on-their-luck dreamers in overcoats—comes to life in Can You Ever Forgive Me?, based on an actual literary misadventure....

Read more

We're watching an extremely luxe pocket of 18th-century life in The Favourite, which means the bewigged fops are scheming, the ducks are running (these people don't lack for strange competitive sports) and the offscreen organist is going for baroq...

Read more

Calling the new A Star Is Born a "valentine" from its star, Lady Gaga, to her fans sounds a bit coy and delicate, so let's call it what it really is: a hot French kiss (with full-on tongue), filled with passion, tears and a staggering amount of ...

Read more
Average User Rating
4.1 / 5
Rating Breakdown
5 star:

1

4 star:

6

3 star:

0

2 star:

0

1 star:

0
This is basically the only way I can see a movie in theaters anymore. Booking your seat in advance is such a gamechanger—it takes all of the stress out of hunting for seats together. It also means being able to see huge movies on opening night without needing to get to the theater early. Throw in consistently top-notch projection quality and the lack of pre-movie ads, and it's definitely worth the extra couple of bucks.
I love coming here to see a movie. Parking is a breeze in the attached structure and if you get there a little too early, you can take a seat inside the bar/restaurant and have a drink or two. Seating isn't usually a problem because you can get your tickets in advance. Overall, it makes moviegoing a delight!
What a great place to see a movie! Being able to book your seat in advance makes the entire experience so much more enjoyable. I recently saw The Force Awakens at the ArcLight and high quality display and sound made it worth the slightly higher than average ticket price.
The Arclight is one of my favorite places in LA to see a movie. It's always exciting to see the classic domed cinema rise up from Sunset Boulevard. The restaurant inside the theater has a surprising good menu as well with plenty to choose from!