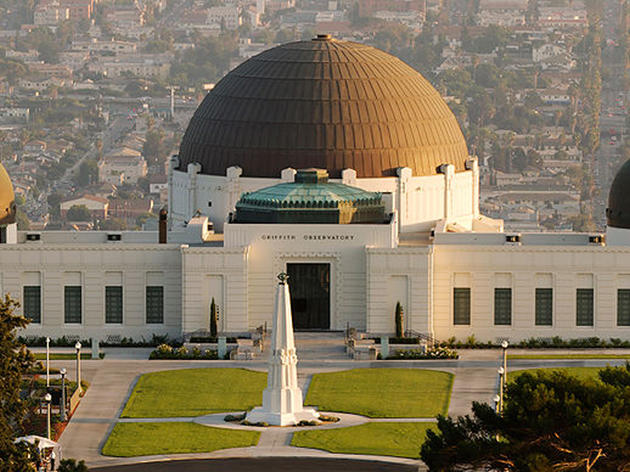 "If every person could look through that telescope," declared Griffith J Griffith, "it would revolutionize the world." More than 80 years after this iconic building opened, the world remains unrevolutionized, and the city smog means that the views are not as crystal-clear as they were in Griffith's day. However, after a five-year program of renovations at the observatory, the 12 in. Zeiss refracting telescope is once again open to the public, providing the crowning glory for this wonderful old landmark.
You could comfortably spend a few hours here just taking in the exhibits and the shows. The ground floor holds the Hall of the Sky and Hall of the Eye, a pair of complementary displays that focus on humans' relationship to the stars; a Foucault pendulum, directly under Hugo Ballin's famed mural on the central rotunda; and the handsome, high-tech Samuel Oschin Planetarium. And downstairs, accessible via the campy displays of space-slanted jewelry in the Cosmic Connection Corridor, you'll find a number of other new exhibits.
At the Leonard Nimoy Event Horizon Theater, you can see a short film about the history and resurgence of the observatory. Pieces of the Sky documents, brightly and informatively, the impact made on Earth by meteorites and other falling debris. The Gunther Depths of Space contains crisp descriptions of the planets, a bronze of Albert Einstein and a vast, 2.46-gigapixel image of the night sky taken from the Palomar Observatory in San Diego County. And there are above-par snacks in the Café at the End of the World.
However, the star attraction remains the building itself, both inside and out. Famous for its appearances in movies both acclaimed (Rebel Without a Cause) and disdained (Lawnmower Man 2: Beyond Cyberspace), this longtime Los Angeles icon has been returned to its former glory, and is once again one of the city's must-see attractions.
Venue name:
Griffith Observatory
Contact:
Address:
2800 E Observatory Rd
Los Angeles
90027

Opening hours:
Tue–Fri noon–10pm; Sat, Sun 10am–10pm
Price:
Free admission. Planetarium $7, $3-5 discounts, free under-5s (only admitted to first show daily).
Do you own this business?
Public Star Party

Want to admire the moon and constellations up close, but don't have your own powerful telescope at home? Not to worry, Griffith Observatory has you covered with their popular (and free) monthly Public Star Parties. Head out to the Observatory's expansive...

Festivals

Saturday November 17 2018 - Saturday December 15 2018

Free
Average User Rating
4.7 / 5
Rating Breakdown
5 star:

13

4 star:

6

3 star:

0

2 star:

0

1 star:

0
This is one of my favorite places in LA. I always bring visitors here, and often come alone to hike, watch the sunset or check out the museum. (Tesla coil! Earthquake simulator! Meteor bits!) It's also such a stunning piece of architecture—I love when I happen to be driving on a street below that gives a perfect view up the hill when the building is aglow at night.
The view, the planatarium shows, and the telescope make it a great date location and fun for families too.
My family and I go there multiple times every year!
One of my favorite places when I first visited LA!
You can't visit LA without coming here. Alternatively, if you're showing off the city to out-of-towners, this is your ace in the hole; take any LA nonbelievers here, especially at night, and they'll be converted. The parking can get ridiculous on weekends, so unless you want to hike halfway up the hill, consider coming closer to closing time or on a weekday. Also, even though the museum is closed on Mondays, the grounds are still open. The side patio on the west side is the perfect spot to bring a snack and eat.
The Griffith Observatory is one of those places that never gets old, if you're into astronomy or just great views. I love going about an hour before sunset, exploring a bit, and making sure to catch the beautiful view of the city transitioning from daylight, to dusk, to night. Watching the city light up is pretty cool, and it makes for a great date spot, too. And of course, photo ops and Snapchat ops! I've gone on a yoga hike at Griffith Park, and then gone in to check out the observatory and the sunset afterwards when the weather is just right. Parking can be tough, so try to avoid rush times if you're able to.
okay fine, parking is terrible but where is it not terrible in LA? the observatory is worth it though—there's so much to do here and it's the perfect place to bring out-of-town visitors. for one, the view is incredible. the planetarium shows are so informative and soothing (maybe a little too soothing since i've definitely fallen asleep under the dome). make sure to purchase tickets for the planetarium first thing when you get there though and line up ahead of time—they tend to sell out and if you want a seat together, line up early. even if you have tickets, don't expect to show up 5 minutes before show time. the hikes around the observatory are great as well and as for parking, i'd recommend just giving up on the parking lot during peak times and opting for a spot on the side of the road leading up to the entrance. sure, it's a bit of a walk but the views are great along the way.
One of my favorite things to do in LA is hike to the Observatory and take in the beautiful views of LA. Before I head back on the trail, I always enjoy the soothing and relaxing planetarium show inside. There are so many photo ops here too! Or bring a basket and have a picnic on the front lawn!
Views on views on views! Parking is a hot ass mess, but there are ways to get around it... just take a quick hike and you can see the city in all its expansive glory. Check it out at sunset and you will never be the same!
This place, oh man, so good! I try to visit as often as possible and always take my friends when they come visit from out of town. The Observatory has plenty to do both day and night so it's always a treat to drop in and check it out. Most nights they set up powerful telescopes on the lawn and point them at various heavenly bodies. It's a really cool activity, especially when you get to see the rings of Saturn. The architecture of the building itself is absolutely stunning. It's one of the most beautiful buildings in Los Angeles.
I took my 11 year old and 9 year old here and they had a blast! It was fun and informative, and they got to connect the things they saw to some of the things they're learning in their school science classes. They loved the hands on activities and also the path outside around the observatory. Great activity, inexpensive, and it doesn't take all day long! Can't miss!