Los Angeles County Museum of Art (LACMA)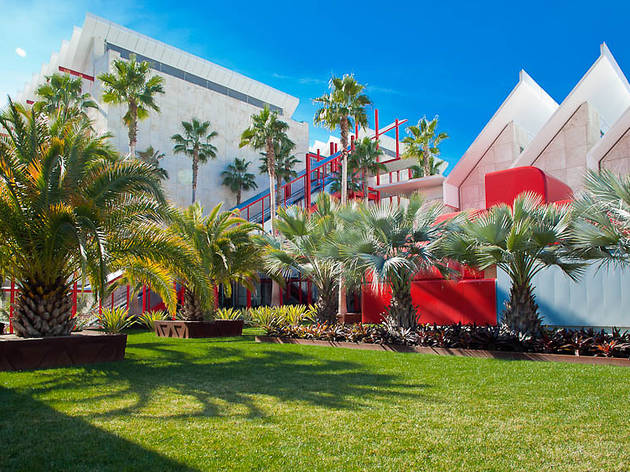 Recommended: See Top 10 works at LACMA
While LACMA's collections have long been the most impressive in the city, the 20-acre complex of buildings in which they've been housed has been quite the reverse. A bewildering jumble of architectural styles blighted further still by abysmally poor signage, they never really did the artworks justice.
At last, though, things have improved. Funding difficulties and public outrage forced the museum to abandon Rem Koolhaas's original plans to rebuild almost the entire complex from scratch in 2002. However, Renzo Piano's subsequent blueprint for a less dramatic and less expensive redevelopment of the museum did get the go-ahead. The aptly named Transformation is still a work in progress, but the museum is already a lot more visitor-friendly (attendance increased from 600,000 in 2005 to nearly 1,000,000 in 2011).
It all starts with the entrance: the BP Grand Entrance Pavilion gives the museum a proper focal point. The entrance includes the installation of Chris Burden's Urban Light, a piece made up of 202 cast-iron street lamps gathered from around LA, restored to working order.

The Broad Contemporary Art Museum (widely known as BCAM), funded by LA philanthropists Eli and Edythe Broad, is home to a dazzling selection of modern work. Spread over three floors, the selection of pieces on display is strong on American artists—there's a very impressive Richard Serra piece on the first floor; Cindy Sherman and Jenny Holzer are among the artists represented on the second floor; and the third floor, enlightened by a glass ceiling, holds classic pieces by Andy Warhol, Robert Rauschenberg, Jasper Johns and local artist Ed Ruscha.

The Ahmanson Building has also been spruced up as part of the renovation work, and the collections reorganized. The modern collection on the ground floor holds works by the likes of Picasso, Mondrian, Klee and Kandinsky; upstairs, the Greek and Roman art collections are kept in a space that benefits from huge picture windows and, thus, lots of natural light. The American art collection lives on the second floor of the Art of the Americas building, where you'll also find the Latin American collection.
Despite all this activity, work is far from complete. In addition to the newest building, the 45,000-square-foot Lynda and Stewart Resnick Exhibition Pavilion, which houses temporary exhibitions, phase two of the transformation calls for the renovation of LACMA West, housed in the old May Co department store buiding at the corner of Wilshire and Fairfax, but underused over the last few years.
Phase three provisionally called for the renovation of the galleries untouched by phases one and two, which at present contain European art (including Impressionist and post-Impressionist pieces by the likes of Cezanne, Gauguin and Degas), a world-renowned collection of Islamic art, plenty of pieces from Africa and, in the Pavilion for Japanese Art, all manner of delightful pieces from the Far East. The precise plans for phase three have yet to be finalized and may require the temporary closure of some galleries—call ahead if your interest is limited to a particular area.
The permanent collections are supplemented by some excellent temporary shows and a very strong program of events, among them film screenings and plenty of free music. Full details of all events, including the variety of daily tours, are available on the museum's website.
Venue name:
Los Angeles County Museum of Art (LACMA)
Contact:
Address:
5905 Wilshire Blvd
Los Angeles
90036

Opening hours:
Mon-Tues, Thur 11am–5 pm; Fri 11 am–8 pm; Sat-Sun 10am–7 pm; Sun 10 am–7 pm; closed Wed
Price:
General admission $15; seniors and students $10; 17 and under free. Free after 3pm for LA county residents Mon-Fri. Free on the second Tue of each month. Self park $10 (free after 7pm).
Do you own this business?
"The Allure of Matter: Material Art from China"

Exhibition organizer Wu Hung, of the University of Chicago's Smart Museum, has categorized the creators at the center of "The Allure of Matter" as "material artists," and, well, that's a pretty to-the-point description: The 21 featured artists all employ...

Contemporary art

Until Sunday January 5 2020

"The Jeweled Isle: Art From Sri Lanka"

Brush up on nearly two millennia of Sri Lankan history through this assembly of 240 works fashioned from gold, silver and ivory, as well as 19th-century photographs of the island nation. The exhibition marks the first comprehensive survey of Sri Lankan...

Crafts

Until Sunday June 23 2019

Calligraphy Demonstration: Artist Jung Do-Jun and the Large Brush

Kick off LACMA's new exhibition, "Beyond Line: The Art of Korean Writing," with a live demonstration from renowned South Korean calligrapher Jung Do-Jun, who'll be wielding an oversized brush in the Smidt Welcome Plaza from 10 to 11am.

Drawing

Sunday June 16 2019

Free

Jazz at LACMA

One of L.A.'s best free live music offerings, Jazz at LACMA has featured such legends as Wayne Shorter, John Clayton, Kenny Burrell, Les McCann, Billy Childs, Arturo Sandoval, Cannonball-Coltrane Project and Ernie Watts. Celebrating over two decades at...

Jazz

Friday June 21 2019 - Friday June 28 2019

Free

"Julie Mehretu"

This co-presentation with New York's Whitney Museum of American Art takes a mid-career look at the Ethiopian-American's striking large-scale abstractions, with 30 paintings and 32 works on paper. The first-ever retrospective of the artist spans two decades...

Painting

Sunday November 3 2019 - Sunday May 17 2020
Average User Rating
4.7 / 5
Rating Breakdown
5 star:

11

4 star:

5

3 star:

0

2 star:

0

1 star:

0
One of my top 2 favorite museums here in LA! LACMA is a staple museum if you're into art and design. They're permanent exhibit is a nice mix of modern/contemporary and even historical art.
I studied a bit of art history so the Renaissance Art is a soft spot for me. There are multiple exhibits here so come up with a strategy on how you want to tackle everything. Keep in mind they have temporary exhibits! The last time I went they had this awesome James Turrell light room! Absolutely obsessed!
As an LA resident, I've never paid for admission (it's free on weekdays after 3pm) to this pretty cool museum. It's known for the streetlights exhibit - can't tell you how many Facebook profile pictures I've seen with LACMA as a background - but there's so much more to check out inside the museum's various buildings. I usually spend about 2-3 hours here and then check out restaurants in the area.
LACMA is the center-piece to a very vibrant LA art museum scene. They have had the best art exhibitions come through in the past five years and boasts the toughest ticket in town with the 'Rain Room.'
an absolute must see attraction. Had 2 of the best days of my trip at this incredible space.

LACMA is bae. The Gehry exhibition alone is worth checking out—you can see many of his original sketches, observe how his architecture changes as he aged, and learn about his love affair with Los Angeles. Also, if you need a new Tinder pic, those lamps have ya covered!
LACMA has such a wide range of art that's really interesting to see. Last time I visited, the "Levitated Mass" and "Metropolis II," along with their more traditional exhibits, highlighted how there's something for everyone. Plus with the that line up outside food trucks and the La Brea Tar Pits make it the perfect place to also grab some food and picnic!
LACMA was one of the first museums I visited when I moved to Los Angeles three years ago and I was instantly blown away. First off, the grounds are beautiful. The museum has a really gorgeous design and the lawn is perfect for picnics during their jazz nights. If we're being honest though, and that is the point, the permanent collections aren't a plethora of inspirational works. However, the special exhibits are consistently fantastic and almost always worth the extra price of admission.
LACMA has lots of interesting things. I got great impression.
If you like the pieces at LACMA, you should definitely check out http://goo.gl/3rOU6n
Calder Mobile Sculptures. If you ever wondered why Calder is so popular you can view for yourself the most amazing mobiles ever constructed, many from the Calder Foundation, meaning this is a RARE opportunity to see why Calder is in a class all by himself. His Exhibit is more astonishing than the more highly touted Van Gogh-Kandinsky Exhibition. DO NOT MISS. A child could be inspired to become the next Calder...
Thomas Pleasure
LACMA is great for toddlers and older kids. Loads of space to run around, a couple of touching friendly outdoor sculptures, amazing coffee and high-end ice cream. Plus there's a kids art room, where kids can work with all different supplies, and have endless pieces of paper.
All Lacma music events are great! The Jazz (and all other music events) start on time, there is one break and they play for another area. Always amazing artists. The event is free, there is food sold in the cafe or sandwiches and wine sold by the lawn. The lawn is paced with happy, beautiful folks enjoying picnics with friends, family, babies and dogs. Totally friendly and safe. You can park in the structure ($), or park in the street for free, but the spots fill quickly. My husband and I have been coming for years, we come in our scooter, bring a picnic and enjoy the sunset.