One of the country's first cannabis trailblazers, Los Angeles adopted the plant and its naturally occurring compounds not only for recreation, but for wellness and day-to-day functionality. Unfortunately, last month, Governor Jerry Brown signed AB 2914, which would outlaw CBD in cocktails beginning in 2019.
Cannabidiol, which we mostly call CBD, is a cannabis compound that doesn't intoxicate the user, but is highly sought after for its anti-inflammatory and calming properties. If you've glanced at a menu in L.A. this year or stepped into a dispensary, you might've seen CBD in everything from chocolate truffles and beverages to vape pens—that all could change, though, pending FDA studies, and it's already changing in regard to cocktails. Because CBD is more widely available here than in most cities in the U.S., and while it's still legal to enjoy it in cocktails, we're giving you the latest intel on the liquid (and solid) offerings you can try in L.A. No need to bring a lighter.
Over the summer, Highland Park's dimly-lit cocktail den by night and breezy brunch spot by day launched the option of adding CBD to any cocktail, coffee or tea, and you can still find the add-on now through the end of the year. (They even offer a CBD-boosted oyster shooter!) Add CBD for an extra $5 at any time, but we're partial to adding during the brunch cocktail menu, which makes waking up on weekends a little easier.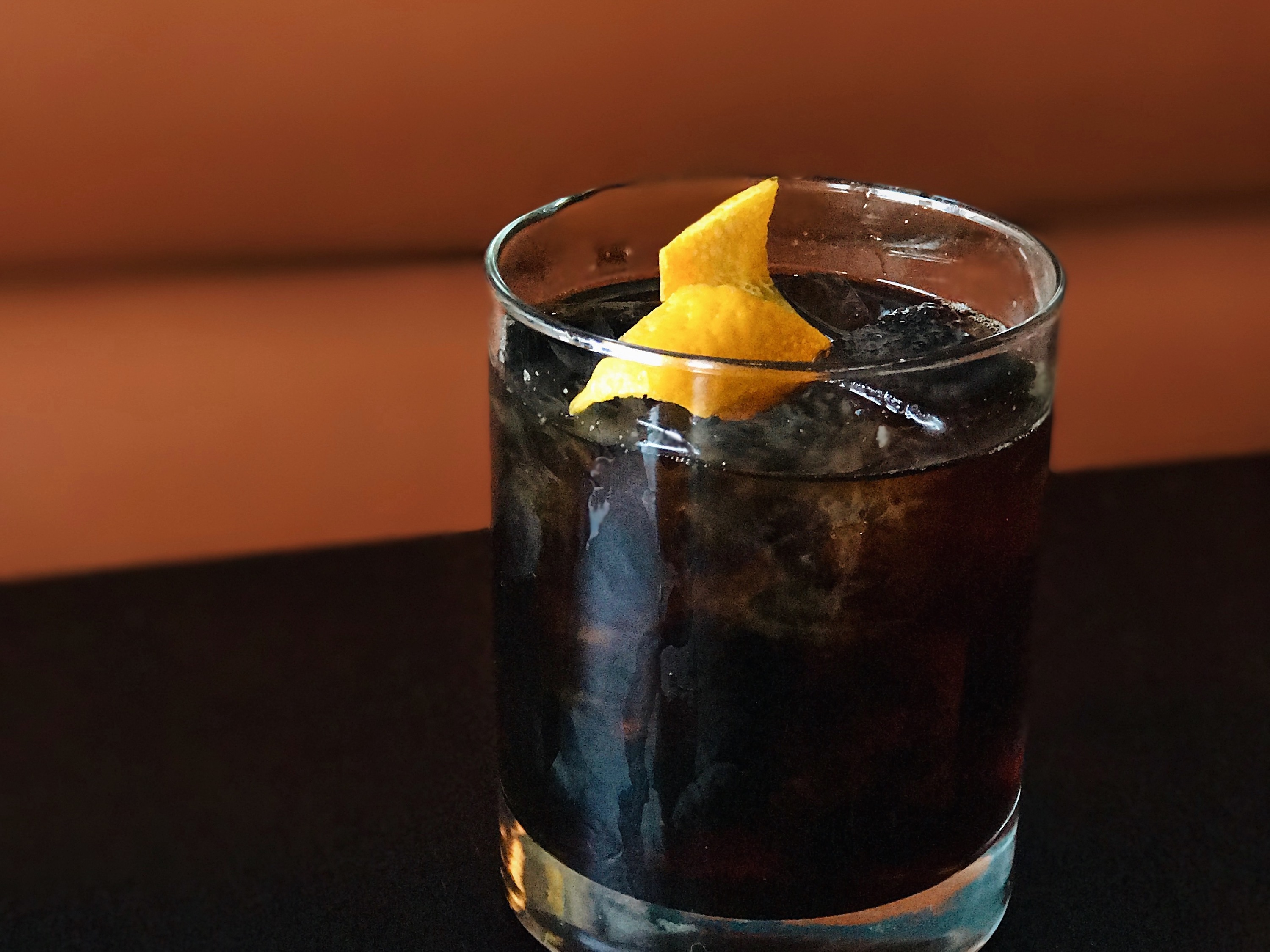 Duck into the Fashion District's Pattern Bar, which infuses fashion-inspired cocktails with CBD for an extra $6. Cooling, pleasantly boozy and giving off tiki vibes, the Gucci cocktail's fragrant pineapple and lime feel swirled with a grenadine float, Flor de Caña dark rum, Bacardi rum and an orange liqueur, all balanced tart and sweet like a big daiquiri on the rocks with an herbal kick from CBD tincture ($18).
If you're looking for non-alcoholic CBD drinks:
But first, CBD: Every Alfred location now gives you the option to add CBD to boba tea and iced coffee, at $4 for 10 milligrams per drink. With spots spread out across the city, you're supported no matter where you need the fix and, thankfully, because there's no alcohol served here, we're guessing they won't be affected by AB 2914 next year.
This Aussie café is a yolk-lover's fave due to their breakfast selection, but if you need more help waking up, CBD beverages are just a $4 add-on away. Head to Santa Monica to snag smoothies, flat whites, matcha lattes, iced coffee and other non-alcoholic, liquid goods, all with a little herbal injection.
Sure, Moon Juice is known for its owner's diet, hippie powders, and an entertaining crystal feud with Father John Misty, but the holistic juice and smoothie shop also has some of the most in-demand CBD around. Their Charlotte's Web tincture is available for dosing any of their drinks, and for just $3.50. Can't get enough? It's also sold by the bottle in both regular and advanced formulas.
If you'd rather take your CBD in food form (or add it yourself):
Downtown's Shibumi made the viral-internet rounds with their tempura cannabis leaf and other secret-menu CBD items, but in early accordance with the new law, chef-owner David Schlosser and his team have already pulled most of the menu, including the cocktails. Fortunately you can still find the striking, tempura whole cannabis leaves from estate-grown THC Design plants, which get fried and sprinkled with a house-made CBD salt, taking dining on cannabis to a high-end level.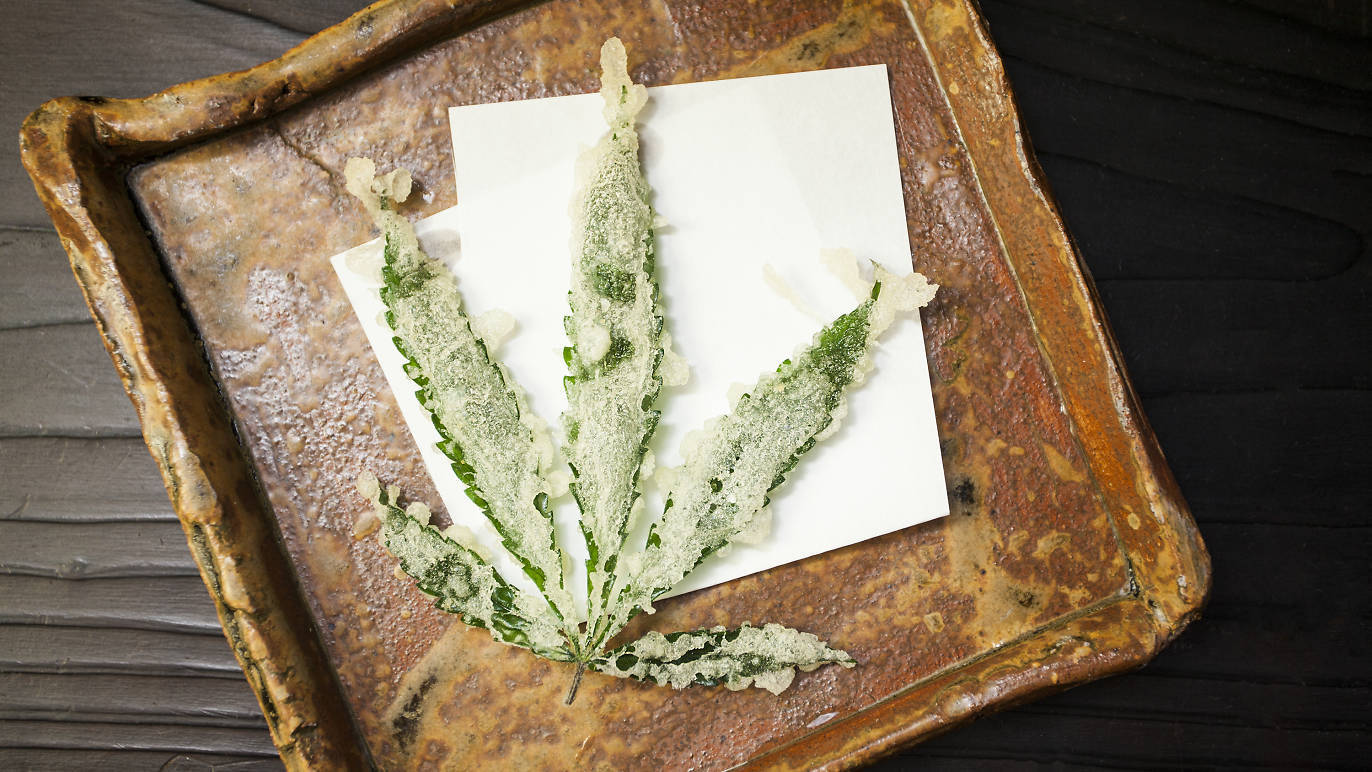 Want CBD in a culinary-event setting? Keep an eye out for Arcane Revelry and La Hoja events and parties; their social-media accounts are full of leads for the adventurous CBD fan.
If you'd prefer to try CBD in your home and don't want to visit a dispensary, health food shops and markets are carrying CBD tinctures for you to use at your own leisure. Find them at Co-Opportunity Market, Erewhon Market, Evergreen Market and Rainbow Acres, among others.