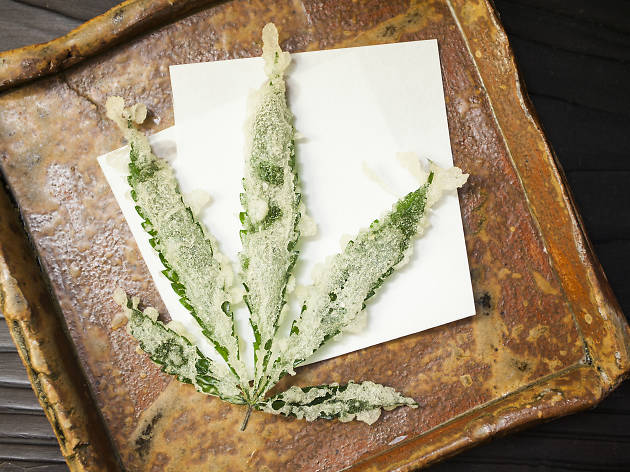 Shibumi is serving a secret cannabis menu that includes tempura pot leaves
Posted: Thursday May 10 2018, 3:18pm
L.A.'s premier kappo-style restaurant already feels like a secret—blink and you'll miss Shibumi's minimal signage and an entrance almost hidden in the shadow of a parking garage—and now it's beginning to feel like chef-owner David Schlosser has woven secrets into the restaurant itself. That's because Shibumi's got a cannabis menu you've got to know about to order.
To the dismay of stoners but the glee of anyone fearing a drug test, no, it won't get you high. The items utilize cannabidiol, commonly known as CBD, which lacks the psychoactive compounds of THC. CBD is believed to contain anti-anxiety properties, protect nerve cells and reduce inflammation, among other medicinal perks, and, as Schlosser found, it's pretty great in food.
First, you're going to want to ask your server for the tempura-fried cannabis, which is not only organic but local. (This is L.A., after all.)
Shibumi sources product from THC Design, an all-organic farm here in L.A. The restaurant dips whole leaves into a simple tempura batter of cake flour and water, then gently fries each so as to preserve the shape. The whole thing gets sprinkled with house-made CBD salt, and will only set you back $5 apiece. There's also a cannabis kimchi, which replaces the usual chili peppers with cannabis leaves; cabbage and ginger lacto-ferment, then combine with the cannabis and continue fermenting together for a few days, resulting in a funky $8 snack. Looking for more of a main course? Schlosser smokes pork with dried cannabis branches, which gives the meat a slightly sweet aroma ($30).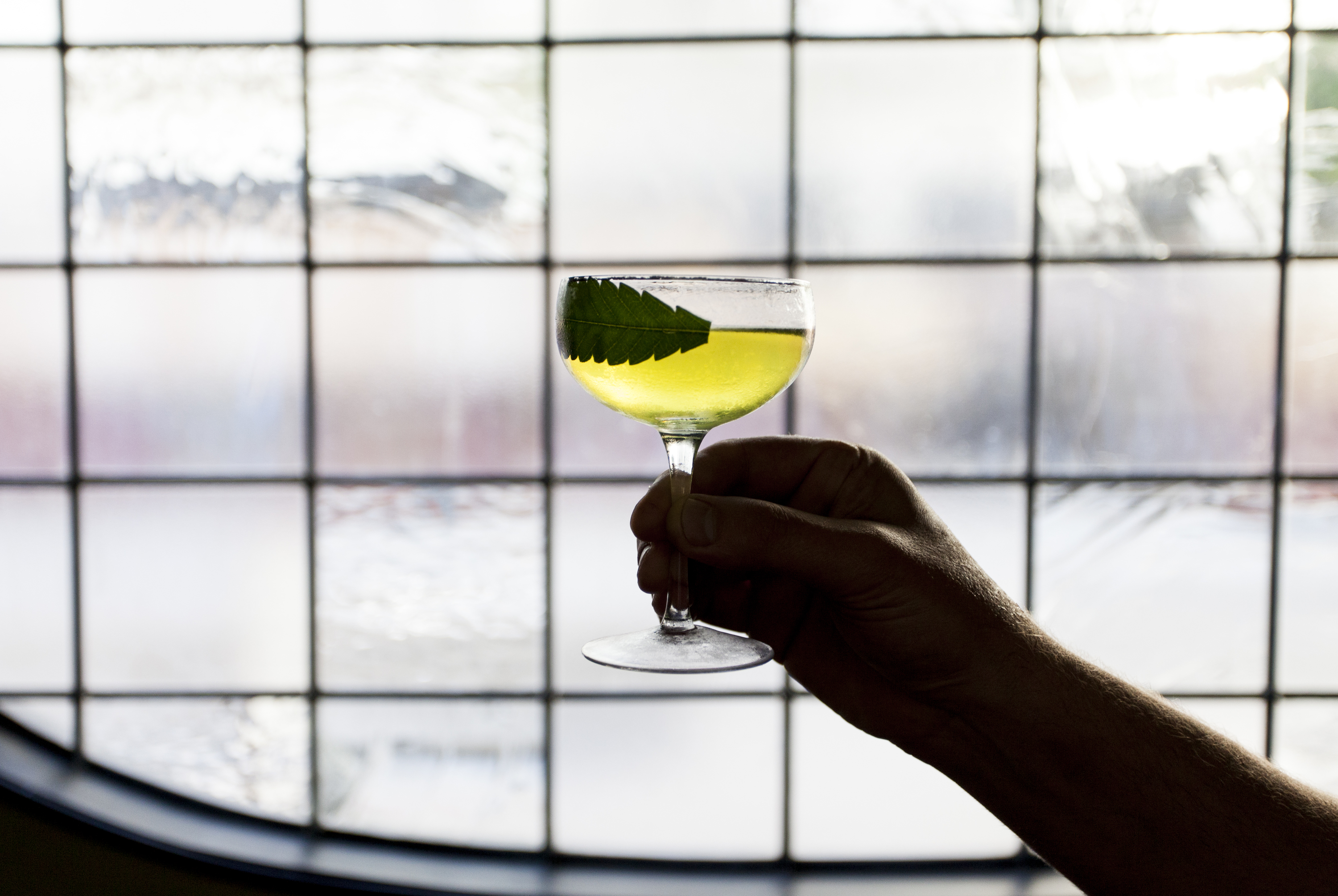 For those feeling a bit parched, the secret menu's most recent addition is the Baked Alaska ($20), which debuted as a 420 drink special but a few weeks ago. The classic Alaska cocktail, traditionally made with only gin, chartreuse and a dash of bitters, here gets an addition of chlorophyll—the natural green pigment that colors plants—and colors the gin a light green. That's stirred with chartreuse and receives a few drops of CBD concentrate, as well as mercyne, an all-natural terpene that gives aroma to plants.
As of now, the list is only four items long, but Schlosser's weighing where to take the concept in the future.
"I think we were kind of ahead," Schlosser says, and he's not wrong. Shibumi began toying with cannabis in food as early as last spring, long before recreational marijuana's legalization at the start of this year. Of course back then, a number of dinner parties and events were cropping up around L.A., though you technically needed a medical card to enjoy them. Fast-forward to 2018 and it feels as though new cannabis food products, events and dinners enter the market every week.
"It was extremely hush-hush [when we launched] but basically I've felt more open to talking about it once the law passed in January," Schlosser says. "It became consistent, and now we have it every day."
Want to see how the magic happens? Take a look via Food Insider's trip into the kitchen, then stop by to try it for yourself:
Shibumi is located at 815 S Hill St in Downtown L.A.
Share the story