Bold layers of Korean texture, flavor and and color will unfold at a new restaurant pop-up this week, but first you'll need to unwrap that bojagi.
At Naemo, a new West L.A. venture from two vets of tasting-menu–driven Atomix in New York City, the ikura gets marinated in soy. The mandu trade dumpling dough for hollowed-out chicken wings. The japchae is served with wagyu, and the namul is topped with Santa Barbara uni—each delicate banchan filling a square of boxes imported from Japan, all wrapped up in a patterned, folded cloth to untie.
The thoughtful new curbside-pickup operation is a joint concept from executive chef Ki Kim and operations manager Arnold Byun, both of whom recently landed in Los Angeles after years in some of the world's most famous Michelin-starred kitchens and dining rooms. It's also a contender in a growing fine dining movement, one where Korean flavor is finally front and center in exquisite forms and exciting new presentations.
"A lot of the Michelin-starred restaurants we've worked in are honestly not Korean—they're either Japanese or French, Italian, what have you," says Byun. "So the concept is: Let's take California cooking and produce and apply our identity as Korean-Americans and what we know, and try to put Korean flavors at the forefront of our minds as we build out the menu for our pop-up. [It's] California cooking with Korean flavors and finesse."
The format is simple, the pricing, affordable: Each meal is designed to feed two and includes mixed-grain farmer's rice dotted with turnip, lotus root, nori and ikura; farmer's soup of doenjang, or soybean paste, as well as shiitake mushrooms and a shrimp dashi; and those eight artful banchan, which will change just as seasonally as L.A.'s farmers'-market bounties, all priced at $75 per bundled-up meal.
Soon, Kim and Byun will reveal their caviar service, a playful bit of understated luxury where caviar, soy-soaked ikura, smiley-face French fries, fried chicken, wasabi, house mustard and potato-salad–stuffed inari arrive with a 30-gram tin of aged caviar from Pasadena's Astrea—ideally all priced between $80 and $90, far below the caviar's retail cost alone.
"I don't want to keep pretentious ingredients for pretentious people," says Kim, adding, "My style is to take out all the flamey part of the dish, add a funny, cute accent to it, and make it simple and more enjoyable for people that are actually eating instead of Instagramming."
Given how aesthetically pleasing Kim's plating is—especially for a takeout-only format—it might be hard to resist snapping a photo of those squares of fresh acorn-jelly banchan, decorated by edible flowers and sitting atop longsword-lettuce salad, or those smiley fries crowned by crème fraîche, caviar and chives.
The pair have spent their days exploring L.A.'s farmers' markets and diving into the city's more traditional, longstanding Korean spots—heralding L.A. as home to some of the best Korean dining in the world. With complete reverence, theirs, they share, will be something a bit newer. "Korean food in nature is very humble and very comforting, but we also feel there's room for it to grow in other ways," says Byun.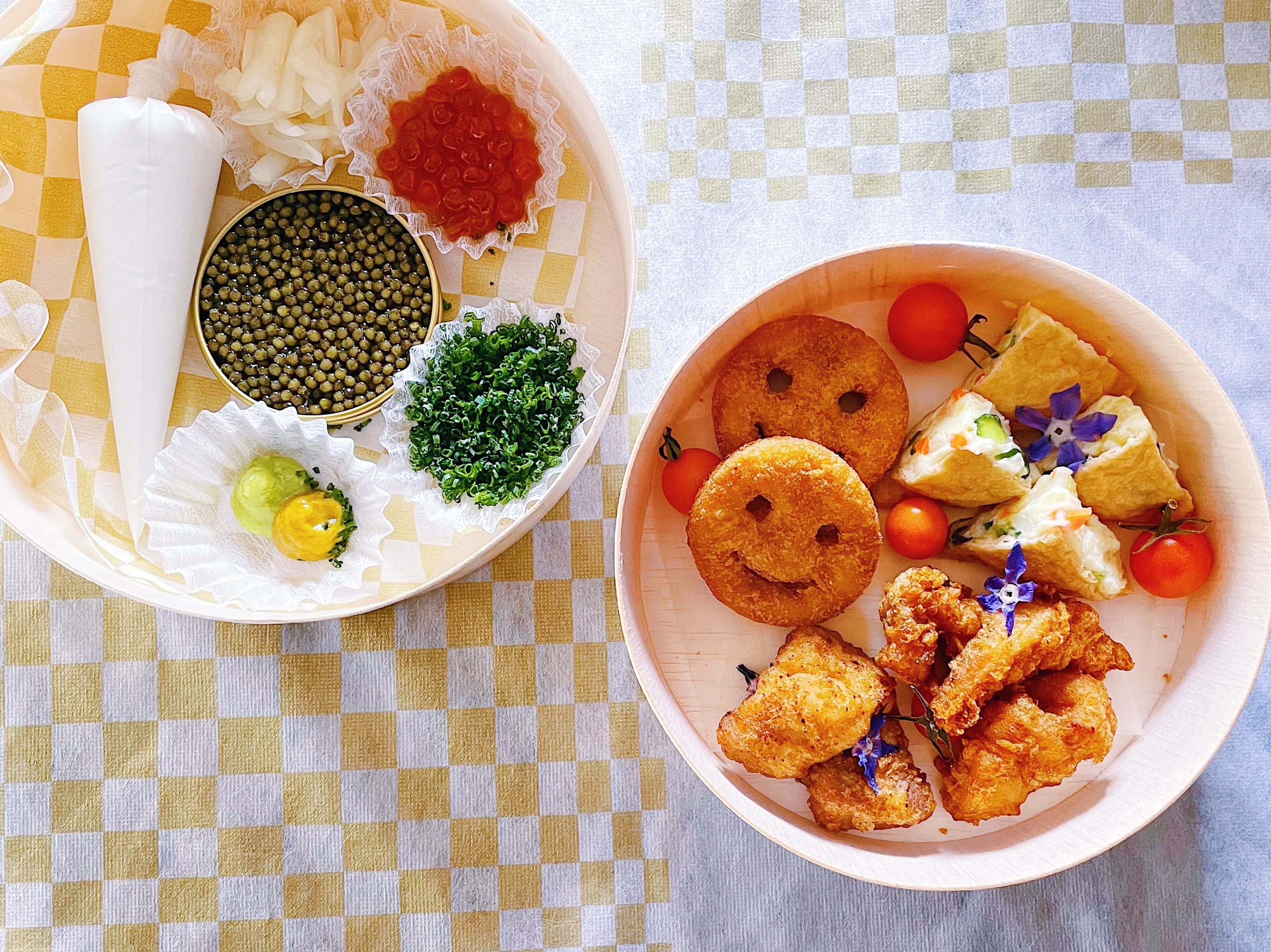 And L.A.'s modern Korean food scene is growing.
The now-defunct pop-up Dandi brought us fried hot quail and beef-tongue jjim tostadas in 2019, while one of its founders, chef Jihee Kim, went on to launch one of L.A.'s most exciting to-go operations of 2020, Perilla. Over the weekend the team behind Baroo just opened their long-awaited Korean-food stall, Shiku, within Grand Central Market, and Spoon by H's to-go dosirak has proved one of the most artful takeout meals in the city. The new Hanchic seamlessly blends Korean and globe-trotting flavor, resulting in dishes like ragu tteokbokki and a pho-like chicken soup with perilla, while a full-service fine dining operation, Yangban Society, is set to open in the Arts District later this year.
Informing both Kim and Byun, New York City's own modern Korean boom is well underway with Michelin-starred restaurants like Atomix and Jungsik pushing the boundaries of Korean flavor through a fine dining lens—Kim, by the way, has cooked at both—and restaurant group Hand Hospitality (of Take31 and Her Name is Han fame) almost exclusively riff on a range of Korean and Japanese classics and reimaginings.
"When we both set out, we thought the closest we'll get to working in an Asian restaurant was a nice Japanese restaurant, let's be honest," says Byun. "I think Atomix was a real change in tide for me, and I'm sure for Ki, and that's where we met."
Kim, who emigrated from Korea 12 years ago, credits the movement's momentum to chefs such as Jungsik Im and Corey Lee for inspiring a new wave of Koreans and Korean-Americans to cook professionally in the aughts, and to America's recent awareness of Korean culture beyond the kitchen—citing Bong Joon-ho's award-winning film Parasite and worldwide smash K-pop band BTS.
"Quite frankly I think Korean culture was looked down upon back in the day," says Kim. "No one really knew about Korea. When I tell people I'm from Korea—still now, but not a lot of times—people would ask, 'So are you from South Korea or North Korea?' But now people are more knowledgeable. From my point of view more Korean-Americans are getting involved in cooking and as that's a growing movement, there's more people contributing. In New York there are so many Korean chefs that are so ambitious and just trying to make it, and in L.A. and New York I think there's a good demand for it. Now people are more ready for it than ever. I think it's just working out perfectly, time-wise."
Naemo is now available through online ordering, priced at $75 per meal for two. Pickups are available Wednesdays to Saturdays, from 4 to 8pm, at 2435 S Sepulveda Blvd in West L.A.
Most popular on Time Out
– Can I travel right now? Here's what Los Angeles County says.
– Pizzana's Daniele Uditi is launching a fundraising digital cookbook series
– Thanks L.A. for bringing a bit of beauty to 2020
– Here's where to order to-go nonalcoholic drinks for Dry January
– The best Los Angeles cookbooks of 2020