Let's say you're going to convert Metro's mish-mash of color and street-derived names for its rail and bus lines to letters. Maybe you'd change the Red Line to the R Line and the Silver Line to the S Line, right? We wish it were that easy.
Metro announced today the updated roster of its new letter lines, as well as the news that it'll begin rolling out these changes soon. In fact, as you may have noticed, the L.A.-area transit agency has already updated the signage on a pair of its light rail lines: the former Blue Line to the A Line and the Expo Line to the E Line. You're going to have to get used to a lot more changes than just those two, though: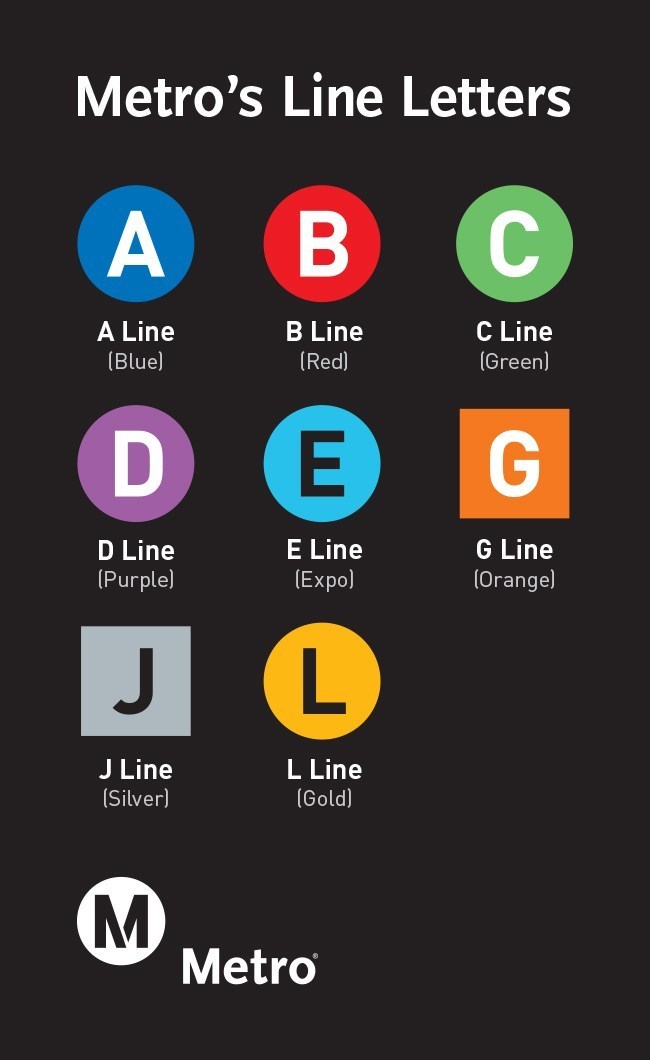 On physical signs at rail and bus stations over the next few years, and on digital mediums (think Metro's website, digital kiosks and transit apps) within the next few weeks, you'll start seeing the line names change as follows:
– Blue becomes A
– Red becomes B
– Green becomes C
– Purple becomes D
– Expo becomes E
– Orange becomes G
– Silver becomes J
– Gold becomes L
If your head is spinning from the changes, rest assured that the line colors aren't changing (mostly—more on that in a minute). And during the transition phase, lines will be referred to using both their letter and full, former name.
Some interesting items to note on the name change list: The Crenshaw/LAX Line, which is set to open this year, is still conspicuously absent, as Metro says "staff is still working to finalize the operational plan." And no, you'll never see an H or I line so as not to confuse them with hospitals or information. Also, an earlier news release in the fall had the Orange and Silver Line buses changing to F (we have a pretty good guess why this one didn't stick) and G, while the Gold Line would become the J—whether intentional or not, the J (Gold) Line would've made a lovely tribute to late food critic Jonathan Gold, who lived in Pasadena, where the light rail line makes multiple stops.
But no matter, as that's just a stopgap name anyway: When the Regional Connector, which is set to open in 2022, ties together the Blue, Expo and Gold Lines in DTLA, the names will change yet again so that—deep breath—the Long Beach to Azusa line will become the A Line, the Santa Monica to East L.A. route will become the E Line and the L Line name will go away entirely.
So you might be wondering: Why?! Metro, which first approved the name changes in late 2018, actually has some pretty compelling reasons: to keep naming conventions consistent, to make it easier to dub new lines in system expansions and to make the line names more accessible for riders who are color blind or have trouble distinguishing between low-contrast differences like red and purple or blue and aqua.