Los Angeles is full of culinary rising stars, but nearly none shone so bright in 2018 as Paramount Coffee Project's Ria Barbosa. The native Angeleno churns out inventive, colorful dishes that go far beyond typical coffee-shop fare, whether she's slathering roast lamb with dandelion pesto or whipping uni into a briny, creamy spread.
This year the Aussie café launched an Arts District outpost, where Barbosa's been introducing more of her Filipino heritage by way of inventive eats like lumpia sausage rolls. We caught up with Barbosa to talk family recipes, where she loves to eat and just what's in that lumpia dish.
Let's talk about the blends of cultures not just at Downtown's PCP, but Fairfax's: How are they different?
Just in terms of formulating the menus, it's certainly different. We don't have the same menus, but that's primarily because we [serve] different demographics. I think that makes it unique though, and I wanted to incorporate different cultures at both. It's mostly approachable, but still a little different—like the urchin toast.
One of my favorite questions to ask is, "What did you grow up eating?" So [the owners] brought up sausage rolls and how it's hard to find here, and pies, too—things that reminded them of home—so I tried a few items, and it was one of those running-on-fumes-at-the-end-of-the-day things where I was just tired and said, "'What if I blended them? I can do lumpia pretty well, so what if I just put it in the sausage roll?"
If you can share any details, what's in that lumpia?
It's my parents' recipe, so it's something that's been pretty committed to memory because as the oldest of three [siblings] it was always, "Help mom, help dad," and we always had these gigantic family parties celebrating whatever. It's as simple as really good ground pork, carrots, eggs for binding, spices, onions and garlic, and honestly, that's really it.
Typically, with lumpia, there's a sweet dipping sauce and I didn't want to pour that straight from the bottle here, so we kind of jazzed it up and made it a little bit more funky with fish sauce and made it spicier. Then we buy puff pastry; I'd love to make it, but that's a whole other beast.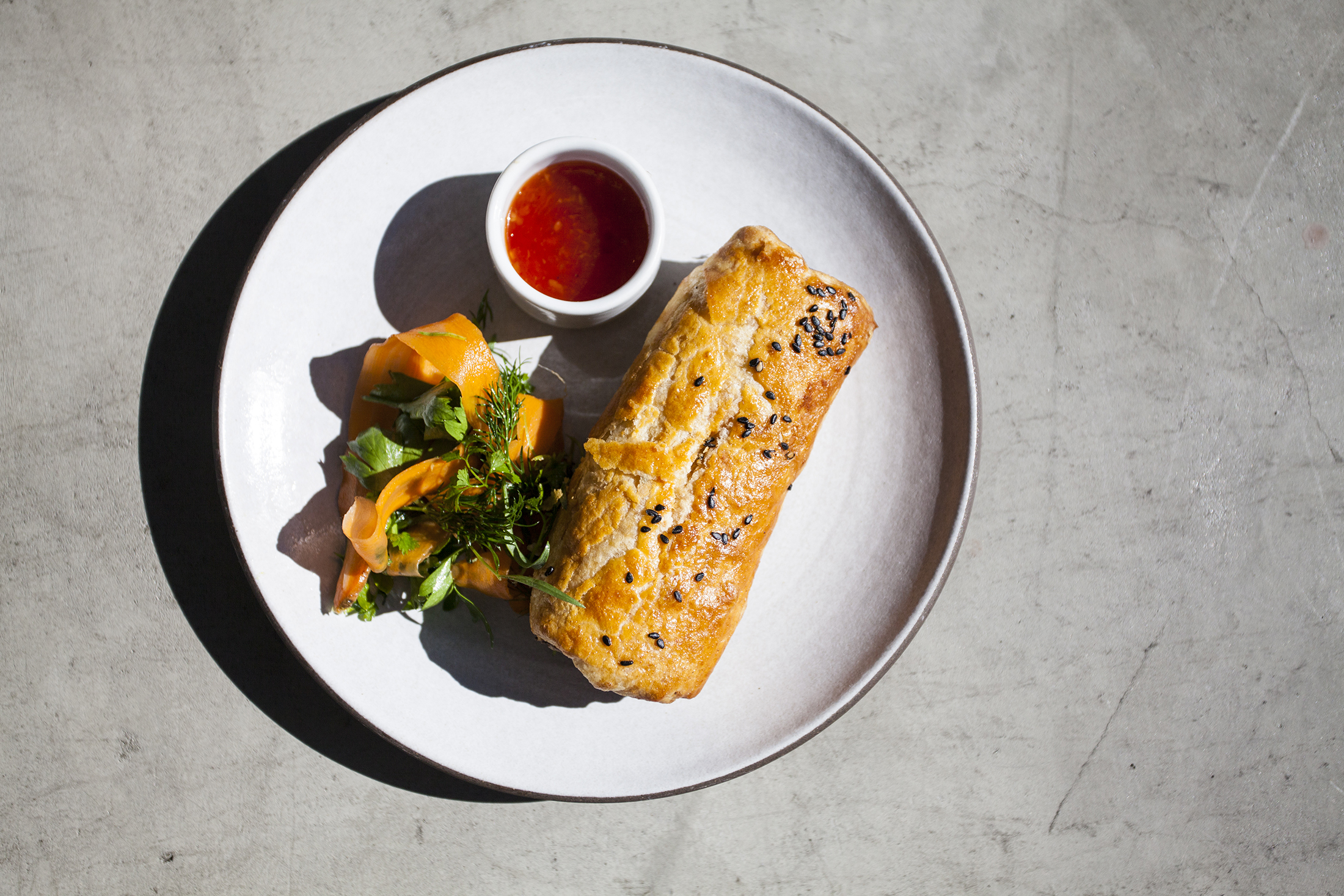 But you do have a background in French food and pastry.
Around the first five years out of culinary school were spent in fine dining, and mostly French. And my background was so heavily in fine dining, but then I moved back to L.A. and it kind of opened up this whole more casual, more seasonal type of food. I was very shaky at first: One of my first roles was at Canelé with Corina [Weibel], and I'd make these plates really beautiful and perfect, and she'd say, "Ria, no! Rustic!" I had to unlearn a lot of finer points, but it kind of opened up my world. In Los Angeles there are so many flavors and so many influences, and especially when I started working at Sqirl, I felt like I could finally start playing around with some Filipino flavors, and I feel like that's really where it started.
Well it's excellent timing—Filipino food is having a moment in L.A. Not that it hasn't been around, but it feels like Angelenos are discovering it on a wider scale.
Definitely.
How have your family's recipes shaped the way you cook now?
It's funny, growing up cooking with family; I think people have this romantic notion of a family gathering around a table, when for me, it was really, "Go help your mom. Go help your dad." I mean, I learned how to peel shrimp fast because I didn't want to do it when I was 10 years old—what I wanted to do was go outside and play with my bike, so I learned how to peel and clean shrimp in 15 minutes, and luckily for me that carried over professionally.
I remember making a blood-sausage special both at Sqirl and at Wild [a pop-up] at Canelé: It was basically a dinuguon, a traditional Filipino blood stew, but in sausage form and it was really cool. I love turning flavors that I grew up eating into something completely different-looking from the original—it's a form of playing—but I will say the more I do it, the more I want to stay true to the original because I don't want to make it pretentious.
So when you're not cooking it, when your family's not cooking it, where do you go for Filipino food?
I came up with Charles and Chad [Valencia, of LASA] and Ryan [Garlitos, of Irenia], and we kind of all banded together. Rice Bar is down the street [from PCP DTLA], LASA is right down the street, Park's Finest is down the street—so those are typical locals spots—but if we're getting down to the really nitty-gritty steam table stuff, there's this spot off Vermont that's called D.J. Bibingkahan.
Then there's this dish called batchoy, which is kind of like a Filipino version of ramen or pho—our own noodle soup—but it's specifically regional to where my family is from, and there's this spot for batchoy on Santa Monica and Vermont [Ilonggo Restaurant]. I've also been told there's all these places in the Valley I haven't had time to go to, so that's a whole other thing.
Speaking of movements, in newer spots like PCP and Triniti, it feels like the food in cafes is becoming more thoughtful, like it's matching the care of third-wave coffee. Is this the future of the coffee shop?
It's become a model that's been replicated lately, like the food is catching up instead of just serving simple pastries. A lot of places either focus on coffee or just the food, but in order for both to be strong, you really have to have a good crew to be able to pull that off. I feel like some places are definitely sticking to the traditional, but I think it'd be cool to see more people go in this direction, to see where they take it.
PCP DTLA is located at 1320 E 7th St in the ROW development project, and is open daily from 8am to 5pm.