You're probably getting a little wary of all of the "immersive" art shows that've swept through Los Angeles, and the organizers of "Street Art Alive" feel it too.
"We come from the art world and every time I see these [immersive shows], they're these commercial things," says Wayne Fernandez, general manager at Magic Box L.A., the event space at Downtown's the Reef. "You get there and it's like, I feel my soul being sucked out of me. But you know, we were very careful to make this more than just that."
On paper "Street Art Alive" might sound like another one of those (with a similar price tag, too), but the new projection-based exhibition goes beyond your average Van Gogh-like show. For starters, it focuses on a medium that's a natural fit to blow up (or in many cases shrink down) to the size of a wall and features a whole array of street artists, including D*Face, Lady Pink, Blek le Rat, Fin DAC and about 200 others—all included with permission from the artists themselves. It also unfolds a proper narrative about the medium, with artist credits and historical tidbits woven into both the projections and a row of posters near the exit. And as Fernandez tells it, the use of the projection technology, which is broken up across a variety of screen sizes and pillars, and the clarity of the moving images on the floor is simply superior to other shows.
Visitors will be able to scope that all out for themselves when "Street Art Alive" debuts on April 22 as the first exhibition to take over the LUME Los Angeles, a permanent digital exhibition space on the ground floor of the Reef. It arrives Downtown thanks to a collaboration between Magic Box L.A. and Grande Experiences, an Australian company responsible for a touring stable of immersive shows (including, yes, a Van Gogh one).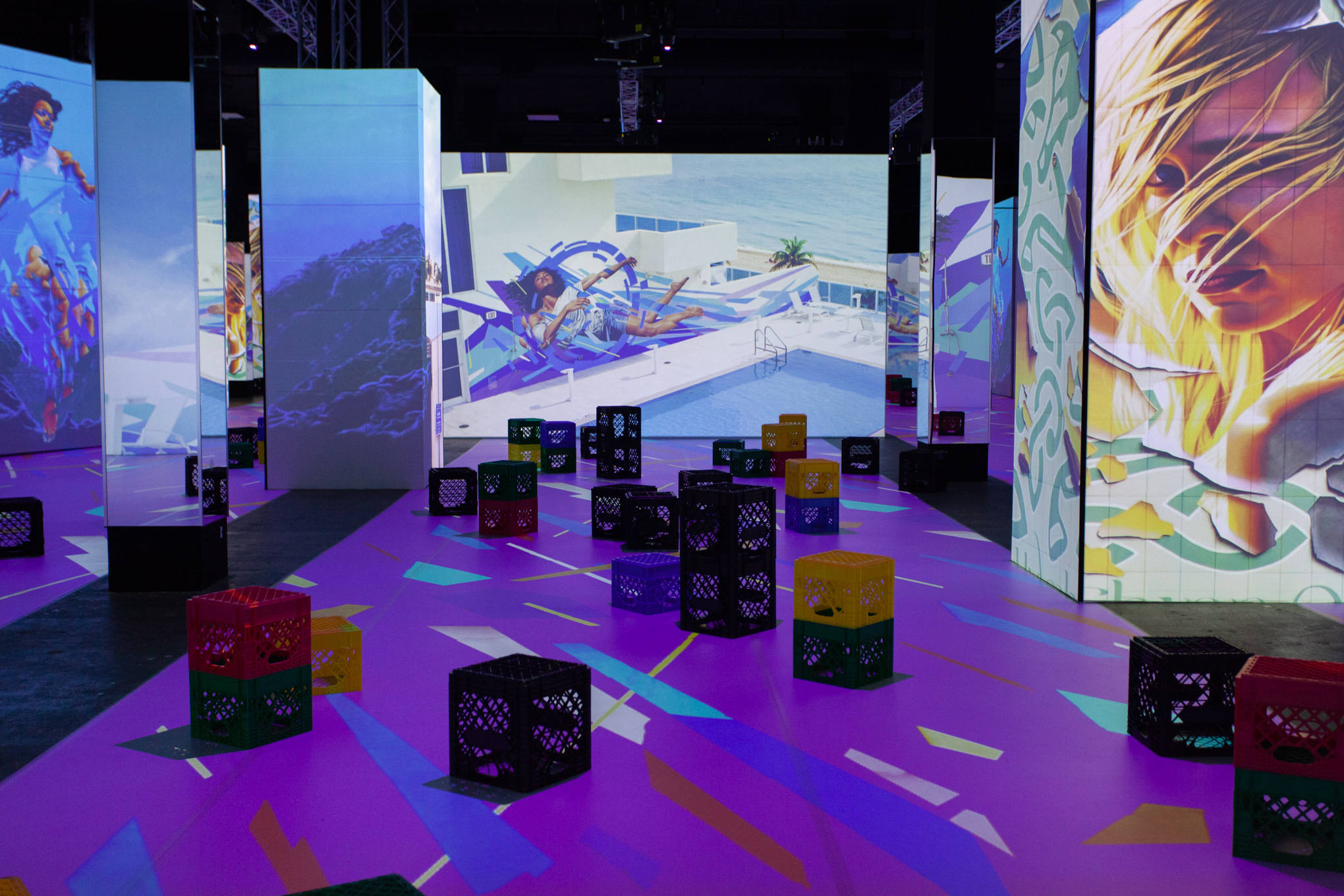 "Street Art Alive" divides its 40-minute video loop into four themes that make a case for how street art has pushed the world forward: how it's rejuvenated areas that've seen better days, brought vibrancy to streetscapes, provided a platform for political statements and delivered a fresh take on local traditions. It starts roughly chronologically, with a primer on the graffiti scene in New York in the 1970s and the art that covered the Berlin Wall in the 1980s before branching out into more recent developments in cities like London, São Paulo and Melbourne.
Los Angeles, of course, features into the exhibit too, but only briefly. "You'll notice this show is really about international art," says event director Paul Bonet. "It's not trying to bring L.A.'s art into the show because we want people to go from here and have a look at what's in the community."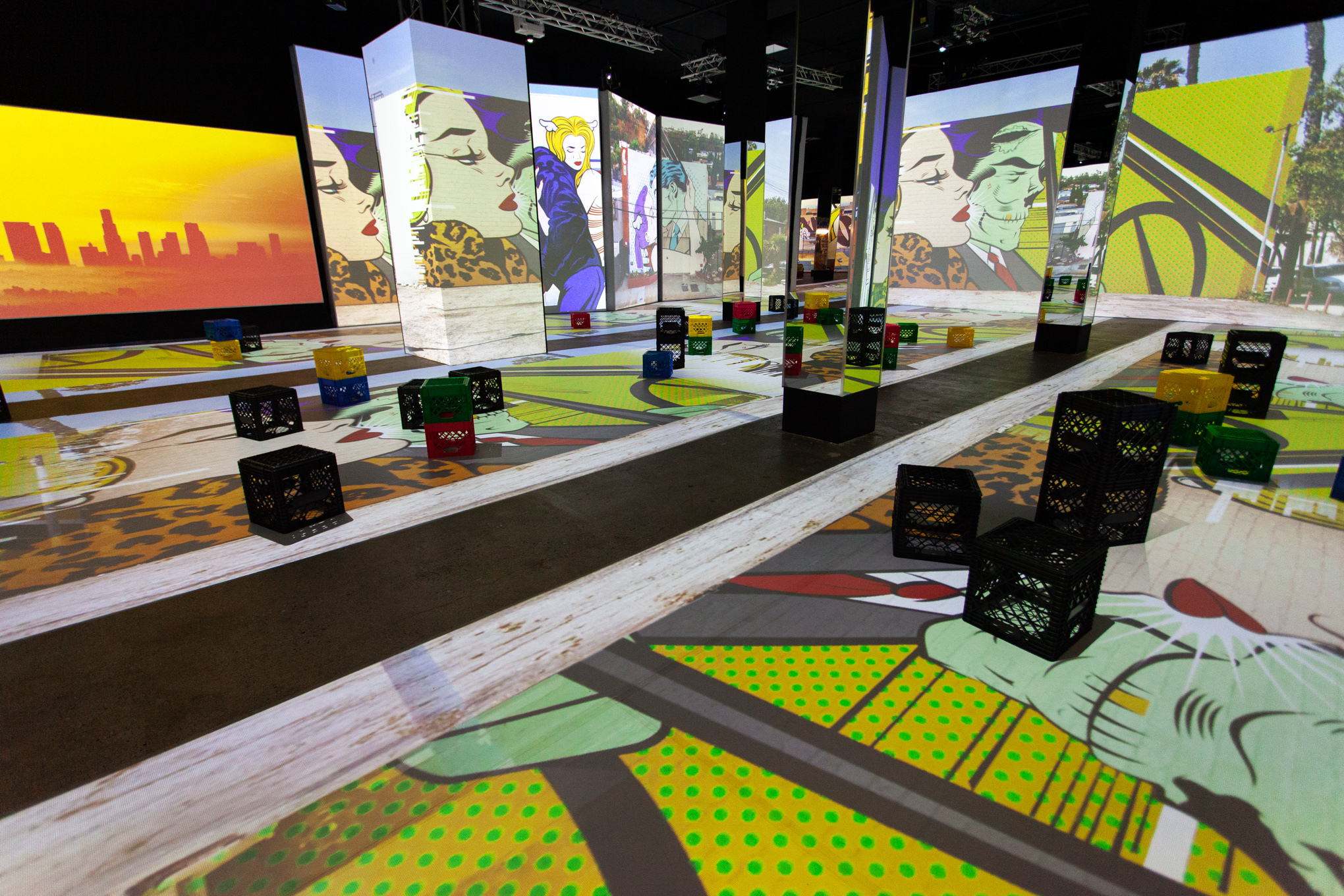 For a contemporary, globe-spanning show like this, the process for putting it together is way more involved than pulling some public domain images of a long-dead impressionist. To start, the team traveled to 20 different cities and photographed their favorite pieces of street art from each. Then, they had to ask for permission from each artist—most were excited to participate, but there were a few who "wanted to keep it on the street, wanted it to be ephemeral," Fernandez says. If the team decided to translate a mural into a digital animation (as opposed to a still image simply documenting the piece), that required yet another round of approvals. With all that out of the way, then there was the matter of actually compiling the show (it's changed about three times already since it was first installed) and merging it with the soundtrack.
There's a pretty sizable analog component to the show, too. To start, you'll pass by eight 4-by-14-foot sections of the Berlin Wall stationed near the building's entrance and covered in commissions from local street artists (since they were positioned on the outskirts of Berlin, the wall sections weren't nearly as graffitied as their more central neighbors). The four-ton slabs were purchased in Australia, of all places, and then shipped across the ocean—though when we visited the LUME for an early preview, they were still stuck somewhere in the Port of L.A.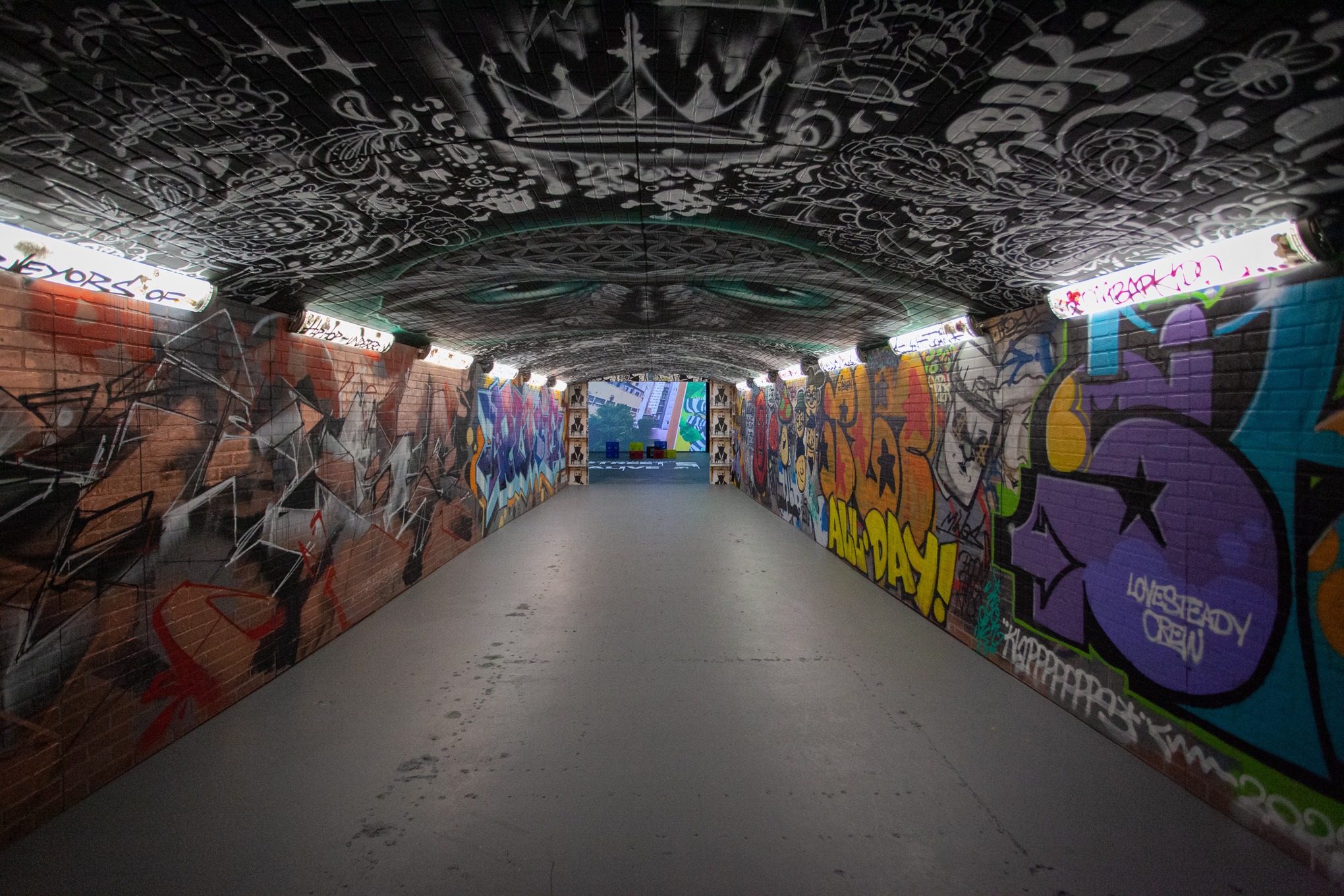 Once inside, you'll be greeted by a geometric graphic made entirely out of tape from artist Darel Carey. Then it's off into a faux train station that channels 1980s Brooklyn thanks to art from Woes Martin, and a recreation of London's graffitied Leake Street tunnel with wheatpastes from AB₵NT. On the other side of digital gallery space, you'll find a pair of site-specific, directly-on-the-wall murals: one from Aly Kourouma that spotlights missing and murdered indigenous women, and colorful portraits and depictions of sneakers from Dourone. Though it wasn't quite yet complete during our early preview, there's also a wall of black-and-white line art from Yoshi that invites visitors to leave their own multicolored mark with a piece of chalk.
There are plans in the works for late-night events, poetry slams and DJ sets inside "Street Art Alive." When the show eventual wraps up its run, the LUME will move on to ones about Dalí and Picasso—which, yes, certainly sound like those other immersive shows, but hopefully they'll be tackled with a "Street Art Alive"-like touch.
Street Art Alive opens April 22 at the LUME Los Angeles (1933 S Broadway). Tickets start at $39 for adults. Timed reservations are available Wednesday and Thursday from noon to 7:30pm, Friday from noon to 9pm and Saturday and Sunday from 10am to 9pm.