Table at Third & Fairfax is a weekly dining column where Food and Drink editor Patricia Kelly Yeo will eat her way through the Original Farmers Market in 2023. Each column will drop on Thursday for a week-by-week recap of her journey through the classic L.A. tourist attraction. Last week, Kelly tried The Gumbo Pot and Bar 326.

A few weeks after I reviewed it for Table at Third & Fairfax, Rick's Produce sadly shuttered its stall at the Farmers Market on February 18. (The original outpost on Virgil Avenue remains open, for those hoping to score affordable smoothies closer to Silver Lake and East Hollywood.) The closure is a sobering reminder that the market isn't a great fit for every business. Around the time I started this column, Market Tavern ended its run after two years mostly spent struggling against the pandemic. The short-lived British gastropub hosted an excellent Sunday roast and was a solid neighborhood spot for after work drinks.

The visible level of turnover extends to the North Market, where independently run family businesses give way to brand names like Chipotle, Veggie Grill and the Container Store in full-sized storefronts. (I've opted not to review most of these corporate food chains, given the general consistency of the food and drink between locations.) On Monday, however, I decide to try the area's newest vendor, BHC Chicken, which opened on February 17. The Korean-style fried chicken restaurant takes the place of Yang's Braised Chicken Rice, a casual Chinese franchise that lasted a little over a year at the edge of the Farmers Market.

Like Yang's, BHC Chicken is an import from East Asia—South Korea, to be exact, where hundreds of different unique franchises, plus countless independent chimaek (a portmanteau of the words for "chicken" and "beer"), sate the country's voracious appetite for Korean-style fried chicken. To put the numbers in perspective, South Korea had approximately 87,000 restaurants offering fried chicken in 2019, more than twice the number of McDonald's locations worldwide.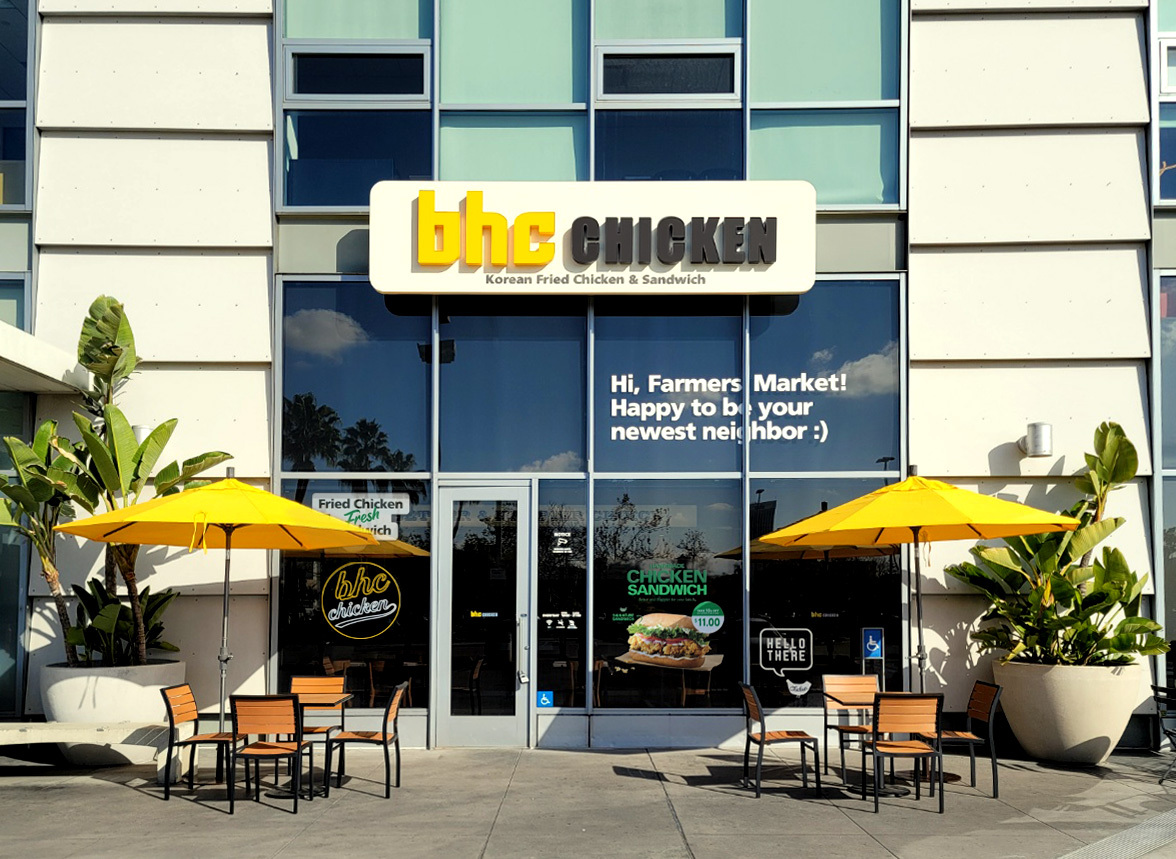 It's also worth noting the Farmers Market storefront is BHC's first expansion to the United States, which means Angelenos are the first in the country to try its version of Korean-style fried chicken. Unlike American fried chicken, which is brined and heavily battered with buttermilk, Korean-style fried chicken tends to run on the lighter and crispier side. Sometimes, but not always, it can come tossed in a sweet and spicy chili sauce, or perhaps a milder soy garlic sauce.

Arriving a little before noon on Monday, I park in the mostly deserted North Market lot and quickly head inside BHC, knowing it will soon rain. At the counter, I decide on the 10-piece order of thighs flavored with Bburinkle, the restaurant's signature mild cheesy flavor ($16.99), Bburinkle fries ($6) and two pieces of fresh fried, i.e. classic, wings ($3.99). The restaurant also offers Macho King (a kung pao-like sauce), Gold King (sweet garlic soy), and Sweet and Spicy (sweet chili) varieties, but I'm limited by both budget and stomach capacity, so those will have to wait for another time.

After about 20 minutes, I receive my order. Having ordered the chicken wings as a quality gauge, I bite into one piece. Delightfully crispy, though a little bit on the blander side, the classic chicken is definitely better here than at Fritzi Coop—the other fried chicken purveyor at the Farmers Market. I wish I'd ordered a dipping sauce or two, but they're out of the signature BBurinkle sauce, and the other normal ones don't appeal to me, so I move onto the Bburinkle thighs and fries.
The pieces are smaller than expected, but the thighs are juicy and nugget-like. Plus, the Bburinkle powder is downright addicting. Mild, cheesy and full of alliums, it's easy to understand why the seasoning has been imitated by online recipe developers and YouTube cooking channels. Finishing off the second wing and taking the other half of the thighs and fries to go, I head back into the parking lot, where a light rain has begun to fall. While the fried chicken at BHC is by no means a health food, I don't feel as weighed down as I normally do after eating fried chicken for lunch, and I find myself eager to try more as the freshly opened restaurant finds its footing.

Meals from Table at Third & Fairfax fall into three categories: Skip It, Worth Trying and Must Have.
Vendor: BHC Chicken
Order: 10 pieces of Bburinkle thighs, Bburinkle fries and two pieces of fresh fried wings
Verdict: Must Have. Though I've yet to try the entire menu at BHC, what I have sampled is unique and tasty enough to compete with other big players within L.A.'s fairly crowded fried chicken scene.