Table at Third & Fairfax is a weekly dining column in 2023 where Food and Drink editor Patricia Kelly Yeo will eat her way through the Original Farmers Market. Each column will drop on Thursday for a week-by-week recap of her journey through the classic L.A. tourist attraction. Last week, Kelly tried Fritzi Coop.
Golden hour approaches on my trip to the Farmers Market this week, which I've put off until the eleventh hour. Early on Wednesday evening, I walk through a gate near the West Patio. Most of the tables are deserted, except for a medium-sized cluster of diners near Trejo's Tacos and Pampas Grill. A few flashily dressed pairs walk into the market through the entrance closest to Dylan's Candy Bar and Williams-Sonoma, home to the only ATM in the area.
After toying with the idea of finally trying the pizza from Patsy D'Amore's, I decide to grab dinner from one of the market's two Chinese eateries, China Depot (est. 1948). Originally named China Kitchen, it's one of the oldest stalls in the market, and also one of the places I'm most reluctant to try for this column. Chinese cuisine comes in many delicious forms, including my mom's Fujian-slash-Filipino cooking, but a lifetime of experience with L.A.'s (Americanized) Cantonese restaurants has taught me that it's generally best to lower my expectations. Outside of Panda Express—still my personal gold standard for deep-fried, saucy Chinese takeout—most Cantonese-ish restaurants I've had in L.A., Chinatown notwithstanding, have led to meals that hover somewhere between mediocre and barely edible.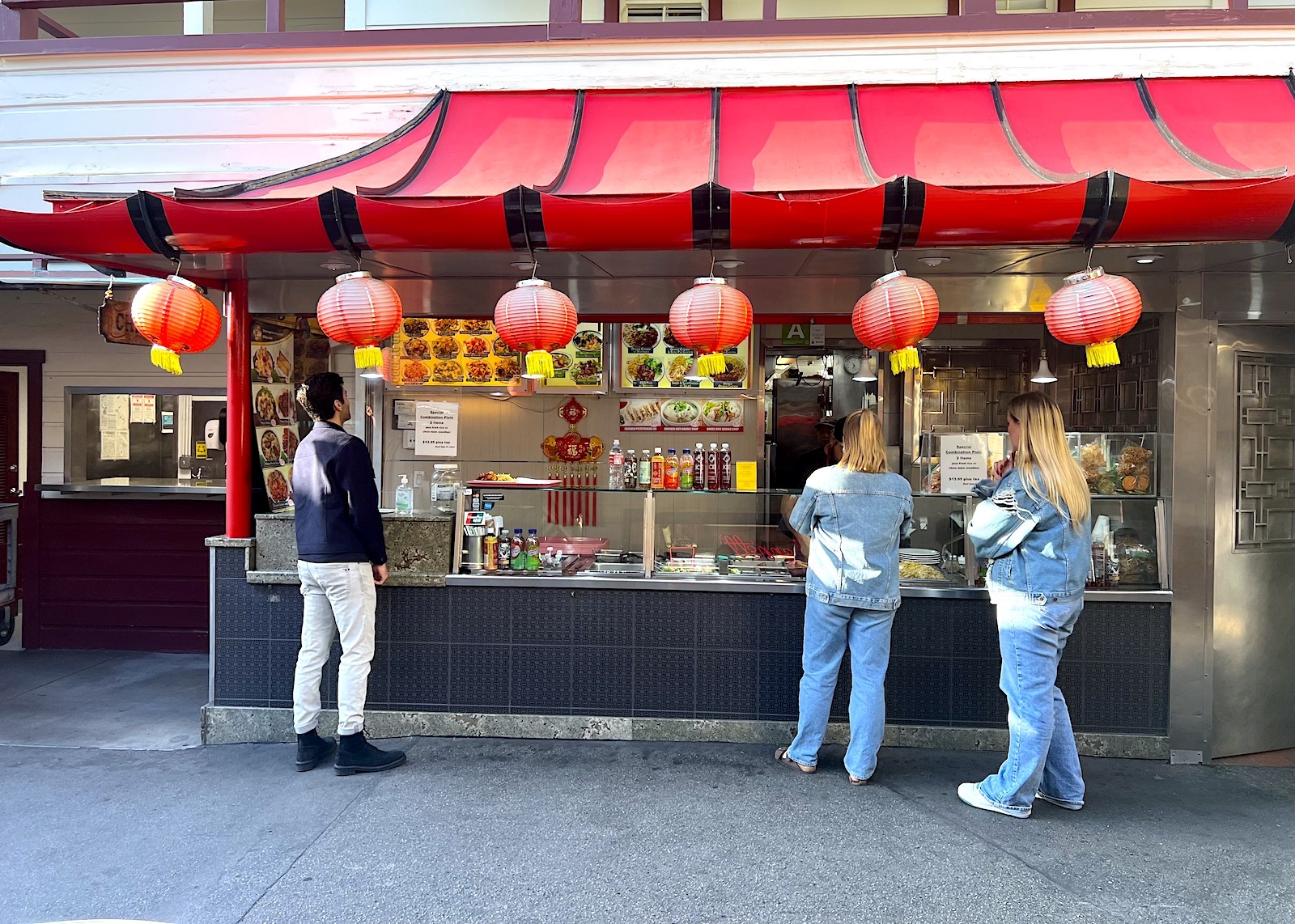 With one-and-a-half aggregated stars on Yelp and just two on Google, I've dragged my feet at the thought of visiting China Depot. The cafeteria-style array, at least while passing by, lacks the glistening, heat lamp appeal of your local Panda Express or the variety of provincial dishes from Monterey Park's Kang Kang Food Court. The orange chicken, from first look, appears dry and overly breaded, and I'm honestly not looking forward to trying it. Walking up to the counter, I order a two choice combo plate ($15.95), picking chow mein, orange chicken and a watery-looking light brown pepper beef (which adds $1 more), plus a bowl of wonton noodle soup ($11.95).
Surprisingly, as I take my first few bites of chow mein and pepper beef, I find myself enjoying the food. China Depot's pepper beef lacks the peppery oomph of other versions around town, but the saucy dish and the soft egg noodles possess an almost homey quality that I've almost forgotten in a haze of fancy restaurant meals. The orange chicken runs on the sweeter, one-note side, but this, too, is tasty, as is the wont of deep-fried chicken pieces tossed in a sugary sauce. The wonton soup offers the same egg noodles and some decent pork wontons, plus a few strips of barbecue pork. It's only after the broth cools to room temperature that I taste the inherent blandness, but by then I'm already halfway through the bowl.
I'm not sure if it's the fact I hiked five miles on a stomach filled with just a handful of rosemary crackers beforehand, but China Depot, if not great, is at least decent for Cantonese American cuisine. This is cozy, not-too-greasy Chinese takeout, the kind of fare best consumed at home while wearing sweatpants. The chow mein and wonton soup did make me long for Chinatown's Pearl River Deli, where chef Johnny Lee's newly simplified menu offers perfectly calibrated versions of both Cantonese classics, but it also left me truly quite satisfied, for once, with my meal at the Farmers Market.
Meals from Table at Third & Fairfax fall into three categories: Skip It, Worth Trying and Must Have.
Vendor: China Depot
Order: Combination plate with chow mein, orange chicken and pepper beef; wonton noodle soup
Verdict: Worth Trying. For Americanized Chinese takeout, you could do a lot worse than one of the market's oldest stalls.