Table at Third & Fairfax is a weekly dining column in 2023 where Food and Drink editor Patricia Kelly Yeo will eat her way through the Original Farmers Market. Each column will drop on Thursday for a week-by-week recap of her journey through the classic L.A. tourist attraction. Last week, Kelly revisited Pampas Grill.
If you're walking around the Original Farmers Market balancing five different baskets of French fries on your tray, don't be surprised if people start laughing at you. That's the lesson I learned this Tuesday on my weekly visit for this column, when I exhausted all of the market's French fry options in my hunt for the very best thin strip of deep-fried potato. In my search, I decided to exclude Du-Pars, Monsieur Marcel and Marmalade Cafe, all of which are full-service dining options that don't allow you the luxury of picking and choosing one-off dishes. I also left out the market's Veggie Grill location, which served its last plant-based meal on Wednesday, July 26 (as signs posted on the cash register indicated during my attempt to visit).
What makes a great French fry? It should taste good, of course, both fresh out of the fryer and within 15 minutes of eating. More importantly, it should not leave a slight chemical burn aftertaste in your mouth, which I've found to be the case with McDonald's fries. The supposed lack of great fries in L.A., coincidentally enough, was the subject of a recent Eater New York article, and though Eater L.A. quickly published a rebuttal list, I can't say that the few I've tried of the bunch (Amboy, Heavy Handed) were anything more than pleasant accouterments.
The French fries at the Original Farmers Market, to be frank, are not any different, but if you're in the area, they'll do. From worst to best, I've ranked all seven of the market's carryout French fry options, excluding chili fry dishes. To judge them all equally, I tried a couple within seconds of receiving each basket, then again a few minutes later once they'd cooled down.
7. Charlie's Coffee Shop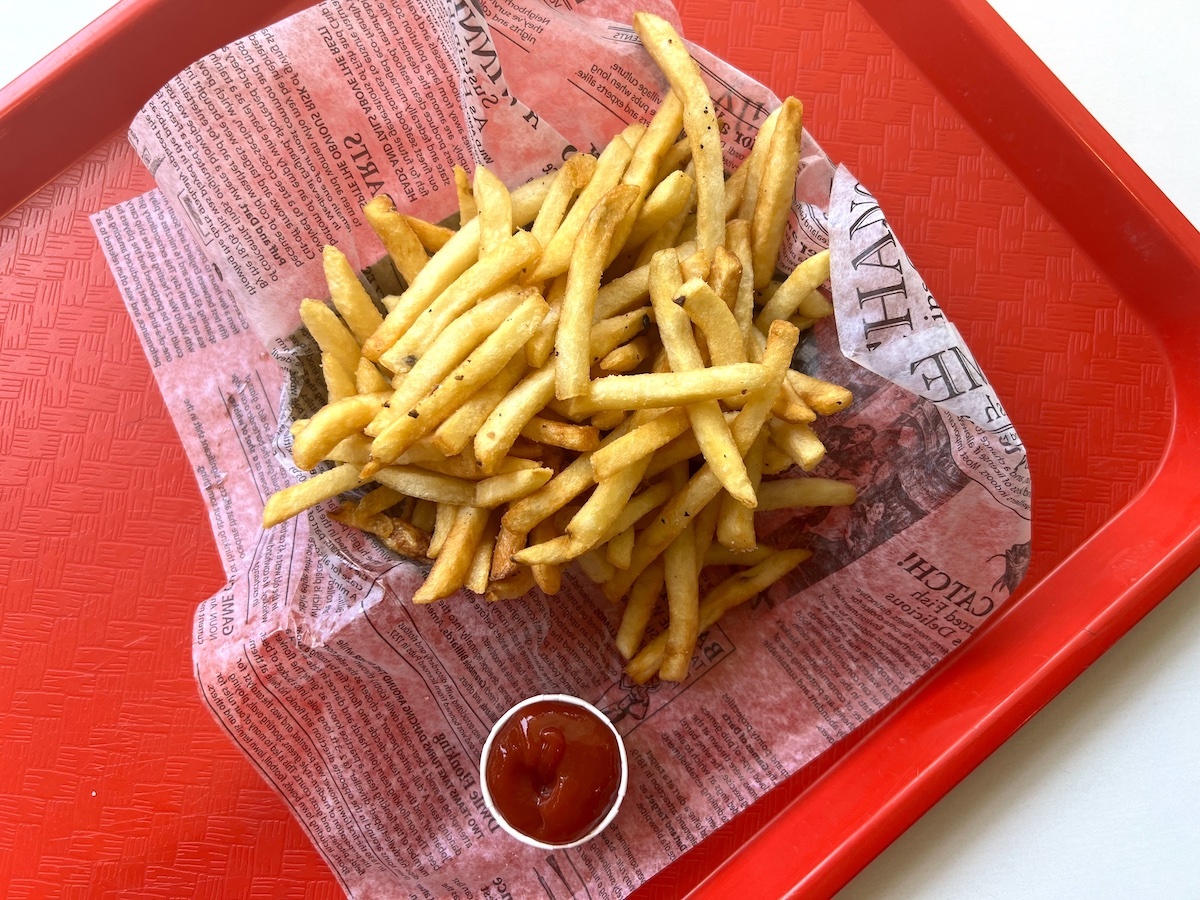 These were the first fries ($5) I tried, and also the worst. As with my first visit to this West Patio stalwart, the fries came in a generous portion. While they tasted fine when eaten immediately, the 15-minute-old fries left an odd aftertaste in my mouth.
6. BHC Chicken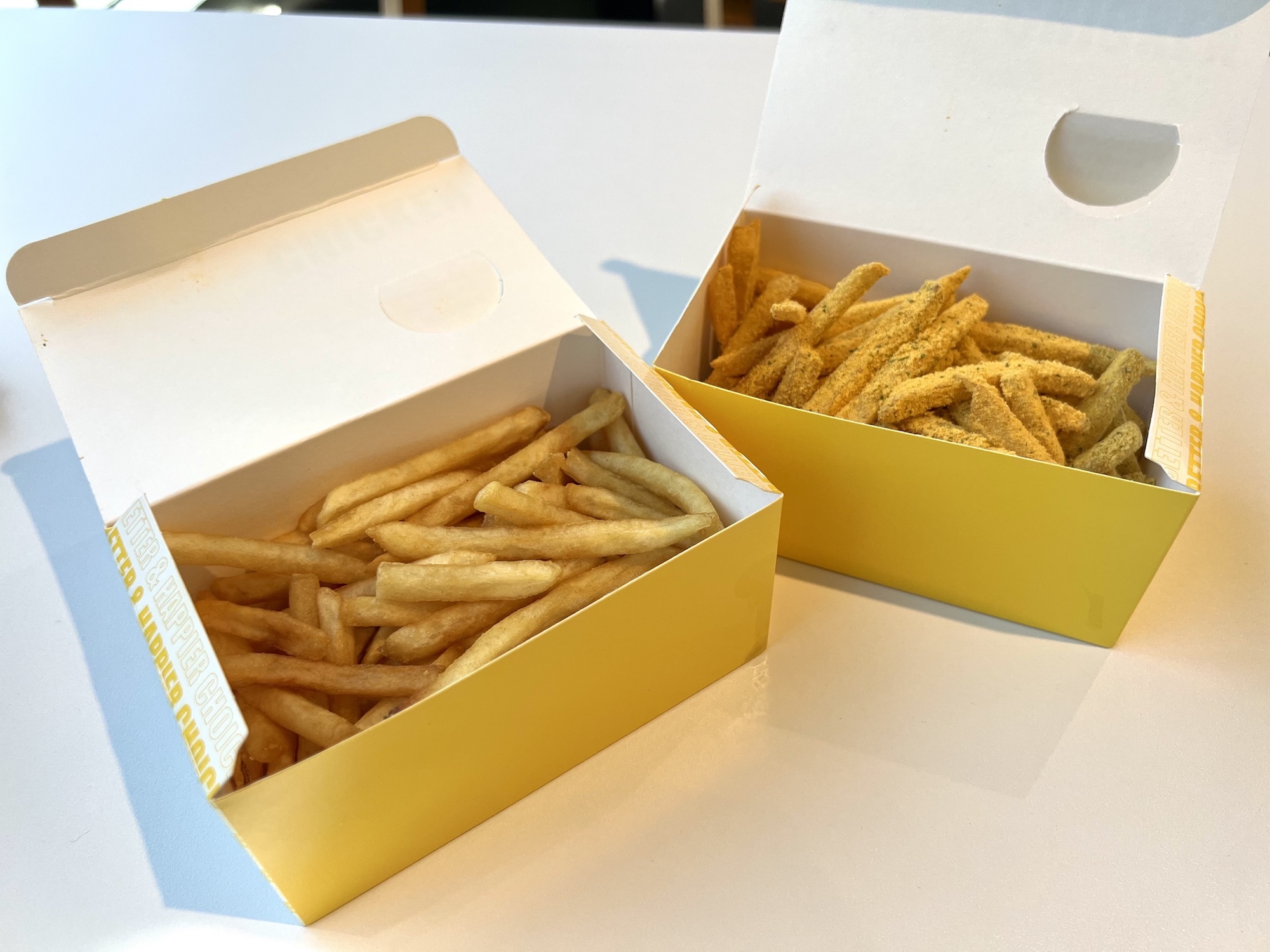 Alright, maybe normal people wouldn't walk all the way across the parking lot when it's over 85 degrees outside to try the North Market's only French fry option, but I did it for the sake of being a completionist—and was not rewarded for my efforts. Unless you're ordering the Bburinkle fries ($6), which come with an addicting garlic cheese topping, the plain fries ($5) are slightly soggy and flavorless. BHC being a South Korean fried chicken brand, the fries also appear to be cooked in a lighter oil, which gives them a vaguely healthier tinge, and not necessarily in a good way.
5. Moishe's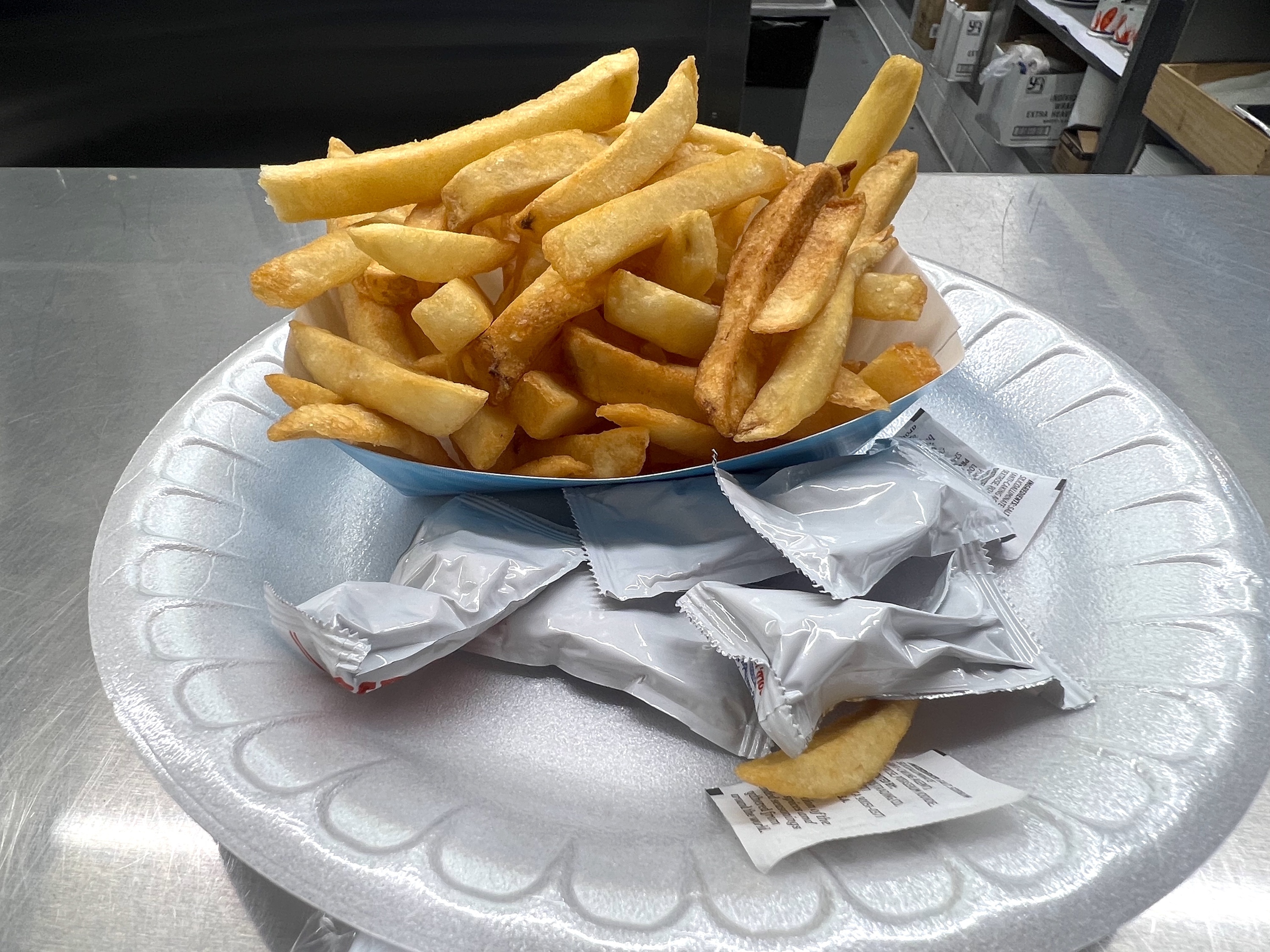 "These are thirty-eight cut," the woman behind the counter at Moishe's explained, upon seeing me stroll up to the counter with several baskets of fries already on my tray. These slightly thicker three-eighths of an inch steak cut fries ($3.50) tasted like they would pair well with shredded gyro or a few kebabs, which makes perfect sense for this longtime Middle Eastern food stall. On their own, however, they're a little flavorless (even after I asked for added salt) and lack the crispy texture most people are looking for in a standalone basket of French fries.
4. Roxy and Jo's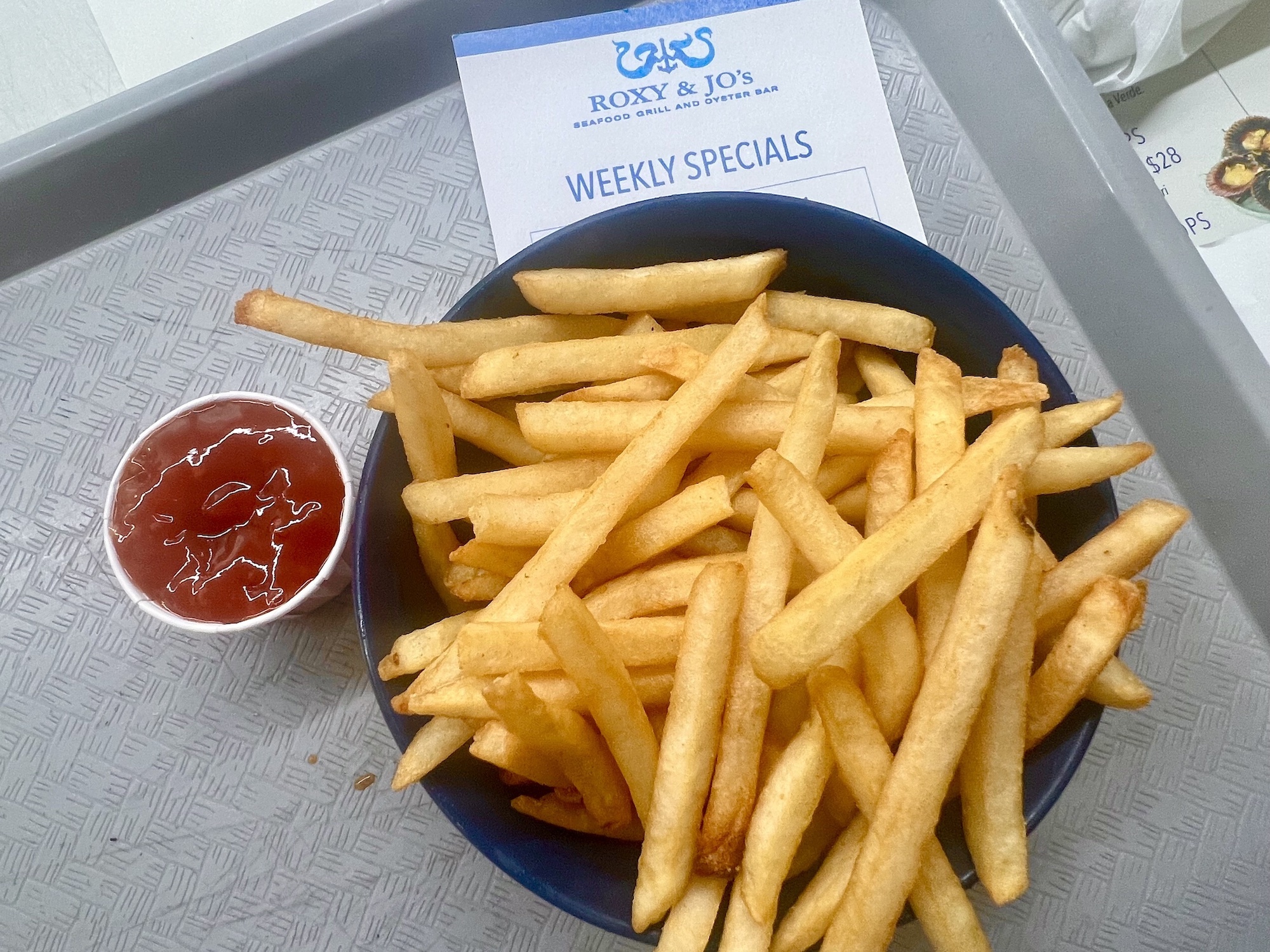 It is no secret that I'm disappointed with most things at this East Coast-style seafood grill, where the rice in the poke bowl comes undercooked and even the clam chowder tastes watery and bland. The French fries ($6), however, were adequately golden brown, and great on initial taste and 15 minutes thereafter.
3. Fritzi Coop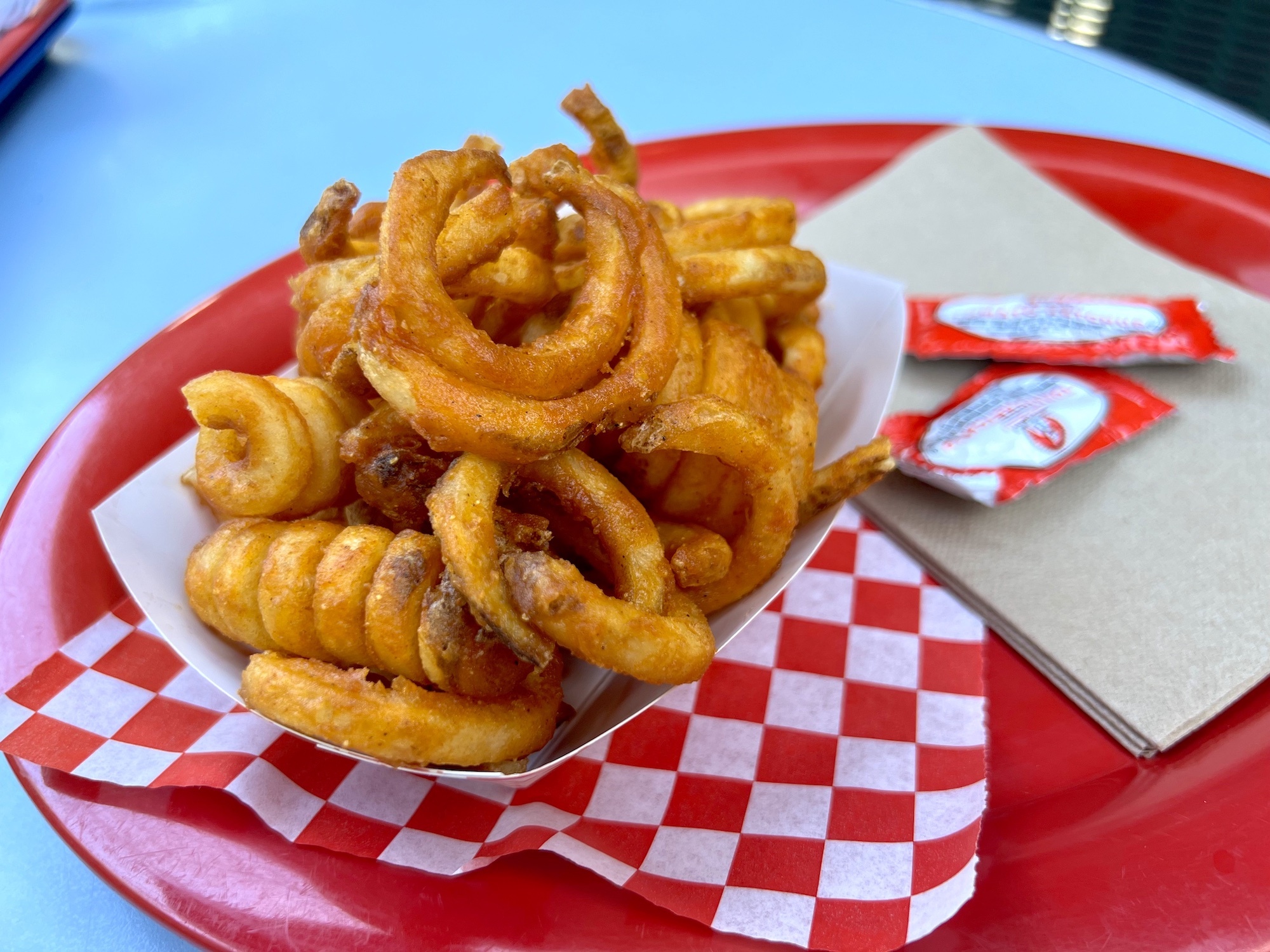 Perhaps it isn't fair to include them in this straight-fry ranking, but this fried chicken stall is your only option in the market if you're in the mood for curly fries ($4.95), and they're pretty good, all things considered. At Fritzi Coop, it's also the only fry option, though you can also order tater tots. Well-seasoned, with plenty of variation in curl size, it makes for a delightful snack.

2. Market Chicken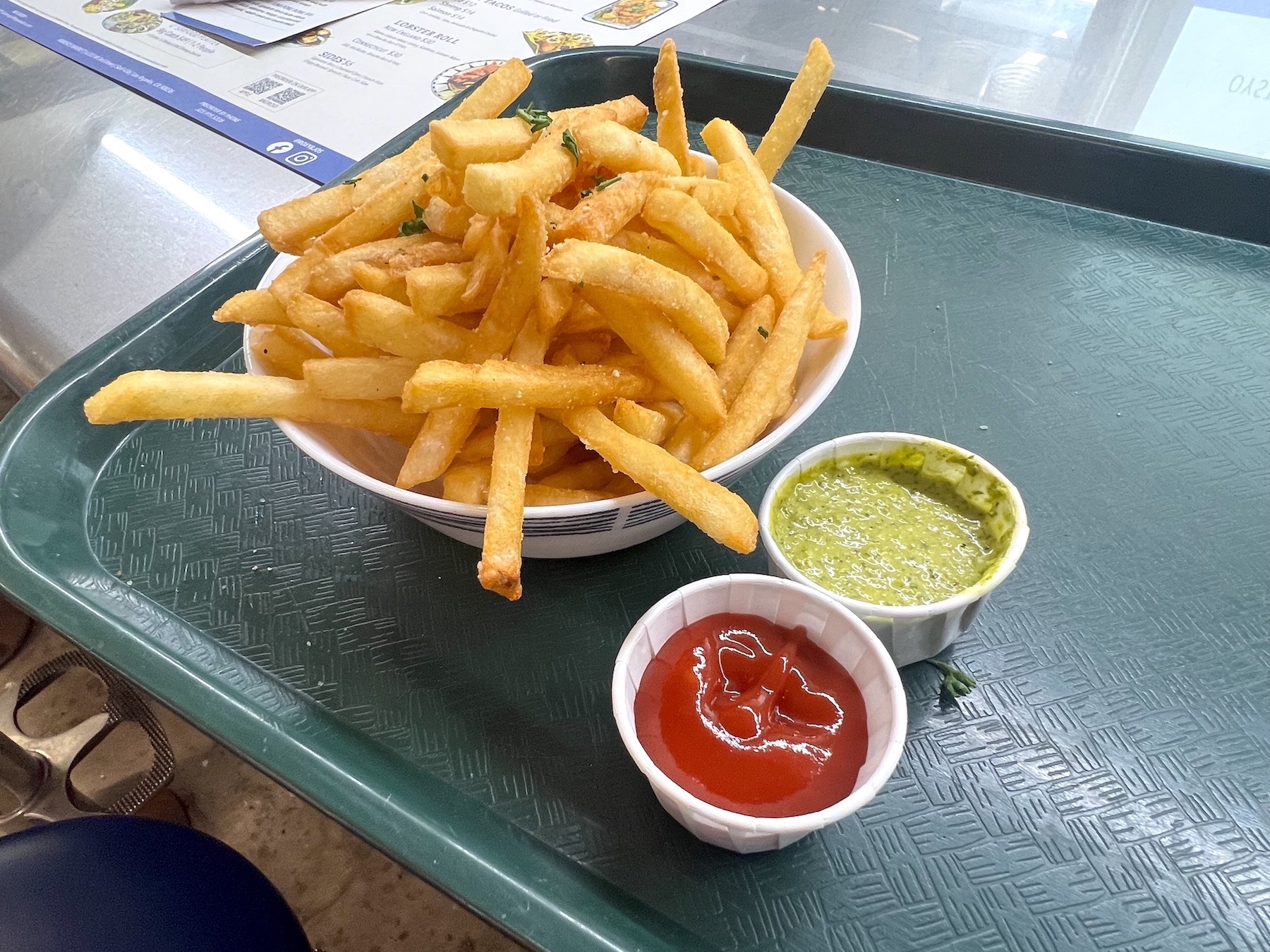 Crispy and golden, the fries ($4.95) at this newer rotisserie stall in the market don't mess around. Best of all, they come with a green aji verde sauce as well as ketchup.
1. Phil's Deli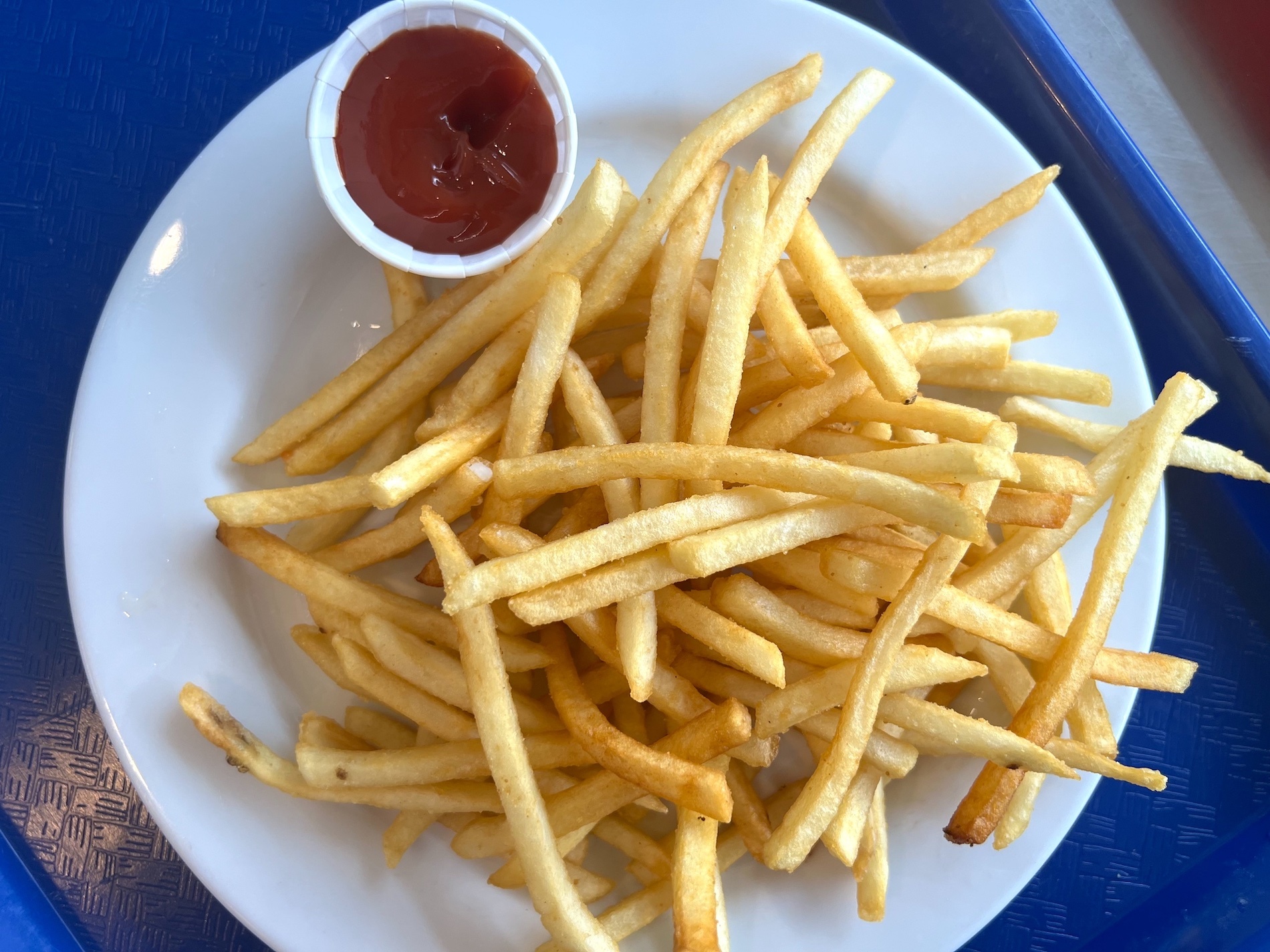 In terms of quality and bang for your buck, Phil's takes the top spot. These are the best fries ($5) at the Farmers Market, and they come in a slightly larger portion than all the others on this list. They were as delicious right out of the fryer as when I tried them again 15 minutes later, and remained crunchy on the outside and soft on the inside as I went to the other vendors to order and pick up more baskets of fries.

Check out a running list of all other Table at Third & Fairfax columns here.