September is just about here, which means it's time to stock up on some seasonal essentials: an air purifier, some extra furnace filters and a replenished bug-out bag. Fun.
Yes, peak fire season is upon us in Southern California (but really, when is it not?), and so too is the bleak routine of checking the Air Quality Index to figure out just how noxious that creeping smoke cloud is. But a newly updated smartphone app developed by the state is making this whole distressing process a little more manageable.
The California Air Resources Board launched its California Smoke Spotter smartphone app last spring to let residents keep tabs on the smoke from prescribed burns. But an update to the app this August has added the ability to track the impact of wildfires, too, including their forecasted smoke patterns.
When you load up the app, which is available on both iOS and Android, the first thing you'll notice is a banner that lets you know how many miles you are from the nearest wildfire. The app's core map should look familiar to PurpleAir obsessives: It's filled with color-coded dots that pull data from that crowdsourced air quality service, as well as ones from the federal government's AirNow site. Tap onto each dot and it'll very plainly tell you how worried you should be about the current pollution levels.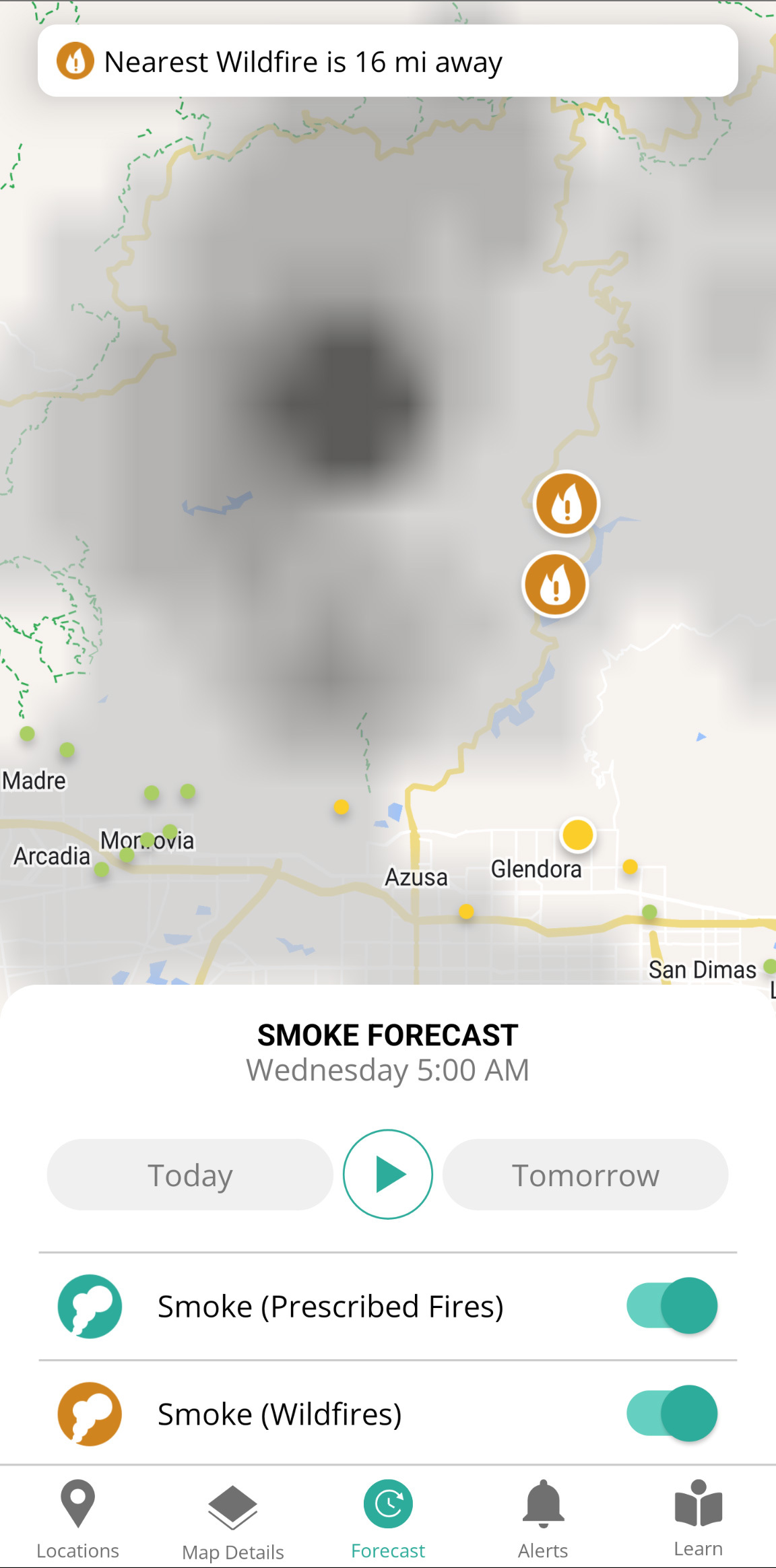 The map also spotlights each current wildfire or prescribed burn, with info on its size, location, containment and lead firefighting agency. The most novel feature, though, is the smoke forecast: You can see where the plume is currently billowing, but you can also tap a play button to see how it might blow over the next 24 hours.
If you want to make sure you always have the latest updates, you can track multiple locations within the app—say your place as well as your parents' house—so that you'll receive a push notification with more info whenever a fire breaks out or alters course nearby.
You can download California Smoke Spotter for free on the App Store or Google Play.