An evening with Outstanding in the Field
A hidden community garden, a celebrated chef—on a warm Hollywood night, Wattles Farm is instantly transformed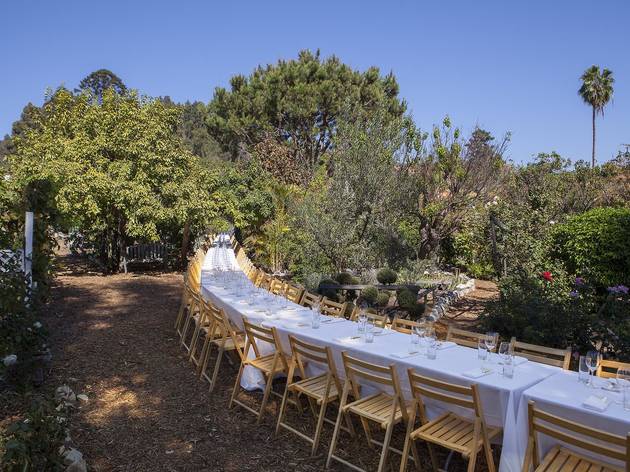 1/14
Photograph: Jakob N. Layman
The setting for each Outstanding in the Field dinner may change, but the set-up is always the same: the same tables (18 this evening, for the roughly 160 expected diners), the same chairs, the same silverware and glasses. This is the eighth year at Wattles Farm, and it's easy to see why. In the confines of Hollywood—really, a mere half mile from Grauman's Chinese Theatre and right off Hollywood Boulevard—the farm is an unexpected oasis of avocado trees, dirt paths, shaded benches and private plots. Members can purchase their own garden space for a yearly fee, and there is a rotating schedule for gardening duties. Tonight, the table cuts through a dirt path and under an arch of trees, a white arrow pointing towards Runyon Canyon.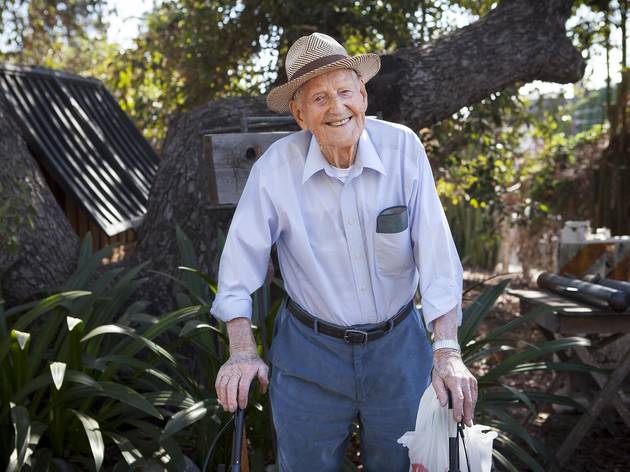 2/14
Photograph: Jakob N. Layman
At 101, Reggie Gooch is the first face diners see when the mulch of Wattles Farm hits the soles of their shoes, an avuncular figure that lights up as he shakes each person's hand. He is the longest running member of Wattles Farm and an assistant gardenmaster. Gooch motions to print-outs resting on his walker that depict rough sketchings of the original Wattles mansion and its expansive farm, a slice of Los Angeles history that conjures up an era repleat with horses and carriages as opposed to Hollywood Boulevard's traffic jams. The centenarian is proud of this original farm and the one that flourishes today, and may very well be the last person to remember both.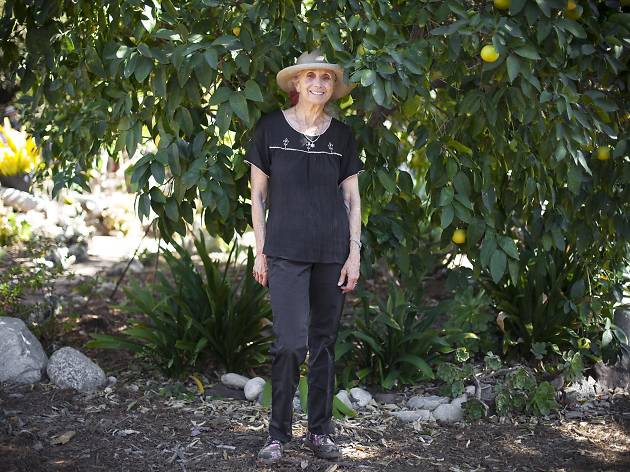 3/14
Photograph: Jakob N. Layman
"Here I am, getting into trouble again," says Toby Leaman in jest, momentarily halting a tour of the farm as she weaves her way through wine-wielding attendees. Leaman is not only the president of Wattles Farm but the heart of it, a grandmotherly figure full of warmth in this hidden city haven. As guests begin to filter in, she gets to know each one with considerate questions and a gentle prodding to explore the farm. Leaman still thinks of her native Colorado as home—despite having lived in Los Feliz since 1987—but it's hard to imagine a Wattles Farm without her. During the event's opening remarks, she talks about her love for Outstanding in the Field. "It's a perfect marriage," she says. "We have the same beliefs." Then she presses her fingers to her lips and blows everyone a kiss, a welcoming gesture from the person everyone has quickly learned to look to first.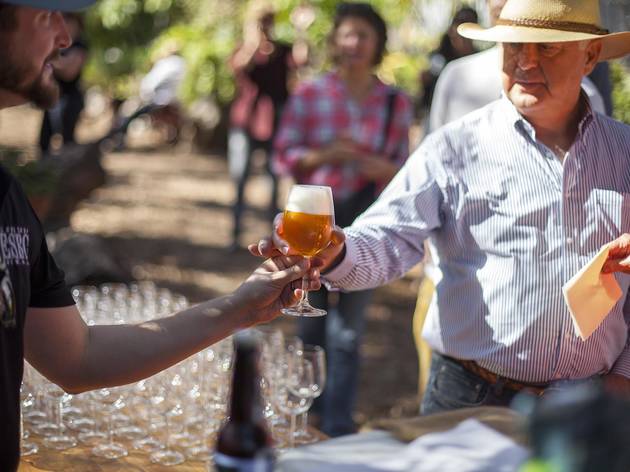 4/14
Photograph: Jakob N. Layman
"I don't want to lose my buzz from the Bloody Marys," says one recently-arrived woman as she approaches the reception area, tipsy on her feet from some apparent pre-gaming. It's understandable—on this warm afternoon, a buzz kept alive among good food and friends is an ideal way to say goodbye to the remnants of a prolonged LA summer. For the first hour of the event, diners sip on a 2014 rosé of Grenache from Ampelos Cellars in Santa Barbara, and Citra Pale and Station No. 1 Red Ale from El Segundo Brewing Company. There are groups of friends and couples, women in clogs and young men in vests, but mostly middle-aged LA natives, celebrating a birthday or anniversary or simply indulging in a meal that is outside of their comfort zone—all reasons to raise a glass.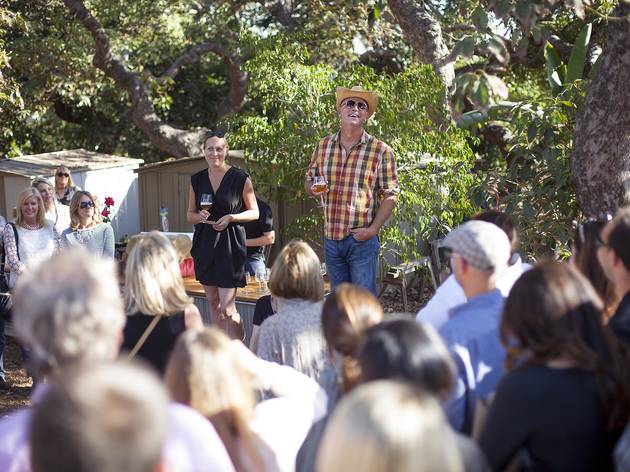 5/14
Photograph: Jakob N. Layman
Before the meal starts, Eden Reilly (tour manager) and Jim Denevan (founder) talk about their past four months on the road, taking Outstanding in the Field to cities across the country and, finally, hitting their 50th state (Nevada). "We've met some amazing people and visited beautiful places—four oyster farms, a one-acre New York City rooftop," says Reilly. "It's my third year managing the tour, and I'm much calmer now. This perfect California weather helps." Denevan talks about hopping the fence to get into Wattles Farm on his first visit and meeting Leaman. "This is one of our favorite places to be, and Toby's our favorite." The feeling among the group is mutual.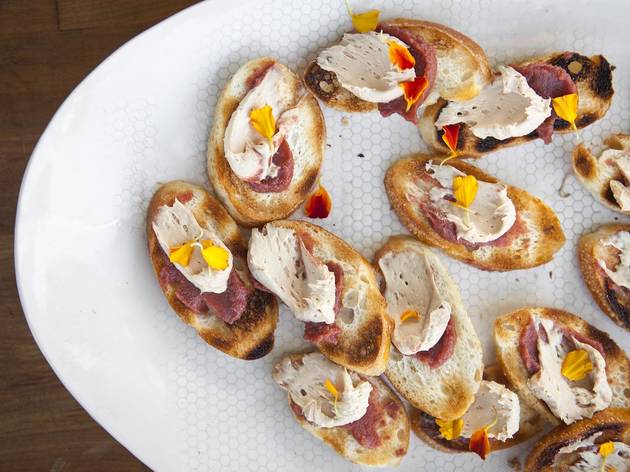 6/14
Photograph: Jakob N. Layman
"Where's Ari?" says Reilly, looking towards the farm's entrance. "This is the hardest thing, having everything ready and then just waiting for the kitchen." A tented prep table and grill has been set up, and when chef Ari Taymor (Alma) arrives—quietly, and without fanfare—the first order of business is appetizers for guests to nibble on as they are led on a tour of the farm. A plate of Wagyu beef and celery root tartare on grilled crostini is passed around, followed by duck liver toast with date jam. At Alma, Taymor crafts a menu of 10-courses, each course a small but memorable chapter in a story. Here, he must change his style completely—all dishes are large and meant to be shared, family-style—and so it is no wonder that these dainty appetizers are some of the best bites of the entire meal.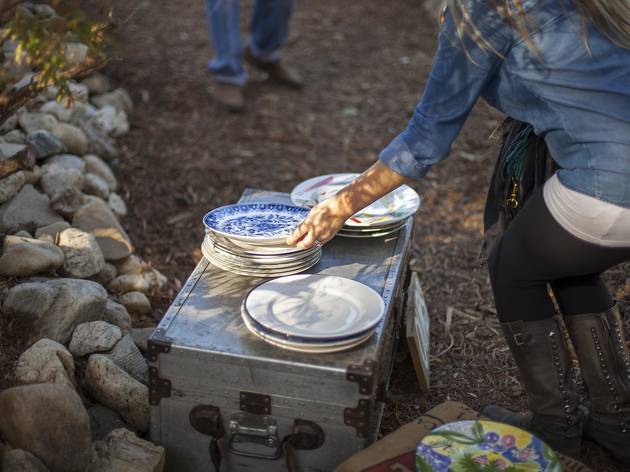 7/14
Photograph: Jakob N. Layman
Dinner is announced, and everyone picks up their own plate that they brought, or one that Outstanding in the Field has to loan. "Sometimes people come expecting one thing—maybe a setting from a photo that they've seen on our website—and they get something else," Jim has warned us. "In Phoenix, there was a freeway within sight of our dinner. People were about to walk away, and then the farmer started talking and said, 'I want everyone to know that what you see here is really special to me. When I was 8-years-old, I had a dream that I'd be a farmer, even though no one in my family farmed. This is my dream.' And who can walk away after hearing that?"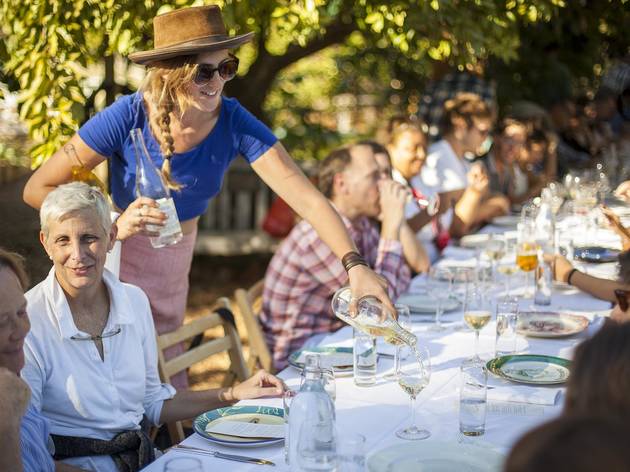 8/14
Photograph: Jakob N. Layman
At the table, we are all strangers. Some are new to Outstanding in the Field, others are Fieldheads—folks who travel across the country, attending dinners wherever they can. One woman at Wattles Farm has gone to 13 dinners. Another is celebrating her 50th birthday. Each table holds roughly eight diners sharing dishes in a suddenly familial setting. We all compare plates, talk about where we're from, how we heard about the dinner. The conversation becomes more intimate with each glass of wine, all from Ampelos Cellars: a 2013 Viognier, a 2010 Pinot Noir "Lambda," and a 2010 Syrah "Gamma."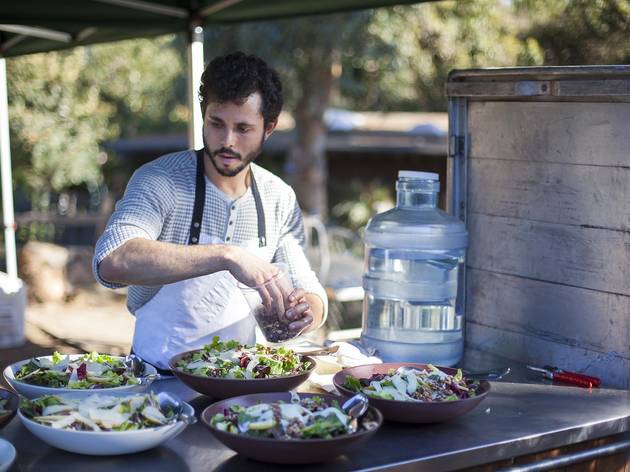 9/14
Photograph: Jakob N. Layman
The family-style servings are a far cry from what Taymor is used to. "I have kitchen ADD," says Taymor, "so this is difficult for me." There is no ten-course tasting menu here, no dehydrated shards of duck liver or pea-sized drops of yuzu aioli accenting a plate. Instead, the menu is comprised of four dishes—a pear and walnut salad, smoked salmon with potatoes and crème fraiche, brisket with salsa verde and carrots, and caramelized apples with maple and oat. Ingredients come from various farmers' markets and Alma's own garden in Venice. How did he get involved with today's dinner? "I know Eden from the Bay Area," he says quietly, as diners snap photos of one of LA's most celebrated chefs.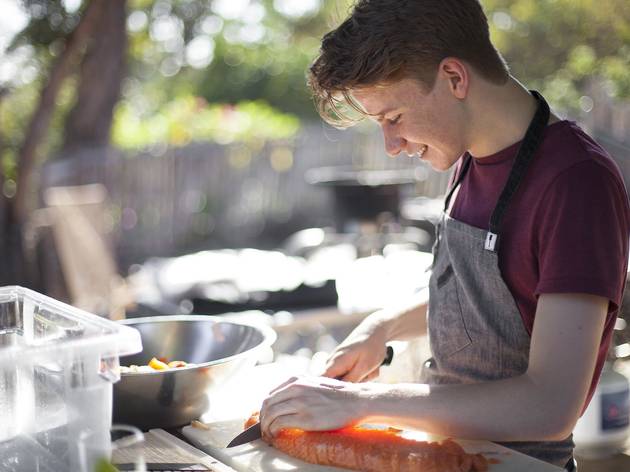 10/14
Photograph: Jakob N. Layman
Alongside Taymor is Flynn McGarry, a 15-year-old rising star in the culinary world who more recently created summer pop-ups at Fifty Seven, and who currently works under Taymor at Alma. The two exhibit an almost brotherly relationship, working in a relaxed sync: Taymor flipping discs of celery root at the grill while McGarry slices meaty pieces of salmon.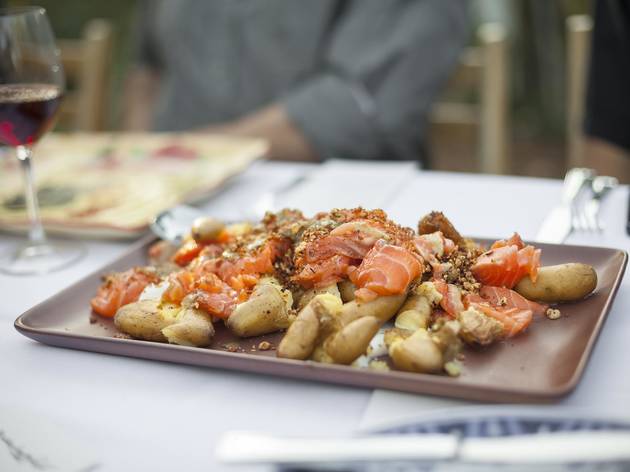 11/14
Photograph: Jakob N. Layman
Warm smoked salmon, shallots, Weiser Family Farms potatoes, smoke crème fraiche, lovage. This is one of the best dishes of the night, a pairing of rustic ingredients that embodies an Outstanding in the Field meal: of-the-land, recognizable, made from plants and animals that you could farm yourself, if only you had a green thumb (or a fisherman's net). The light is dwindling and casting shadows across our plates; the sound of rush hour on Hollywood Boulevard only faintly more audible.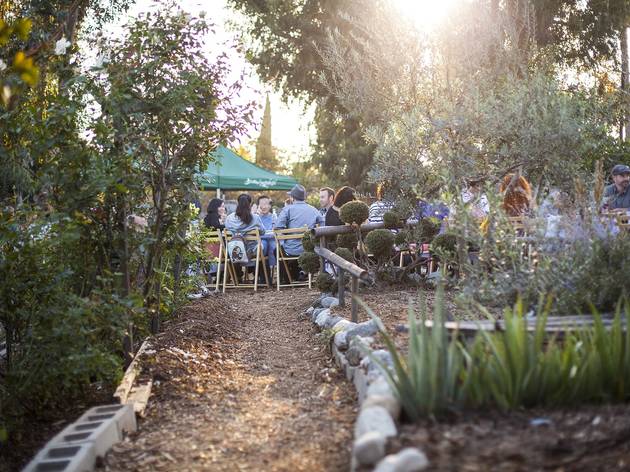 12/14
Photograph: Jakob N. Layman
"Let me tell you about the difference between sympathy and empathy." Good food and wine can create fast friends, and we are all friends now, apparently. The tablecloth is dirty with droplets of spilled syrah and salsa verde; everyone has snapped a sufficient amount of Instagram photos and the conversation is getting personal. "My grandma entered the Miss Indio pageant with a three-month-old, so that says something about her." "When I talked to my therapist about it, he just looked at me and said, 'Do you hear yourself?' And then he laughed in my face." "Do you feel like getting older lets you just say what you mean now? Like without the bullshit?"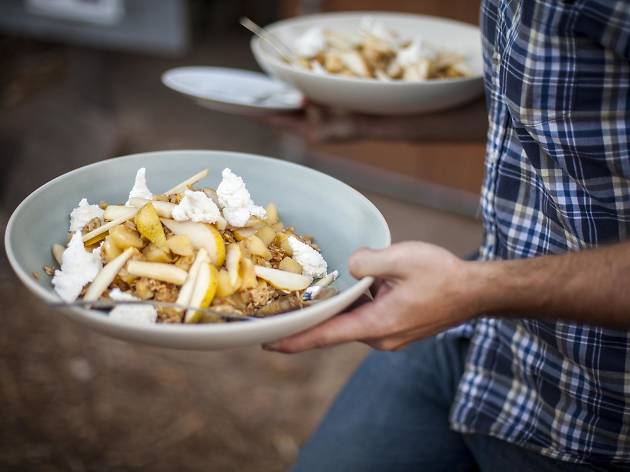 13/14
Photograph: Jakob N. Layman
Caramelized apples with maple and oat. A dish so unequivocally fall, it is scooped up immediately and consumed in a flurry of forks. People are starting to stretch their legs—the presence of dessert signals a near-end to the evening—but the departures are slow and gradual. Fantastic meal or not, it is hard to leave the enchantment that is Wattles Farm and return to a neighborhood that boasts more nut jobs than nut trees. But the kitchen is packing up, the wine glasses are being collected, and so it is time to go.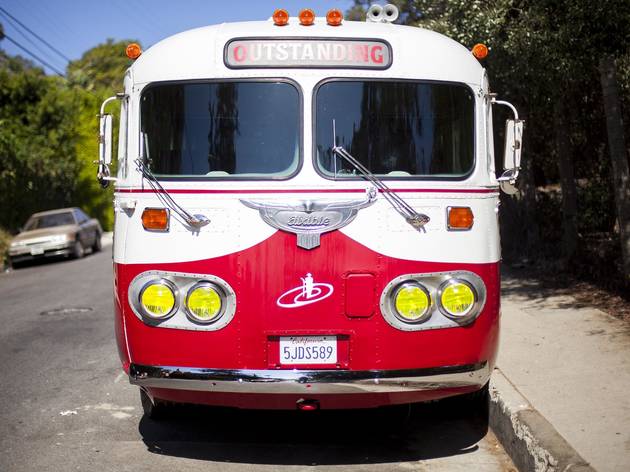 14/14
Photograph: Jakob N. Layman
"We've visited 33 states this year," says Denevan. "When I say that, it makes me tired." Now that Wattles Farm is done, there are seven more dinners left in the season. The team travels in a 1933 Flxible bus that Denevan bought for $9,000; it's only natural that it has broken down more than once this summer. Tickets for the 2015 season go on sale in the spring. In the meantime, Wattles Farm will still be here, as will Toby, and Reggie, and the crooked limbs of the avocado trees, now a century old.
best restaurants
in the country cooking food in barns, fields and
gardens
, Outstanding in the Field travels from state to state, creating dining experiences that are, for many, once-in-a-lifetime. On Tuesday, October 28, they came to
Wattles Farm
, where
Alma
's Ari Taymor cooked for close to 160 guests in the shade of century-old avocado trees. Read about the gardners, chef, Outstanding team and diners that shaped the evening.
RECOMMENDED: The best farmers' markets in LA