Best brunch in LA: Persian
Next stop: Iran. Forget Tehrangeles—for the best brunch in LA with Persian punch check out San Fernando Valley's Asal Bakery.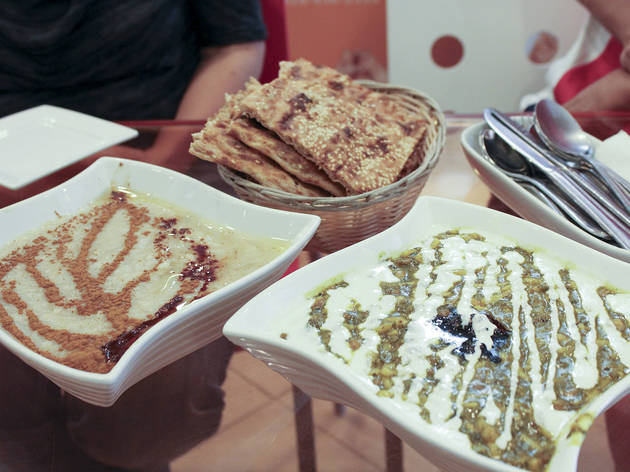 Asal Bakery
Fresh
sangak
—a giant (seriously, it's table-sized!), chewy, sesame flatbread—brings Persian families from all over the San Fernando Valley into this Ventura Blvd café. You can watch bakers spreading out the sticky dough and slapping it into the large round ovens while you're breakfasting on one of Asal's simplest pleasures:
asal
&
sarshir
, cultured cream and honey spread on warm squares of the sangak. The more adventurous will want a bowl of
kalleh pacheh
($14.99), a lamb brain stew that's often enjoyed family style. Looking for a good middle ground? Try the
ash reshteh
(small, $4.99), a thick bean and noodle soup topped with a fried onion and mint mixture that's equally substantive. Added bonus: You can catch up on all the latest Persian music videos, playing on the TV above the door.
Hours: Mon-Fri 9am-10pm; Sat, Sun 8am-10pm.
20008 Ventura Blvd., Woodland Hills, 91364. 818-436-2353. .