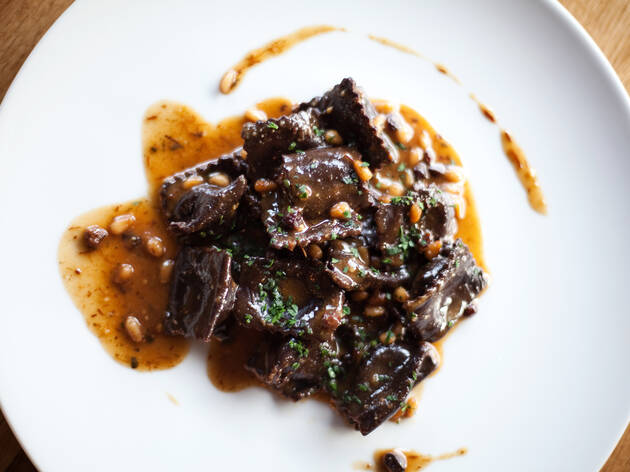 1/11
Photograph: Becky Reams
Agnolotti stuffed with braised beef cheeks at Bestia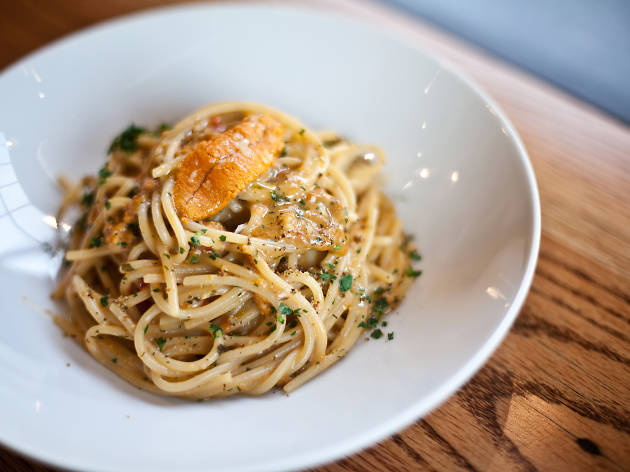 2/11
Photograph: Becky Reams
Spaghetti rustica at Bestia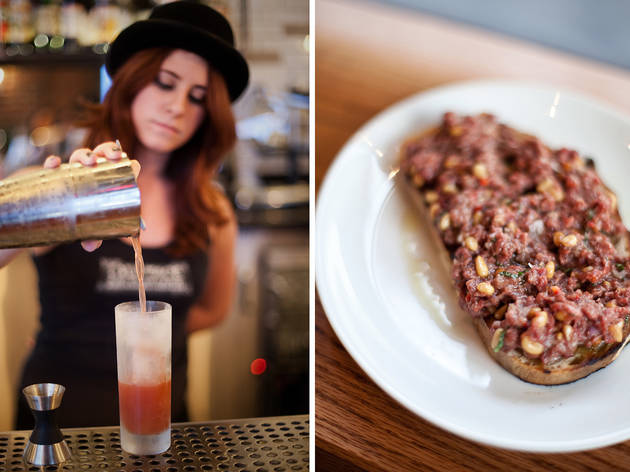 3/11
Photograph: Becky Reams
Beef heart tartare at Bestia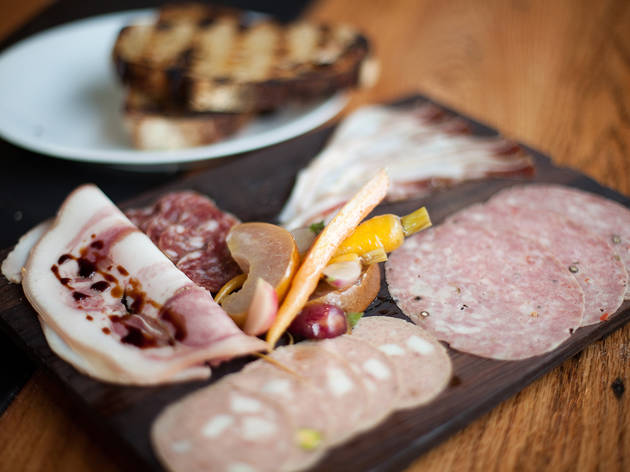 4/11
Photograph: Becky Reams
Batillarda di Salumi Nostrano at Bestia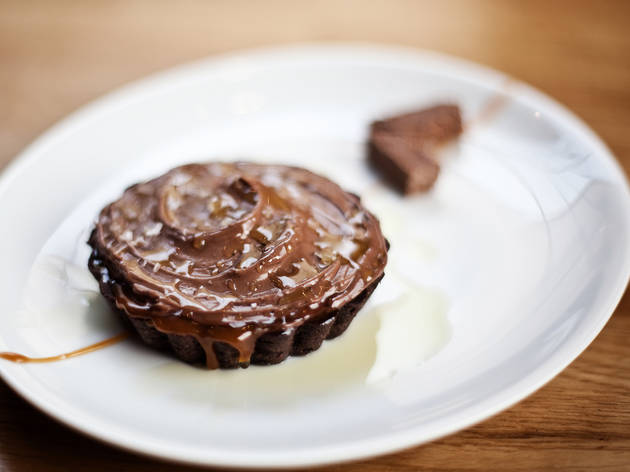 5/11
Photograph: Becky Reams
Crostata al Cioccolato e Caramello Salato at Bestia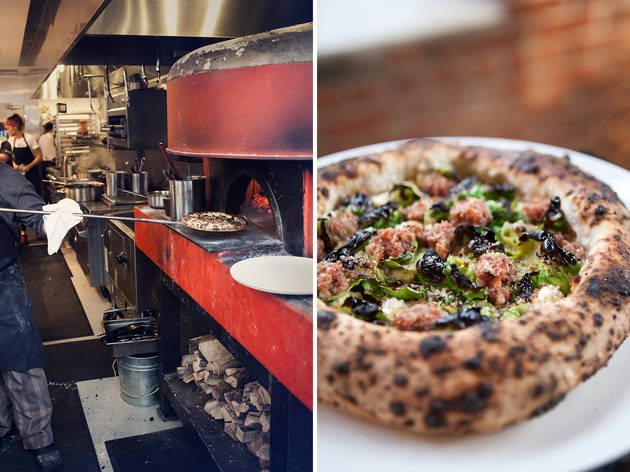 6/11
Photograph: Becky Reams
Pizza con i Salami at Bestia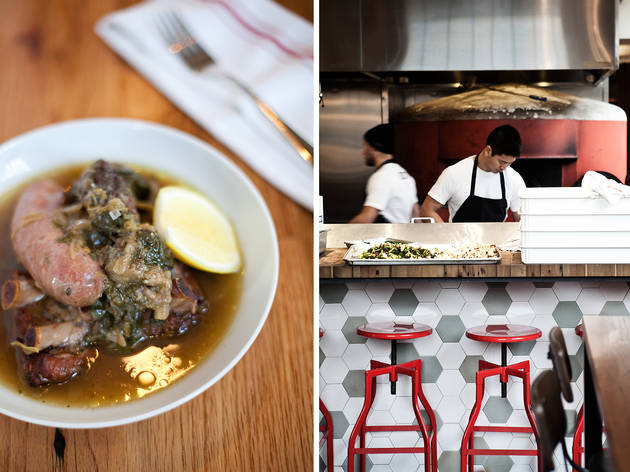 7/11
Photograph: Becky Reams
Left to right: Casseola Milanese, chef's counter at Bestia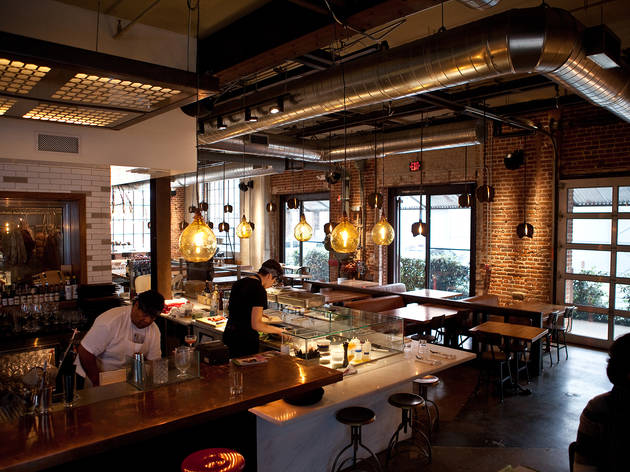 8/11
Photograph: Becky Reams
Bestia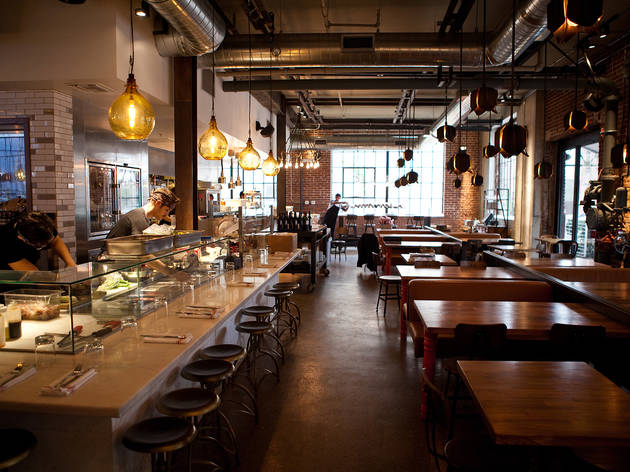 9/11
Photograph: Becky Reams
Bestia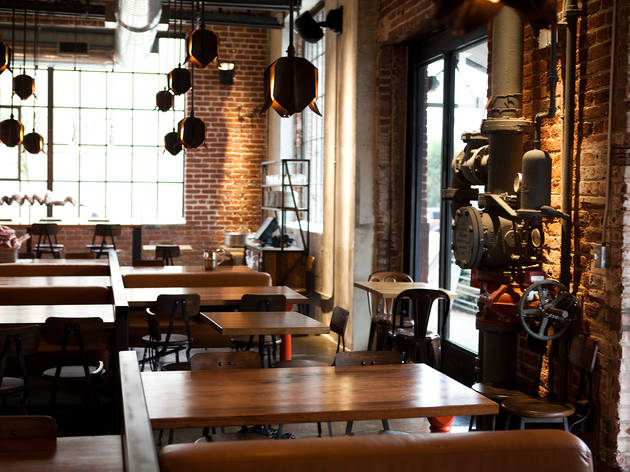 10/11
Photograph: Becky Reams
Bestia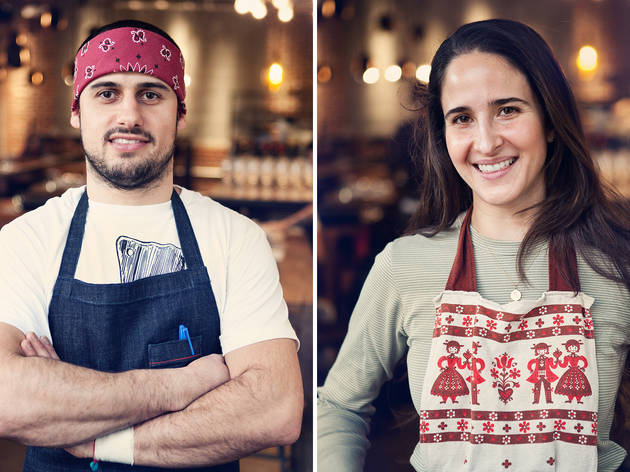 11/11
Photograph: Becky Reams
Chef Ori Menashe and pastry chef Genevieve Gergis at Bestia
Time Out says
Don't try to walk into Bestia without a reservation. As the most talked about (and as a result, packed) restaurant at the moment, securing a table at least a week in advance is a good idea. And even then, you might have to wait for a table. The up side: The bar is a happening place to be not only for dinner but also for drinks with mixologist Julian Cox behind the seasonal libations.
It seems like most everything that restaurateur Bill Chait touches turns to gold—places like Sotto, Picca and Short Order, and, now, Bestia, another white-hot hit. Ori Menashe, a longtime Angelini Osteria chef, is the brains behind Bestia's thoughtful, ingredient-driven Italian menu that doesn't shy too far away from California. Menashe's house-cured salumi is superb, especially atop a puffy pizza with ricotta, charred Brussels sprout leaves and chili oil. Housemade spaghetti tangled together in a sea urchin tomato sauce was both creamy and balanced and a stew of braised pork sausage and veal ribs was comforting enough to evoke nonna's.
Perhaps one of the Bestia's best kept secrets is wine steward Maxwell Leer—he joins the restaurant by way of the Tasting Kitchen and the Bazaar—whose strength is selecting obscure wines from boutique producers around the world that you've likely never heard of. Don't be surprised if he tries to pour you an orange wine or a dry Sherry with dinner. Go with it.
To describe Bestia as a brick bunker isn't intended to insult. The wide open restaurant, defined by walls of exposed brick with an unfinished ceiling—a raw, urban aesthetic that's de rigeur at the moment—feels alive in a way that most dining destinations in Los Angeles do not. (The restaurant may be slightly loud but that hasn't stopped anyone.) And Bestia is perhaps one of the city's best examples of a dining destination—tucked away off a side street in Downtown's Arts District surrounded by factory spaces, many of which sit vacant.
Don't let the hip and the cool here fool you. Bestia is a serious restaurant turning out excellent, ingredient-driven Italian fare at a moderate price point and poised to make waves in Los Angeles.

Vitals
What to eat: Although it might sound intimidating, the beef heart tartare, served on a thick slice of toasted bread, is a tasty, if rich, start to any meal. Salami pizza topped with ricotta, Brussels sprout leaves and ground salumi is delicious, as is the spaghetti rustichella, which calls for a sea urchin tomato sauce. Cassoela Milanese combines pork braised so long you can cut it with a spoon, and an unctuous pork sausage in a soupy broth with soft collared greens.
Where to sit: Bestia is an open box with many seating options. There are communal tables, free-standing tables, but if you're looking for dinner and a show, the chef's bar is the place to be.
What to drink: Regardless your selection, cocktails or wine, you're in good hands. The knowledgeable bar staff can create a custom drink or ask for wine steward Maxwell Leer to recommend what's best. When someone says things like "this is not a serious wine" and "this is the table wine of the late Pope John Paul," you know you're in good hands.
Conversation piece: Leer recently collaborated with a local winemaker and is just now selling his first vintage, Fleur de Valle, at Bestia.
Details
Address:
2121 E 7th Pl
Los Angeles
90021

Contact:
Opening hours:
Sun-Thu 5-11pm; Fri & Sat 5pm-midnight
Do you own this business?
Average User Rating
4.6 / 5
Rating Breakdown
5 star:

10

4 star:

2

3 star:

0

2 star:

1

1 star:

0
The ever famous Bestia! A place where you have to book months in advance! Luckily, my friend had a reservation he made so I finally got a chance to try this place.
This place is BUSY! They turn over tables so quickly and at no point are there any empty tables. They pride themselves in a daily menu change which I think is a bit much but it's nice to see variety in their menu selection.
We ordered an assortment of dishes including bone marrow, octopus crostini, D'angelo Pizza, and a butternut squash pasta and of course ended with the chocolate tart dessert. The menu is very Italian based which I enjoy but honestly I've had better! The price is steep on some of these items so I could go in to DTLA and find something better. The bone marrow dish is way overhyped. Out of all the dishes we had, the dessert was probably the best dish!
The pasta portion was SO TINY! The waiter said it's designed for one person but it came out with 12 pasta noodle! I was shocked with the portion sizes since the pizza was a great size.
Drink wise, they have a good selection as well!
Grab a late-night reservation on OpenTable and bring a friend so you can try everything. I was more than impressed with their take on bone marrow - choosing to pair it with the gnocchetti made this dish the most memorable bone marrow I've ever eaten.
It's kind of not a coincidence that they put 'best' right in the name, you know? Bestia is the rare place that lives up to all the hype and is worth going back to as often as you can get a table.
All the nominees in tbis category are great places, but Bestia is one of the best restraints in all of LA. I never get tired of eating there.
The most amazing food. Great ambiance!
Best restaurant in LA. No joke... I am obsessed with their octopus salad, bone marrow, burrata pizza and their uni toast.... In fact everything uni at bestia is amazing. Great service... Fun vibe... Yummy food and see some cocktails. Can't get any better!
Love Love Love Bestia.
My husband and I are obsessed. Every time we try a different restaurant we are disappointed.
Some of our favorites are the Uni Pasta, Buratta Pizza, Octopus Salad, Bone Marrow and last but not least, the chocolate tart. The service is amazing... super nice group of people. Great cocktails too. Decor is beautiful.
You must try if you haven't been!
Hands down my favorite restaurant in Los Angeles.Every single dish was awesome.I have now been here 4 times and it has never disappointed.
If you want to get in be here right when they open and sit at the bar. Otherwise it is a 1.5 month reservation wait. Long but worth it.
I would write more but much of what I say has already been said :)
Enjoy your meal ;)
Got to say...I'm really tired of restaurant snobbery. Starting with the reservation process as you can only find a table at 6pm or 10pm weeks in advance. I'm highly doubtful that someone famous is taking those crappy times. But I endured and found my way to Bestia only to be disappointed. It made me wonder why all the fuss about trying to get a table when the food is a FAR distant 2nd to Mozza and several other great Italian restaurants in LA. I'd save yourself the reservation headache, the snobbery, and chose a different restaurant. Don't get me wrong...the food was ok. Just not that great and not worth the rest of my experience.