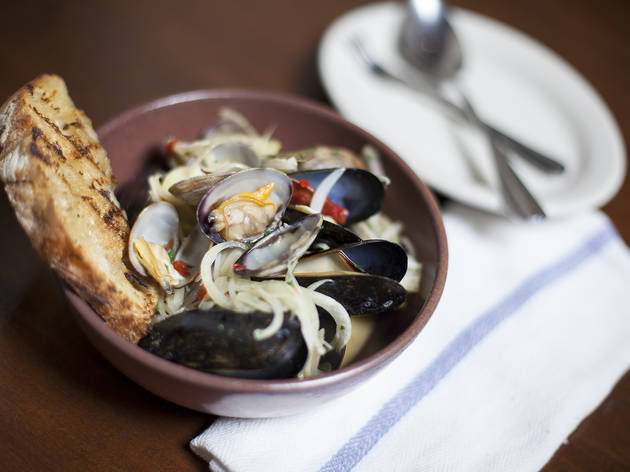 1/12
Photograph: Jakob N. Layman
Cooks County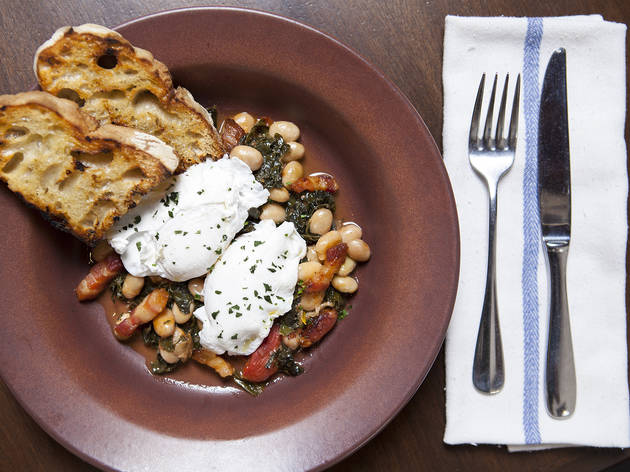 2/12
Photograph: Jakob N. Layman
Cooks County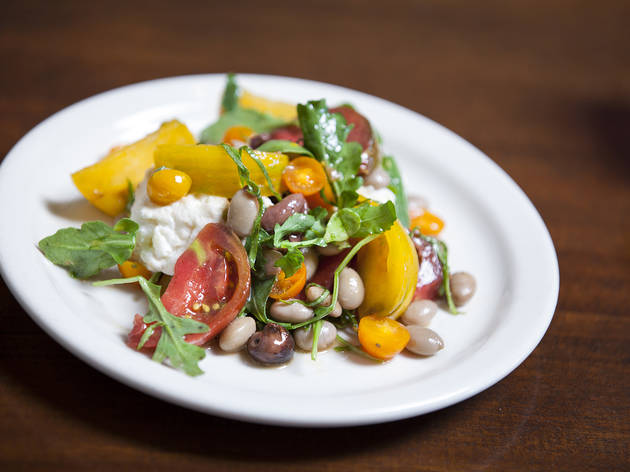 3/12
Photograph: Jakob N. Layman
Cooks County
4/12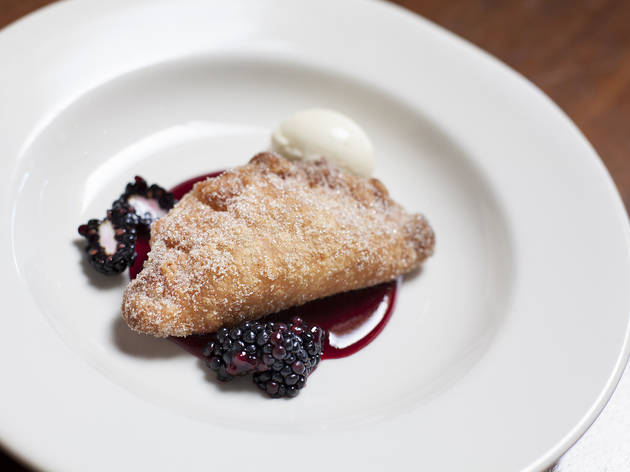 5/12
Photograph: Jakob N. Layman
Cooks County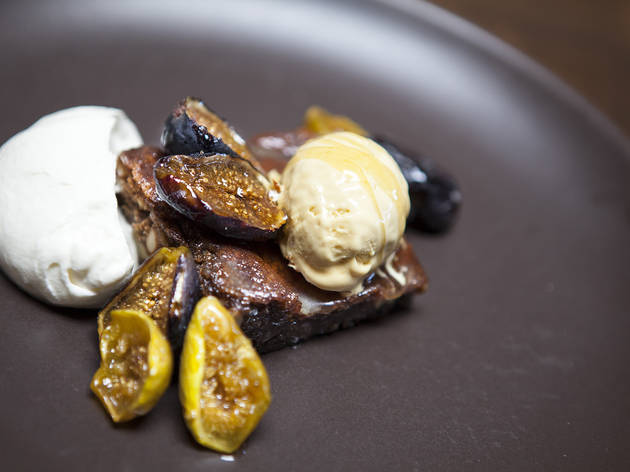 6/12
Photograph: Jakob N. Layman
Cooks County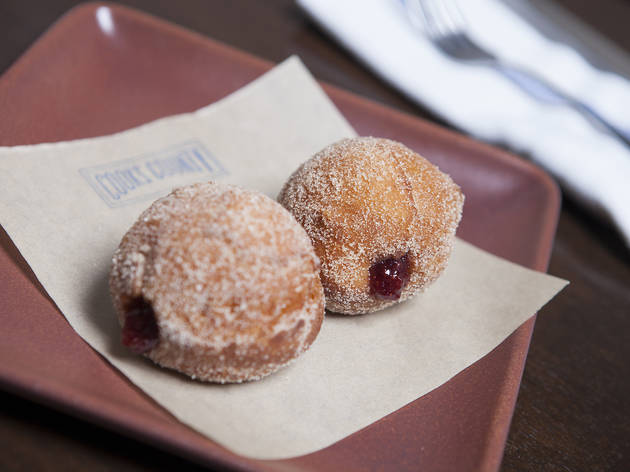 7/12
Photograph: Jakob N. Layman
Cook's County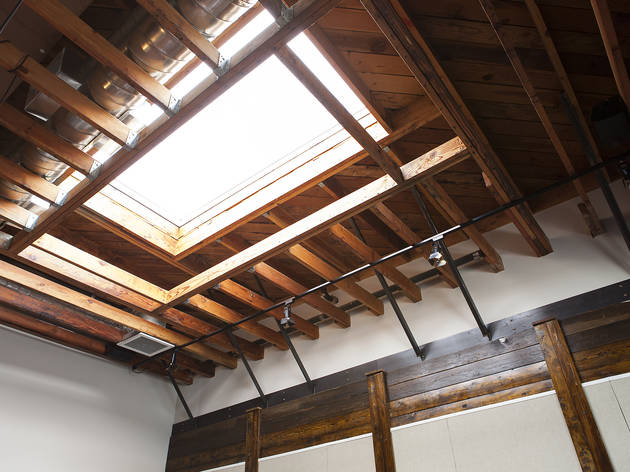 8/12
Photograph: Jakob N. Layman
Cooks County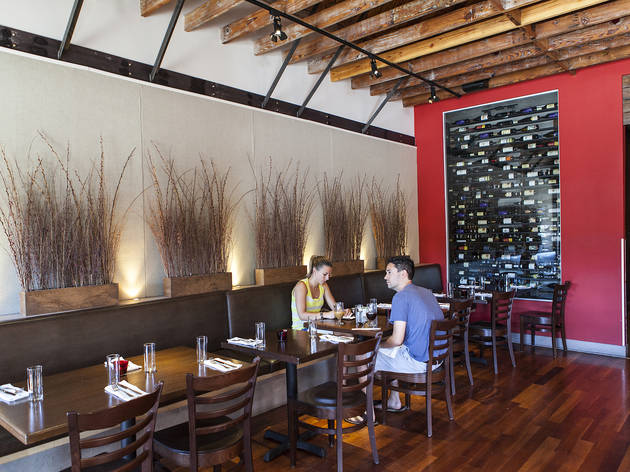 9/12
Photograph: Jakob N. Layman
Cooks County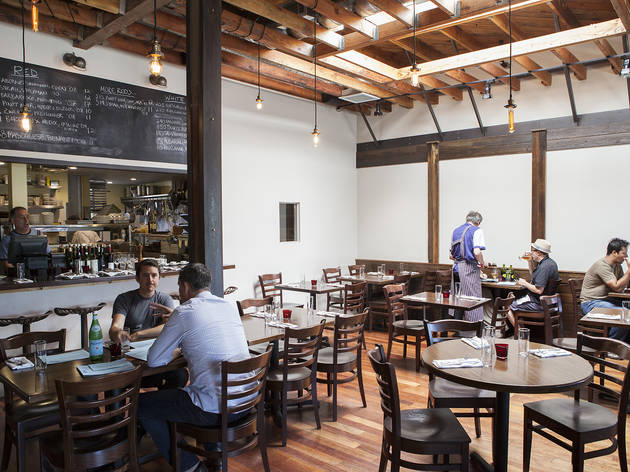 10/12
Photograph: Jakob N. Layman
Cook's County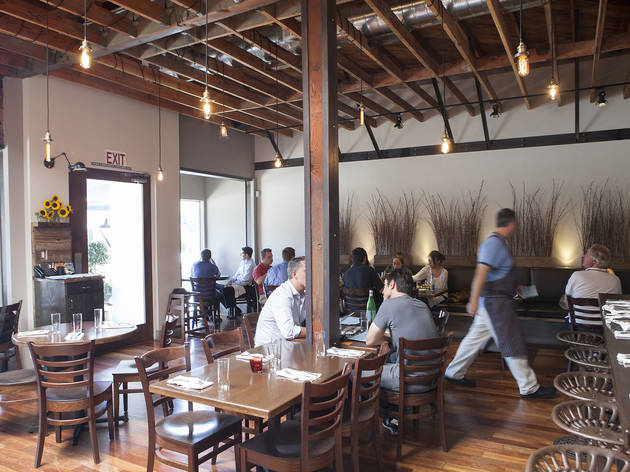 11/12
Photograph: Jakob N. Layman
Cook's County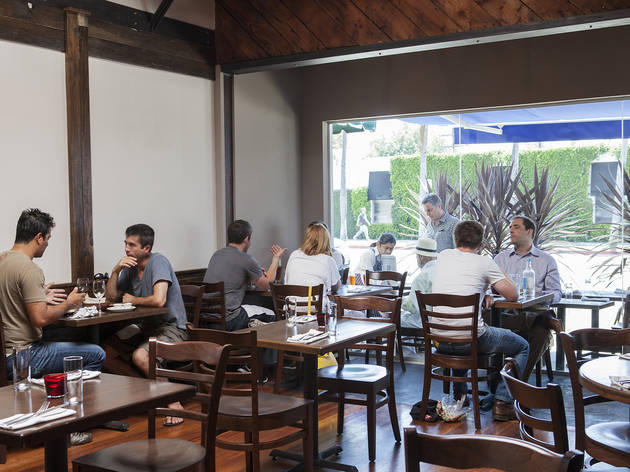 12/12
Photograph: Jakob N. Layman
Cook's County
Have you ever been inspired by a trip to the farmers market, but then gotten home and wondered what the hell you're going to do with all that stuff you just bought? Of course you have. We all have. And that's what's so inspiring about Cooks County. Turns out, those peaches you picked up alongside the wild dandelion greens? Well, hey, looky here, they actually work together as a salad. And those figs that seemed like they'd be good for something? Here's a tasty solution: Sauté them until they're nice and caramelized—so soft they're almost falling apart—then turn them onto a thick slice of rustic toast that's been slathered with goat cheese and balsamic. The chefs at Cooks County make farm-to-table cooking look so easy, so effortless, so delicious.

Those chefs are the husband/wife duo of Daniel Mattern and Roxana Jullapat, both previously of Ammo. Every neighborhood needs a low-key, unpretentious, farm-to-table cafe like Cooks County. This isn't a destination restaurant. Isn't trying to be one. Most of the menu items aren't going to knock your socks off. Aren't exactly trying to. But you will have a smile on your face the entire time. Pan-roasted clams with shaved fennel and pickled chiles…smile. Fried squash blossoms with roasted tomatoes and fried sage…smile.

There's a rustic simplicity to the decor that perfectly matches the food. Hardwood floors are buffed to a sheen. A few Edison bulbs dangle from the exposed wooden rafters. Vintage metal tractor seats have been reborn as bar stools. A chalkboard above the kitchen window serves as the wine list.

Correction: what we said above about nothing quite knocking our socks off? That was actually a lie. The desserts will do it every time. Every. Single. Time. Apricot and plum creamsicle? Fried pear pie? Honey walnut bar with roasted figs and burnt caramel ice cream? Hell, yeah.
Vitals
Drink this: It's beer or wine only, with as many as 30 different wines poured by the glass on any given night.
Eat this: Anything that sounds like it came from the farmers market, because it probably did. The clams are pretty darned good, too. But whatever you do, save room for dessert…and order one of everything.
When to go: Lunch is just an abbreviated version of dinner. But weekend brunch is a treat all its own (pecan sticky buns, poached duck eggs, jelly donuts).
Conversation piece: You can find the recipes for many of Roxanas amazing desserts—like the fresh fruit fried pies—on the restaurants blog: cookscounty.blogspot.com.
Venue name:
Cooks County (CLOSED)
Contact:
Address:
8009 Beverly Blvd
Los Angeles


Opening hours:
Mon-Thu 11:30am-2:30pm, 6-11pm; Fri 11:30am-2:30pm, 6pm-midnight; Sat 10am-3pm, 6pm-midnight; Sun 10am-3pm, 6-10pm
Do you own this business?
You may be interested in: