Glazed Donut Bistro (CLOSED)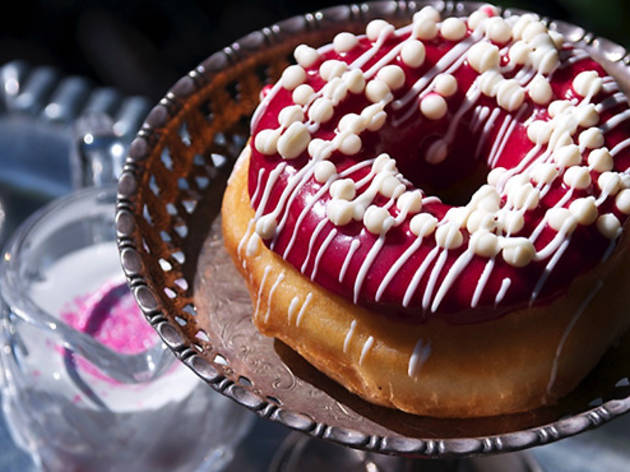 1/10
Photograph: Courtesy Glazed Donut Bistro
Glazed Donut Bistro
2/10
Photograph: Courtesy Glazed Donut Bistro
Glazed Donut Bistro
3/10
Photograph: Courtesy Glazed Donut Bistro
Italian cream at Glazed Donut Bistro
4/10
Photograph: Courtesy Glazed Donut Bistro
Chocolate cake donut with white chocolate glaze at Glazed Donut Bistro
5/10
Photograph: Courtesy Glazed Donut Bistro
Boston Cream with white chocolate curls at Glazed Donut Bistro
6/10
Photograph: Courtesy Glazed Donut Bistro
Sauce color wheel at Glazed Donut Bistro
7/10
Photograph: Courtesy Glazed Donut Bistro
Triple chocolate Glazed Donut Bistro
8/10
Photograph: Courtesy Glazed Donut Bistro
Chicken and waffles at Glazed Donut Bistro
9/10
Photograph: Courtesy Glazed Donut Bistro
BBQ sliders at Glazed Donut Bistro
10/10
Photograph: Courtesy Glazed Donut Bistro
Glazed Donut Bistro
Their slogan—"Donuts for Grownups"—says it all. Glazed Donut Bistro isn't interested in run-of-the-mill pastries, and their ambition is matched by thoughtful, artisanal creations. A nod to Italy here (Mambo Italiano Cream), an ode to bacon there (Brown Butter Maple Bacon), and it's safe to say that these donuts are complex in flavor and construction. The Tres Tres Leches comes adorned with a trio of berries atop a mound of Chantilly cream, blurring the lines between fruit tart, cake and donut. They also pair beer and wine with their savory donuts, and their partnership with Stumptown Coffee is sure to satisfy many a coffee fanatic.
Venue name:
Glazed Donut Bistro (CLOSED)
Contact:
Address:
8807 Santa Monica Blvd
Los Angeles


Opening hours:
Sun-Wed 8am-8pm; Thu-Sat 8am-10pm
Do you own this business?