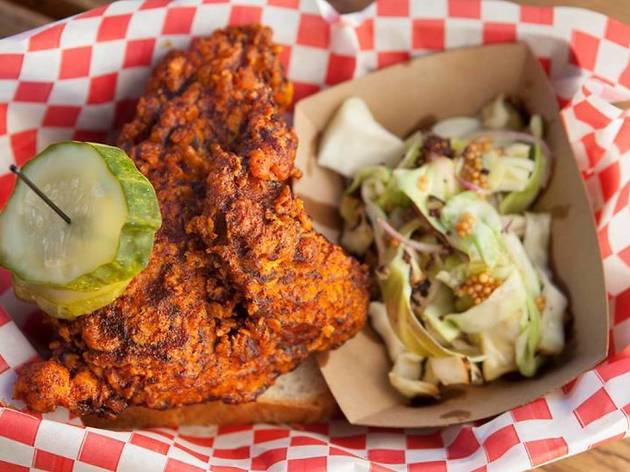 Here's where to find the best Nashville hot chicken in L.A.
These restaurants and stalls serve spicy, cayenne-packed Nashville-style fried chicken that's packing heat. Don't say we didn't warn you.
Is it hot in here or is it just the chicken? The Nashville-style fried bird is a modern Southern staple, and here in L.A., it's become just as beloved—and it happened faster than you can reach for a glass of water. Known for its bright red color and searing heat, Nashville hot chicken is packed with cayenne pepper and secret blends of spices that will make you sweat with every bite you take. Depending on whose chicken you're chowing on, the spices usually get tossed into the batter before frying, or shaken over the top post-oil dip. (And if the chef is really crazy, it's both.) Nashville hot chicken is popping up in backyards and parking lots and the restaurants of some of your favorite celebrity chefs—here's your guide to the best of it. Just don't try them all in one day.
Spice things up with some Nashville hot chicken
Looking for something a little different?
The Tennessee classic is such a hit in L.A., in fact, that it's got local restaurants thinking beyond the bird for totally unique spins on the dish that don't involve chicken at all. Here's where the most creative takes go to roost.
Best selling Time Out Offers