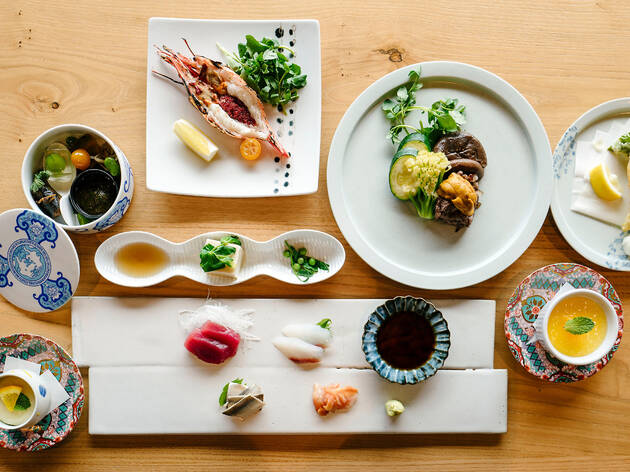 1/16
Photograph: Jesse Hsu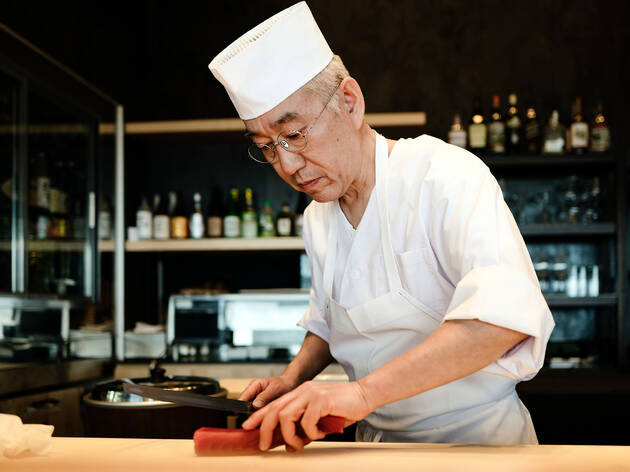 2/16
Photograph: Jesse Hsu
Chef Mori Onodera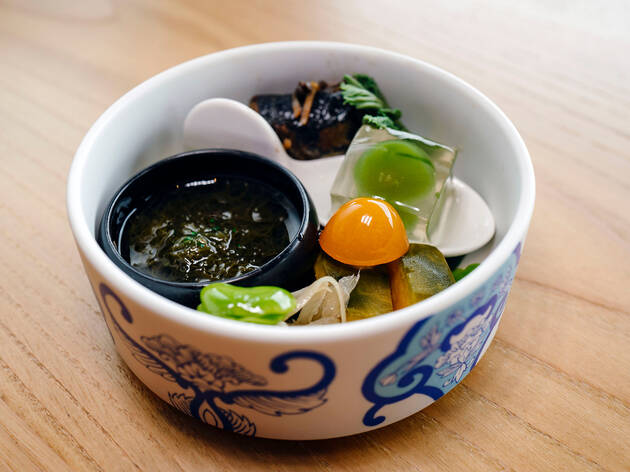 3/16
Photograph: Jesse Hsu
The meal begins with a jewel box of seasonal bite-size appetizers such as tofu croquette, truffle omelet and mugwort gluten cake.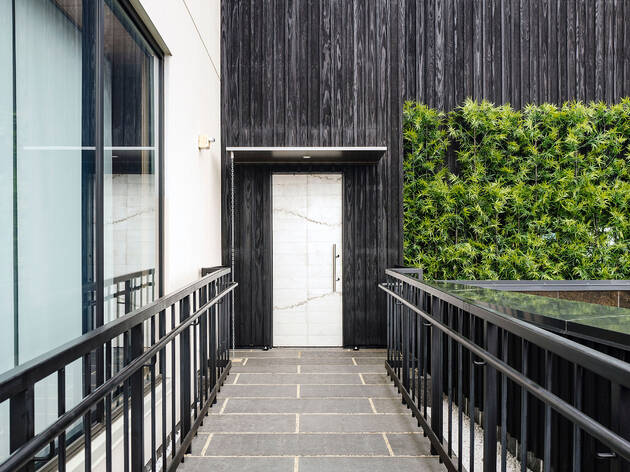 4/16
Photograph: Jesse Hsu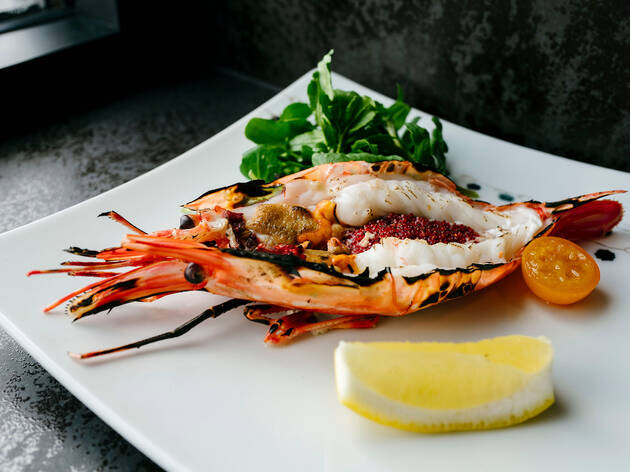 5/16
Photograph: Jesse Hsu
Grilled, flayed shrimp with egg sack, watercress and yuzu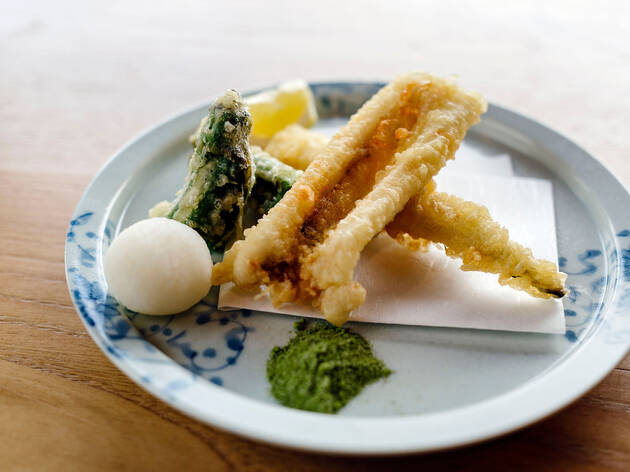 6/16
Photograph: Jesse Hsu
Anago tempura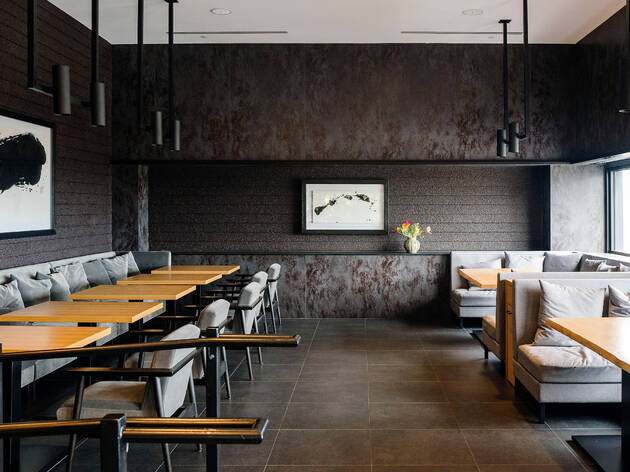 7/16
Photograph: Jesse Hsu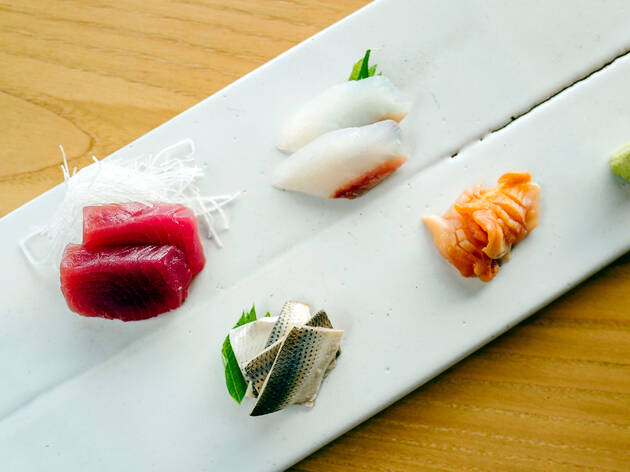 8/16
Photograph: Jesse Hsu
Daily sashimi offerings, which may come brushed with chef's secret house-made soy sauce blend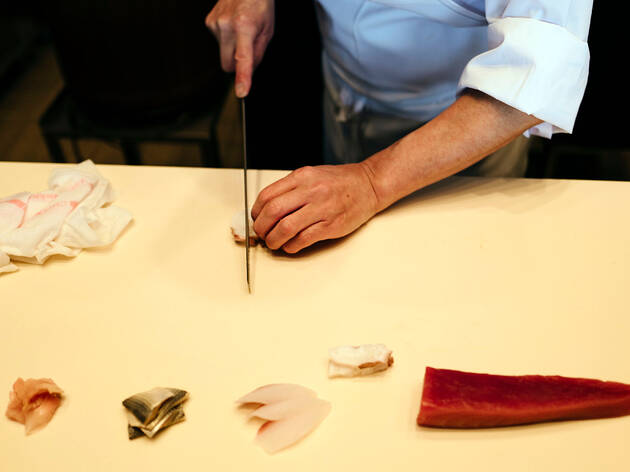 9/16
Photograph: Jesse Hsu
Onodera at work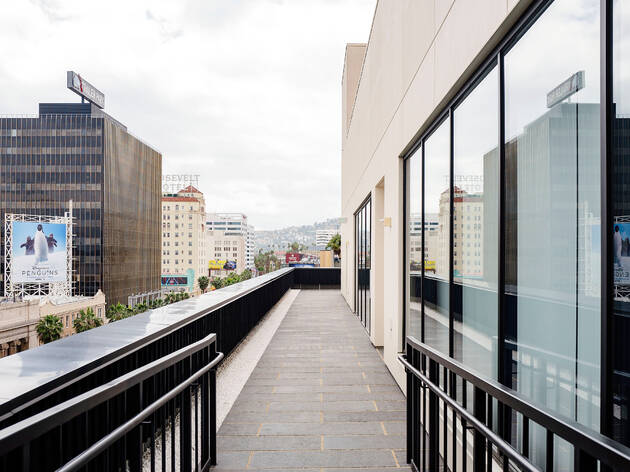 10/16
Photograph: Jesse Hsu
The restaurant's entrance perches over busy Hollywood Boulevard.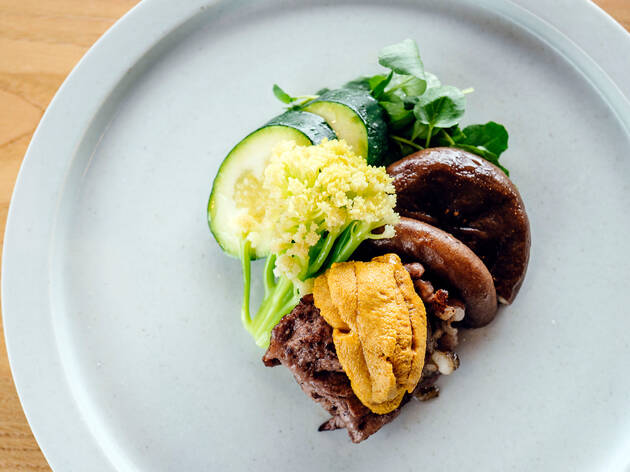 11/16
Photograph: Jesse Hsu
Japanese wagyu topped with uni, served alongside mushroom caps and seasonal vegetables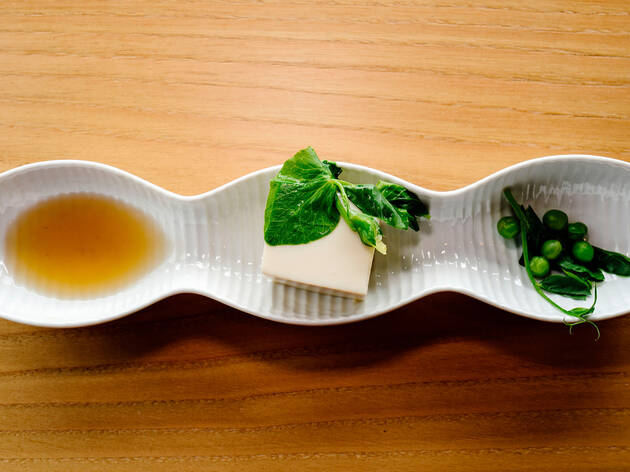 12/16
Photograph: Jesse Hsu
House tofu with dashi and spring peas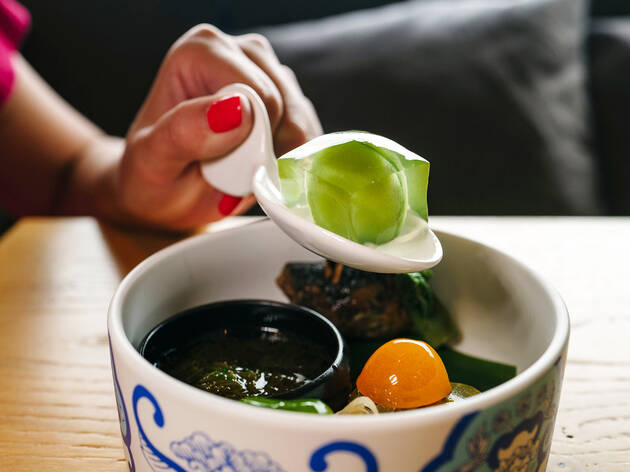 13/16
Photograph: Jesse Hsu
Japanese mountain peach suspended in jelly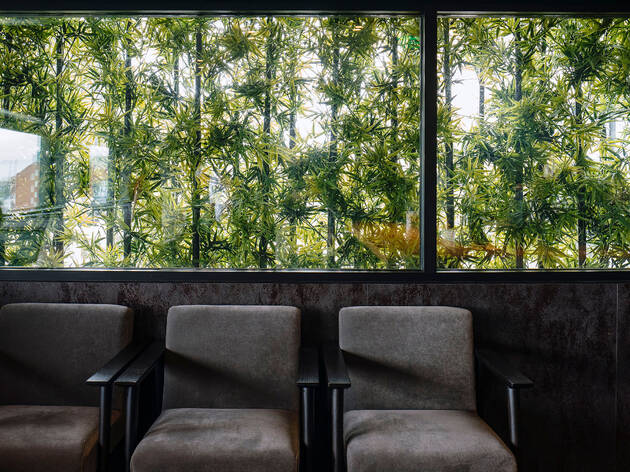 14/16
Photograph: Jesse Hsu
15/16
Photograph: Jesse Hsu
A dessert of orange pudding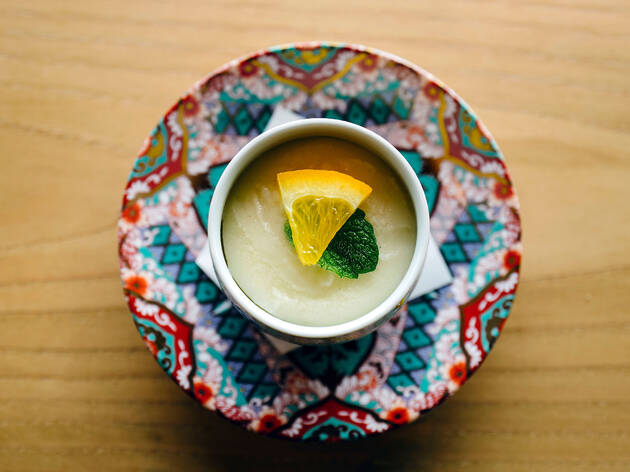 16/16
Photograph: Jesse Hsu
Green tea ice cream
Time Out says
Sushi legend Mori Onodera is back and cooking one of the best Japanese tasting menus in L.A.
Trendy as they are, tasting menus too often become little more than a war of attrition between the restaurant and diner—it seems like dinner only ends when you wave the white napkin in surrender after the arrival of the third round of petit fours. But in the case of chef Mori Onodera, formerly of Mori Sushi, it's worth sitting through the last course.
Inn Ann lives up to the translation of its name—"hidden retreat"—and occupies an elevated but slightly-confusing-to-find space within Japan House, a cultural complex located across multiple levels of the Hollywood & Highland mall. Once inside however, the calmness exuded by both the décor and the service offers a welcome respite from the tourist mayhem on the streets below.
You can order à la carte, but Inn Ann is best experienced through the predetermined menus, and within each set menu, you'll find plenty to keep you interested as the meal progresses. We chose the Ringo menu ($130), which began with house-made tofu bookended by a pool of dashi and a small circle of sour plum salt. The tofu was all about texture, needing a bite to pierce the firmer outer skin to reveal the softness of the inner contents, while the seasonal garnish added definite but delicate flavors.
The plating throughout the meal was exquisite. (One should expect no less from Onodera, who's known for fashioning his own pottery—and does so here for the sake glasses and a few of the dishes.) This was especially true upon the arrival of the bowls of bite-size appetizers, which each offered a different texture and taste: Some were sweet and sharp, such as a tiny Japanese mountain peach encased in jelly, while some were more earthy, like pickled sunchoke or braised pumpkin. And others were a soft slither, like a tiny platter of seaweed.
It's easy to take for granted the access we have to excellent Japanese food in L.A., but in the sashimi course, one stunning bite of a thin sliver of mackerel—dabbed with a tiny amount of freshly grated wasabi—proved that even among the great, there is still the ability to take things to another level.
Perfectly grilled sweet shrimp, split lengthwise, displayed that Onodera not only has complete confidence in his ingredients, but also enough confidence in his own technique to allow one ingredient to shine. This top-level cooking continued through a course of tempura anago (sea eel) and shishito peppers coated in a gossamer batter, and another course of maki sushi, in which a mound of ikura (salmon roe) provided one of the best bites of the evening.
Not every dish kept to this stellar level; the meat-based course of grilled wagyu with shiitake mushrooms, daikon and broccoli was enjoyable enough, but the uni placed atop it just made me long for another plate of sashimi.
A final duo of orange pudding and green tea ice cream both worked well to cap off the meal. The roasted notes of the ice cream provided a slight savory note, and the soft smoothness of the pudding offered yet one more mouthfeel in a meal that is as much about texture as it is about flavor.
With a check approaching $350 for two—without alcohol—Inn Ann could never be described as an inexpensive option. However, for the level of what's offered by Mori Onodera, it's a splurge but one of value for the tier of cooking and presentation that reminds you just why he's grown such a loyal fanbase in the city.
I can certainly be counted among them.
VITALS
WHERE TO SIT
Inn Ann is small, its 35 seats stationed either in a handful at the bar or at larger, slightly awkward banquettes. If you're on your own, sit at the bar and watch Onodera at work. If you're on a date, make sure to grab a seat that allows you to stare out at the El Capitan Theater and across Hollywood.
WHAT TO EAT
The set menus range from the vegetarian option ($80)—which is not to be dismissed, given Onodera's mastery in that field—to our selection, the Ringo menu ($130), which will give you as splendid an experience of Japanese cuisine as you are likely to find in Los Angeles. There are also two menus dedicated to sushi, if that's all you're craving.
WHAT TO DRINK
The back bar is as one would expect, offering a thoughtful selection of sake, plum wines, Japanese whiskeys, shochu, wine and beer. As good as their selection is—and as worryingly fond of grape and grain as I am—there's something about the nuanced elegance of Onodera's preparations that always makes me turn to the simplicity of green tea and water. (The added benefit of which is that it will keep your check below the amount of cash you paid for your first car.)
Details
Address:
801 Hollywood Blvd
Los Angeles
90028

Price:
$$$$
Contact:
Opening hours:
Tue-Sat 5:30-10pm
Do you own this business?
Best selling Time Out Offers